SPOTLIGHTS
The 411 Wrestling Top 5 5.12.14: Week 263 – The Top 5 Triple Threat Matches
Posted by Larry Csonka on 05.12.2014

From the Rock vs. Triple H vs. Kurt Angle and Christopher Daniels vs. AJ Styles vs. Samoa Joe to the Hardys vs. the Dudleys vs. Edge and Christian and more, the 411 staff breaks down their top 5 triple threat matches!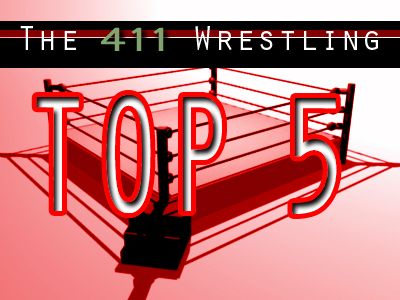 Hello everyone and welcome to 411 Wrestling's Top 5 List. We take a topic each week and all the writers here on 411 wrestling will have the ability to give us their Top 5 on said topic, plus up to three honorable mentions.

So, onto this week's topic…



THE TOP 5 TRIPLE THREAT MATCHES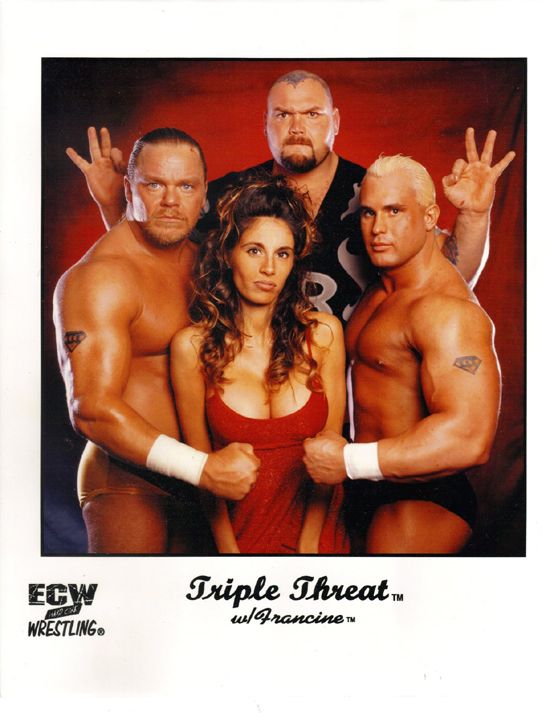 We're looking for the best/your favorite triple threat/three way dances in wrestling.




MICHAEL WEYER
5. The Rock vs. HHH vs. Kurt Angle, SummerSlam 2000 The dynamics of this were great as HHH and Angle were seemingly united against the Rock but tension due to Angle's flirtations with Stephanie, including a kiss on a previous show. Angle kicked it off on the mic, saying he was a better man than HHH was, bringing Hunter out for them to brawl hard, HHH trying a Pedigree on the announcer's table but it crashed beneath them. Rock finally came out, he and HHH fighting while Angle was stretchered off but Stephanie urged him to get back into it. Thus, we had a fine give and take of all three, fighting it out hard as the crowd enjoyed the fight and Stephanie getting involved only to be knocked out by HHH by mistake. Angle took him out with a sledgehammer only to be tossed by Rock, who hit a People's Elbow on HHH to win. A great match with its various storylines of three guys who hated each other clashing hard and fun dynamic of the heels taking each other out for the hero to win.

4. AJ Styles vs. Petey Williams vs. Chris Sabin, Final Resolution 2005 2005 was a glory year for the X Division in TNA, the company really doing its best to highlight the entire section as fantastic action WWE couldn't provide. It kicked off with this PPV as Williams defended the belt against Styles and Sabin in an Ultimate X match. Put these three in a match meant for spots and you had something great and it paid off in spades. The moments were amazing from Williams hitting a Rana on Sabin who was on Styles shoulders to Styles leaping to punch Sabin off the X to Williams getting Sabin in a reverse DDT only for AJ to leap behind them and hit them both with a reverse DDT to Sabin drop-kicking Styles from the cables, AJ doing a somersault in mid-air before slamming to the mat. It was frantic and wild with moves you can't believe these guys could even think of and the fans loved it. It all ended with Sabin and Williams hanging at the X, pulling at the belt, only for Styles to leap off the top rope, fly across the ring and snatch the title from them both to win. A fantastic showcase of the genius the X Division once was and why TNA was something you wanted to check out big time in 2005.

3. The Rock vs. Undertaker vs. Kurt Angle, Vengeance, 2002 The Rock was making a brief return to WWE before moving on to Hollywood, Undertaker the WWE champ and Angle in the running. Their match started off funny as Taker and Rock faced off, yelling at each other while Angle waved about for attention and they both attacked him. The fun was seeing the guys steal each other's moves as Rock hit Taker with a chokeslam before an Ankle Lock on Angle but Angle got him with a Rock Bottom. The start was slow but it picked up quite nicely as all three began stepping it up with hard shots and Angle doing a blade job to spice it up and the crowd was getting into it well. The ending was a wild series of finishers by the guys on each other, each two pin throwing the crowd before Rock hit a Rock Bottom on Angle to end it at last. Some may complain about pacing but I still found this a great battle of three top stars that did its job well in entertaining the crowd with a fine main event.

2. HHH vs. Shawn Michaels vs. Chris Benoit, WrestleMania XX I'm one of those people who does have a hard time separating Benoit the performer from what would happen to him later, especially given how so many hard hits in the ring contributed to his brain damage. But I still have to give props to this match as a truly brilliant piece of storytelling not to mention stellar wrestling. The heat from the Madison Square Garden crowd was fantastic and clear it pushed all three men on as they battled it out, trading back and forth, HHH and HBK briefly teaming to take out Benoit before going at it themselves. It was clear Benoit was the favorite and that tension of HBK winning it instead put an extra thrill on things. In the end, of course, Benoit was able to slap on the cross-face on HHH, milking it hard before Hunter tapped to give Benoit the World title. For one glorious night, all was right in wrestling as the tough technical guy got his glory. Despite it being tarnished by Benoit's sad fate, still a match that deserves to be remembered.

1. Christopher Daniels vs. AJ Styles vs. Samoa Joe, Unbreakable 2005 Quite possibly the greatest match in TNA history. Daniels was defending his X Division title against Styles and Joe and one of the best moves TNA ever made was putting it on last at their Unbreakable PPV, knowing nothing else could top it. The trio put on a bout that stands up today with utterly brilliant ring work, seamlessly moving from move to move and counters so well it was like clockwork. The moments are brilliant: Joe and Styles working to kick Daniels down; Styles doing a Clash off the top rope to break up a Joe choke on Daniels; the stunning move of Daniels thrown to Styles in the corner, monkey-flipping him to Joe only for Styles to pull a rana on Joe; Joe corkscrew-diving over the top rope to splash both guys on the outside; Styles and Daniels fighting on the top rope with Joe tossing them both off; and the ending of Styles reversing an Angels' Wing attempt to a pin to win the belt. The fans were enraptured by the spectacle before them, a match that showed why the X Division was so incredibly hot and how you didn't need larger-than-life stars to make a real impact. They would do battle several times again but that first remains the best, a match truly deserving the "this is awesome!" chants it got as three men did their best to blow away fans and succeeded, a height of brilliance that made TNA truly special for so many.





---



JUSTIN WATRY
5. Daniel Bryan vs. Randy Orton vs. Batista - Normally, I do not rank recent matches. It is just not fair to do so without letting it all sink in for at least a few months first. Well, throw that out the window. We are talking about a WrestleMania main event for the WWE World Title! There is no need to wait. The historic nature and legacy is already written. I may be a big prisoner of the moment, but Daniel Bryan winning the top prize and celebrating with over 75,000 in New Orleans can be replayed on television forever and never get old. It was 1,000 percent the right move and WILL stand the test of time. Bell to bell action held up just as well. This was not only about the final image.

4. Hardyz vs. Dudleyz vs. Edge/Christian - Yeah, I am cheating a little bit here. Go ahead and cry about it in the comment section. These three teams tore it up during the Attitude Era. Technically, the TLC matches were all triple threat rules - just for tag teams. Looking back, a lot of the stunts were beyond ridiculous and should have NEVER been approved (Jeff Hardy trying to walk across ladders at WrestleMania 17 but falling comes to mind). Ask Edge how his body is doing. Or Christian. Or even both of the Hardy brothers. Goodness gracious, they all destroyed their bodies. Even so, the matches were great. I just wish there was some kind of magical time machine to tone down the brutality juuuuuust a bit.

3. Edge vs. Jeff Hardy vs. Triple H - At Armageddon 2008. Three men. One WWE Championship. Really, all of them could have won. I remember thinking that Edge would retain up to WrestleMania 25 before losing to the Royal Rumble 2009 winner Jeff Hardy in the main event. It would be a special moment; fire works coming down; Jim Ross on commentary talking about Hardy's journey to the top, all that fun stuff. Then I snapped into reality figuring WWE would not risk all of that on Jeff...BUT they may give him a one-month title reign before the Road to WrestleMania kicked in. Well, that is what we got. Edge was World Champion come WM25. Triple H was WWE Champion come WM25, and Jeff Hardy was fighting his brother Matt in the middle of the show. Long story short, none of that mattered. What mattered was Jeff Hardy was pushed to the top for most of 2007 and 2008 with interruptions brought on by himself (as usual). However, all in one cool finishing sequence, Jeff Hardy became WWE Champion. It was glorious. His time had arrived. Legitimate main event matches on pay-per-view taking on other legitimate main event performers and selling legitimate main event level merchandise. There was nothing "manufactured" about this. The live crowd loved it and with Edge and HHH out there, how could this not be amazing? Wow, Jeff Hardy needs to be back in the big leagues before retiring...

2. John Cena vs. Edge vs. Triple H - Backlash 2006 was the pay-per-view. Like my previous match, any of the three could have won. With Rob Van Dam already hinting at a WWE Title match at ECW's One Night Stand show coming up in June, it was tough. You can go back to Edge as champ due to the high ratings he draws. Triple H is always a possibility even though it was clear he had moved on 'beyond' the belt at that point in his career. Then there was John Cena, the top man in the business. Obviously, the bell-to-bell action delivered. No way would those three legends disappoint. What always gets me though (and still does to this day) is the final 10-second of the match. I specifically remember jumping up from my couch when Triple H went to give Cena the pedigree and cranking the volume WAY UP in anticipation for the big title change! It was over. Done! The match was finished. One John Cena roll up later and three seconds to follow, JR yells out "I don't believe it!" Truer words were never spoken. I had jumped off my couch, cranked the volume up and was left just standing in front of my TV staring. Stunned. Excellent match nonetheless with a shocking final 10 seconds.

1. The Rock vs. Kurt Angle vs. The Undertaker - Go watch this match now. Just like my previous entries, there was a huge question mark behind the winner here at Vengeance 2002. Remember Brock Lesnar was waiting with a WWE Championship match the next month at Summerslam. Whoever won was likely to drop the belt anyways, which made it difficult to call. Brock Lesnar had attacked The Undertaker on Raw six days earlier, so he was my pick going in. It felt like the feud had already begun, so it only made sense. Well, that happened AFTER Summerslam. Kurt Angle vs. Brock Lesnar just sold itself, so that was possible. Plus, WWE was going all-in with Angle at the time, just making Hulk FREAKIN' Hogan tap out at King of the Ring. Well, he got the title a few months later, not here. That left The Rock who was only back for a short run before heading back to Hollywood. Hindsight is always kind to this situation, but it worked out for the best. We got an incredible triple threat match at Vengeance and a true 'passing of the torch' moment a month later at WWE Summerslam when Brock Lesnar defeated The Rock. Perfect!





---



Andrew Shillinglaw
5. ECW The Night The Line Was Crossed, ECW Heavyweight Championship: Terry Funk (c) vs. Sabu vs. Shane Douglas - As an actual wrestling match, this is nothing amazing. It's not bad by any means, it's a very good and solid triple threat. However, it's not groundbreaking wrestling. That being said, the importance of it is undeniable. This is the night that put ECW over the edge and this is the match that did it. They wrestled for an hour and came to a draw and they made a STATEMENT. This certainly belongs on the list.

4. WWE Armageddon, WWE Championship: Edge (c) vs. Triple H vs. Jeff Hardy - I know there are better triple threats than this. I know I may get destroyed in the comments for this. I am fully prepared and I understand. However, Edge and Jeff Hardy were my two favorite childhood wrestlers and I will go into why I love Triple H later on in this top 5. Jeff Hardy winning the belt in 2008, when I was a full fledged internet fan and was reading the dirt sheets religiously, still made me jump out of my chair. I bought it. It was a month long chase, starting at Armageddon 2007 when he wrestled for contendership. And it all culminated. And I loved every single moment of it. The chase and the story outweighs the wrestling here for me, and I'm okay with that.

3. ROH The Era of Honor Begins: Bryan Danielson vs. Low Ki vs. Christopher Daniels - The first ROH show is alright. There are some good, solid matches but it's nothing phenomenal. However, this was a promotion being built and promoted on the idea of great wrestling and nothing else. At the first show, the promotion's code of honor was in full effect. There weren't blood feuds or compelling angles and the crowd didn't know what to expect outside of solid wrestling. Then this main event happened and lived up to every expectation and then some. These three put on the perfect spot fest. It's an amazing triple threat with three amazing wrestlers, two of whom would even go on to win the ROH Title eventually. And with this match, ROH was born.

2. TNA Unbreakable 2005, X Division Championship: Christopher Daniels (c) vs. AJ Styles vs. Samoa Joe - If you haven't seen this match, stop reading this right now and go do it. This match is TNA at its absolute best. It's also matches like these that make me upset that Daniels didn't get at least a "Thanks for the hard work title run" like Sabin did (or even Eric Young currently). This is a Meltzer 5 star match. And that really isn't the be all end all of wrestling rankings, but it holds some clout and this match absolutely deserved it. It's the three pioneers of the X Division just going insane for an entire match and it's amazing. Like I said, find it right now and watch it if you haven't. Actually find it right now and watch it even if you have already seen it.

1. WrestleMania XX, World Heavyweight Championship: Triple H (c) vs. Shawn Michaels vs. Chris Benoit - WrestleMania XX is the first one I watched live. Chris Benoit is my favorite wrestler of all time. Triple H, in my eyes, is the greatest WWE Main Event style worker ever. There are a lot of factors that make this triple threat the best of all time. Benoit had this fighting against the odds story that was built perfectly. He wins the Rumble from number one and expects his one on one shot, but HBK won't let him have it and he signs the contract first. EVERYBODY wanted Benoit to win this. The world was behind him and it was beautiful. And? AND?! He makes Triple H tap in the peak of the internet HHH hate. Dear God, what could make this better?! I'll tell you what. A celebration with Eddie afterwards. This one is just like the Unbreakable triple threat. If you haven't already seen it, go find it right now.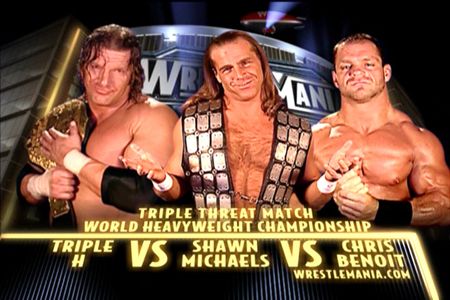 ---



Alex Crowder
5. Summerslam 2000, WWF Championship Match: The Rock (c) vs. Triple H vs. Kurt Angle - This match is probably the culmination of one of the greatest soap opera story lines ever done in wrestling. Most at the time and even now love the story line to this day. You have basically three men who all dislike each other for different reasons fighting for the title. This match is pretty much the perfect representation of the triple threat format.

4. Vengeance 2006, Intercontinental Championship Match: Shelton Benjamin (c) vs. Carlito vs. Johnny Nitro - I'm not sure why, but this match always sticks out in my mind when thinking of triple threat matches. All three men seemed motivated for this one and put on quite a show in a short amount of time. Johnny Nitro and Shelton Benjamin always seem to entertain in some way with crazy maneuvers or spots, but Carlito held his own too in one of his best matches. These three just seemed to gel perfectly with good chemistry. This is a great midcard match.

3. Breakdown 1998, Steel Cage, Number One Contender's Match: The Rock vs. Mankind vs. Ken Shamrock - I know from reading plenty of reviews of Breakdown, that many wrestling fans consider this a hidden gem. The stakes were high in this match and all three men brought it. I think the fact that it was one of the only triple threat cage matches makes it far more unique. This match is not only entertaining but somewhat of an oddity. The Rock was gaining crazy momentum and Mankind was also succeeding with unique character tweaks. Shamrock to his credit played his part well. This is the type of match one should look for when viewing hidden gems.





2. WrestleMania XX, World Heavyweight Championship Match: Triple H (c) vs. Chris Benoit vs. Shawn Michaels - I'll admit I have not watched this match in a while, yet I'll never forget the emotions running through my mind while watching it. This is the sort of match that you remember where you were when it happened. I mean this was flawless in every sense of the word. The story was unbelievable with a wrestler people loved at the time going for the top prize that eluded him. On top of that, Triple H's reign of terror was making casual and hardcore fans alike angry. Triple H rarely lost at the time, so him tapping out to the Crossface to lose the title meant so much at the time. The celebration afterwards made the story even better.

1. Unbreakable 2005, X Division Championship: Christopher Daniels (c) vs. AJ Styles vs. Samoa Joe - The last match is great, but this match in my opinion is even better. This is the height of not only the X-Division, which revolutionized the way we saw lightweight wrestlers (by adding a big man like Samoa Joe to the mix), but it is considered to be the height of TNA by some. This match has it all with three men that are beyond great. They just cut loose and put on one of the most incredible matches anyone has ever seen. The X-Division will probably never reach heights like this again. I'm just not even sure what to say about it. Anyone that has yet to see this match needs to see it now.

---
YOUR TURN KNOW IT ALLS

List your Top Five for this week's topic in the comment section using the following format:

5. CHOICE: Explanation
4. CHOICE: Explanation
3. CHOICE: Explanation
2. CHOICE: Explanation
1. CHOICE: Explanation
Your heart is free. Have the courage to follow it…TO CSONKA'S TWITTER!

http://www.twitter.com/411wrestling
http://www.twitter.com/411moviestv
http://www.twitter.com/411music
http://www.twitter.com/411games
http://www.twitter.com/411mma

Have you checked out the Csonka Podcasting Network? If you haven't, you should We run anywhere from 15-20 shows a month, discussing pro wrestling, the world of MMA, the NBA, general sports, popular TV series of the past, bad movies, battle rap, interviews, MMA & Wrestling conference calls and more! Around 10 different personalities take part in the various shows, which all have a different feel; so you'll likely find something you like. All of the broadcasts are free, so go ahead and give a show a try and share the link with your friends on the Twitter Machine and other social media outlets! Running since May of 2011, there are currently over 500 shows in the archive for you to listen to.



Larry Csonka is a Pisces and enjoys rolling at jiu jitsu class with Hotty McBrownbelt, cooking, long walks on the beach, Slingo and the occasional trip to Jack in the Box. He is married to a soulless ginger and has two beautiful daughters who are thankfully not soulless gingers; and is legally allowed to marry people in 35 states. He has been a wrestling fan since 1982 and has been writing for 411 since May 24th, 2004; contributing over 3,000 columns, TV reports and video reviews to the site.
comments powered by