SPOTLIGHTS
411's Wrestler of the Week 4.29.14: Year 10, Week 3
Posted by Larry Csonka on 04.29.2014

Eric Young retained the TNA World Title at Sacrifice, the Shield ran wild on Smackdown, Takao Omori won the AJPW Champion Carnival and more! But who won 411's Wrestler of the Week? Find out inside!




Welcome to YEAR TEN, WEEK 3 of 411's Wrestler of the Week. A quick overview of the rules to kick things off for us as a reminder…

Each writer chooses FIVE wrestlers (although ties and tag teams are allowed) from any promotion and each wrestler gets a point total attached to that ranking. It looks a little like this…

1st - 5
2nd - 4
3rd - 3
4th - 2
5th - 1

Then we tally up the votes and the official 411 Wrestler of the Week is crowned. But wait, there's more! Each week the top SIX vote getters get a points value for their ranking which looks something like this…

1st - 15
2nd – 12
3rd - 9
4th - 6
5th - 3
6th - 1

...and they go towards the 411 Wrestler of the Year award to be announced each year around WrestleMania. This will be posted every Tuesday (the voting week runs Monday through Sunday). Let's see who wins this week…

---



Larry Csonka
1) Eric Young
Eric Young is on a roll so far in the voting year. The TNA champion retained his title in the best match (in my opinion) on the TNA Sacrifice PPV. It's been a strong start to the year for Young, and I am really interested to see how long the run lasts for him and who his next challenger will be.

2) Gunner: Gunner continues to improve and have good matches in TNA. He won his latest match with James Storm on the Sacrifice PPV, which was one of the better matches on the show. I had my doubts about the guy, but he is evolving, becoming someone that is delivering in big matches and is becoming a top face for the company.
3) The Wolves (Davey Richards and Eddie Edwards: The Wolves captured the TNA Tag Team Titles at the Sacrifice PPV. The match was a good opener for the PPV, and was the right time for them to win the titles.
4) Bad News Barrett
5) Takao Omori


JUSTIN WATRY
1) Kane
Sure, why not? I see no point in putting the mask on, just like I disagreed with Kane doing it back in late 2011. Just no point. Once we saw his face in 2003, the mystery was gone. Mask or no mask, his attack on Daniel Bryan was exactly what was needed before WWE Extreme Rules. The veteran can still deliver despite his age and may be in his final main event level feud of his career. Good setup for Bryan to win clean next Sunday.

2) Roman Reigns: Looked like a beast as usual. Say what you want about Extreme Rules and the WWE World Title, but I want to see The Shield vs. Evolution more than any other match.
3) Dean Ambrose: Sorry Seth Rollins. Your rambling promo on Raw knocks you out of the ranking. The Shield were great all week, so Dean Ambrose and Roman Reigns get votes. Not Rollins.
4) Bad News Barrett
5) Paige


Ryan Byers
1) Takao Omori
Some people, myself included, are speculating that it only occurred because of last minute booking changes necessitated by Go Shiozaki and Akebono pulling out of the tournament at the last minute, but, as of this past Sunday, Takao Omori became the nineteenth man over the course of thirty-four tournaments to win the prestigious Champion Carnival of All Japan Pro Wrestling. This is easily the biggest accomplishment of Omori's twenty-plus year career, and it will be interesting to see what kind of run he can get off of it. In addition to pinning Jun Akiyama in the tournament final this week, Omori also picked up victories against Osamu Nishimura, Kendo Kashin, and Mitsuya Nagai.

2) Takashi Sugiura & Masato Tanaka: In more tournament action in Japan, the annual Pro Wrestling NOAH Global Tag League also wrapped up today, with Sugiura & Tanaka standing tall, defeating Naomichi Marufuji & Katsuhiko Nakajima in the finals. This is particularly big for Tanaka, who has only recently started appearing for NOAH after a long run in New Japan, and this would be an indication that the company may be taking him seriously.
3) The Shield: WWE TV was pretty bland this week, but the highlight was undoubtedly the Shield, be it on the microphone or in the ring.
4) Wade Barrett
5) John Cena


Mike Hammerlock
1) Eric Young
I subscribe to the notion that what happens in the WWE generally is more important than what happens in TNA, but the WWE spent the past week mostly moving the plot needle. It didn't put on any particularly outstanding matches. Meanwhile, Eric Young went into Sacrifice and retained the title against Magnus with the match of the night. Best TNA PPV main event in a long time (I did not care for AJ vs. Bully Ray last year). Young is on quite the roll. Three weeks in a row, he's delivered. In addition, Magnus dignified himself more with this loss than any of his wins when he held the belt.

2) The Wolves: Eddie Edwards and Davey Richards completed a fairly rapid three-month climb to the top of the TNA tag team heap. It's not a great division, but the Wolves are a quality team to build around and they had a hot little match against the Bro-Mans to win it.
3) Wade Barrett: Barrett vs. Sheamus was the best WWE match this week. I really hope the rumors that Vince McMahon is suddenly impressed with Barrett aren't true, because plenty of other people noticed Barrett's quality years ago. You'd like to think his boss had been paying attention. Barrett looks like the odds-on favorite to challenge Big E for the IC belt at Extreme Rules. Good on him.
4) The Shield
5) Gunner


Andrew Shillinglaw
1) Takao Omori
The winner of this year's AJPW Champion Carnival deserves the top spot this week. This is one of wrestling's most prestigious tournaments. Past winners include Giant Baba, Jumbo Tsuruta, Stan Hansen, Abdullah the Butcher, Vader, Misawa, and the list goes on. That list is very good company. Last minute decision or not, this man won. And that nets him the top spot this week.

2) The Wolves: New TNA tag team champions? GOOD! I actually don't mind The Bro-Mans. They've gotten so much better in a relatively short time. On top of that, DJ Zema Ion may be the funniest thing in wrestling. However, it'd be hard to argue that The Wolves don't deserve these belts. And now they have them.
3) Bad News Barrett: I think it's pretty clear that this man is the odds on favorite to win the IC Contender's tournament. I think it's also pretty clear that this gimmick is going to work out. He's super over with the crowd and he's putting in WORK as far as the wrestling goes. I'm on board.
4) JT Dunn and David Starr
5) Eric Young


Mike Chin
1) Kane
No, I don't think Kane has a real chance at winning the strap at Extreme Rules, but last week on Raw he went from a complete after-thought and weird step down for Daniel Bryan to a compelling challenger in his own right. And say what you will, excluding those very first few weeks without the mask in 2003, I've always felt Kane's character is more menacing with the mask. Besides, that look is more of a direct callback to the Team Hell No days.

2) Eric Young: By allowing Young to retain the strap at Sacrifice, TNA confirmed that he will be more than a Chris Sabin-style short-run, hot shot champ, and may actually evolve to the legit face of TNA.
3) Bray Wyatt: I'm a little torn on whether Wyatt singing while he cradled Cena's head on his lap was perfect or just plain weird, but regardless, he continues to be booked as a legit threat to Cena's character, and a big enough deal that you can't laugh off the prospect of him beating Cena this weekend.
4) Bad News Barrett
5) The Shield


Paul Lapointe
1) Eric Young
Well TNA is officially on the EY bandwagon booking be D-Bry or not and I am glad. Hopefully in the coming months people can come around to the fact that outside of his silly character work that Young can just plain go in the ring. Plus with so many re-vamps to serious and back to Santino silly over the years I just hope TNA fully commits this time out. Fingers crossed.

2) The Wolves: Time for a REAL run with the belts after the hot switch a few months back. But thinking of it really who else outside of the Bro-Man's are there to challenge these guys at the moment? TNA bring back Christopher Daniels ASAP.
3) Bad News Barret: I was genuinely shocked for the first time in a while from the outcome of a match on Raw and that was Barret going over Sheamus in the IC contenders tournament. With Vince reportedly behind him maybe its time that if and when he gets the IC belt that his run will not be as abysmal as the first 3(!) times prior.
4) The Shield
5) Gunner



---
THE WINNERS~!
Special Mention…Kane - 10 Votes


Fifth Place…Takao Omori and Dean Ambrose - 11 Votes


Fourth Place…Roman Reigns - 12 Votes


Third Place…The Wolves (Richards and Edwards) - 15 Votes

The Wolves defeated the BroMans and DJ Zema Ion at Sacrifice to win the TNA Tag Team Titles!



Second Place…Bad News Barrett - 17 Votes

Bad News Barrett advances to the finals of the IC Title contender's tournament, defeating Sheamus clean in a hard hitting match.



And 411's Wrestler of the Week is…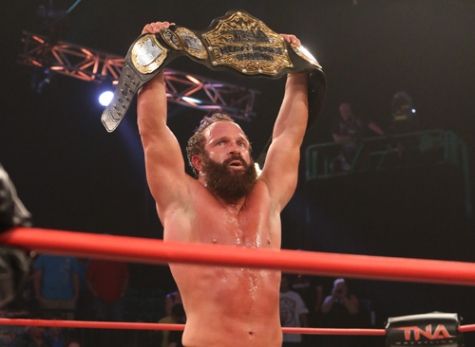 Eric Young - 20 Votes

Eric Young does it again, retaining the TNA World Title at Sacrifice!






Year-End Standings~!
And here are the standings after week Three…

Eric Young - 42pts.

Batista - 15pts.

Roman Reigns - 12pts.
Paige - 12pts.
Cesaro - 12pts.
Bad News Barrett - 12pts.

Triple H - 9pts.
Davey Richards - 9pts.
Eddie Edwards - 9pts.
Dean Ambrose - 9pts.

Seth Rollins - 6pts.
Randy Orton - 6pts.

Daniel Bryan - 3pts.
Takao Omori - 3pt

Kane - 1pt
Kota Ibushi - 1pt
Sanada - 1pt

---
Voting began 4.15.14
Year-End Rankings Key:

WWE Contracted Wrestlers are represented in BLUE.

TNA Contracted Wrestlers are represented in GREEN.

ROH Contracted Wrestlers are represented in RED.

US Independent Wrestlers are represented in MAROON.

Japanese Contracted Wrestlers are represented in BLACK.

Mexican Contracted Wrestlers are represented in MAGENTA.

Other International Wrestlers are represented in INDIGO.

---
**PREVIOUS WINNERS**
Year One Winner: Ric Flair (2005-2006)
Shortened year, starting September 2005)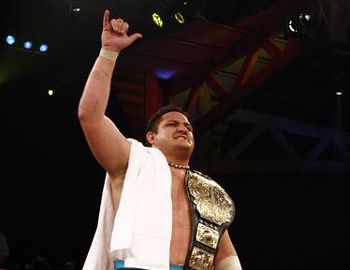 Year Two Winner: Samoa Joe (2006-2007)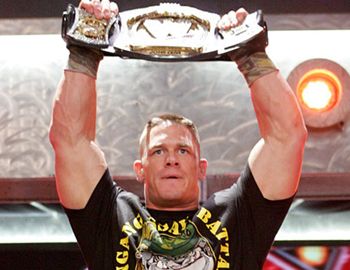 Year Three Winner: John Cena (2007-2008)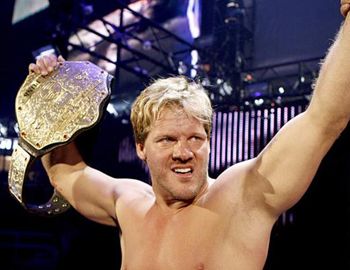 Year Four Winner: Chris Jericho (2008-2009)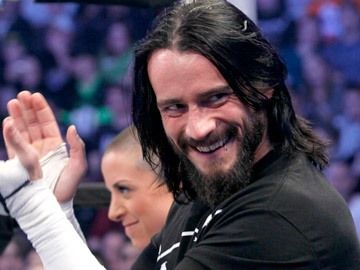 Year Five Winner: CM Punk (2009-2010)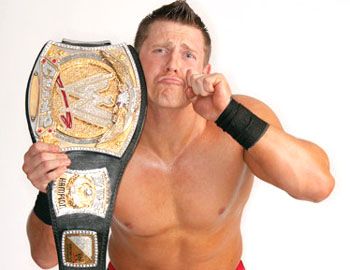 Year Six Winner: The Miz (2010-2011)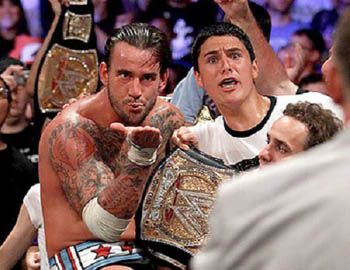 Year Seven Winner: CM Punk (2011-2012)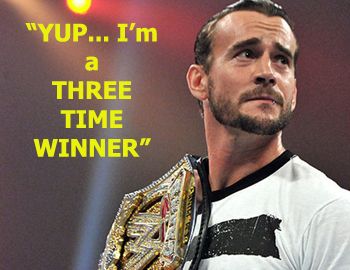 Year Eight Winner: CM Punk (2012-2013)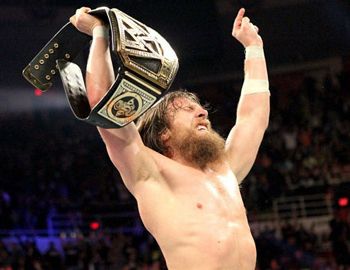 Year Nine Winner: Daniel Bryan (2013-2014)
comments powered by