SPOTLIGHTS
Smart Marks 5.03.14: Crying Uncle
Posted by Dino Zee on 05.03.2014

Join me this week as we discuss Averno jumping from CMLL to AAA, the fighting TNA World Heavyweight Champion, and Submission Wrestling!

Hello, hello, and welcome back to another edition of Saturday's Smart Marks, with yours truly, Dino, as your scribe! This is the place where I'll offer my musings on recent goings on in our world of wrestling, and do my best to discuss them as intelligently as possible. I may gripe, I may gush, and I may grate- but I promise that this is all done with 100% real emotion, and not in some cheap ploy to manipulate you guys like a troll.

Last week, we had a really good discussion about who we felt had the best suplexes. Very little surprise that Scott Steiner and Taz were called out by nearly everyone as having the suplexes we dream about. I'll always lean Steiner over Taz, but that's really only because I watched him longer. There's no denying that Taz had some of the absolute sickest suplexes ever, and most of them were improvements on what Scott was doing. I'd also like to say that while no one really mentioned him outright, Rick Steiner ALSO had a boatload of amazing throws and suplexes. I guess that's what happens when your brother outshines you. Also, huge nod of agreement to the reader that mentioned Owen Hart's belly to belly. That thing was straight up art.

All right, we got a new week, a big news bit, so let's hit the Marks!





A Ver... ¡no!



This week, sad news for those of us who watch CMLL, as it was revealed that Averno has jumped to AAA. His last day was apparently April 27th, which made the news that much more shocking. In fact, if I may be totally honest here, the only reason I found out about it was reading the comment section regarding the story of Global Force Wrestling coming to a working agreement with AAA. When some of the fans began talking about how AAA is garbage and CMLL is not, someone pointed out that AAA has Averno. I was immediately puzzled as to how one could be so wrong about something, but then it was said again later in the thread. So, I hit up the Googles, and lo and behold, heartbreak awaited.

It's hard for me to speak about CMLL with the same historical authority I try to use when talking about WWE, or WCW, or even TNA. Those are companies that I've spent years watching, and I've come to know all their wrestlers quite well. With CMLL, I'm still only about 7 or 8 months into my fandom, so speaking about the importance of Averno rings a little hollow. Still, for the first time in 20 years, Averno is not a part of CMLL. That is big news, regardless of whether you know all the history or not.

Averno was instantly one of my favorite guys in CMLL, as he really brings a certain level of smarm to his overall presentation that I really dug. He kinda reminded me of a WCW Era Eddy Guerrero in that sense. His matches were always entertaining, and he was a really fun rudo to watch. For me personally as a fan, this really sucks, because AAA is still not available where I live. While it may very well be "on the way" or whatever, the fact remains that for now, I get no more Averno. That's an absolute pisser.

The scuttlebutt is that he jumped to basically restart his feud with Místico/Sin Cara, who also recently surfaced in AAA after being released by WWE. It makes sense from a financial standpoint, as those two should be able to draw pretty well, and the matches should be able to deliver. I only say "should" instead of "will" because I think speaking so definitively about the future can be a fool's endeavor. Regardless, as long as everyone stays healthy and happy, both stand to pocket quite a bit of money in the resurrection of this classic feud.

Of course, this is also another shot fired in the always going feud between AAA and CMLL, and you have to imagine that losing one of their top heels isn't going to sit well with CMLL. Sure, Averno wasn't exactly a main event player at the time, but he was still a very well known name with a loyal following, and he was always CMLL's guy. AAA taking him away, in my opinion, hurts a lot more than when CMLL was able to take Psicosis (Reaper) and Alebrije (Kraneo). In my American wrestling world of long contracts with even longer no compete clauses, seeing a jump like this brings back some good memories of days long past here. Luger jumping, Rude being on both shows at once... good times.

Still, I'm going to miss Averno. I absolutely wish him the absolute best in his new home, and I hope to be able to check him out over there. That doesn't change that this is a huge loss for CMLL, and for their fans, too. Obviously, if you have AAA access, you're less bummed than I about this.

What do you guys think of the jump? Do you think Averno and Sin Cara can recapture the glory? Is this as huge a loss for CMLL as I make it out to be? Hit the comments and let your voice be heard!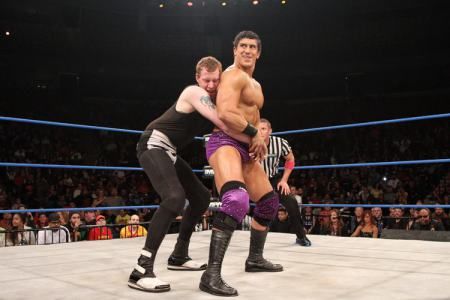 Champions Edition



Eric Young as TNA champion has really been my favorite part of TNA the last couple of weeks. There, I said it. Moving on from whether or not the move was made because of Daniel Bryan (who cares?), I was honestly worried with what, exactly, they were going to do with Young. His ready feud with Abyss was basically blown off to get him the belt in the first place, and it appeared that Magnus and Abyss would feud, costing Young a feud with the guy he beat for the belt in the first place. Yes, they had the rematch Sunday, but it felt more like an obligatory rematch than one with any real emotion to it.

Well, that's why I'm not a part of TNA Creative. They have decided to go the "fighting champion" way with EY, having him set a goal of defending the championship every week on Impact. Well, that's a hell of a way to get your champion over, ain't it? Impact saw Mr. Anderson, Gunner, and Bobby Roode all demanding a shot at Young after impressive outings at Sacrifice. In the end, it wound up being Mr. Anderson vs. Gunner, winner meets Roode, winner faces EY. A tad convoluted, but that's about par for the course from where I sit. And really, it gives us a clear top contender for the night, instead of just having MVP hand a shot over to one of his buddies. When the dust settled, Roode earned the title shot against Young. In the interim, a new feud between James Storm and Mr. Anderson appeared ready to go (thanks to Storm costing Anderson the match against Gunner), which I think can be a really fun feud between two guys who haven't really crossed paths up to this point (to the best of my memory).

Back to the point, the main event pitting Young against Roode was a fun match. A really fun match, actually. Even better was that the commentary team actually paid attention to the history of this all! They mentioned Team Canada! They mentioned the fact that these two guys had actually had a pretty bitter feud years ago! This wasn't just some random match with no backstory between a champ and a top contender- this was a match between two guys who know each other very well, and have been friends and enemies throughout the years.

Honestly though, let's call this for what it was- a chance for EY to have yet another solid outing against quite possibly the most complete heel on the roster in Roode. On top of that, Young picked up the big win with the flying elbow. Roode gets a little wiggle room to complain, as that was his second match of the evening, so this might not be a finished issue, either. Still, I can't find one reason to get angry at a World Champion storyline basically being "He wants to constantly defend his belt against the best the company can offer to prove he's the best in the company." And if you can, then I really think you're doing it wrong. Much credit to TNA for building up EY the right way, and taking their time in doing so. Maybe the actual title win felt somewhat hotshotty, but I have no problem with anything they've done since.

What about you guys? Do you like the "fighting champion" schtick? Do weekly World Title matches water things down for you? Hit the comments, share your thoughts!





Give Up!



I've enjoyed discussing our favorite moves- and those who executed said moves- the last couple weeks, so why not keep it going? This week, I thought I'd discuss submission moves. Whether it's a simple armbreaker, or a super convoluted lucha libre hold, submissions have been a part of pro wrestling from the very get go. Hookers and shooters made their mark in the early days, and it continues on in the present. I would argue that the growing popularity of MMA has helped keep submissions viable after the Attitude Era did all it could to show that everyone was a huge badass that hardly tapped out to anything unless Ken Shamrock was the practitioner. While we still have the pro wrestling aspect in which submissions can be he held for minutes on end without doing any serious damage, the fact that they still remain a very important part of pro wrestling makes me a happy camper.

In my lifetime, names like Hart, Benoit, Malenko, Jericho, Flair, Valentine, and even Garvin were known for holds that would force you to cry Uncle! once they were applied. We've also seen flashes in the pan here in the US like Craig Pittman and Kurasawa also try to make their names with their submissions.

So, what holds did I always gravitate to? First off is easy and should be pretty obvious, as I'm a gigantic dork for the Sharpshooter. I prefer the Sharpshooter to the Scorpion Deathlock, as I always felt that the way Sting would trap his opponents' legs underneath his armpit was an easy way to snap your shoulder if the opponent tried to kick out of the move. Bret, on the other hand, did a much better job of securing the legs and holding them in place without having it all depend on the shoulder and elbow not giving out. Regardless, I like both versions of the move greatly, thank you very much.

Next up is the MutaLock. Some call it an inverted Indian Deathlock, and I believe it was Candice Michelle who used a version of it as well (the Candy Striper? Any help here?). With the opponent on their stomach, Muta would criss-cross his opponents' legs together and step inside the gap, locking his opponent's foot with the crook of his (Muta's) knee. He'd then fall backwards, bridging and pulling upwards with an upside-down chinlock. I've always been a stupid mark for this hold, regardless of who the practitioner is.

While I'm not a huge fan of her so far, Paige's Scorpion Crosslock is a new move that I think is phenomenal, and hope to see a lot more of as well.

Dean Malenko's Texas Cloverleaf was a thing of beauty, and while I always preferred the Sharpshooter to the Cloverleaf, there's no way I'm discussing submission holds without giving Dean a specific shoutout, on account of him ruling it all.

The Regal Stretch, Hangman's Neckbreaker, and Canadian Backbreaker are three more favorites of mine, as all look extremely uncomfortable for the victim being contorted in ways most displeasing.

So, what about YOU guys? What holds did I criminally not list? Do you prefer submission wrestlers? Hate submission wrestlers? Tell me all about your favorite holds down in the comments!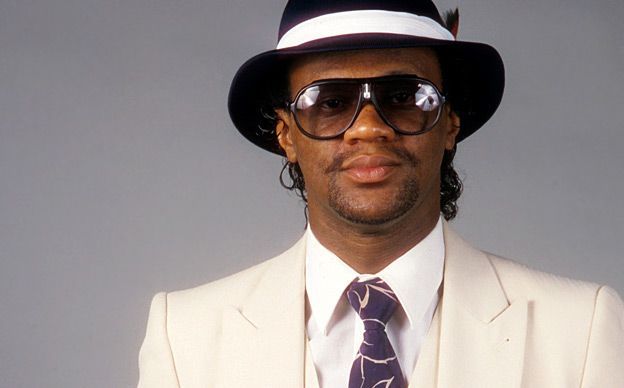 PUT SLICK IN THE HALL OF FAME!!



And that will bring the Marks for the week to a close. WWE will be presenting Extreme Rules this weekend, with TEAM HELL NO EXPLODING!!! It's not quite the Mega Powers, but it works. Also, my Golden State Warriors will be playing Game 7 Saturday Night, so if you hate all things Los Angeles (or Blake Griffin), come hop on the bandwagon for one night, eh?

Until next time, enjoy your WWE, your TNA, your Lucha, your Puro, and your Indies.






It's All Wrestling. It's All Stupid. We All Love It.
comments powered by