SPOTLIGHTS
The 8-Ball 5.05.14: Top 8 Potential Wyatt Family Members
Posted by Mike Hammerlock on 05.05.2014

From Alberto Del Rio and Big E. to Brodus Clay, Bo Dallas, AJ Styles and more, 411's Mike Hammerlock counts down the top 8 potential Wyatt Family members!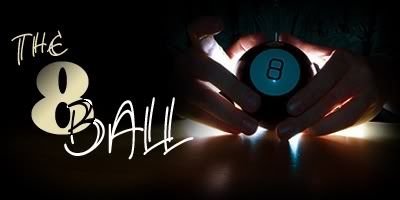 We're creeping up on the one-year WWE anniversary of the Wyatt Family. It's been a great year for Bray's backwoods brawlers, but the Cousin Oliver Cycle spins faster in professional wrestling. There's always a new Moondog in the kennel. Plus, since things are going so well for the Wyatts, it's time to be fruitful and multiply.

The best thing about the Wyatts is you could put almost anyone in the family. Sheamus as a Euro-Wyatt. Goldberg as Uncle Bill. Heath Slater as a complete red ass (baseball term for an ultra-competitive guy who gets all over his teammates). The possibilities are endless. That's how cool the Wyatts are. The Magic 8-Ball went into overdrive on this one. It insists everyone should be in the Wyatt Family. Unfortunately I only get to pick eight. Restrictions. What's a man to do?

One thing this column isn't doing is casting Sister Abigail. Just not going there. I'm in search of who should join Family, upping the fear factor for everyone in the WWE.




8. Brodus Clay



Why is there a picture of King Cake Baby, you ask? A) Because I love King Cake Baby and it's way more interesting than a picture of Brodus Clay. B) Bray Wyatt has built himself a menagerie of oddities. More than anything else, the Wyatt Family represents the discarded parts of our culture. Our trash is their treasure. Brodus Clay went from Alberto Del Rio's hired muscle to callin' his mama to NXT enhancement talent. His career looks to be headed out the WWE trash chute. Yet he's still an enormous man. He'd make a great reclamation project for the former Husky Harris. Bad body? Whatever. He fits right into Bray's Island of Misfit toys.




7. Bo Dallas



Do you Bolieve? Maybe you don't, but iIf Bo can take that gimmick as far as Bray has taken his, then more power to him, and apparently Mike Rotunda sired a set of confirmed wrestling geniuses. Though if Bo scuffles a bit, if he can't get off the ground in the WWE, the Family awaits him with open arms. Bray can constantly test his purity, doubting his commitment, constantly telling him he's not good enough. You know, like a jerky older brother. Or they could do a bizarro brother switcheroo story. It looks like Cody Rhodes is turning heel in the Rhodes brother split. Maybe Cody finds his way to the Wyatt Family while Bo winds up teaming with Goldust, who'd be a great veteran hand to bring the kid along. It would make for a dynamite rivalry.




6. Little Jimmy



R-Truth was doing a form of southern insanity long before Bray Wyatt. He never got more over than when he dropped his rapper gimmick, started speaking to himself and talking about spider soup. The world is still waiting on the arrival of Little Jimmy. There's gotta be a Little Jimmy, right? Now maybe Little Jimmy is a wrestler or maybe he's a kid in a sheep mask or maybe he's still an imaginary entity. Lots of ways to go with Little Jimmy, but crazy R-Truth is a good R-Truth. It's the R-Truth I want to see. He could Bray's gyroscope of chaos, get him spinning and see what he knocks over.




5. Jack Swagger



The end of Swagger's Real Americans run is looming. He's been at it for more than a year and he's officially won nothing in that time (outside of a #1 contender's Elimination Chamber match). The next step on his disillusionment path almost has to be the Wyatt Family. America has failed him. Insider pull (Vicky Guerrero) failed him. The college path failed him. Swagger supposedly played the game the right way. Where did it get him? If anyone in the WWE should be ready for nihilism, it's Jack Swagger. The system's now even stacked against the sort of guy it used to be stacked for. Swagger ought to be humming along to the song Bray's singing.




4. Big E



At the time I'm writing this, I don't know if Big E won or lost his Intercontinental title match against Wade Barrett. I hope he lost. Winning forgettable IC title matches got him nowhere. Hopefully Barrett can give him the feud he desperately needs, an opponent who pushes him to a higher level. Of course, this isn't a Big E column. It's a Wyatt Family column. And if Big E gets quickly dispatched from this Barrett feud, the Wyatt Family could be just the ticket for him. Bray was in NXT when Big E was the NXT champ. He knows what kind of force Big E can be. What Big E has lacked so far in the WWE is a purpose. Bray Wyatt is a big ball of purpose and he'd be fantastic for Big E.





3. KENTA



Bray Wyatt, Luke Harper and Erick Rowan are all big fellows. It makes you wonder if they've got a Foghorn Leghorn cutout holding his hand at a certain height with a word balloon that reads, "I say, I say, y'all need to be this tall if you want to join the Wyatt Family." Kenta Kobayashi would not measure up, but he is a little man who crushes people like a big man. Everything he does is big impact guy. He's a stick of dynamite in the ring. Rumors are he's heading to the WWE and he'd be an interesting addition to Bray Wyatt's menagerie (not to be confused with TNA's Menagerie with Mike Knox, Rob Terry in a mask and a fire dancer named Rebel) . WWE wrestlers think they understand how this business works. They think they can size up a guy with their eyeballs. Wyatt could take advantage of their smugness, unleashing KENTA on them like a tiny ball of hatred. In fact, with all due respect to Pat Verbeek (the original "Little Ball of Hate"), call KENTA the tiny ball of hatred. He'd be a whole new kind of attack dog for Bray.




2. Alberto Del Rio



Del Rio's ridden Mexican aristocrat about as far as it can go. He's a star player who needs to make a radical change if he wants to get back into the championship picture. The Wyatt Family is just about the diametrical opposite of Del Rio. It's a grungy unit, living a spartan life on the fringe of society. It's exactly what Del Rio needs if he wants to find the hunger it takes to climb back to the of the mountain. Have him give up everything, denouncing his money, in a desperate stab at glory. This country is never going to accept him. WWE fans will never appreciate him. All the money in the world won't ever prevent him from being an outsider, a usurper. Time for him to band together with the purest of outsiders and try to take over the WWE the only way a man like him ever could.




1. AJ Styles



Fine, AJ coming to the WWE is a longshot. I do not expect it to happen. But how cool would it be if he did? This isn't a list of who will join the Wyatt Family. It's a list of who should join the Wyatt Family. The Phenomenal One's arsenal of mark out moves would kick the Wyatt Family into overdrive. He could come in as a nominal babyface and then do an immediate shock turn, saying he's been lied to by everyone he ever worked for in this business and he's sure Vince McMahon is lying to him as well. He's not going to wait to get buried by WWE Creative. He's not going to allow himself to get turned into enhancement talent for the next wave of muscle jockeys. Instead he's joining up with the only man who ever spoke truth to him in this industry. Bray has opened up his eyes. It's time for the forgotten and overlooked to rise up and conquer the powers that be. AJ would be a major shock pickup for the Family, which would be exactly the way Bray Wyatt likes to operate.

As for Sister Abigail, this would be my pick:




I take requests.. The purpose of this column is to look forward. What could be? What should be? What is and what should never be? What would make more sense? If there's someone or something you think should be given the 8-Ball treatment, mention it in the comments section. I might pick it up for future weeks.
comments powered by