SPOTLIGHTS
411's Wrestler of the Week 5.13.14: Year 10, Week 5
Posted by Larry Csonka on 05.13.2014

Sheamus won the WWE US Title, YAMATO won Dragon Gate's Open the Dream Gate Title, Biff Busick won the CZW Title and more! But who won 411's Wrestler of the Week? Find out inside!




Welcome to YEAR TEN, WEEK 5 of 411's Wrestler of the Week. A quick overview of the rules to kick things off for us as a reminder…

Each writer chooses FIVE wrestlers (although ties and tag teams are allowed) from any promotion and each wrestler gets a point total attached to that ranking. It looks a little like this…

1st - 5
2nd - 4
3rd - 3
4th - 2
5th - 1

Then we tally up the votes and the official 411 Wrestler of the Week is crowned. But wait, there's more! Each week the top SIX vote getters get a points value for their ranking which looks something like this…

1st - 15
2nd – 12
3rd - 9
4th - 6
5th - 3
6th - 1

...and they go towards the 411 Wrestler of the Year award to be announced each year around WrestleMania. This will be posted every Tuesday (the voting week runs Monday through Sunday). Let's see who wins this week…

---



Larry Csonka
1) YAMATO
YAMATO defeated Ricochet to become the NEW Open the Dream Gate Champion, ending Ricochet's run early. With the victory, YAMATO becomes the first man ever to hold the title twice; with less than a year between reigns, and did so in a MOTY contender. This was a major title change, and the biggest event of the week in my eyes.

2) The Bravado Brothers: The Bravado Brothers defeated Ethan Page & Josh Alexander in a non-title match at EVOLVE 29, and then followed that up with a win over The Colony ay EVOLVE 30to retain their Open The United Gate Tag Team Titles.
3) Biff Busick: On Friday night, Biff Busick defeated Johnny Gargano via submission at EVOLVE 29. And then he followed that up with a victory over Drew Gulak to win the CZW Heavyweight Championship on Saturday night. Busick is a tremendous talent who needs to be booked more, by everyone.
4) Sheamus
5) Uhaa Nation


JUSTIN WATRY
1) Bray Wyatt
Eventful night on Raw. Eventful night on Smackdown. Without much else going on, Bray Wyatt gets the top slot.

2) Adam Rose: Debuted on Raw. I will give it a chance, but as stated 800 million times, just because something works in NXT does not mean it will work on the main roster. Just ask Emma.
3) Sheamus: New United States Champion! Long overdue. Add in all the laughable 'backstage updates' on him, and he is back in the spotlight. Not too shabby...
4) Batista
5) Bad News Barrett


Ryan Byers
1) YAMATO
Once again, YAMATO is the Open the Dream Gate Champion, having ended the reign of Ricochet. Though he doesn't seem to get a ton of credit for it in the United States, YAMATO has essentially becoming the cornerstone of the Dragon Gate promotion, a demonstrated by the fact that they keep going back to him so often to become the promotion's top champion. Particularly, this reign makes him the first person in Dragon Gate history to have won the company's top prize less than twelve months after having lost it.

2) Bray Wyatt: This Wyatt vs. Cena feud has been an awful, horribly booked mess, but at least this week Bray got to look a true top heel in the promotion, with wins on both Raw and Smackdown as well as extended promo time.
3) Sheamus: Sheamus hasn't had much direction lately, but hopefully that can be rectified by his championship win this week.
4) Flamita
5) Wade Barrett


Mike Hammerlock
1) YAMATO
Busy week in the wrestling industry. YAMATO won the Dragon Gate championship over Ricochet, who has been on fire early in 2014, in what is being touted as a MOTY candidate. If you're skeptical about how much weight to give a title win in a secondary Japanese promotion (New Japan is clearly the big dog in that yard), I share your skepticism. However, great matches deserve recognition and it's not like the WWE or TNA were putting on any great matches this week.

2) Uhaa Nation: If you don't know his name, learn it. Nation oozes talent. He's both powerful and athletic. This weekend marked a major step forward for Nation at the Evolve 29 and 30 events. He got the pin in a white-hot tag match in the finale of Evolve 29, then he beat Trent Baretta (who has distinguished himself in the indies since leaving the WWE) and worked on the winning side of the six-man tag finale at Evolve 30. Belts will follow soon if the WWE doesn't scoop him up.
3) Sheamus: I've been exceptionally pleased with Sheamus' work since he returned at the Rumble. The man is a steady performer. Almost always delivers a quality outing. Nice to see him win the U.S. title in a battle royal, which has become his signature match. Real good follow up on Smackdown with Dean Ambrose as well. And if the Brogue Boy is going darkside, that should be fun. Two quick notes on the lower picks: 1) Biff Busick beat Johnny Gargano at Evolve 29 and then won the CZW heavyweight title the next night, and 2) Alex Shelley's return to a ROH ring served as a reminder of how much fans LOVE that guy.
4) Biff Busick
5) Alex Shelley


Andrew Shillinglaw
1) YAMATO
I don't necessarily agree with this booking decision. This feels like it happened because Dragon Gate didn't want their champion dropping falls during Best of the Super Juniors, which Ricochet is participating in. However, the match was great from everything I've heard and now Dragon Gate has a new singles champion. That deserves the vote as far as I'm concerned.

2) Biff Busick: There seems to be a real shift in CZW going on between Biff's win and the tag title switch to Juicy Product. I'm all about Biff Busick. If you're not on board, you should be. He kills it in Beyond and CZW on a regular basis. Him being the new CZW champion is a great thing.
3) Sheamus: New United States champion ending Dean Ambrose's lengthy but uneventful reign? I can get behind that. I can also get behind the rumblings of a Sheamus heel turn. Let's do it.
4) Adam Cole
5) Alex Shelley


Alex Crowder
1) YAMATO
I feel this week overall was kind of mediocre when it comes to wrestling developments especially in the bigger American companies. Overall, the most impactful event of the week is YAMATO's Dream Gate Title win. With this victory, YAMATO ties CIMA for the most Open the Dream Gate Titles. On top of that, the match was great.

2) The Wyatt Family: I know others will probably just say Bray, but I feel the rest of the Wyatt family held their end of the bargain. Luke Harper and Erick Rowan were pivotal pieces to the Wyatt Family victories on both Raw and Smackdown.
3) The Menagerie: This gimmick will probably fail in the long run, but for one night I think it debuted better than Adam Rose. I did not see any hype for this circus gimmick; however, it ended up being as over the top as I expected. Plus, it is nice to see an underrated big man like Knux actually get pushed. This gimmick is fun and I'm sure Rebel will become a fan favorite.
4) Jushin Liger
5) Sheamus


Mike Chin
1) Bray Wyatt
The Wyatt-Cena feud isn't great, but I also don't think it's as bad as some of the nay Sayers make it out to be. This week was a good one for Wyatt as he picked wins, got serious mic time, and WWE seems intent on making/keeping him as a major player toward the top of the card.

2) Sheamus: The Celtic Warrior has a direction, a secondary title, and a pair of good performances under his belt this past week, not to mention a kind-of-maybe heel turn (WWE will need to make the call on that. One way or another, he looks strong going into the upcoming European tour.
3) YAMATO: YAMATO's Open the Dream Gate Title win is nothing to sneeze. Particularly in a slow week mainstream US wrestling, his win over Ricochet is worthy of recognition.
4) Adam Rose
5) Knux

---
THE WINNERS~!
Special Mention…Uhaa Nation - 5 Votes


Fifth Place…Adam Rose - 6 Votes


Fourth Place…Biff Busick - 9 Votes


Third Place…Bray Wyatt - 18 Votes

Bray Wyatt impressed the staff by looking like a true top heel.



Second Place…Sheamus - 19 Votes

Won the US Title on Raw and defended it successfully on Smackdown…



And 411's Wrestler of the Week is…




















YAMATO - 28 Votes

Your NEW Open the Freedom Gate Champion!






Year-End Standings~!
And here are the standings after week five…

Eric Young - 43pts.

Roman Reigns - 21pts.

Bad News Barrett - 18pts.

YAMATO - 15pts
AJ Styles - 15pts.
Batista - 15pts.

Paige - 12pts.
Sheamus - 12pts.
Cesaro - 12pts.
Dean Ambrose - 12pts.
Daniel Bryan - 12pts.

Bray Wyatt - 9pts.
Triple H - 9pts.
Davey Richards - 9pts.
Eddie Edwards - 9pts.
Seth Rollins - 9pts.

Biff Busick - 6pts.
Randy Orton - 6pts.

Adam Rose - 3pts.
Takao Omori - 3pt

Kane - 1pt
Uhaa Nation - 1pt
Kota Ibushi - 1pt
Sanada - 1pt

---
Voting began 4.15.14
Year-End Rankings Key:

WWE Contracted Wrestlers are represented in BLUE.

TNA Contracted Wrestlers are represented in GREEN.

ROH Contracted Wrestlers are represented in RED.

US Independent Wrestlers are represented in MAROON.

Japanese Contracted Wrestlers are represented in BLACK.

Mexican Contracted Wrestlers are represented in MAGENTA.

Other International Wrestlers are represented in INDIGO.

---
**PREVIOUS WINNERS**
Year One Winner: Ric Flair (2005-2006)
Shortened year, starting September 2005)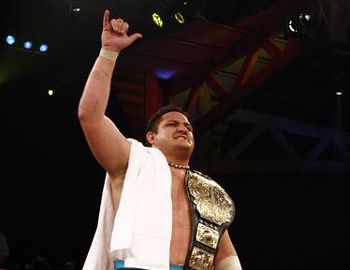 Year Two Winner: Samoa Joe (2006-2007)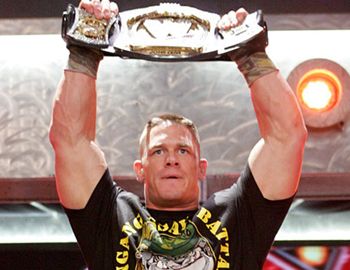 Year Three Winner: John Cena (2007-2008)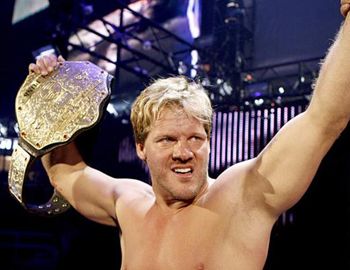 Year Four Winner: Chris Jericho (2008-2009)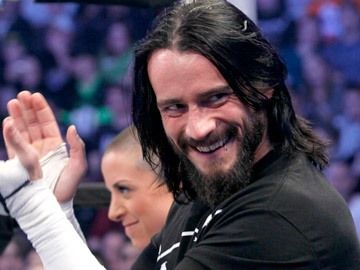 Year Five Winner: CM Punk (2009-2010)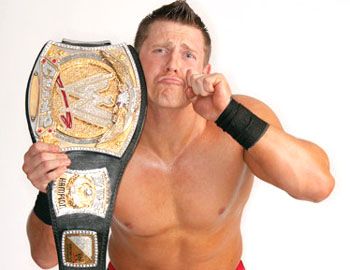 Year Six Winner: The Miz (2010-2011)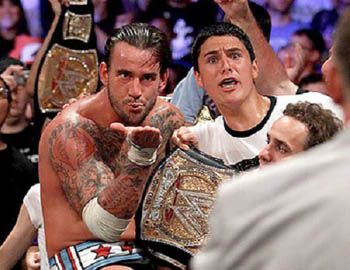 Year Seven Winner: CM Punk (2011-2012)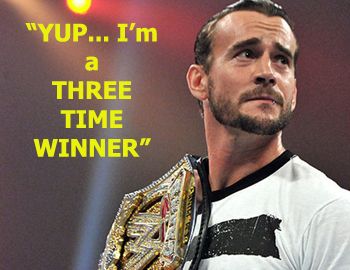 Year Eight Winner: CM Punk (2012-2013)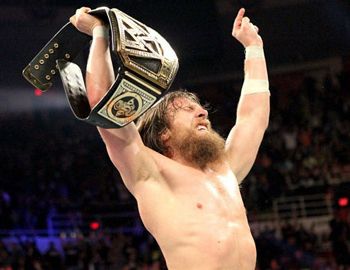 Year Nine Winner: Daniel Bryan (2013-2014)
comments powered by