SPOTLIGHTS
Wrestling's 4Rs 5.16.14: WWE Monday Night Raw & TNA Impact Reviewed
Posted by Jack Stevenson on 05.16.2014

The Shield served notice to Evolution, MVP turned heel and challenged Eric Young for the TNA World Title and more! Wrestling's 4Rs breaks down the Right, the wRong and the Ridiculous of WWE Raw and Impact Wrestling!


How the 4Rs of wRestling Work!
Here is a quick explanation of the 4R's. The column will run TWO times a week. We will group our feelings on the shows in various categories: The Right, the wRong and the Ridiculous. The Right is stuff that worked very well: a great promo, a great match and so on. PuRgatoRy is a section between the right and wrong. It shows equal traits from both sides that cannot be ignored and need discussed. It is not a bad place per say, as things can get remedied or go the wrong way the very next week. The wRong is what it sounds like: bad matches, bad or boring promos and so on. The Ridiculous is stuff that had no right on TV: Stupid angles and so on. And there is always a possibility of a 5th R, which is as bad as they come. This column is supposed to be analytical, and at the right time very critical of the shows, it was the whole reason it was created. This is not a "mark" column, nor a "smark" column, our goal is to analyze the show from many different fronts, reward the good and call out the bad. We will not apologize for our opinions, they are as they are, whether positive or negative.
---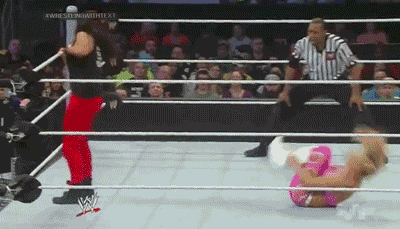 It's quite hypnotic….
By: Jericho Ricardi
IMPACT 5.8.14:
QUICK MATCH RESULTS:
Angelina Love and Velvet Sky def. Madison Rayne and Brittany at 11:38 via TAWDRY DISROBING

Ethan Carter III def. Kurt Angle at 3:22 via injury-exploiting pinfall

The Wolves def. The Bro-mans at 7:01 via pinfall to retain the tag team titles

Knux def. Frankie Kazarian at 2:09 via pinfall

Willow def Magnus at 2:19 via DQ

THE RIGHT:
Eric Young, fighting champion: Eric Young continues to take on all comers and defend his belt on a regular basis. Say what you want about TNA exploiting the Daniel Bryan craze by rocketing Young to the title – and you'd probably be right – but quite frankly I wish WWE would have booked DB as champion the way TNA has been booking EY. Rather than wetting his pants fleeing from Kane, Eric Young is defending his title on a regular basis against all competition... and winning, decisively. They're handling this well, and EY deserves it, but I wish this had happened six months ago instead of the Magnus disaster. Had that been the case, TNA might be in a better place now. EY is very over with the live crowds and has been for a long time, and deserved a better build to the title at an earlier point in time. I think they had him in mind for a future champion well before we think they did – remember how he got the pinfall to defeat Aces and Eights last year? That flying elbow off the cage in San Antonio was one of the best spots of 2013.

Eric Young Vs. Bobby Roode that wasn't: Roode is almost without a doubt TNA's biggest entirely-homegrown star (and by "entirely-homegrown", I mean he didn't make a name for himself in ROH like the Samoa Joes and CM Punks). ...yes, I know Roode was a jobber on Velocity a couple times in 2002, and I don't count that. Year after year, Roode has been "Mr. Consistency" for TNA, and he said as much in his promo with EY here. By the end of the promo I was excited to see the rematch between the two, despite that we saw the first match -just last week-. The promo ended up going nowhere due to The Plot~!, but for a few minutes there we had two TNA Originals facing off mid-ring and it was awesome. It felt big-time, and I could see this end up being the BFG main event this year. Also, due to Roode's suspension by MVP, it's a safe bet that he'll be returning as a face. At this point I think the audience would be happy to buy him as a good guy.

Silhouettes: The Beautiful People doing their silhouette dance/pose might well be the best part of the show every week. While Velvet is the more attractive of the two normally, Angelina somehow has a hotter silhouette. At least, that's my professional opinion as a woman-thusiast.

Ethan Carter III: He booted Sting out of the company, now it looks like he's sending Kurt Angle packing. Taking out two of the biggest stars in the company is quite a resume, and they made a good call making EC3 the man to get this push. Everything this guy does is gold. He's brimming with both dickishness and charisma, LOOKS like a superstar, and has a highly-punchable face. A heel who personifies The 1% is something that a major wrestling company NEEDED to do, since The 1% have essentially become the most hated heels in America over the past few years (whether deserved or not). Good on TNA for capitalizing and being with the times. Meanwhile, WWE is giving us Zangief as a heel because it's 1988.

Gunner is a real person: Interesting little conversation between Gunner and Anderson backstage, with Gunner questioning how Samuel Shaw got to be such a creepy, rapey bastard. "Usually, something happened in a person's past to make them that way" he says. Anderson is dismissive, stating emphatically that Shaw is just crazy...case closed. TNA is better at subtlety than they get credit for, and frequently begins storylines with small vignettes like this that no one seems to notice as they happen. The seed has been planted for Samuel Shaw being a victim of some sort, and it may be interesting to see where this goes. Also, props to Gunner for continuing to come across like a real person in his segments. He has improved by leaps and bounds in the past few months both in wrestling and promo ability.

THE MENAGERIE: This group seems to be a lot of fun. Knux is still a bit bland, and as the centerpiece of the group I'm not sure if he'll work. A bit of a character overhaul might be in order, and it could be something as simple as wearing facepaint and being a little more bonkers. I could do without The Freak, but Crazy Steve has a lot of potential. Also, their music is quite catchy. More importantly than all that Rebel is insanely hot. Good God. That thing where she leans backward and arches her back on the ramp is the second-hottest thing on Impact besides Silhouettes. Yes.


puRgatoRy:
MVP turns heel: The jury is out on whether or not this will work out. I thought he was working really well as an honorable and just authority figure; a leader for the people, of sorts. Now he's just Dixie Carter 2.0? Seriously?

Bully Ray looks for Dixie: We'll see where this goes. The segments with Ray turning TNA HQ into a beer bash were fairly entertaining, but the continued presence of Dixie on TV isn't really something I want more of. If they actually have Bully Ray carry out his idea to put Dixie Carter through a table (preferably in NYC this summer, rather than wasting it in Orlando) it might be one of the best things they could do at this point. They don't have much to lose at this point, and while TNA's detractors will pull the "violence against women" card, the visual of Ray putting Dixie through a table in the Manhattan Center in front of a completely rabid NYC crowd WOULD get people talking in a huge way.

"Fancy Boy" Rockstar Spud: This guy is actually a very entertaining screen presence when used correctly. Challenging Bully Ray to fisticuffs while threatening to "get physical" was some comedy gold. Problem is that he probably couldn't ever credibly be a serious threat to any of the stars in the company, which makes me wonder what the point of his being there is. Is he supposed to be a threat? If not, how about going all-out and giving him a funny nickname that plays up his dandyism? Perhaps he could someday go for the X-Division title, but that's about it. Too bad TNA doesn't have any other midcard titles. How about reviving the TV title?

Brittany: She's cute, has personality, and can wrestle. However, she's saddled with a super-generic name. Why couldn't they let her keep her awesome real name, Santana Garrett? Renaming indy stars when bringing them up to TV is something that baffles me, no matter which company does it. It baffles me almost as much as the fact that this company (completely idiotically) passed on Ivelisse Velez and Taeler Hendrix.

Wolves versus Bromans: This feud continues to give us good matches, but it's a bit tired. The Bromans just aren't over (not that anyone can really be over in the Impact Zone, but even in road shows they barely get a response). The Wolves are over, but they need new competition to continue their ascent. Bad Influence would have been the ideal next feud for the Wolves, but they've been released. What's left? Anyone?

Willow... not sure if working: I enjoy the weird blurry intro and the bombastic music that accompany Jeff Hardy's violent alterego to the ring. That said, he's just so bizarre that he borders on turning into a comedy character.

Bram and Magnus: This could be interesting. Bram wants Magnus to go back to the vicious fighter he used to be, while Magnus is apprehensive and not very happy about Bram being there. This could storyline could undo some of the damage that Magnus' title reign did to him if he goes back to being the powerful threat that he used to be. For his part, Bram has charisma and could add to the show. He REALLY needs to change his look a bit, though, because right now he looks exactly like Gunner.


THE WRONG:
Don't ever start liking anybody in TNA: Because they'll probably turn heel. The main problem that I've had with TNA for years now (besides the Impact Zone, 2013 aside) is that they CONSTANTLY turn characters heel (and back again). It's almost impossible to get behind face characters when you aren't given a real chance to. Pope D'Angelo Dinero, Ken Anderson, and Magnus all come to mind as guys who were ruined by poorly-timed or executed heel turns. James Storm was one of the most over faces in the company, so they turned him heel. And Austin Aries – who could and should be the biggest star in the company – has gone back and forth between the alignments so often that it's a wonder people know how to react to him anymore.

Poor Kazarian: He went to slap hands with Christopher Daniels, and no one was there. He then proceeded to lose to Knux in two minutes, and from what I understand he has now been released in The Great TNA Midcard Purge Of 2014. Hope he lands on his feet in GFW or gives WWE another shot. Kaz is a guy who I felt should have been world champion years ago, but never got the opportunity. Much like Daniels, Pope, Matt Morgan, Hernandez, and Monty Brown, there was a time when he was over enough for it and he certainly deserved it. Now his career in TNA ends unceremoniously, with no fanfare. Oh well.

Piped-in SFX: They do this sometimes. Not as often as Smackdown did in the mid-00's, but also not as well. It's painfully obvious when it happens. When MVP turned heel and attacked Eric Young, for example. The crowd barely even reacted in any noticeable way on-camera, but the audio suddenly got extremely loud with booing that we couldn't see. It completely took me out of the moment. Then again, it's unfortunate that sometimes they have to pipe in sound to keep major events like this from looking like crap, because...


THE RIDICULOUS:
The Crowd: As usual, the Impact Zone crowd completely sucked the life out of the show. Remember what I said earlier about Roode and EY's face-off feeling big-time? It felt that way because both guys BROUGHT IT, despite the crowd being almost-silent the whole time. In front of a real arena crowd, this promo would have been off the charts. The Impact Zone crowd continues to be the worst thing about the show, week in and week out. It's just completely dead, and it doesn't really matter what they're watching. The Gunner/Storm match at Sacrifice was one of the most insane, brutal matches I've seen in a while, and the crowd barely reacted to anything. The average RAW, whether it's better than that week's Impact or not, looks much better due to the presentation... and the presence of a real, noisy crowd. That has always been the case and will be the case until they get out of that soundstage. If TNA can't afford to consistently tour and absolutely needs to have a "home base", put it in a place with actual WRESTLING FANS like Chicago, New York, or Boston. Not a tourist destination in Florida. On the bright side, their upcoming NYC Manhattan Center tapings are probably going to work out well for them. The crowd might eat some aspects of the show alive, but at least they'll be reacting.



The 411:


A little background on how I feel about the Big Two... or the Big One and a Half, if you'd prefer: I like TNA. I've liked TNA for years. Sometimes I like WWE more, sometimes I like WWE less. I wonder how much of my liking TNA has been a result of my wanting to see something non-WWE, due to my disappointment with WWE's product. The jobbing-out of secondary champions in WWE, the misuse of Daniel Bryan (Wrestlemania aside), the logjam of part-timers in the main events at Wrestlemania 28 and 29.

I've really wanted to see TNA succeed and bring back that sense of competition from the old days. However, for a while now TNA has been the very definition of cold product. The crowd has a lot to do with it, but it simply isn't interesting. As much as WWE pisses me off sometimes, at least it's interesting.

In this episode, TNA made some good strides towards becoming interesting. I'm curious to see where the MVP storyline goes, and leaving the Impact Zone again is a good move. The question is, after a couple months in NYC, where do they go next?

At this point, I don't just want to see TNA succeed, I want to see it not die. I'm rooting for them. Despite that, I'll be fair when looking at these shows, and I'll call them out when necessary.

This concludes my MAN-SIZED debut edition of the Impact 4Rs, which was big and beefy like a Texas Longhorn. I'll be back on Monday with the next episode. Oh, and cheap plug time: Check out my musings on retro video games and various media at www.coronajumper.com.

Show Rating: 6.5

As a reminder, I will be going by the 411 scale…

0 - 0.9: Torture
1 - 1.9: Extremely Horrendous
2 - 2.9: Very Bad
3 - 3.9: Bad
4 - 4.9: Poor
5 - 5.9: Not So Good
6 - 6.9: Average
7 - 7.9: Good
8 - 8.9:Very Good
9 - 9.9: Amazing
10: Virtually Perfect

By: Jack Stevenson
Raw 5.12.14:
QUICK MATCH RESULTS:
Rob Van Dam d. Jack Swagger

Paige d. Alicia Fox

John Cena & The Usos d. The Wyatt Family

Nikki Bella d. Natalya

Sheamus d. Curtis Axel

Sheamus d. Ryback

Dolph Ziggler d. Fandango

Cody Rhodes d. Damian Sandow

Roman Reigns d. Batista via DQ


THE RIGHT:
The Shield Fight Back: After being beaten down by Evolution last week the Shield went back to being absolute fucking bad-asses again this time out. They took out Evolution from the minute they entered the building, took them out again when they hit the ring to complain about it, and then wiped out like 12 men in the main event segment and it seemed totally believable because the Shield are just superb at everything. They're booked to absolute perfection and it's paying off hugely, I'd argue there's no act more consistently over in WWE right now (unless you count the Cena booing as a sign of his 'overness,' which is debatable.) Batista-Roman Reigns was a few minutes of nothing and I'm entirely unconvinced that Reigns will be able to hold up his end of the bargain in his rumored Summerslam match with Triple H, which is a bit of a concern, but in the here and now the Shield are great, and this feud's pretty darn enjoyable as well.

Paige vs. Alicia Fox: OK, own up. Who turned Alicia Fox into a bafflingly brilliant wrestler? Was it youuuuuuuuu, Finlay? I knew it! Another case solved. Anyway, Alicia Fox was a genuine revelation in this and if it hadn't been for the annoying Randy Savage finish in which Paige hit literally one move out of nowhere to pick up the win, which is such a disruptive conclusion to any match, this would have been the best Divas match in years. Normally, to like a WWE women's match is to sort of admire it through the messiness and the limited offence, but Fox's tilt-a-whirl backbreakers were snappy, her Northern Lights suplex was picture perfect, and that bit where she picked Paige up and just hurled her through the ring ropes and ricocheting off the apron was the most Finlay-ish piece of gratuitous nastiness I've seen this year on Raw. Alicia Fox is your new Finlay. What the fuck am I typing and how come it isn't a lie? (Of course, I have no desire to see Finlay swaggering sexily around ringside in a cowboy hat. Hey, even Fox's drink throwing, hat stealing outburst at ringside was great!)

John Cena & The Usos vs. The Wyatt Family: More fun with six man tags! The Shield vs. anyone or the Wyatt Family vs. anyone is always a good time, and the Usos are plenty o'fun and John Cena often is as well, so predictably this was very enjoyable. Jesus Christ though, John Cena's STF on Erick Rowan was horrendous! Like, seven weeks ago I wrote in this column that people who kept whining on about Cena's STF were just being ridiculous, but, come on, he didn't even apply any pressure at all! It didn't take much away from a hugely enjoyable sprint though, lots of big guy mauling from the Wyatts and some superkick, suicide diving fun from the Usos. The renaissance of the six man tag in WWE is the best thing to have happened in wrestling for ages. I think it's actually the best type of match you can have, there's enough guys to do really interesting sequences and stretches of out of control action without getting to the point where you lose track of who's even in the match, or to where there's not enough time for everyone to make a good contribution. Good match.

Nikki Bella vs. Natalya: OK, try and forget the inexplicable, banal scorecard stuff for a minute, and focus solely on the match. Was it just me or was it really quite decent? There was some nice mat wrestling early on and some fairly mean-spirited striking and, yeah, I thought it was surprisingly OK. Not Alicia Fox levels of good, but very very acceptable for a Divas match. The score carding was really, really silly and counter-productive and ordinarily would take this out of the right, but I'm just so pleased that we got two separate Divas matches and both were at least a fine standard.

Sheamus vs. Rybaxel: This was quite good. I like it when wrestlers look decisively better then other wrestlers, and you can't deny Sheamus flattening Rybaxel went a long way to presenting him as a relevant star after weeks of mediocrity. Sheamus-Axel was forgettable, but Sheamus-Ryback was a fun power battle, and Ryback's "big guy out!" made me laugh. He seems perpetually on the brink of becoming this brilliantly entertaining act and never really quite making it beyond "fairly watchable big man," but hey, fairly watchable's better than totally unwatchable.


puRgatoRy:
Rob Van Dam vs. Jack Swagger: The bad news is nobody is finding Adam Rose as entertaining as they should. The good news is, Rob Van Dam didn't wrestle much in this. I still think WWE aren't doing that much wrong with the Rose character apart from having Michael Cole be toe-curlingly in love with it, and given time he'll overcome that and become a success, but these first two weeks have been a bit difficult.

Dolph Ziggler vs. Fandango: Dolph Ziggler wins, but Fandango might as well have done as he took all the attention with his post match Layla angle. And quite right too, Ziggler is annoying and Fandango is fun, and this romance with Layla will be a fun midcard act. I heard it suggested that this was a parody of the Michael Sam thing? Is there any credence to that theory, 411 commenters? I don't know how I feel about it if it is, but on its own merit I thought this was decent, middle of the show stuff.

Rusev kind of crushes: There's a giant conspiracy involving ALL the governments of ALL the sinister pro wrestling countries (Russia, Japan, um, England? I don't feel very sinister but I guess William Regal used to be mean to Americans from time to time, so maybe we are) to slowly and ineffectively over the course of decades chip away at Hacksaw Jim Duggan until he crumbles into dust and brings the entirety of the U.S. of A. down with him. This week, it was Rusev's turn to participate, but before he could do anything more than snap his hacksaw, Big E. raced out to make the save. It wasn't a very good save, he just got kicked in the chest, but hey, at least Hacksaw was able to dart out of harm's way. This felt like a time-filler throughout, but it's nice to see someone as shamelessly enthusiastic as Jim Duggan able to contribute, and feuding with TAFKA Langston is a solid next step for Rusev, and Duggan tenderly wrapping his arms around his savior post match has inspired me to pen some truly eye-watering Hacksaw/Big. E slash fiction, excerpts from which will be scattered throughout next week's column. So look forward to that everyone!

Cody Rhodes vs. Damian Sandow: I liked Cody shamelessly cheating to beat Damian and Goldust congratulating him warmly and all the announcers being like "well sometimes you've just got to do what you need to break your losing streak!" After a century of people cheating in professional wrestling it's got to the point where it's impossible to care if anyone does it or not, so a fan favorite merrily eye-raking away was quite cool. Of course it's probably leading to rule-breaker Rhodes which is less preferable to the Brotherhood: terrific tag team, and the match was flat because losing streaks are dumb as heck, but I like both guys, especially Cody, and he won in a reasonably interesting way, so I was OK with this.


THE WRONG:
Daniel Bryan has left us :-(: So, yeah, this is a huge shame. Daniel Bryan needs neck surgery and will be out for a few weeks. It doesn't appear that he'll be stripped of the WWE Championship but to be honest I think it would probably be the best move, he can start afresh when he returns and put these post-WrestleMania weeks of miserable luck and miserable booking behind him. I know I'm hardly one to be instructing Bryan how to wrestle but I think we can all agree he probably needs to change his style a bit. It's easy to forget because he's such a likeable, cheerful guy that he absolutely murders himself each week in the ring and it's not sustainable. Also Kane beat him up because, neck surgery or no neck surgery, it wouldn't be Raw without it.


THE RIDICULOUS:
NOTHING


THE RAW MATCH OF THE YEAR LIST:

Nothing new this week, those Cena & The Usos vs. The Wyatt Family could be number 11 or something.




2.17.14- John Cena vs. Cesaro


3.03.14- The Shield vs. The Wyatt Family


5.5.14- The Shield vs. The Wyatt Family


2.03.14- Daniel Bryan vs. Randy Orton


2.10.14- Sheamus & Christian vs. The Real Americans


1.27.14- John Cena, Sheamus & Daniel Bryan vs. The Shield


4.21.14- Sheamus vs. Wade Barrett


5.5.14- Daniel Bryan vs. Alberto Del Rio


1.13.14- CM Punk & The New Age Outlaws vs. The Shield


4.7.14- John Cena, Sheamus & Big E. Langston vs. The Wyatt Family


The 411:


I quite enjoyed this episode. Lots of stuff happened up and down the card, from Bryan leaving to Fandango kissing, Rusev crushing to Fox strutting. There was a peppy six man tag as well, and the whole thing was bookended by the Shield being super great, which of course is super great. The South Carolina crowd were mostly enthusiastic as well, cheering the good guys and booing the bad ones, I thought Greenville at least earned some kind of recognition from WWE. Not the best episode ever or anything, but one of the stronger post WrestleMania ones.

Show Rating: 7.0

As a reminder, I will be going by the 411 scale…

0 - 0.9: Torture
1 - 1.9: Extremely Horrendous
2 - 2.9: Very Bad
3 - 3.9: Bad
4 - 4.9: Poor
5 - 5.9: Not So Good
6 - 6.9: Average
7 - 7.9: Good
8 - 8.9:Very Good
9 - 9.9: Amazing
10: Virtually Perfect

The 887th edition is over…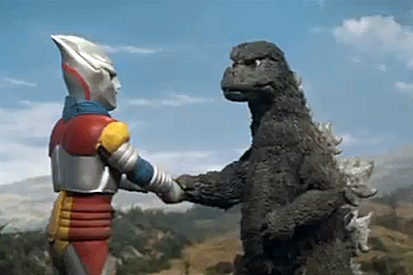 The REAL Mega Powers!


Have you checked out the Csonka Podcasting Network? If you haven't, you should We run anywhere from 15-20 shows a month, discussing pro wrestling, the world of MMA, the NBA, general sports, popular TV series of the past, bad movies, battle rap, interviews, MMA & Wrestling conference calls and more! Around 10 different personalities take part in the various shows, which all have a different feel; so you'll likely find something you like. All of the broadcasts are free, so go ahead and give a show a try and share the link with your friends on the Twitter Machine and other social media outlets! Running since May of 2011, there are currently over 500 shows in the archive for you to listen to.



Your heart is free. Have the courage to follow it…TO CSONKA'S TWITTER!

http://www.twitter.com/411wrestling
http://www.twitter.com/411moviestv
http://www.twitter.com/411music
http://www.twitter.com/411games
http://www.twitter.com/411mma
comments powered by