SPOTLIGHTS
The 411 Wrestling Top 5 6.04.14: Week 266 – The Top 5 Talents TNA Wasted
Posted by Larry Csonka on 06.04.2014

From Jeff Hardy, Samoa Joe and Christopher Daniels to Monty Brown, Alissa Flash, Matt Morgan and more, the 411 staff breaks down the top 5 talents that TNA has wasted!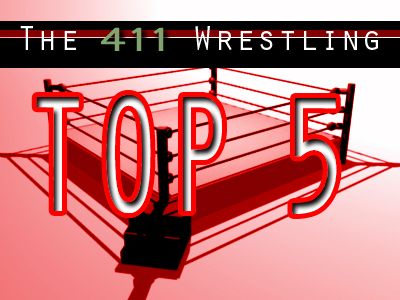 Hello everyone and welcome to 411 Wrestling's Top 5 List. We take a topic each week and all the writers here on 411 wrestling will have the ability to give us their Top 5 on said topic, plus up to three honorable mentions.

So, onto this week's topic…



The Top 5 Talents TNA Wasted





Name your top five talents that you feel the TNA wasted and or misused…




Wyatt Beougher
Note: I considered including talent from the PPV era, but ultimately decided against it, because that would've made CM Punk number one on the list, and I think he turned out okay.

5. Pope D'Angelo Dinero - Granted, The Pope wouldn't be on this list if the WWE hadn't wasted Elijah Burke, but they did, and so he ends up on this list. Burke was fantastic as "street preacher" D'Angelo Dinero, and even if that gimmick wasn't taking root with the fans the way that management had hoped, Burke had more than enough potential that they could've repackaged him and made it work.

4. Sarita - Sarah Stock could've been a huge addition to the TNA Knockouts roster, and while she was a two-time Knockouts Tag Champion, for a lot of her TNA career, she was largely relegated to Xplosion and when she was used on Impact, she never seemed to get the same push that other, less talented knockouts were receiving.

3. Christopher Daniels - Let me get this out of the way from jump - Daniels is a four-time X Division champion, an eight-time tag team champion, and generally one of the most entertaining parts of the show; however, the fact that he was never given a run with the heavyweight title speaks volumes about his misuse. But, because of the myriad of accomplishments he has attained, I couldn't justify moving him any higher, and, if it weren't for being "fired" in the "Feast or Fired" match two years in a row, he probably would've been even lower. Still, though, Daniels is a multi-tool talent who deserved a run at the top of the card, yet here we are, a dozen years after he first debuted in TNA, and he's never gotten that honor, in spite of taking on the albatross of the Suicide gimmick when he was asked to.

2. Alex Shelley - I'll probably be the only person who has Shelley on my list, and if that's the case, it'll be a true shame, as he has all of the tools and could've been a huge asset to TNA. Charismatic and talented in the ring, Shelley just seemed to get the short end of the stick - his first TNA run, during the PPV era, was truncated by the Rob Feinstein stuff, then he was scuttled because his stablemates Austin Aries and Roderick Strong were being punished for working an RoH show in spite of TNA telling them not to, and then he got stuck with heat sink Kevin Nash in an admittedly funny team. The MCMG era followed that, and that's easily the highlight of Shelley's time in TNA. While a reign as tag champions is nothing to sneeze at, Sabin went on to hold the X-Division title on multiple occasions, along with the TNA World Title, while Shelley beat Sabin to win the X Division title, only to lose it to...a character created for a video game. In a vacuum, Shelley enjoyed a decent TNA run, but when compared with former teammates Austin Aries and Chris Sabin, both of whom I'd argue he's more talented than, the wasted potential becomes even more apparent.

1. Samoa Joe - Can you imagine if TNA would've moved AJ Styles, Christopher Daniels, and Samoa Joe into the world title picture in 2005 or 2006, based on the strength of their performances in the X Division? I feel like we'd be looking at an entirely different company at this point, one that wouldn't have needed to bring in Hogan and Bischoff. Instead, we got a bunch of aborted pushes, Joe with a machete and tribal penis painted on his face threatening to literally kill people, and two stints in the Main Event Mafia that did nothing for him except apparently make him allergic to conditioning training. It's especially bad when you compare Joe's career trajectory with those of his RoH contemporaries Bryan Danielson and CM Punk. The WWE took their time with them and they became bonafide main event stars.


---



JUSTIN WATRY
5. Everybody on the roster - Honestly, I could list about 100 wrestlers here. Really, still in May 2014, we are seeing it play out with people leaving left and right. Every single huge legend from the Attitude Era. Every celebrity brought in for a cash grab. Every MMA fighter TNA thinks is still relevant. Every older star from the 1980's ever signed. Every former WWE star. Every 'homegrown' wrestler from Ring of Honor or the independent scene. Male or female. WCW made one mainstream star during their entire existence in Bill Goldberg. WWE had made many. Because of TNA Impact Wrestling presenting a garbage product and everything that comes with the promotion, they are currently sitting at zero and likely will forever. Just how it goes. Thus, by definition, they have 'wasted' or 'misused' every single person. No matter what they do. Such a shame because their roster is always filled with GREAT talents who should be seen by millions in front of 80,000 fans at WrestleMania on the WWE stage.

4. Monty Brown - Speaking of guys who should have went to WWE and tore it up, he actually did! Then family problems came up, and the rest is history. Oh well. The sad part is TNA had their chance with him early on and like every other wrestler with potential, they blew it. Blame the Jeff Jarrett Domination. Blame the new Spike TV new and wanting only 'big names' featured. Blame timing. Blame whatever you want. There were a few opportunities for him that came up. Each time, it was crushed. Slowly but surely, he was out of the company and looking to join WWE.

3. Jay Bradley - Some will say I am only including Jay Bradley because I interviewed him last year. Others will say I am only including him to pick an oddball choice. Both sides would be correct. I was not even a HUGE, MASSIVE fan of his - in WWE or even TNA for that matter. However, he stood out in the pack for whatever limited television time he got. When the word 'raw' and 'potential' is thrown out, it is someone like Jay Bradley that comes to mind right away. Give him a look. Try out a gimmick or few different moves. See how it goes. Do not be surprised if he shows up again in TNA or WWE. At age 33, he is definitely worth another shot.

2. Jeff Hardy - Jeff Hardy was main eventing WWE pay-per-views in 2008 and 2009. He was defeating Edge, Triple H, The Undertaker, Matt Hardy, CM Punk, and others. He was CLOSING said PPV events in the final slot. He was neck and neck with D-X and John Cena in merchandise sales. He was getting bigger 'crowd pops' than nearly every single person on Raw or Smackdown. He was not some mid-card act presented as a main event star. No, he was a LEGITIMATE main event star in WWE! Then he signed with TNA. Boy, oh boy. Has there ever been such a fall in such a short time? Tons of it falls on Jeff (as usual). For all intents and purposes, he should have been fired after Victory Road 2011. Since he was kept on the roster though, everything else falls on TNA. To this day, such a MEGA-STAR in 2009 continues to do nothing in TNA. Oh, and the man is not even Jeff Hardy anymore. Whatever kind of "draw" he was is no more. He is Willow, a clown with an umbrella who screams. Yep, that is how you make money with a main event wrestler who fans love. Take away his name value and allow him creative freedom to act like a goof. Goodness gracious. At least TNA would never turn him heel...oh wait...

1. Matt Morgan - Unreal this man is not in WWE becoming a mainstream name right now. Matt Morgan, Matt Morgan, Matt Morgan!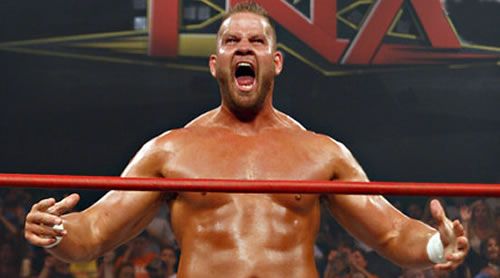 ---



MICHAEL WEYER
5. Taeler Hendrix This one hurts a bit as Hendrix had proven herself in OVW as a fine talent, feisty and skilled, could have improved with promos and the promise of more to come. When she was named a winner in the "Gut Check" in 2012, it seemed like TNA ready to add another Knockout to a lackluster division and Hendrix could have done great there. Instead, they only had her in a handful of TV matches that did little to really show off her skill as she was on the losing end a lot and then released as part of the bloodbath of talent in 2013. This could have been a shot in the arm for the ladies of TNA but instead just another sign of the once-fine Knockouts ailing badly.

4. Pope D'Angelo Dinero You have to feel for Elijah Burke, a fine talent who's been misused badly by both the major companies out there. After WWE dropped him, he moved onto TNA, taking on the act of "the Pope," a cool character that pulled off great promos that got attention. He feud with Suicide put him on the map and a face turn seemed to give him a rise but curtailed by injury. When he came back, it seemed TNA soured on him as he was stuck in the Fortune/Immortal war, then a partnership/feud with D-Von that failed to get real traction. Another case of a guy who had the right mix of character and skill to be a main event star but TNA failing to use that right.

3. Monty Brown Maybe he wasn't great shakes in the ring but he was improving. More importantly, Brown had a good rapport with the fans, good on the mic and was winning folks over with his hard offense and Pounce finisher. He had a few shots at the title with the fans behind him well and really seemed a breakout, homegrown star TNA could get behind. Instead, they ruined him with a terrible heel turn and feuds that went nowhere, a last gasp facing Christian in 2006 but still never the upper card he seemed so ready for. Maybe he would have failed to live up to expectations but TNA could have at least tried given his heat in 2004/05 and shows a big dropping of the ball when it comes to talent.

2. Desmond Wolfe This one still boggles the mind. Nigel McGuiness was one of the hottest stars ROH had, great worker and on the mic, a major acquisition for TNA. He got off well feuding with Kurt Angle and most thought just a matter of time before they slapped the belt on him. But after that promising start, he began his slide with a feud with Dinero and then left out of the new group Fortune. He and Magnus seemed to have promise as London Brawling but then his medical issues came to interfere with that and when he returned, he was shuffled to "Commissioner of Xplosion" that only lasted a few weeks before he was released. Just amazing how TNA could land such a great star and yet fail to utilize him as the main-event champ he could have been to help the company out more.

1. Elix Skipper You'd think the man who provided the greatest spot in TNA history would have done a lot better in the company. Skipper was a great partner for Christopher Daniels in XXX, holding the tag titles several times and incredibly skilled in the ring. It built up to the classic Turning Point 2004 match where Skipper stunned everyone by walking the top of the cage to hit a rana, a moment that's made countless highlight reels. Yet despite all that, he was pretty much shoved aside by the company, a brief feud with Daniels that went nowhere and then pushed into the Diamond in the Rough team that likewise sunk bad. The guy was good on the mic and excellent in the ring, he could have really been a star with the X Division, especially in 2006 when Styles and Daniels were moving onto tag team action but instead, TNA let him just slink away, a sad waste of a guy who really gave his all for the company.





---



Dino Zee
5. Kenny King - It may be a bit premature, but that's why he's only in my five spot. Kenny King seemingly has it all. He can talk, he can go, he's got WWE seasoning and Ring of Honor mat skills. Yet, for some reason, the company can think of nothing to do with him besides say "Hey it's Kenny King." His current run as "The King of the Night" is not fooling me, as they're still just saying "Hey it's Kenny King," only now they add "... and he's the King of the Night." So what? Why isn't this guy draped in gold? Why is he some afterthought for Lashley to beat? Prove me wrong, TNA. Until you do, though, you've thoroughly wasted this guy.

4. Samoa Joe - He's only at four because TNA did give him the best build up to a TNA Title match in their history, and he did get to go over Kurt Angle in said match to win the title. That said, after 2008, Samoa Joe hasn't done anything that matters. TNA just hopes that the name "Samoa Joe" will be enough to make you care. They put him in title matches that you know he ain't winning, and when he finds something else that clicks, they end it immediately (his team with Magnus). Joe is another guy that could have easily been the force to beat in the company. Instead, he's just some jerk that sometimes gets a little carried away with his violence. I've given up hope that he'll return to the top of the mountain, which is sad. I was really excited when Joe appeared, and they treated him right at the get-go. They just forgot what the hell they were doing at some point. Too bad.

3. Matt Morgan - The one that I just cannot explain. You land a seven foot monster, with good athleticism, one that WWE failed with on a few attempts. The fans know him, and those that have followed him believe he can be the next great big man. Instead, we just kinda have him around, he does nearly nothing of note, and then he's gone. Matt Morgan could have (should have) been the dominant force that everyone in TNA tries to topple. Instead, he was just some pretty boy "bro" that teamed with Crimson. Sick!

2. Monty Brown - Weyer did a fine job explaining this, but quite honestly, in the entire decade plus that I've followed TNA, I can't remember someone being so close to being put over the top, that the fans were so ready to see put in that place, and instead... he turns heel and joins the TNA Heel Superstable. Monty Brown was READY, damn it. He was over. The fans loved him, he looked legit. If we're going to quibble over his workrate, then save it, because I really am not interested in hearing it. Having Brown sacrifice his spot in the rankings for a spot in Planet Jarrett was SO freaking stupid. He never recovered, and a chance for TNA to have a home grown star went out the window.

1. Christopher Daniels - Wyatt touched on it, and others may argue that the amount of success Daniels attained in TNA proves he wasn't "wasted", but I simply beg to differ. In a world where Chris Sabin, Eric Young, and even James Storm got to touch the TNA title, the idea that Daniels never did won't ever sit right with me. On top of that, it appeared to me that whenever they actually seemed ready to give him a serious push, they pulled the rug out from under him immediately. Remember his feud with Sting? Good, they hope you don't, either. Then they had him take detours as both Curry Man and Suicide, then they let him go for a bit during the Hogan regime, before finally putting him and Kaz together for a final run. Daniels should have been a multiple time World Champ, especially since AJ Styles had roughly ten thousand reigns. That last bit was hyperbole. Daniels as the most wasted talent TNA ever had, however, is not.



---



Alex Crowder
5. Bully Ray - Before this year I'm sure Eric Young would have been among the others on the list; nonetheless, Bully Ray is one of the first to come to my mind. Bully Ray could go to WWE or New Japan any day of the week and get over as a main eventer. That is how good Bully Ray is. He has that Austin like quality as a face, and that badass unstoppable juggernaut quality as a heel. Bully Ray should be in meaningful feuds and not feuding with Dixie Carter. Why not have Bully Ray feud with a rising heel or rising face. Bully Ray with age continues to improve, and TNA should take advantage of that. We all saw Undertaker get old, and the same will happen for Bully Ray sooner than later. Now, is the time to use Bully Ray to his fullest.

4. Austin Aries - Austin Aries from the moment he joined TNA captivated the audience. People want to see Austin Aries whether he's a villain or a hero. Austin Aries continually puts on great matches and cuts some of the best promos in the world today. Also, his character has equal intelligence whether he is a face or a heel. He is one of the few guys who plays a constant character without inexplicable changes. The best part about Austin Aries is that he can be the cornerstone of both the X-Division and the Heavyweight Division. Probably, the tag team division too if he wanted. He's one of the few who is has it all wrestling wise. Why not have a heel Austin Aries feud with World Champion Eric Young. I'm sure that could have been pretty good. I feel TNA does not use Austin Aries nearly enough. Austin Aries has basically been absent from Impact for what feels like ages. He did return this week, but Austin Aries is must see TV. He's the kind of guy you should have wrestling on TV every week. TNA may use Austin Aries, but not enough.

3. Raisha Saeed/Alissa Flash - TNA has done well with most of their knockouts, and in some cases probably maximized talents beyond what anyone expected; however, TNA completely wasted one of the greatest female wrestlers in the world. Not only is she one of the best today, but she was when TNA originally hired her. Cheerleader Melissa had a following from her indy days, and she is beyond capable in the ring. One could probably build a strong women's division around a talent like her. Instead, TNA covered her up and made her play second fiddle to Amazing Kong. Imagine if they used that story to create a feud between two of the greatest women wrestlers ever. It is rare that women wrestlers are appealing to the eye and incredible in the ring. Raisha Saeed is the total package. TNA has wasted a lot of their knockout talents, but I feel Raisha Saeed/Alissa Flash/Cheerleader Melissa was probably the biggest waste.

2. Samoa Joe - Anyone that knows TNA expected this answer. At one time, Samoa Joe was booked stronger than anyone else in the entire industry. TNA built him to an unstoppable force with no equal. Samoa Joe became undefeated in TNA for virtually 2 years. Keep in mind, TNA had awesome talent like Christian Cage, AJ Styles, and Christopher Daniels at the time. Of course, Samoa Joe had incredible matches with all those men and Kurt Angle soon after. The only real issue is in the booking with him. I'm not sure why, but eventually TNA stopped booking Samoa Joe as strongly. TNA would have never made it as far as it did without Samoa Joe. Samoa Joe to this day is the heart and soul of TNA. Sadly, TNA does not realize what they have in Samoa Joe. They continue to book him in endless bad feuds after a near flawless start to his TNA career. Samoa Joe has almost every quality you would want in a pro wrestler. He has the look of a killer, the crowd reacts to him, and he can go in the ring. Samoa Joe is not one of those stereotypical hoses you would see in the early 2000's. The WWE had plenty of them, but TNA had Samoa Joe who could perform picture-perfect suicide dives despite being near 300 lbs. TNA's misuse of Samoa Joe remains one of wrestling's biggest mysteries.

1. Monty Brown - Monty Brown in my own opinion is one of the most wasted talents of all-time. The Pounce remains one of the greatest finishing moves I have ever seen in wrestling. Monty Brown's Pounce is probably my favorite finishing move. I know the move is simple, but the impact is astounding. Monty Brown had the IT factor before Booby Roode ever thought of coining the phrase. I'll never forget his promos either; especially, the one he cut to bide time for TNA(just look up Monty Brown best promo on youtube). Monty Brown could make you laugh or make you take him seriously. Few wrestlers can improvise an excellent promo, and Monty Brown happened to be one of the few. The man also had unmatched intensity that you could feel with every move and every promo. Additionally, Monty Brown stuck to a character and basically reinforced it in every one of his promos. I always loved when a wrestler played a character perfectly without deviating into a nonsensical mess. Several people complain that TNA used too many WWE castoffs, but Monty Brown was not one of them. Monty Brown remains one of the best examples of a pure homegrown TNA talent. This man had the crowd behind him and he was ready to be TNA's breakout star until TNA halted his momentum. Monty Brown should have been a multiple time TNA World Champion. This man had every intangible that a superstar needs to succeed in wrestling. Monty Brown could have been the early 2000's Goldberg with better in ring skills. I really think had TNA gotten behind him fully, that he would become one of the most over wrestlers in the business at the time. On top of all this, Monty Brown was a real athlete who succeeded in the NFL bolstering his credibility even more to the casual fan. Shockingly, TNA did not give him one championship throughout his entire tenure. I dare say Monty Brown could have been as electrifying as The Rock if booked properly and given time.






Andy Shillinglaw
5. Alex Shelley - Alex Shelley is the more talented of the Machine Guns. You will never convince me otherwise. While he was on the roster, he was my favorite wrestler in the company. He could talk as shown through the Paprazzi Production vignettes and he would wrestle as shown through the different Machine Guns matches (Motor City vs. Speed Muscle, anyone?). However, he was only ever a tag team guy. He got one super short run with the X Division belt when nobody cared about it. That's ridiculous seeing as his tag team partner has had it a million times and got a thanks for the hard work world title run too. Shelley got ignored time and time again, when in reality he was talented enough to build the X Division around.

4. Hernandez - Hernandez is a guy who was stuck in a tag team while deserving a singles run. I'm not going to call him the greatest wrestler to ever live, because he wasn't that at all. However, the fans were solidly behind him and he was a freak athlete who could do crazy things. He could have been an absolute legitimate world champion contender coming out of LAX... but it just never happened. For some reason he just ended up back in another tag team with Chavo. It really is sad because I feel like they had something there and it just never panned out.

3. Desmond Wolfe - It's almost unfair to include Wolfe here. His in ring career ended because he contracted Hepatitis B and that cannot be attributed to how TNA chose to use him. However, this was a giant steal by TNA. Wolfe was on his way to WWE. He got signed at the same time that Daniel Bryan did. There just happened to be some physical issues and then Wolfe fell to the wayside. But the man was one of the biggest stars the independents has ever seen. He came in hot feuding with Kurt but immediately began to fall off after that. And honestly, his charisma and mic skills were good enough that I would have liked to see more than GM of Xplosion after his in ring career had come to an end. At least put him in a role on Impact where he's visible to the public rather than have him rot away on a B show.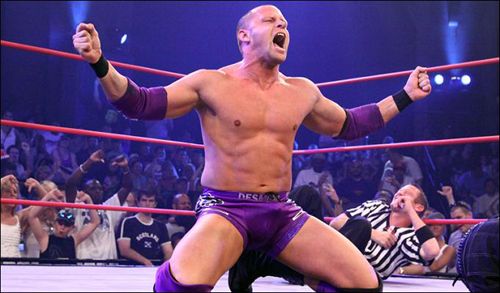 2. Christopher Daniels - Daniels has been with the company since day one. He's in the greatest TNA match of all time. He's a great wrestler. He's a great personality. Please explain to me why he hasn't been given a run with the Heavyweight belt yet. Why is it that Eric Young can get a rub before Christopher Daniels? He's not respected and it's disgusting. To think that he never got his run at the top and is now walking from the company is truly a travesty.

1. Samoa Joe - The minute that they painted up Joe's face, had him carry a machete, and put him in pajama shorts... a part of me truly died. Samoa Joe was pro wrestling. His catch phrase was not a lie. He was everything right about the sport. He hit hard. He was athletic. He had a no nonsense attitude in the ring. And when he came into TNA originally, they did it right. Joe tore through everybody and he was a force. And then he head butted Angle and then the world went nuts. And then... it was uneventful. And it wasn't what it needed to be. Joe didn't keep up that momentum. He fell apart. And now he is a sad shell of his former self.

---
YOUR TURN KNOW IT ALLS

List your Top Five for this week's topic in the comment section using the following format:

5. CHOICE: Explanation
4. CHOICE: Explanation
3. CHOICE: Explanation
2. CHOICE: Explanation
1. CHOICE: Explanation
Your heart is free. Have the courage to follow it…TO CSONKA'S TWITTER!

http://www.twitter.com/411wrestling
http://www.twitter.com/411moviestv
http://www.twitter.com/411music
http://www.twitter.com/411games
http://www.twitter.com/411mma

Have you checked out the Csonka Podcasting Network? If you haven't, you should We run anywhere from 15-20 shows a month, discussing pro wrestling, the world of MMA, the NBA, general sports, popular TV series of the past, bad movies, battle rap, interviews, MMA & Wrestling conference calls and more! Around 10 different personalities take part in the various shows, which all have a different feel; so you'll likely find something you like. All of the broadcasts are free, so go ahead and give a show a try and share the link with your friends on the Twitter Machine and other social media outlets! Running since May of 2011, there are currently over 500 shows in the archive for you to listen to.



Larry Csonka is a Pisces and enjoys rolling at jiu jitsu class with Hotty McBrownbelt, cooking, long walks on the beach, Slingo and the occasional trip to Jack in the Box. He is married to a soulless ginger and has two beautiful daughters who are thankfully not soulless gingers; and is legally allowed to marry people in 35 states. He has been a wrestling fan since 1982 and has been writing for 411 since May 24th, 2004; contributing over 3,000 columns, TV reports and video reviews to the site.
comments powered by