SPOTLIGHTS
The 8-Ball 5.19.14: Top 8 WWE Replacement Champs
Posted by Mike Hammerlock on 05.19.2014

From Cesaro and Dolph Ziggler to Randy Orton, Bray Wyatt and more, 411ís Mike Hammerlock looks at the top 8 men that could replace Daniel Bryan as champion!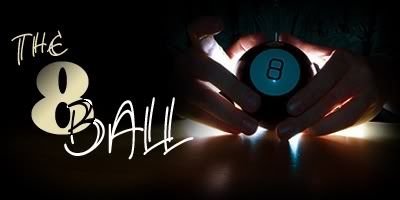 Sadly, Daniel Bryan's title reign might be over before it got started. His neck surgery could necessitate he lay down the title belts. That's a blow to fans who got teased to the brink of a conniption fit during Bryan's title frustration angle. We'll find out tonight. If he's only out a short time, I suppose we could see the return of that most fearsome of all WWE titleholders: Abeyance. 411's Mike Chin offered his replacement champs, but the 8-Ball begs to differ (or at least it's got a very different list).

Yet the positive side of Bryan needing significant rest and recuperation time is that it would open up a door for someone else. Vince Russo is wrong about a lot of things, but he is right that the world title is a storytelling vehicle. Moving it around allows the WWE to tell more stories. Someone else winning the title right now gives us the possibility of a cool, unplanned summer. Bryan will be back and his title recapture story will be cool as well.

One thing the Magic 8-Ball is adamant about is that Kane should get nowhere near the belt. His placeholder feud with D-Bry should not be used to hotshot him into the title as a placeholder champ. Tell a better story. Kane will be around for a Daniel Bryan vengeance beatdown when the time for that arrives. What the WWE needs is a champ who can do the belt(s) proud.





8. Bo Dallas



Do you bolieve? The WWE wants you to bolieve. The company is trying to mint new stars. The consistent problem is has is it has the bad habit of whenever a fresh talent begins to catch on, it whacks him on the head with a frying pan. This is the fundamental reason why so many fans get frustrated with the WWE. It makes you question why you bother to root for any of these guys in the first place if they're just fodder for Cena. If the WWE wants Bo Dallas to be a big hit, then strap him into a catapult and shoot him right to the top of the card. Now, that's how you make it look like the new kids matter.





7. Batista



For the record, I'd put the belt around almost anyone else's waist other than Batista. However, he is getting real heat from the live audiences. They really do dislike him. He'd be a perfect fit for guy everyone desperately wants to see Daniel Bryan Knee Plus into a coma when Bryan returns. A brief Batista title run would also coincide nicely with that whole Guardians of the Galaxy release. I still wouldn't do it, but he needs to be in the discussion.





6. Cody Rhodes



I don't know what the WWE is waiting on with Cody Rhodes. He's got the bloodlines. He's a great face. He's a great heel. He puts over everything they give him, even the Love Stache. Time to stop overthinking his situation. The company needs a temporary champion solution. This guy has the goods and this is a chance to put him over. Have Cody shock the world. Plus, he has the benefit of not being tied up in the Shield-Evolution and Wyatt-Cena tensions.





5. Bray Wyatt



Bray Wyatt has his hands full with John Cena. The Last Man Standing battle at Payback might mark the finish of the feud, but if they want to stretch it out then a WWE title would make a nice storytelling vehicle. The E can't go straight to Cena here, not if they don't want fans to greet it like a complete heel turn. Seriously, you think Cena gets heat now? Arenas would shit all over making him the default championship option now that Daniel Bryan is on the shelf. However, if Wyatt wins the belt and feuds with Cena a bit, then maybe Cena could win the unified titles without having to completely sacrifice his face standing. As for Wyatt, the case for him to win the title is obvious: because he'd be awesome.





4. Randy Orton



Fans would hate the Orton default win every bit as much as a Cena default win. Thing is, they're supposed to hate Orton. The Viper also has been a very good team player of late. He got treated like dirt during his last title run, he lost the belt at WrestleMania without getting pinned, and he hasn't gotten his rematch yet. I'm all for the WWE going in a new direction here, or at least a newish direction. Yet if they want to go with a "proven" hand, then Orton is the right pick. Also, having the champ in Evolution would add prestige to the Shield-Evolution feud.





3. Dolph Ziggler



The Show Off has already made it known via social media that he's willing to step up if the WWE is looking for someone to fill Daniel Bryan's shoes. They'd do well to take him up on his offer. Very few other superstars would generate the sort of unbridled euphoria that Ziggler would if he got an unexpected championship win. This is a chance for the WWE to undo all the glass ceiling nonsense it's thrown in Ziggler's path. Have him win the unified title, let the crowds go wild and give us some main events that truly cause us to mark out.





2. The Shield



Yeah, I could have just picked Roman Reigns because he's supposedly the chosen one of the world's finest faction. Then I thought, screw that. If Seth Rollins or Dean Ambrose wins the title, it would be awesome. All three of these guys should have multiple WWE title runs during their careers. Might as well get that started sooner rather than later. Plus, the title could be used as a ploy to create dissension inside the Shield, or perhaps to distract the Shield. Consider this the Yellow Jersey Theory. In the Tour de France, the race leader wears the yellow jersey and his team is expected to bury itself to protect him jersey. Make the Shield protect the WWE title and they'll have enemies coming at them from all directions.





1. Cesaro



We know Cesaro is a bad, bad man. He's put on a half dozen of the finest matches WWE has staged in 2014. He's now a Paul Heyman Guy, which is supposed to kick him to a new level of excellence. Great, here's that new level just waiting for him. I can't stress this enough: make a star here. What was so exciting about Daniel Bryan's ascendance was that it promised a break from the main event treadmill we've been travelling for too many years. The wrestling business relies on the next big thing arriving at regular intervals. Cesaro is that. All he needs is the push.

I take requests.. The purpose of this column is to look forward. What could be? What should be? What is and what should never be? What would make more sense? If there's someone or something you think should be given the 8-Ball treatment, mention it in the comments section. I might pick it up for future weeks.
comments powered by