SPOTLIGHTS
411 Fact or Fiction 05.22.14: Cena vs. Wyatt, TNA's New Heel Faction, Bad Influence in ROH, More
Posted by Larry Csonka on 05.22.2014

Have the John Cena vs. Bray Wyatt matches been a disappointment? Do we want to see Rampage Jackson or King Mo back in TNA? Is WrestleMania 17's TLC match the greatest ladder match of all-time? 411's Nick Marsico and Alex Crowder debate these topics and more!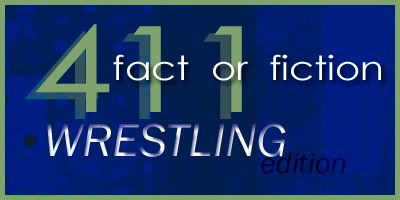 Welcome back to the latest edition of 411 Fact or Fiction, Wrestling Edition! Stuff happened, people loved/hated it and let everyone else know. I pick through the interesting/not so interesting tidbits and then make 411 staff members discuss them for your pleasure. Battling this week: First, he is the man behind the WWE Main Event report, he is Mr. Alex Crowder! His opponent, he is a long time contributor to 411, he is Mr. Nick Marsico!

Lets get to work…


Questions were sent out Monday.


Participants were told to expect wrestling-related questions, possible statements on quantum physics and hydroponics.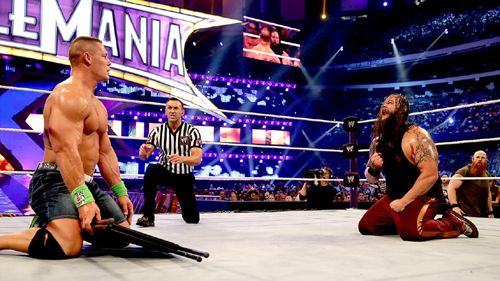 1. As far as their matches are concerned, the John Cena vs. Bray Wyatt feud has been a disappointment.



Alex Crowder: FACT - If anything the build has been far better than the matches. Disappointment doesn't even begin to describe the matches. The WrestleMania match was a very mediocre effort with one real memorable spot. The crab walk was very interesting; otherwise, I don't remember the match very well. On the other hand, the steel cage match remains one of the worst cage matches I've ever seen. John Cena already won the first match even with the interference. The feud did not call for or need a cage match to keep out Rowan and Harper. I'll admit the cage match was creative, and that's the only good thing I can say. What is the use of a cage match that does not stop interference. The match just disappointed on so many levels. Harper got pulled into the cage by Cena making Cena look like more of an idiot than Sting being betrayed by Ric Flair all those times. Bray barely won with all the interference, so the cage match did nothing for anyone. I think my mind has erased the memory of the match because it was so lackluster. Cena had the match won a million times and slowly gave the match away. Both men came out of the match weaker. I would nominate it for worst match of the year. Let's put it this way, even with Cena's bad jokey promos the build has been pretty good to sometimes great. The matches are nowhere close to good.

Nick Marsico: FACT - The match at WrestleMania left me cold. They were trying to tell a story, but not only did the attempted storytelling cause the match to come across as disjointed, it was also fairly contradictory. They want us to make believe that Cena has never let his emotions get the better of him and that he won't allow himself to use excessive violence as the answer. We are in PG land now, and if we have to forget that the I Quit match with JBL never happened or that he didn't choke Umaga out with the ring ropes to win a Last Man Standing match I can accept that. Cena seemingly had no problem getting more aggressive toward Harper and Rowan, though. Was the point that Cena was trying his damndest not to give Bray the satisfaction of actually using international objects on the leader? Maybe so. Either way, the match plodded along and was supremely vanilla from a ring work standpoint. It was better upon second viewing, but still not better than just an OK match. The cage match was the drizzling shits, though.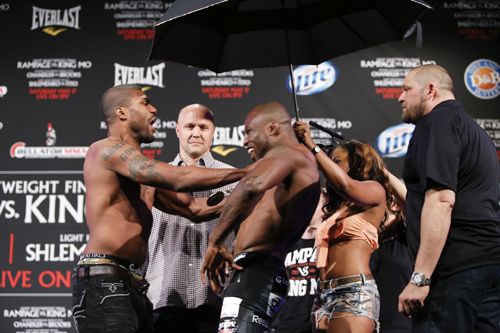 2. You have no desire to see Rampage Jackson or King Mo back in TNA.



Alex Crowder: FACT - I'm a somewhat casual fan of MMA and at one time a hardcore fan. I can say honestly even most hardcore MMA fans are no longer interested much in Rampage or King Mo. Also, really what do these two add to the product. Last I remember Rampage just acted badly and shook his head as Ortiz came back in one of the most pointless segments in TNA history. That says a lot when TNA had similar segments with Bobby Lashley pointing his finger from the ramp or something to that effect. I like TNA for that matter but really these two add nothing to the TNA product. As a TNA fan I do not want to see these two in TNA in any capacity. Wrestling fans do not automatically like MMA or NFL, so really what is the point. My suggestion, keep Bellator(people want to talk about bad ratings, I think Bellator's may be far worse than TNA's) as far away from TNA as possible unless it is simple advertisement. The golden rule for TNA is no crossovers with Bellator.

Nick Marsico: FACT - Why would I? I think Rampage is entertaining and when he first came to UFC after PRIDE was effectively done he was fun, but he has been watered down like crazy over the years. Now he's just a dude who used to be a supreme badass who had a ridiculous and over-the-top personality. He can be Rampage Jackson, but he sucks at being Rampage Jackson playing Rampage Jackson for TNA Wrestling. He becomes a black hole of charisma and somehow doesn't even come across as slightly intimidating. Plus, he can't have a match, so there's never the possibility of a payoff. I haven't paid enough attention to fully respond regarding King Mo, but I'm certain that my opinion would not differ greatly. If they're going to bring in somebody from an outside sport, they should use Pacman Jones. That whole deal was so inconceivably bad that it couldn't be classified as anything other than spectacular. And they should get Mike Adamle to be his manager. "Ladies and gentlemen, let me introduce my newest client, Pong Johnson!"





3. Considering that WWE just did a tournament to crown a top contender, running a beat the clock challenge to crown another top contender feels like lazy and uninspired booking.



Alex Crowder: FICTION - We have not actually seen a beat the clock challenge in a while as I recall. If anything I'm going to change channels if I see another battle royal to determine anything. I dare someone to try to count all the battle royals that have taken place in 2014 especially in WWE (TNA is guilty to an extent too). Battle royals have become the most lazy and uninspired booking decision. A beat the clock challenge isn't very enthralling but it less annoying than battle royals. Sheamus won the US Championship recently in a battle royal. Bad News Barrett won his title shot from a tournament, so beat the clock challenges are not nearly as uninspired as tournaments or battle royals yet. Still, I presume this will be beaten into the ground as the year progresses. Until then, beat the clock challenges are not that uninspired.

Nick Marsico: FICTION - On the surface, maybe so, but if you're going to be lazy about the booking there are far worse ways to go about it. As far as I'm concerned, they're making the belt out to be a title that has a lot of men gunning for it, forcing them to come up with fair ways to determine the top contenders. Tournaments are awesome and Beat the Clock is an entertaining premise. Does it make me a bad person to say that I chuckled when Ziggler just barely missed out on the victory by a matter of mere seconds? Because I did. Complete thumbing of the nose from the powers than be to the people like us. Not only did they bite their thumbs, but they bit them at us and are not afraid to admit it. Back on topic; what would you prefer: having 6-8 guys competing in matches that mean something in order to earn a shot at a title or a feud starting because a guy randomly interrupts the champion during an interview segment and doesn't have any kind of convincing argument or claim to be worthy of a shot? Or, of course, they could go with the old standby of the champ losing a bunch on RAW, not having a PPV match, then losing the belt on TV - rinse, repeat. Give me matches in which wins and losses have consequences and I would be overjoyed to see a new challenger named every month thanks to earning it by beating other wrestlers in wrestling matches. -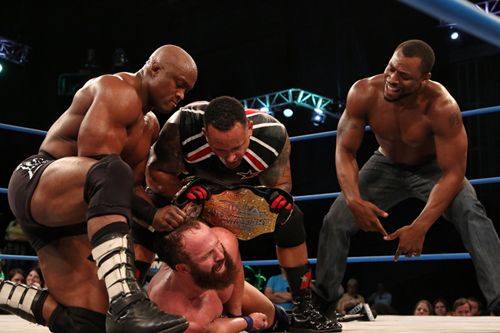 4. Putting MVP, Bobby Lashley and Kenny King together as the company's new heel power group is a move that you like.



Alex Crowder: FACT - Right away, I'll say apart of me wanted to put fiction but I thought deeper into it and accept it. I do not like how quickly they turned MVP heel, yet MVP should have been heel from the beginning. MVP works better as a heel and really Kenny King and Bobby Lashley were doing nothing worthwhile. I like Kenny King's mic work and it fits a heel character. Lashley needs help talking and MVP can do that for him. MVP cuts a hell of a heel promo and will make this work through sheer willpower. TNA does use too many stables but as long as this stays three to four people it will remain somewhat organized. If anything it instantly makes Lashley and King more interesting. For once, if the news holds true WWE is copying TNA by putting Xavier Woods, R-Truth, Kofi, and Big E together. I guess that means it is a good move. Regardless of who copies who this is the right move. MVP's heel turn was the wrong move, but these guys working together is the right move. Any of these men alone are not as interesting. Plus, I sort of like where it is going with Austin Aries(doubted MVP since the beginning) and possibly Bobby Roode helping Eric Young against these three.

Nick Marsico: FACT - It's a wary fact, but a fact nonetheless. I'm not fully into the TNA product right now so I had to do a speed round to catch up on some things. I love that Eric Young is still the champion and even though I do agree that it is definitely a play on the Daniel Bryan story. It was done with zero build and he went from almost full-on comedy to World Champ in a matter of weeks, but hey, it's TNA and most people who pay attention to the show have been behind the guy getting a bigger push for years. For the record, I think he's doing an absolutely stellar job and hope that he doesn't end up right back where he was as soon as this experiment (or whatever it is) is over.

His competition is now MVP (the DWO to Triple H's COO), Lashley and Kenny King. MVP's backstage promo last Thursday was really quite fantastic and having a few years long break from him has made him fresh again. I railed against Lashley the last time I did a Fact or Fiction and I assume I still feel the same way, but if he's just going to be silent muscle I don't have any problem with that. Kenny King might finally be getting the push he ditched Rhett Titus for a while back. His run in TNA has been utterly disappointing thus far and hopefully this can repair it. The reason I'm wary, of course, is because the fucker just came in to replace a heel authority figure who abused her power and is now suddenly a heel authority figure who is abusing his power. On the bright side, at least he's good in front of the camera. Dixie isn't (she's not good on either side, truthfully). I was hoping that we would get some time off from the good guys railing against the heels in charge but oh well. At least they haven't turned Nigel McGuinness heel in ROH.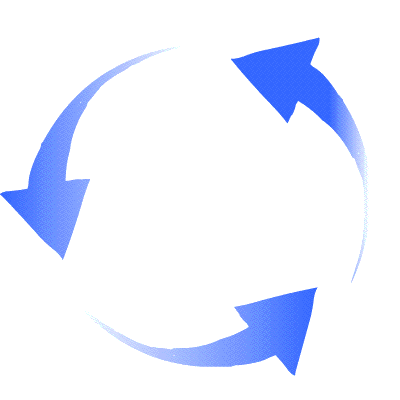 SWITCH!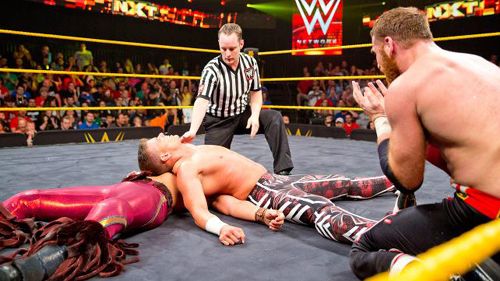 5. Since he is not currently being used on main roster TV, Tyson Kidd is the perfect guy to send to NXT to work with the guys (Zayn, Breeze, Neville) that WWE is preparing for the next level.




Nick Marsico: FACT - He's too good to not be used properly in some capacity. Since they decided that they weren't going to give Natalya a push because of Total Divas and it subsequently made Kidd's return a peer into a door ajar, NXT is the next best place to use him. It would be an absolute waste of time to have him on the main roster; he would just end up as Rusev's next PPV squash (if he's lucky). He meshes very well with the current crop of up-and-coming talent that WWE is preparing for the main roster. What happened to the rumored tag team with Evan Bourne? He must have the slowest healing foot of all time. Or he keeps getting accidental hangnails that are slowing the recovery process. It's too bad, because he would have had a shot a few months ago when the Tag Titles were still a thing.

Alex Crowder: FACT - This is one of the smartest things WWE could do for developmental. I know Tyson Kidd isn't many peoples' favorite, yet he has always worked his ass off. Tyson Kidd is underrated in the ring, and he's been very loyal to WWE. He'll never get any attention on the main roster at this point, so let Tyson Kidd do his thing in NXT and help the next generation. Honestly, I feel better about the future with people like William Regal and Tyson Kidd molding them. Tyson Kidd should be a wonderful mentor. This can only help and will hurt nothing at all. Lastly, who doesn't want to see Tyson Kidd and Sami Zayn tear it up for 15 minutes on NXT. In addition, guys like Tyler Breeze and especially Mojo need advice from a veteran like Tyson Kidd. You can only really learn wrestling from being in the ring. Great decision.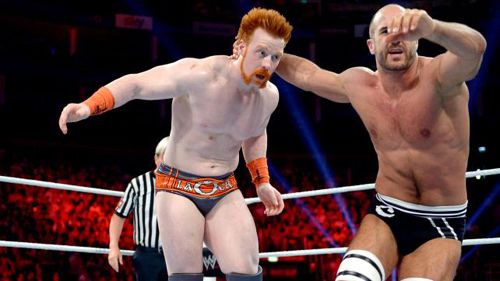 6. Sheamus defending the title against Cesaro will lead to a great feud over the US Title.



Nick Marsico: FICTION - The two matches thus far have been hard-hitting and pretty awesome, but I fear the terminology. Feud? Eh. More very good matches? Damn skippy. Great feud over the title? I won't commit to calling it a fact. I'm still confused about their refusal to turn Cesaro face. The pairing with Heyman will ensure that he doesn't lose his crowd reactions (without Heyman I feel that staying heel would very likely have flopped) but it was a totally nonsensical move. If they wanted Cesaro to get a rub from an association with Heyman, they could have had him turn the man down (which would have fully solidified his face turn -- dropping Zeb and turning down Heyman in the span of a couple weeks) and Paul E. could have taken in Sheamus. That's not to say that Cesaro isn't doing great in his role, but the crowd terribly wants to cheer for him. Let them! The point I am making by going with Fiction is that I fully expect at least a couple more very good matches between the men, but I don't see where they would go with a feud. I guess it could be a feud over which guy is better, but I'm expecting Heyman to talk up Cesaro, Sheamus to make jokes like a mini-Cena, then one of them wins the last match, takes the belt, and we all forget it happened. I hate to be pessimistic but sometimes the provided question lends itself to such an answer.

Alex Crowder: FACT - I recapped their double countout match last week on Main Event, and it was awesome. Lately, Sheamus has been on fire having a good match every time he is given over 3 minutes. Cesaro is one of best wrestlers in the world as everyone already knows. Sheamus and Cesaro equals a hard-hitting badass match. If you want the US Championship to regain prestige, just let these two go at it. The match I just saw on RAW was equally awesome. Sheamus needs a story line as does Cesaro. Both these men are having endless great matches, and nothing to show for it. This may surprise the WWE writing team, but giving two directionless guys a feud does great things.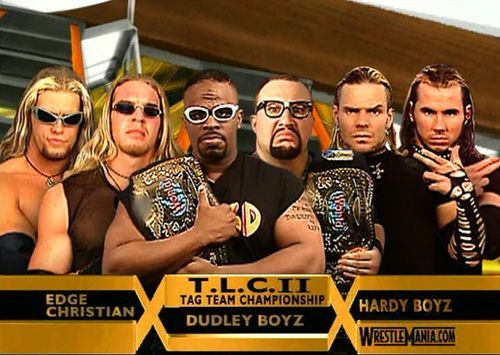 7. TLC From WrestleMania 17 is the best ladder match of all time.



Nick Marsico: FICTION - This is a really hard question to answer. It was a spectacular ladder match on probably the best wrestling card of all time, but this is an extra subjective question in a sincerely subjective column. I am particularly fond of the Hardyz/E&C match from No Mercy 1999. I love the first ROH Ladder War (Briscoes v. Steen & Generico) and Benoit/Jericho from Royal Rumble 2001 is another particular favorite. And Jericho/Michaels from No Mercy 2008 is also a great one. Oh, and Guerrero v. RVD from RAW in May 2002 (the one where the drunk fan pushed the ladder out from beneath Eddie). Now I feel the need to go back and watch those. Thanks to the WWE Network (which is currently $9.99 a month with a 6 month commitment) I can watch most of them!

Alex Crowder: FICTION - Yes, I do remember the crazy spear from Edge or the crazy swanton from Jeff Hardy; nevertheless, I recall a dozen other great ladder matches. I rank this particular ladder match number 2 all-time. This is the craziest spotfest ever, yet I feel Money in the Bank surpasses it. I have not seen either match in a good while, but I'll never forget these matches. The only reason I put Money in the Bank over it is because Chris Benoit brought the psychology level to another level. I feel Money in the Bank was a more complete match. Shawn Michaels vs. Razor Ramon or Chris Jericho were great ladder matches too. You could argue for 5 different matches as the best ladder match ever. In my opinion, Money in the Bank trumps all. The crazy Benoit arm psychology, the crazy Shelton running up a ladder lariat, exploder off the ladder, Kane going over the top rope in a fluid manner, and Christian, Edge, Jericho being their usual selves. Nothing beats that for me.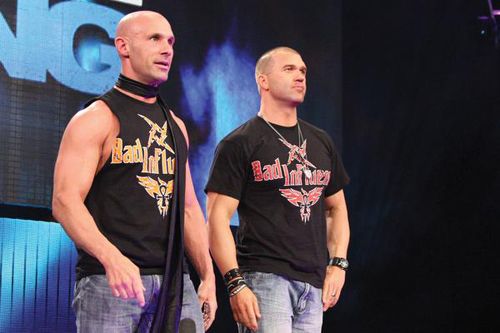 8. ROH should step up to the plate and sign both Christopher Daniels and Frankie Kazarian.



Nick Marsico: FICTION - ROH should definitely bring them in for some shots both as singles and tag guys, but the roster is very good right now and the last thing they need is another pair of guys who Joe Koff perceives to be bigger stars to get all the focus. Not to say that it would necessarily happen, but I still think the men would be best if used as non-regulars who do a few matches every once in a while. They have been doing a great job bringing in guys from around the indies who have been working hard to get their shots and signing the Best. Tag. Team. in the BIZ-I-NESS will just fill in a pair of slots that young guys could be excelling in. If the WGTT were still around, for example, would they have decided to make Hanson and Rowe into a tag team? Possibly not. There's no good reason to take that chance.

Alex Crowder: FACT - Easiest question to answer by far. I'm not big on ROH, but any company would do well to hire these two. I feel like these two together can outshine 75% of the industry in entertainment value. These two have it. Imagine the Briscoe Brothers cutting promos on Bad Influence and vice versa. That is a feud that needs nothing else. ROH, WWE, GWF, NJPW, Chikara, or PWG should all be gunning for these two immediately. These two entertain and put on great matches. That is the total package when it comes to pro wrestling.







Have you checked out the Csonka Podcasting Network? If you haven't, you should We run anywhere from 15-20 shows a month, discussing pro wrestling, the world of MMA, the NBA, general sports, popular TV series of the past, bad movies, battle rap, interviews, MMA & Wrestling conference calls and more! Around 10 different personalities take part in the various shows, which all have a different feel; so you'll likely find something you like. All of the broadcasts are free, so go ahead and give a show a try and share the link with your friends on the Twitter Machine and other social media outlets! Running since May of 2011, there are currently over 500 shows in the archive for you to listen to.



Larry Csonka is a Pisces and enjoys rolling at jiu jitsu class with Hotty McBrownbelt, cooking, long walks on the beach, Slingo and the occasional trip to Jack in the Box. He is married to a soulless ginger and has two beautiful daughters who are thankfully not soulless gingers; and is legally allowed to marry people in 35 states. He has been a wrestling fan since 1982 and has been writing for 411 since May 24th, 2004; contributing over 3,000 columns, TV reports and video reviews to the site.

Your heart is free. Have the courage to follow it…TO CSONKA'S TWITTER!

http://www.twitter.com/411wrestling
http://www.twitter.com/411moviestv
http://www.twitter.com/411music
http://www.twitter.com/411games
http://www.twitter.com/411mma
comments powered by