SPOTLIGHTS
The 8-Ball 5.26.14: Top 8 Promotions That Could Challenge TNA
Posted by Mike Hammerlock on 05.26.2014

From Jeff Jarret's Global Force Wrestling and New Japan Pro Wrestling to CHIKARA, Ring of Honor and more, 411ís Mike Hammerlock looks at the top 8 promotions that could challenge TNA as a potential alternative!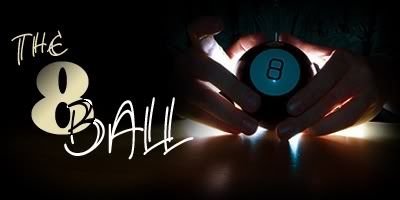 Wrestling news outlets have been all breathy about the WWE's new lower-than-anticipated television deal with NBC and the company's subsequent stock drop. Is this the beginning of the end for Vince McMahon? Short answer, no. The WWE is fine. Better than fine. It's the giant that dominates the industry and the WWE Network will be ringing cash registers in increasing amounts for a long time to come.

However, the horizon is not so bright for TNA. It's pay-per-views are sparsely attended and watched. It's letting a lot of talent walk away. Supposedly it's having problems paying its production crew. It never got great ratings to begin with, which means its revenues basic rely on Spike TV not pulling the plug. Behind the scenes Vince Russo is steering the creative process (or at least being heavily consulted). These are uneasy times at TNA. Let's not pretend it's not a mess, because it is. For the record, I root for TNA. It's got a fair amount of talent and, for better or worse, it's been the main alternative to the WWE for the past decade.

Thing is, the shape of the wrestling world may be changing. The door may be opening up for a new second banana in the U.S. wrestling scene. Yet who is it going to be? The Magic 8-Ball this week takes a look at the main contenders to be the next semi-big thing. No one's taking down the WWE, but unless TNA gets it act together we are likely to see a shake up among the leading WWE alternatives.





8. NJPW (New Japan Pro Wrestling)



They've got an American champion (AJ Styles) and America tag team champs (Doc Gallows and Karl Anderson). They've got a roster loaded with talent like Kazuchika Okada, Hiroshi Tanahashi, Shinsuke Nakamura and Kota Ibushi. It's the biggest and best promotion in Japan. Puroresu fans sing NJPW's praises to the rafters. The talent they've assembled is undeniable and it's a big deal in the indies when the NJPW folks come to the states, though the Japanese style can be a bit of an acquired taste. Yet NJPW almost didn't make this list because it doesn't have a U.S. television deal and it doesn't run U.S.-based shows. However, if the cultural appetite for wrestling grows and some operators (e.g. Netflix, Hulu, ESPN and the sports arms of CBS and Fox) want into the game, NJPW has a polished product that's really just waiting for someone with some television savvy to air it. However, it's likely going to be another country that breaks into the U.S. television market (and live event market) first.





7. FIP (Full Impact Pro Wrestling)



FIP is a truly regional promotion, working in the Tampa-Orlando corridor. Yet it puts on regular shows, gets solid crowds and it's shown the good sense to put its belt on Trent Baretta. Few people realized how good Baretta was in the WWE, where he was hemmed in by the house style and required to job on a regular basis. In the indies he's free to break out his fairly high flying arsenal. Anyway, FIP probably isn't breaking beyond its Florida homebase, but it is part of the World Wrestling Network with Dragon Gate USA, Evolve and SHINE. WWN could emerge as a 21st century NWA. Obviously it needs to more strong regional players like FIP to make it happen (e.g. Pro Wrestling Guerrilla in California and Beyond Wrestling in New England), but a confederation of indie promotions might be the unexpected way the next big thing emerges in the wrestling industry.





6. CZW (Combat Zone Wrestling)



If you want to start a tech company, you head to Silicon Valley. If you want to start a wrestling company, go to Philadelphia. Four of the entrants on this list hail from the City of Brotherly Love or from other locales in eastern Pennsylvania. Why Philly? It being the land of my birth and early upbringing I can testify that solving your problems with violence makes sense to the locals. Plus, if you're willing to boo Santa Claus then you're probably an ideal wrestling fan. CZW has been around for a while. It's spawned two bona fide superstars Claudio Castagnoli (Cesaro) and John Moxley (Dean Ambrose). It's easily the top hardcore wrestling promotion in the business, proudly advertising itself as ultraviolent. CZW doesn't skimp on the blood or the plunder. It also may have struck gold with new champ Biff Busick, who has one of the most punishing styles in the business. It's an open question whether the wrestling public has a taste for a regular diet of blood-soaked mayhem, but if it does then the answer is CZW.





5. ROH (Ring of Honor)



Technically ROH has been #3 on the totem pole for the past decade. It's become the springboard to the big time (or TNA) for a slew of top talents. CM Punk, Daniel Bryan, Seth Rollins, AJ Styles, Samoa Joe and Austin Aries have all held the ROH strap. Forget about the name recognition of that group. The quality of those guys is outrageous. ROH, literally, has showcased a short list of the best guys in the industry. So why is ROH lurking at #5 on this list and not #1? Sinclair Broadcasting. ROH is owned by a largely inept media group, at least inept in terms of original programming. Watch any number of Jim Cornette interviews about the behind the scenes clown show at ROH. Sinclair's more or less proven it can't take ROH to the next level.





4. GFW (Global Force Wrestling)



Jeff Jarrett's shaking all the right hands and it looks like he's lined up deep pocket investors. It will surprise absolutely no one if GFW debuts with a CMT TV deal. Jarrett knows the business. He really did innovate with TNA: six-sided ring, Internet PPV, pushing indie stars. We can probably expect more than a few interesting wrinkles with GFW. However, at the moment GFW is little more than letterhead material at the moment. Will Jarrett be able to lure in free agent stars like CM Punk and AJ Styles? Will GFW be able to break free of the rasslin' stereotype that dogs TNA and dogged WCW before it? Will Jarrett commit to a core of next wave talents who can put on jaw-dropping shows or will he try to drink the dregs of the Sting and Kurt Angle barrels? Sting and Angle can make you short-term money, but there's a cap on how big you can get with them as your featured players and it's called TNA.





3. CHIKARA



Absolutely no one, WWE included, has a more fully conceived product than Chikara. It's built an American lucha promotion with comic book and video tie-ins. They've got the best t-shirts. They've got the best posters. It's fully maximized wrestling for geeks. Chikara gets fan outreach and the web. I just got a Chikara e-book (PDF format) recently. Doesn't hurt that their shows are insanely fun. They've also developed ties with the Kaiju Big Battel folks. While we probably can't expect the Hell Monkey or Kung-Fu Chicken Noodle (Soup!) in a Chikara ring, Dr. Cube expanding his evil empire or just importing Kaiju's art house sensibilities (they know their way around live music, set design and light shows) makes a ton of sense. Anything that gets them better production value counts as a mark in the plus column. If I were Billy Corgan and I wanted to plow some money into a pro wrestling promotion that could change the game, I'd be all over Chikara.





2. AAA (Asistencia Asesoria y Administracion)



Lurking south of the border with a built-in fanbase unlike anything in the American indies, is AAA. It will start broadcasting on the El Rey network later this year. While it's tempting to write off El Rey as a BET wannabe, Robert Rodriguez (of Desperado, Sin City and Machete fame) is behind it, which creates the possibility that El Rey will deliver some programming people actually want to see. An English-language AAA broadcast likely will be a bit of a sleeper hit. It not only can pull an audience from the tens of millions of Mexican-Americans, but it's built for hipsters. The knock on AAA is that the masks are often better than the wrestlers. Good luck selling Super Porky to the world at large. He's essentially the Mexican version of Big Dick Johnson. Yet if AAA pushes some performers who can match the pace and execution we're used to in the U.S. and if it can work in some name American talents (John Hennigan?), then it's got a chance to be a major contender.





1. Dragon Gate/Evolve



One of the other reasons ROH got listed down at #5 is it no longer has Gabe Sapolsky. I know we're all booking geniuses here on the Internet, but Sapolsky is about as close to an actual booking genius as it gets. Sure, he gets goofy every now and then. It's pro wrestling for crying out loud, of course it gets goofy. Yet he knows how to spot real talent and push it. Sapolsky's fingerprints were all over the last generation of indie superstars and he's got his mitts on the next generation. Dragon Gate and Evolve have a common roster. They put on dynamite shows all over the country. They share talent with Chikara, CZW and FIP (and a whole bunch of other promotions). They're based in Philly. And Sapolsky books it all. It's kind of a George Clinton play, have your guys working for every label. Assuming Sapolsky smokes less weed than George Clinton - a fairly SAFE assumption - then Dragon Gate should be on a steady growth curve. The challenge for DGUSA is to figure out how to break into the television market. It's everything a wrestling needs to be outside of on the air.

I take requests.. The purpose of this column is to look forward. What could be? What should be? What is and what should never be? What would make more sense? If there's someone or something you think should be given the 8-Ball treatment, mention it in the comments section. I might pick it up for future weeks.
comments powered by