SPOTLIGHTS
Wrestling's 4Rs 5.30.14: WWE Monday Night Raw & NJPW on iPPV Reviewed
Posted by Larry Csonka on 05.30.2014

Evolution and The Shield had an explosive contract signing on Raw, Tomohiro Ishii continued to make his case for wrestler of the year and more! Wrestling's 4Rs breaks down the Right, the wRong & the Ridiculous of WWE Raw & NJPW on iPPV!


How the 4Rs of wRestling Work!
Here is a quick explanation of the 4R's. The column will run TWO times a week. We will group our feelings on the shows in various categories: The Right, the wRong and the Ridiculous. The Right is stuff that worked very well: a great promo, a great match and so on. PuRgatoRy is a section between the right and wrong. It shows equal traits from both sides that cannot be ignored and need discussed. It is not a bad place per say, as things can get remedied or go the wrong way the very next week. The wRong is what it sounds like: bad matches, bad or boring promos and so on. The Ridiculous is stuff that had no right on TV: Stupid angles and so on. And there is always a possibility of a 5th R, which is as bad as they come. This column is supposed to be analytical, and at the right time very critical of the shows, it was the whole reason it was created. This is not a "mark" column, nor a "smark" column, our goal is to analyze the show from many different fronts, reward the good and call out the bad. We will not apologize for our opinions, they are as they are, whether positive or negative.
---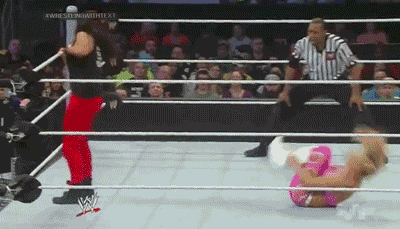 It's quite hypnotic….
NJPW Back to the Yokohama Arena 2014 – 5.25.14
BUSHI, Ryusuke Taguchi & Time Splitters (Alex Shelley & KUSHIDA) defeated El Desperado, Jushin Thunder Liger, Mascara Dorada & Tiger Mask [***½]

BULLET CLUB (Doc Gallows, Karl Anderson, Tama Tonga & Yujiro Takahashi) defeated Captain New Japan, Manabu Nakanishi, Tomoaki Honma & Yuji Nagata [**½]

TenKoji (Hiroyoshi Tenzan & Satoshi Kojima) defeated Killer Elite Squad (Davey Boy Smith Jr. & Lance Archer) and Rob Conway & Wes Brisco to retain the NWA World Tag Team Championship [**¾]

Suzuki-gun (Minoru Suzuki & Shelton Benjamin) defeated CHAOS (Takashi Iizuka & Toru Yano) [NR]

Bad Luck Fale defeated Tetsuya Naito [***]

Kazushi Sakuraba defeated Rolles Gracie [*½]

Tomohiro Ishii defeated Kota Ibushi to retain the NEVER Openweight Championship [****¾]

Hiroshi Tanahashi & Togi Makabe defeated Hirooki Goto & Katsuyori Shibata to become #1 contenders to the IWGP Tag Team Championship [***¾]

Shinsuke Nakamura defeated Daniel Gracie to retain the IWGP Intercontinental Championship [*]

AJ Styles defeated Kazuchika Okada to retain the IWGP Heavyweight Championship [****½]



The Tirade


Once again we get another good and strong show from New Japan. The first half was tag heavy, but stronger than a lot of NJPW shows. Many times the first half of these shows feel like a chore to get through with some stinkers and or things that you could do with out. The opening eight-man was a lot of fun, just great juniors action and the perfect way to kick off the show. The Bullet Club eight-man was fine for what it was, which was, but I came away pleasantly surprised by the NWA Tag Title match. Kojima & Tenzan can be hit or miss, they are legends and get a reaction, but if their opponents aren't up to the task the matches can suffer. Smith and Archer work hard, and it was great to see them again. Hell, I wasn't even all that annoyed with Wes Brisco. Minoru Suzuki & Shelton Benjamin vs. Takashi Iizuka & Toru Yano was all angle, as Iizuka left CHAOS by turning on Yano. The fact that they flew Shelton Benjamin in for a one-minute match makes no sense to me. Bad Luck Fale defeated Tetsuya Naito to close out the first half of the show, in a match that was better than I thought it would be. Fale is fine when used properly, but Naito worked his ass off and made sure to work to the strengths that Fale had. Naito is simply fantastic.

The second half of the show featured TWO MATCHES WITH THE GRACIES. They should have spilt these apart more, because neither was very good and they have really worn out their welcome. In the case of Nakamura, it has been a complete waste, but at least he got to work lighter and rest a bit as compared to other matches when he busts his ass. The Sakuraba match was short and inoffensive; the Nakamura match went too long. I hope that we're done with the Gracies in NJPW.

Tomohiro Ishii defeated Kota Ibushi to retain the NEVER title. I know it's early and I try to stay away from things like this, but I have to say that Tomohiro Ishii is the wrestler of the year so far for 2014. The man has great match after great match and does it with ease. This was the match of the night for me, and not only was Tomohiro Ishii excellent, but so was Kota Ibushi. Ibushi for me was a guy that was fun to watch, but was way too formulaic in his match structure. He has vastly improved, and is becoming scary good. I can see why there is interest in him from just about everyone. This is one of the very best matches of 2014 so far; go out of your way to see it.

Hiroshi Tanahashi & Togi Makabe defeated Hirooki Goto & Katsuyori Shibata to become #1 contenders to the IWGP Tag Team titles. This was a strong match that not only set up the tag team title match, but also a Tanahashi vs. Shibata singles feud. Again, I want to say hat I love the booking of Tanahashi; he was the guy, then helped make the IC Title important and is now looking to do the same with the tag titles. He's the guy, but doesn't have to be the MAIN guy. But yet, he still is important and helps wherever he is booked. And that's why he is their biggest asset.

In the main event, AJ Styles defeated Kazuchika Okada to retain the IWGP Heavyweight title. They had another really good match, and teased doing the screwy finish from Wrestling Dontaku 2014, but Ishii made the save and destroyed Yujiro with a LARIATO. After that it was Styles vs. Okada straight up, with Styles getting the clean victory with the Styles clash. I think they had to do that to establish that Styles has credibility and to make fans for get about the Wrestling Dontaku 2014 finish that many were sour on. Another bit of good news is that while at Wrestling Dontaku 2014 the fans were unfamiliar with Styles and didn't react to him very well, they did for this match. This was a strong close to the show with the Bullet Club celebrating after another really match (second to Ishii and Ibushi). This is the match of the night on most shows; unfortunately for them 2014 is the year of Ishii. AJ is great in his role, and comes across as a big star.

OVERALL: So we have Iizuka leaving CHAOS, Hiroshi Tanahashi & Togi Makabe as top contenders for the tag team titles as well as a Tanahashi vs. Shibata singles feud; Nakamura & Sakuraba look to be finally done with the Gracies, Ibushi stepped up big against Ishii (who continues to be awesome) and Yujiro attacked Ishii to set up a match with them. Styles is starting to click as IWGP Champion, and the clean win over Okada will go a long way to making people stay with it. I liked the Wrestling Dontaku 2014 event early this month, and though this one was better as the booking paid off/continued and the two tremendous matches makes this show such an easy recommendation. Again, the booking flowed from that last show, we moved on in some cases, and two great wrestling matches (along with some good tag team wrestling) makes this a solid recommendation, of only for those matches.

Seriously, take out the Gracie bullshit and this is an awesome show. I cannot stress enough how much better the show would have been without it.

Ishii vs. Ibushi and Styles vs. Okada are essential viewing.

Score: 7.9

As a reminder, I will be going by the 411 scale…

0 - 0.9: Torture
1 - 1.9: Extremely Horrendous
2 - 2.9: Very Bad
3 - 3.9: Bad
4 - 4.9: Poor
5 - 5.9: Not So Good
6 - 6.9: Average
7 - 7.9: Good
8 - 8.9:Very Good
9 - 9.9: Amazing
10: Virtually Perfect

As a reminder, this is not a basic "how good was the show" number like a TV show, as I have always felt that a PPV is very different from a regular show. I have always judged PPV on how they built to a match, the match quality, crowd reactions to matches and angles, the overall booking, how the PPV leads into the future, PPV price and so on and so forth. I have added this in here for an explanation since so many have asked, and I have previously discussed it on podcasts. I understand that this may seem different, but that is how I grade. Obviously your criteria may be different.
By: Jack Stevenson
Raw 5.26.14:
QUICK MATCH RESULTS:
Cesaro d. Rob Van Dam

Eva Marie d. Summer Rae

El Torito d. Drew McIntyre

Rusev d. Zack Ryder

Evolution d. The Rhodes Brothers

Bo Dallas d. Sin Cara

Emma d. Alicia Fox

Adam Rose d. Damian Sandow/Davy Crockett

Sheamus d. Alberto Del Rio


THE RIGHT:
El Torito vs. Drew McIntyre: I feel kind of bad for enjoying this stuff because its so dumb and sometimes a bit casually racist and always very very "HAHAHAHA THESE PEOPLE ARE SMALLLLLLL! ISN'T THAT HILARIOUS?! ISN'T IT?!" But El Torito is such a great, graceful flyer. and I genuinely think rivalries based around a bull having its tailed pulled off are an important part of what makes wrestling so good, it's great to have all the serious matches with the strikes and the holds and the anger, but it's the wrestling ice creams and rockstars and tailless bulls that make you ask the question "what... what am I watching?!" And the answer is always "I'm not sure, but it's substantially better than MMA." I'm less convinced this should be in the right now because who honestly laughs at comedy Spanish accents and little people moving in the 21st century? I always like it when my columns have more words in the right than in the wrong though so I'll give it a pass.

Bray attacks the announce team, I don't think it was intended as a face turn: So Bray came out to say his usual stuff and I'm bored of it, it's the same buzzwords and bible hymn every week surrounded by interchangeable meaningless vaguely religious weirdness, and while his delivery is still superb that's not going to make everything interesting again. Thankfully things got more cool and interesting when he decided to pick on Jerry Lawler. JBL attempted to make the save but got clotheslined out of his boots by Luke Harper, and Jerry Lawler seemed destined to meet Sister Abigail. It's a good job he didn't because he would have just made a deeply uncomfortable remark about her breasts or something. Instead, John Cena made the save, and got beaten up, and then the Usos made another save, and that was enough to clear out the Wyatts. I feel like Raw would be much more watchable if there was a level of warmth and rapport between the announcers, but Vince McMahon clearly is more of the 'have them argue about literally anything, no matter how petty, for the entire show, irrespective of what is going on around them.' This is understandable I guess, I feel Mick Foley's plunge off the top of the Hell Cell would have been so much more powerful if Jerry Lawler had said "that event was comparable to something that happened on a Fifties TV show!" and then Jim Ross had laughed at him for twelve minutes for making such an out of date reference, and then the two of them angrily debated whether the Undertaker was twerking. But for three hours on Raw it's pretty grating, and so it was nice to see them acting like normal human beings who care for each other. The brawl at the end was as hot as anything else on the show was, and the announcement that it'll be a Last Man Standing match at Payback is good, it should be a solid brawl with a big, spectacular finish, and that's more than this angle probably deserves. Good segment.

The Rhodes Brothers vs. Evolution: So the Rhodeseseses and Evolution had an argument backstage, and Triple H decided to make a match between Cody & Goldust and Batista & Orton. He said something about how this wasn't going to be a normal match, this was going to be interesting, and I sniggered to myself because seriously this Raw was so so bad. It was interesting though, I'll give him that. Orton got the clean pin on Cody with two RKOs and then it was announced it was an elimination tag match like the Payback match, and so Goldust had to go it alone. He quickly fell, and Batista and Orton looked like ruthless mean humans. It could have been better with more time because if there's one wrestler who is just absolutely brilliant at portraying vulnerability and helplessness and fire and anger and all the emotions you need for a match like this, it's Goldust, but of course they can't have him survive 20 minutes against Batista or Orton or anything, unless he was a main eventer, which of course he should be. So the lessons we've learned here are- Triple H keeps his promises, Goldust to be next WWE Champion.

I Thought Love Was Only True in Fairy Tales: Continuing the trend of NXT call ups that no one enjoys apart from me, Bo Dallas beat Sin Cara to abject silence from the crowd while I cheered enthusiastically. I think Dallas seems great, like Rose he exudes self-confidence that comes from having a great handle on the character. He could be a really enjoyable, light-hearted mid card presence and with some minor tweaks there's no reason why he couldn't aim higher. I thought this was a fine introduction to him.

Damian Sandow IS Davy Crockett: So Damian Sandow dressed up as Davy Crockett and much like the El Torito segment I think I am being extremely generous by putting this in the right. I liked Sandow's attempts to make it work though, and there was something about watching him in a raccoon skin cap putting on this incredibly fake southern accent that made me chuckle. Adam Rose won a match with him and advanced his feud with Jack Swagger, it was nice to see him get a smidgen more serious during his brawl and that might hopefully endear him to more testosterone-y crowds. Again, I guess this wasn't really all that great but I was entertained enough. The joke would have worn thin had it gone any longer though.


puRgatoRy:
Brad Maddox is gone: There was a brief period over the summer where Brad Maddox looked like he might be the best Raw GM since Eric Bischoff. He had a bit of Bischoff-y sleaze about him, but he also seemed out of his depth and terrified of all the wrestlers, which was amusing, and it looked like he could be something a bit different and fresh and potentially have some fun interactions. Once Triple H and Stephanie McMahon started to appear regularly he became redundant though, he lost all personality of his own and became like an inconvenient extra limb for HHH that he couldn't inflate grotesquely through hours and hours in the gym. Eventually, he had to be choke-slammed and then Tombstoned by Kane. I wonder where he goes from here? I think Brad's got an upside and could work well as a manager, but I don't think I'll pine for him if he's gone forever.

Rob Van Dam vs. Cesaro: I feel like I've seen this match many, many times before. I guess that's what happens when one of the wrestlers involved has no interest in doing anything other than flippy jumps that was cliched a decade ago. It still makes for mildly entertaining, purgatory matches, but it's so uninspiring to watch. I hope Bad News Barrett has a lot of bad news to deliver on Sunday.

Big E loves America and will fight Alexander Rusev for its honor: The Big E-Rusev feud is back on and I'm cautiously positive about that, Langston's shown he can put on some exciting power matches in the past and Rusev at least has the potential to be a good opponent. It could go the other way and be rather dull though. Also, I thought when Rusev debuted that the gimmick was a bit of a self-parody, delivered with a smirk and a wink to the audience, but now Lana's going on about noted homophobic shit human Vladimir Putin every week, I'm starting to think that they really think 'evil foreigner' is a viable gimmick in 2014? Sometimes I wonder whether Triple H, so forward thinking in so many other aspects, is genuinely proud of certain elements of WWE's prospect. We'll see how the matches go before making a decision on this one.

Daniel's Choice: Stephanie McMahon wants Daniel to give up the title, Bryan is refusing despite it being blatantly the right thing to do, so now Steph's threatening to fire Brie if Bryan doesn't give it up at Payback. I guess the next best thing to a title match is a title-surrendering segment featuring Bryan and Brie's terrible acting and Michael Cole speaking in a solemn voice. Like so much stuff on Raw these last few weeks, the concept was terrible but the talent of the performers drag it kicking and screaming into purgatory, particularly Stephanie because she's hella great on the microphone but also Bryan because he's pretty solid when he's not pushing his emotional range.

Emma vs. Alicia Fox: So I don't mind tooooooo much that Alicia lost despite having a big title match on Sunday because she's getting over for her zany post match antics rather than her win loss record and she brought that in abundance, dumping more soda over herself and wedgieing (or is it wedgying? Answers in the comment section pls) hapless ringside personnel. The match was nowhere near as good as her last two though, and it disappoints me to see how little Emma seems to enjoy herself out there. She half-heartedly thrusts her arms around, forced grin chiseled onto her face, eyes betraying her, revealing that she'd rather be anywhere else but here. Purgatory again! Safe, boring purgatory.

Sheamus vs. Alberto Del Rio: This was a match in which men were matched, they matched it up for a bit and match match match wrestle wrestle wrestle.

Contract Signings! How exciting!: Contract signings are my least favorite wrestling thing perhaps apart from all the sexism and casual racism and shit. They're just a cover for having nothing of consequence to do or say. No one has ever not signed the contract a week before the PPV, thus necessitating a last minute rebooking or everything. Where's the drama? Is it in seeing whether The Shield and Evolution will fight? Like they have done for the past eight weeks? And, again, the talent has enough about them to make this a passable, purgatory segment, the Shield 's promo was great and the brawl was reasonably enjoyable, but everything is just such status quo at the moment. I am so in the mood for people crashing into and falling off ladders. Thank god Money in the Bank's early this year.


THE WRONG:
Nothing, I guess:


THE RIDICULOUS:
NOTHING


THE RAW MATCH OF THE YEAR LIST:
Two new additions! A good week for wrestling.



2.17.14- John Cena vs. Cesaro


3.03.14- The Shield vs. The Wyatt Family


5.5.14- The Shield vs. The Wyatt Family


2.03.14- Daniel Bryan vs. Randy Orton


2.10.14- Sheamus & Christian vs. The Real Americans


1.27.14- John Cena, Sheamus & Daniel Bryan vs. The Shield


4.21.14- Sheamus vs. Wade Barrett


5.5.14- Daniel Bryan vs. Alberto Del Rio


1.13.14- CM Punk & The New Age Outlaws vs. The Shield


4.7.14- John Cena, Sheamus & Big E. Langston vs. The Wyatt Family


The 411:


Maaaan I HATED this Raw live but when I came to analyze it I discovered that I didn't actively dislike anything on it? Jesus Christ this was dull though. The thing with WWE right now is that hardly anything is actively bad, but almost everything is so painfully middling. It's three hours of middling, mostly inoffensive television in front of crowds that are either silent or obnoxious, and it's just not very much fun to watch. There's not even been any Shield six mans to brighten things up. I can't call this dreadful TV or anything when there's so little in the wrong, but it's nothing to get excited about viewing. It's kind of like I said somewhere else in the review, the material is awful but the talent are doing just enough to make it passable viewing, and in some ways that's more depressing and boring than an actively bad show. I've never been more disillusioned with a thoroughly OK product. Everything is fine and that is not fine.

Show Rating: 5.5

As a reminder, I will be going by the 411 scale…

0 - 0.9: Torture
1 - 1.9: Extremely Horrendous
2 - 2.9: Very Bad
3 - 3.9: Bad
4 - 4.9: Poor
5 - 5.9: Not So Good
6 - 6.9: Average
7 - 7.9: Good
8 - 8.9:Very Good
9 - 9.9: Amazing
10: Virtually Perfect

The 891st edition is over…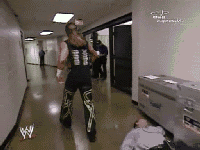 Have you checked out the Csonka Podcasting Network? If you haven't, you should We run anywhere from 15-20 shows a month, discussing pro wrestling, the world of MMA, the NBA, general sports, popular TV series of the past, bad movies, battle rap, interviews, MMA & Wrestling conference calls and more! Around 10 different personalities take part in the various shows, which all have a different feel; so you'll likely find something you like. All of the broadcasts are free, so go ahead and give a show a try and share the link with your friends on the Twitter Machine and other social media outlets! Running since May of 2011, there are currently over 500 shows in the archive for you to listen to.



Your heart is free. Have the courage to follow it…TO CSONKA'S TWITTER!

http://www.twitter.com/411wrestling
http://www.twitter.com/411moviestv
http://www.twitter.com/411music
http://www.twitter.com/411games
http://www.twitter.com/411mma
comments powered by