SPOTLIGHTS
The Magnificent Seven 6.01.14: 7 Ways Payback Could Make History
Posted by Mike Chin on 06.01.2014

From major heel turns to a career-defining moment for Alicia Fox, 411's Mike Chin counts down the top seven ways Payback could make history.

Call them PPVs, call them special events, call them what you will. WWE averages about one "major" show per year, and with so much product, it can become difficult to distinguish one from another. Just the same, each time I tune in to a special event, I still get at least a twinge of that old excitement—the prospect that the show ahead may not be just another three hours of wrestling, but rather an event that actually has a historic impact, and one that fans will continue to seek out years later to watch something truly important happen.

Shows like Payback don't have the weight of tradition behind them like the original big four, nor the promise of staple gimmick (Money in the Bank, TLC, Hell in a Cell) and thus it can be challenging to get excited for them. Just the same, when you take a closer look, particularly at tonight's Payback show, there is potential for something special.




#7. Determining the Fate of Pre-Shows



OK, so it seems like a stretch to call any match involving 3MB, much less little people, a potentially historic affair. Just the same, after last month's WeeLC showdown ended up almost shockingly entertaining, I'm reticent to write off the El Torito-Hornswoggle match as an afterthought.

Moreover, this bout could have significant implications for the WWE undercard and PPV pre-shows moving forward. A match centered around comedy characters, with a comedic name, and comedic spots succeeded on the pre-show last month. Should Payback's opener have similar results, might we see an expanded roster of smaller wrestlers? More comedic factions? The impulse for WWE to stretch the Matador-3MB program even further? It's all possible and I'm content to withhold judgment on whether any of those results are truly good or bad until I see them play out.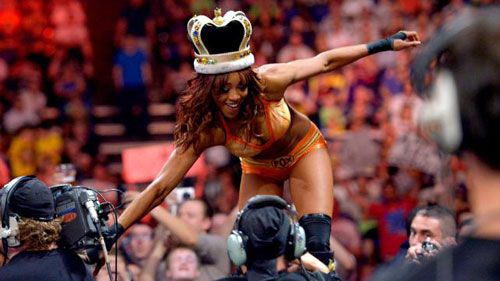 #6. Alicia Fox's Legacy Defined



Let's be honest—would anyone have guessed that Alicia Fox would be on the edge of the top 20 for 411's Wrestler of the Year polling, seven weeks into year? Yes, the booking reeks of WWE clumsily leaching off pop culture, and Fox isn't exactly knocking on the door of upper card relevance. Just the same, she's more relevant than she's ever been before, and despite Paige's status as the hot young face of the Diva's division, there some legitimate cause for speculation that Fox could unseat Paige as champion tonight.

At the highest point of her career to date, Fox can become more firmly entrenched as an also-ran, or Payback could be the night when one of WWE's most distinctive female characters starts to build a meaningful legacy for herself.




#5. The Usos Get a Push



After good showings against The Wyatts and winning the tag straps this spring, The Usos looked like they just might be major players on the WWE landscape. By the time Wrestlemania came along, they had been relegated to the pre-show and hung around the mid-card from there on. Just the same, in the past month they've had the rub of more often than not seconding John Cena in his war with the Wyatt Family.

Despite a reasonably deep roster, it's hard to say that the tag division is exactly prospering these days. Just the same, for a Last Man Standing Match in which Luke Harper and Eric Rowan are going to be presumptive factors, there's every opportunity for The Usos to get involved too and benefit from exposure within, if not official participation in a match at the top of the card.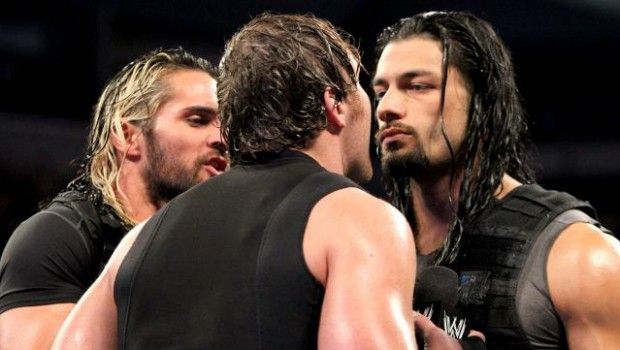 #4. An Important Heel Turn



Earlier this week, rumors broke courtesy of WWE Magazine that Dean Ambrose may break from The Shield and turn heel. I happen to be among the camp that suspects this is an example of the magazine being out of sync with the current storylines, rather than a legit spoiler. Just the same, it's not far-fetched to imagine Ambrose or conceivably Rollins turning on his stablemates. While I'd prefer The Shield continue to run as a unit for at least a bit longer, a turn could add a member to Evolution to replace the outward bound Batista, or complicate the uppercard scene with someone going rogue.

Outside of The Shield, Sheamus is also on heel-turn watch. The Celtic Warrior won the US strap in quasi-heel-ish fashion and depending on who you're listening to, could be on deck to join Evolution; alternatively, there's a less popular if no less intriguing theory that he could conceivably work a double turn with Cesaro—giving The Swiss Superman the face run the fans are more than ready for and placing Sheamus as the new Paul Heyman guy.

Will either of these turns come to fruition? Maybe, maybe not. But if either or both were to occur, they could have a significant impact on the upper card for months, if not years to come.




#3. Daniel Bryan Surrenders the Strap


Whether WWE is stretching things out to see when Bryan can return from neck surgery or is actually working its plan, you have to suspect that his war of words with Stephanie McMahon-Helmesley about whether or not he's forfeiting the title has got to come to a close soon. The D-Bry fan in me wants to see him persevere as champ, but if we're talking about the potential for historical impact, it could be a pretty important moment, and important factor in determining the direction of WWE booking moving forward if Bryan does sacrifice the title and open a huge opportunistic void for any number of fringe main eventers and established stars to get a new title reign ahead of schedule.




#2. Bray Wyatt Graduates



It's tough to pick against John Cena in a blow off match, and there's a fair argument to be made that just by standing toe to toe with Cena—holding his own at 'Mania and stealing a win at Extreme Rules—Bray Wyatt has already been promoted up the card. Just the same, tonight's Last Man Standing Match has every possibility of elevating Wyatt to a whole new level. A definitive win over Cena—even with some shenanigans from the Family—sets him up as a very viable heir apparent for the WWE Championship (besides which, with the Usos involved in this storyline, Harper and Gallows may be in line for a run with the tag straps).

Sure, I'm being a little presumptuous in calling this a blow off, but here's hoping Wyatt can move on from Cena here, and perhaps on to even bigger things.




#1. The Shield Evolves



Earlier on, I referenced the potential for The Shield to break up at Payback. Whether or not that occurs, Payback has a lot of potential to be an important night for WWE's top three-man ensemble. If The Shield loses, it will be their first real failing as a face unit. If they beat Evolution at back-to-back PPVs, and all the more impressively in an elimination format, it could mark the final necessary step before we can move on to one of them—probably Roman Reigns—beginning his expected journey to the WWE Championship.

One way or another, I don't expect The Shield to be quite the same coming out of Payback. And for a stable that has quite arguably been the best overall act in WWE for the past two years, that could mean an important moment in wrestling history.

What are you looking forward to from Payback? Do you think the show could be historic? Let us know in the comments. See you in seven.

Read stories and miscellaneous criticism from Mike Chin at his website and his thoughts on a cappella music at The A Cappella Blog. Follow him on Twitter @miketchin.
comments powered by