SPOTLIGHTS
The 8-Ball 6.09.14: Top 8 Potential Money in the Bank Entrants
Posted by Mike Hammerlock on 06.09.2014

From Bray Wyatt and Brock Lesnar to Dolph Ziggler, John Cena and more, 411's Mike Hammerlock counts down the top 8 potential Money in the Bank entrants!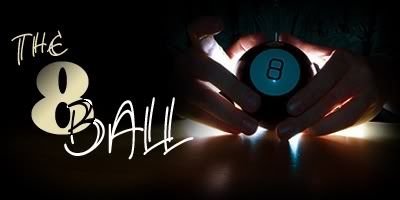 We don't know a lot about the upcoming Money in the Bank match. For instance, it could be for a briefcase or it could be for the title itself. We don't know. How will they handle things if it's for the title? Could they make it a two prize match? One guy gets the belt, another gets a briefcase. That would be cool. It would be a little hard to book because you theoretically want to close the show with a guy pulling down the title belt, though you could have one guy go opportunist early in the match realizing everyone else is gunning for the belt, leaving the briefcase more or less easy pickings.

We do know Alberto Del Rio is in the match. That's not a good thing. Del Rio can wrestle, but the WWE euthanized the World Heavyweight Championship by putting it around Del Rio's waist. They almost had to unify the belts after Del Rio because the WHC had become a trinket. No one much wants to see Del Rio in this match largely because no one much wants to see Del Rio back in the title picture. Even if the WWE wanted Del Rio in the MITB match, he was the wrong choice to be the first entrant. He's a turd in the swimming pool … and more turds could follow. I'm terrified we'll get Kane, RVD and the Miz. Unless Daniel Bryan is recovered in time, Kane will be there. That's a shame because Kane was supposed to be a throwaway challenger before D-Bry moved on to stiffer challenges. Kane was not a serious contender prior to his feud with Bryan and he will not be a serious contender after it ends. He's there for pure storyline and, ideally, that shouldn't put him in the MITB match. RVD's ringwork is headed downhill and a return of the Miz would generate something like zero excitement.

Meanwhile, the Shield guys (present and former) have some business to sort out. No three guys wrestlers could put MITB over the top faster than Seth Rollins, Roman Reigns and Dean Ambrose. Yet the WWE needs to put more than one match on the card and the Shield has a blood feud on their hands. Sheamus and Wade Barrett would be great in a theoretical sense, but it would devalue their current belts to have them chasing the WWE title. Rusev could be worth a feature here, but they're still pretending he's invincible. MITB would explode that myth. Veteran goodness could be helpful. Christian helped kick the Elimination Chamber up a notch and could be useful here. Chris Jericho makes everything better, but it's an extreme longshot that he's available.

So the Magic 8-Ball is tasked with finding the top eight guys who can kick the MITB match up to the next level. They need to be able to deliver in the ring and potentially do the belt proud.




8. Cody Rhodes



Cody's currently saddled with the worst of all storylines: the losing streak. It really makes you wonder what goes on in the minds of WWE Creative. This story never goes anywhere. Either it ends or the guy's career as a legitimate player in the WWE effectively ends. Oddly, Cody's former tag partner Damien Sandow is farther down the same rabbit hole. A year ago those two were taking what looked to be a star turn in their MITB match. Sandow came away with the briefcase and Cody got over with the crowd. In one fell swoop the WWE had a new heel and face they could push into the main event scene. Sandow started losing first, even blew his briefcase cash in. Now he's officially circling the drain. Sending Cody down the same path is a terrible idea. For the love of all that's holy, the WWE needs to stop it. The quickest, best way to retrieve Cody from the abyss would be to get him in the MITB match. Regardless of whether he wins, it would put Cody back into the upper midcard, perhaps positioning him to go after Barrett's IC title.




7. Sami Zayn



If you hadn't noticed yet, every major match with Sami Zayn seems to get at least a **** rating. He's rumored to be on the cusp of his official WWE debut. Where better than in the MITB match? Why waste your time pinning Damien Sandow and 3MB members when you can jump right into the fray? The selling point on Zayn is he puts on awesome matches. So have him hit the ground running with awesome matches.




6. Dolph Ziggler



Yeah, I know he lost his MITB qualifying match to Del Rio, but the WWE has precious few guys who can do a sick ladder spot in contention at the moment. The MITB match needs Ziggler. He'd also make a great story. Last week sucked for the Show Off. He lost to Del Rio and then Seth Rollins beat him (in a great match). Our wrestling fan brains have been trained to take losses like that as a sign that there are no significant plans in the works for Mr. Ziggler. Yet how cool would it be to see him pull himself up off the carpet, get some big wins and then force his way into the MITB match? I would say that could rival Seth Rollins' Shield betrayal in terms of "I did not see that coming." It's a comeback story. People love a comeback story.




5. John Cena



It seems a majority of the WWE audience desperately does not want Cena to win. Absolute worst case scenario is Cena either becomes automatic champion or get another briefcase, presumably to avenge his original MITB cash-in failure. Either way, terrible idea. Yet that's exactly why Cena should be in the match. The legion of fans who are sick to death of John Cena should be terrified the WWE will go to him as their default. Pick at that nerve. A well-booked MITB match should feature multiple "No, not Cena!" moments.




4. Bray Wyatt



I don't think Wyatt and Cena are done yet. MITB might be the intermission for that feud. Both men find their way into the MITB match and it kicks their hostilities to the next level. It would be interesting to see Wyatt cost Cena the match and then have Cena chase after Wyatt. At least that's how you get them to SummerSlam. As for MITB, Bray steps up in every match they give him. I've got a feeling he's got some crazy high spots that we wouldn't expect from a guy of his size.




3. Randy Orton



Much for the same reasons that Cena needs to be in this match, Orton does too. Orton's MITB win last year and cash in were kinda epic. The Apex Predator has taken over the Edge role of being the most dangerous man in the WWE universe with a briefcase in his hand. Give him a MITB win and it's not if Orton cashes in successfully, it's when. Of course, there's a high probability the MITB match will be for the WWE title.Orton's on the short list of top contenders for that too. He gives the match viability. I wouldn't have him win it, but Randy Orton's mere presence means the stakes are high. Also, Rollins and HHH can deal with Reigns and Ambrose in the short term, freeing up Orton to chase individual glory.




2.Brock Lesnar



Last we saw, he was beating the Streak. I think we can fairly assume that the Beast Incarnate will be a major part of SummerSlam. Time to kick off the summer early. If the MITB match really does crown the new WWE champ, then put the strap on Lesnar. He can maul some poor bastard at Battleground, after which hopefully we get the Daniel Bryan vs. Brock Lesnar mega event that should have been the plan for SummerSlam in the first place.




1. Cesaro



If there's anyone on the planet guaranteed to be in this match, it's Cesaro. In fact, if this is for a briefcase and not a direct championship, then the house money ought to be on Cesaro. If he and Lesnar are in the match together it would create tension in the Heyman camp. As we all know, Lesnar is THE Paul Heyman guy. Cesaro could chafe at being asked to play second banana. Or Cesaro could win the match, sending Lesnar over the deep end and forcing Heyman to choose between his champion and his meal ticket. To a degree, Heyman may have to choose between good and evil regardless of whether Lesnar returns for MITB. The reality of Cesaro in this match, in Boston, is that this crowd will put him over. Everything he does is going to pop the audience. The WWE is going to need to have him do something incredibly dastardly in the MITB match or during the following week in order keep him on the heel side of the ledger. It would be a lot easier to let him be a babyface.

I take requests.. The purpose of this column is to look forward. What could be? What should be? What is and what should never be? What would make more sense? If there's someone or something you think should be given the 8-Ball treatment, mention it in the comments section. I might pick it up for future weeks.
comments powered by