SPOTLIGHTS
Wrestling's 4Rs 6.13.14: WWE Monday Night Raw & NJPW on iPPV
Posted by Larry Csonka on 06.13.2014

Seth Rollins explained why he turned against the Shield, Ricochet won the 2014 New Japan Best of the Super Juniors Tournament and more! Wrestling's 4Rs breaks down the Right, the wRong and the Ridiculous of WWE Raw & NJPW on iPPV!


How the 4Rs of wRestling Work!
Here is a quick explanation of the 4R's. The column will run TWO times a week. We will group our feelings on the shows in various categories: The Right, the wRong and the Ridiculous. The Right is stuff that worked very well: a great promo, a great match and so on. PuRgatoRy is a section between the right and wrong. It shows equal traits from both sides that cannot be ignored and need discussed. It is not a bad place per say, as things can get remedied or go the wrong way the very next week. The wRong is what it sounds like: bad matches, bad or boring promos and so on. The Ridiculous is stuff that had no right on TV: Stupid angles and so on. And there is always a possibility of a 5th R, which is as bad as they come. This column is supposed to be analytical, and at the right time very critical of the shows, it was the whole reason it was created. This is not a "mark" column, nor a "smark" column, our goal is to analyze the show from many different fronts, reward the good and call out the bad. We will not apologize for our opinions, they are as they are, whether positive or negative.
---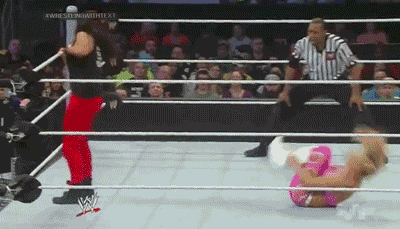 It's quite hypnotic….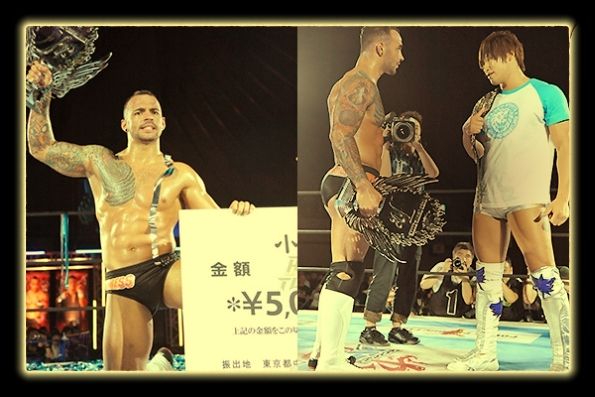 NJPW Best of the Super Juniors Finals 2014 – 6.08.14
Hiroyoshi Tenzan, Satoshi Kojima, BUSHI & Kenny Omega Dramatic Dream Team beat Mascara Don, Jushin Thunder Liger, Tiger Mask & Mascara Dorada (8:35) when Omega used the Croyt's Wrath on Dorada. [***]

Rocky Romero & Gedo beat Kota Ibushi & El Desperado (10:07) when Romero used a Kurayami piledriver on Desperado. [**¾]

Hirooki Goto & Katsuyori Shibata beat Yuji Nagata & Captain New Japan (10:49) when Goto used the Shouten Kai on Captain. [***]

Best of the Super Jr. – Semi Final: KUSHIDA beat Taichi (7:29) with the Hoverboard Lock. [**¾]

Best of the Super Jr. – Semi Final: Ricochet beat Ryusuke Taguchi (5:49) with the Benadryller. [***]

Minoru Suzuki & Takashi Iizuka beat Toru Yano & Jado (9:52) when Suzuki used a Gotch-style piledriver on Jado. [DUD]

Hiroshi Tanahashi, Tetsuya Naito & Tomoaki Honma beat Karl Anderson, Doc Gallows & Tama Tonga (10:15) when Tanahashi used the High Fly Flow on Tonga. [***]

Bad Luck Fale, Yujiro Takahashi, Matt Jackson & Nick Jackson beat Shinsuke Nakamura, Kazuchika Okada, Tomohiro Ishii & YOSHI-HASHI (17:59) when Fale used the Bad Luck Fall on YOSHI-HASHI. [***½]

Best of the Super Jr. – Final: Ricochet beat KUSHIDA (23:06) with the Benadryller. [****½]


The Tirade


I took a break from reviewing NJPW during the Super Juniors Tournament, because I needed a break and wanted to come back fresher than I had been. I am glad I did, I love reviewing show, but a short break can be good for the wrestling soul.. Outside of the Minoru Suzuki & Takashi Iizuka vs.Toru Yano & Jado, which was just all kinds of the drizzling shits, this was a strong card and ended up being a good show that built to the next iPPV well. Hiroshi Tanahashi, Tetsuya Naito & Tomoaki Honma vs. Karl Anderson, Doc Gallows & Tama Tonga was part of the set up for the IWGP Tag Title Match, featuring Karl Anderson and Doc Gallows defending against Hiroshi Tanahashi & Togi Makabe. Fale got a win to make him look good heading into his IWGP IC Title main event with Nakamura; Takahashi had interaction with Kazuchika Okada & Tomohiro Ishii, which helps the set up for Kazuchika Okada, Tomohiro Ishii vs. Takahashi and AJ Styles. That tag is a set up for Okada vs. Styles for the IWGP Title and Ishii vs. Takahashi for the NEVER Title. Also set through the tournament was Ricochet vs. Ibushi, which should be awesome.

OVERALL: Overall the show gets a recommendation, it is a good show and it is an important part of the puzzle. At the end of 2014, this will help complete a full picture in regards to the rise of Ricochet. This dude is having a great year, first he defeated Yoshino for the Open the Dream Gate Championship (the first gaijin to hold the title). Then he defeated Gargano WrestleMania weekend to win the Open the Freedom Gate Championship and close out their year-long feud (outstanding match BTW). On this show, he defeated Ryusuke Taguchi and then KUSHIDA to win the 2014 NJPW Best of the Super Juniors Tournament; making him the first ganjin since Eddie Guerrero in 1996 to win the tournament. It's been a special year so far for Ricochet, and I have been glad to be along for the ride. On top of that, it was a workman style event, which helped to set up matches for the next event (always important) and was easy to follow. There was a lot of good wrestling, and the Ricochet vs. KUSHIDA match is a MOTY candidate. Tremendous work by both obviously, but in terms of the overall accomplishments, it just adds to Ricochet's great 2014 resume. Finally, this show felt fun and easy to watch for me, and it never felt slow or overly long. This is an easy thumbs up from me.

Score: 7.8

As a reminder, I will be going by the 411 scale…

0 - 0.9: Torture
1 - 1.9: Extremely Horrendous
2 - 2.9: Very Bad
3 - 3.9: Bad
4 - 4.9: Poor
5 - 5.9: Not So Good
6 - 6.9: Average
7 - 7.9: Good
8 - 8.9:Very Good
9 - 9.9: Amazing
10: Virtually Perfect

As a reminder, this is not a basic "how good was the show" number like a TV show, as I have always felt that a PPV is very different from a regular show. I have always judged PPV on how they built to a match, the match quality, crowd reactions to matches and angles, the overall booking, how the PPV leads into the future, PPV price and so on and so forth. I have added this in here for an explanation since so many have asked, and I have previously discussed it on podcasts. I understand that this may seem different, but that is how I grade. Obviously your criteria may be different.
By: Jack Stevenson
Raw 6.09.14:
QUICK MATCH RESULTS:
Sheamus d. Bad News Barrett in a Money in the Bank Qualifier

Rusev d. Zack Ryder

Rybaxel d. Goldust & R-Truth

The Usos d. Fandango & Damian Sandow

Bo Dallas d. Xavier Woods

Cesaro d. Rob Van Dam

Paige d. Alicia Fix

Jack Swagger d. Santino Marella

The Shield & John Cena d. The Wyatt Family


THE RIGHT:
Daniel Bryan is stripped but not in a sexy way: Raw began with The Authority finally stripping Daniel Bryan of the WWE World Heavyweight Championship, as it became fully apparent that D-Bry wasn't going to be able to defend at Money in the Bank. It's not nice to see the first serious title reign of the greatest and most likeable pro wrestler of the 21st century end like this, but it's for the best- if they'd kept him clinging onto the title despite not being able to defend it they'd be risking an anti-Bryan backlash, and now we can draw a line under this disastrous reign, which largely consisted of our hero fleeing not even slightly heroically from an ageing Kane. Hopefully Bryan will return in a month, beat the heck out of the Big Red Monster, and move onwards and upwards from there. In the mean time, a new champion has to be crowned, and the Authority decided to do it in a Money in the Bank Ladder match, which of course means it isn't a Money in the Bank Ladder match at all, but they're going to keep calling it that in what I can only assume is a deliberate attempt to midly annoy me. I would imagine the match itself will overcome this terrible misnomer though and provide the usual thrilling carnage. Both HHH and Stephanie were great in this segment, Hunter's condescending mockery of any fan who doesn't agree with him meshed with Stephanie's faux sincerity to make a hilarious bad cop/slightly different bad cop routine. A strong and necessary start to the show. Also, to conclude the promo, Triple H shifted his focus to the Shield and announced its remnants would take on the Wyatt Family, which sounded fun...

Sheamus vs. Bad News Barrett: Sheamus and Bad News Barrett in the same ring is always a guarantee of fireworks, but not the pretty kind of fireworks that you can sit and gasp in wonderment at, but fireworks that are illegal and dangerous and liable to start hurling sparks at your face any second. I mean that as a compliment, though I realize 'might deform your face' isn't really a positive quality in a wrestling match. Still, this was tremendous fan, as the two brawlers crashed into each other repeatedly and threw nasty punches and kicks and head butts and slammed into the mat. Sheamus moves onto the Money in the Bank Ladder match, which is a bit of a shame because Bad News Barrett deserves ALL the success, but you can't win them all and Sheamus is no slouch either. Super super good battle to start the show.

The Shield are really unhappy: The Shield began their first full week without Seth Rollins in pretty much the same way they began all the other weeks in their lives- being total bad-asses. Reigns and Ambrose obliterated 3MB to remind them that the Shield are a better trio than them even though they aren't actually a trio, and then Dean Ambrose cut a gloriously deranged promo in which he outlined, in great detail, precisely how he was going to re-arrange Seth Rollins' face. It was really tremendous. Things may never be quite the same for the Shield as they've been for these last unfathomably brilliant 19 months, but as long as Roman Reigns is still cool as heck and Dean Ambrose is still the most charismatic wrestler in WWE, we will always have something to cling onto.

John Cena & The Shield vs. The Wyatt Family: Right, OK, if Reigns and Ambrose stay together and are allowed to have the pick of WWE's roster to play the third man, and keep having these excellent six man tags, I think I can cope with Seth's desertions. This wasn't quite as good as the three really fantastic six mans the Shield have had on Raw this year, the crowd were flatter than they were for those and the heat segments on Cena and especially Ambrose weren't fascinating. But it was alright, totally functional, and once the near falls kicked in everything was as it should be. Bodies flew all over the pace and big moves were hit and it was all good, chaotic fun. A fine conclusion to Raw.


puRgatoRy:
The Usos vs. Fandango & Damian Sandow: This was fairly reasonable. The Summer Rae-Layla storyline is moderately entertaining although I don't like that women can't have a feud with flavor or intensity to it in WWE unless it revolves around men. Damian Sandow was mildly amusing.

Xavier Woods vs. Bo Dallas: Bo Dallas continues to be entertaining, it made me laugh to see him patronizingly tell Woods that he was doing well and to keep trying his best while he was beating him up. The gimmick is an enjoyable change of pace and it's nice to see a wrestler willing to make himself look so completely foolish and delusional. He's not done enough so far to make it out of purgatory though.

Cesaro vs. Rob Van Dam: I don't know what happened to Rob Van Dam in between October 2013 and April 2014 to make him so lackluster at the wrestling. If Rob Van Dam had spent the whole match standing in the corner shrugging his shoulders, and occasionally adding in a backflip, no one would have been able to tell the difference. I mean, his matches are always just about OK because he's been matched with good opponents and he's experienced enough anyhow to string a passable outing together with no effort, but there is just so little effort. Still, Cesaro moves onto Money in the Bank, which is good, and yeah the match was completely OK, just also completely uninspiring.

Seth Rollins has some 'splainin to do: Seth Rollins told us all why he'd turned on the Shield. it made sense (he never cared about the Shield! He was in it for himself all along!) but it was kind of lazy and uninspiring, you can justify literally any turn in pro wrestling history with that logic, and the Shield's break-up should have been above such perfunctory, bland storytelling. Still, the fact that it does have some logic to it removes one of my main objections from last week, and I think Seth will probably do some good work as a bad guy, and things could turn out pretty OK considering what a desperate spur of the moment decision the turn was in the first place. I'll put it in purgatory, but I feel a lot better about this whole thing than I did last week.

Santino Marella vs. Jack Swagger: This was what it was and nothing more. Jack Swagger beat Santino Marella in a short and inoffensive match. Maybe it will go somewhere! Maybe it won't.


THE WRONG:
Rusev vs. Zack Ryder: I don't know about Rusev. I like his squashes and I like bits of his move set and I like the old fashioned route they're taking of having him rampage through hapless Zack Ryders before some heroic good guy comes to stop him. But this has been going on for three months now and in the 21st century that's way too long, and the 'evil Russian' thing is outdated and one dimensional, and I'm not convinced WWE have any idea what to do with him. It would be a shame if Rusev petered out because his kicks and throws and zombie like refusal to stay down are more interesting than your average up and coming big man. Things aren't looking great for him at the moment though.

The Rhodeseses are still incompetent: Right now I dislike this immensely, I dislike it when two of my faves are made to look stupid and bad at wrestling and I don't see what Cody or Goldust are going to gain from this. However, this magical mystery partner debuting next week who Goldust will apparently never have heard of is an intriguing development, and I do like a good mystery partner, so maybe something can be salvaged here; On the night things were pretty bad though.

Paige vs. Alicia Fox: This was OK for a Divas match but Paige has been given no opportunities to do anything worthwhile at all as a champion, and Alicia's wacky actions have lost their shock factor and she's not showing the Finlay levels of aggression she was a couple of weeks ago. I also thought the specific references to Alicia being 'bipolar,' in the context of an angle where we're meant to dislike her for being KERRRRRAAAAAZZZYYY, were in incredibly poor taste. Disappointing.


THE RIDICULOUS:
NOTHING


THE RAW MATCH OF THE YEAR LIST:
Sheamus and Bad News Barrett creep into 10th place!



2.17.14- John Cena vs. Cesaro


3.03.14- The Shield vs. The Wyatt Family


5.5.14- The Shield vs. The Wyatt Family


2.03.14- Daniel Bryan vs. Randy Orton


2.10.14- Sheamus & Christian vs. The Real Americans


1.27.14- John Cena, Sheamus & Daniel Bryan vs. The Shield


6.2.14- The Usos vs. The Wyatt Family


4.21.14- Sheamus vs. Bad News Barrett


5.5.14- Daniel Bryan vs. Alberto Del Rio


6.9.14- Sheamus vs. Bad News Barrett


The 411:


This week's episode demonstrated the importance of plotting and pacing- there was the standard mix of good things and boring middling things, but the good things happened at the right moments in the show to keep things ticking along nicely and stop us from getting bogged down in the tedious adventures of Rusev and Goldust and Santino Marella. I think this show was a reminder that, if there is a 'big four' of PPVs any more, Money in the Bank has kicked Survivor Series out the gang and taken its place- the focus and energy of the big segments was substantially better than that of any of the build for last year's Survivor Series, or Extreme Rules or Payback whatever. There were two good matches and Dean Ambrose cut a great promo and, yeah, I thought this was a fun show!

Show Rating: 7.5

As a reminder, I will be going by the 411 scale…

0 - 0.9: Torture
1 - 1.9: Extremely Horrendous
2 - 2.9: Very Bad
3 - 3.9: Bad
4 - 4.9: Poor
5 - 5.9: Not So Good
6 - 6.9: Average
7 - 7.9: Good
8 - 8.9:Very Good
9 - 9.9: Amazing
10: Virtually Perfect

The 895th edition is over…



Have you checked out the Csonka Podcasting Network? If you haven't, you should We run anywhere from 15-20 shows a month, discussing pro wrestling, the world of MMA, the NBA, general sports, popular TV series of the past, bad movies, battle rap, interviews, MMA & Wrestling conference calls and more! Around 10 different personalities take part in the various shows, which all have a different feel; so you'll likely find something you like. All of the broadcasts are free, so go ahead and give a show a try and share the link with your friends on the Twitter Machine and other social media outlets! Running since May of 2011, there are currently over 500 shows in the archive for you to listen to.



Your heart is free. Have the courage to follow it…TO CSONKA'S TWITTER!

http://www.twitter.com/411wrestling
http://www.twitter.com/411moviestv
http://www.twitter.com/411music
http://www.twitter.com/411games
http://www.twitter.com/411mma
comments powered by