SPOTLIGHTS
The 411 Wrestling Top 5 6.25.14: Week 269 – The Top 5 Underachievers in Wrestling
Posted by Larry Csonka on 06.25.2014

From Samoa Joe, Mr. Kennedy and Matt Morgan to Marty Jannetty, Jake Roberts, Juventud Guerrera and more, the 411 staff breaks down their top 5 wrestling underachievers of all-time!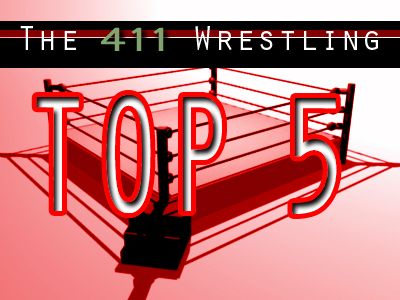 Hello everyone and welcome to 411 Wrestling's Top 5 List. We take a topic each week and all the writers here on 411 wrestling will have the ability to give us their Top 5 on said topic, plus up to three honorable mentions.

So, onto this week's topic…



The Top 5 Underachievers in Wrestling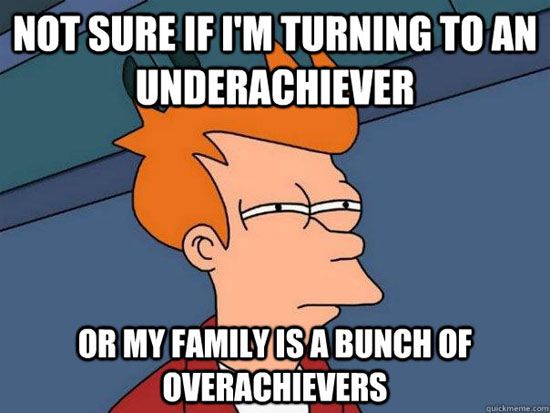 Name the top 5 performers you personally felt (for what ever reason) underachieved in the wrestling business.




MICHAEL WEYER
5. Butch Reed True, his initial push in Mid-South was because Bill Watts was looking for another Junkyard Dog. But Reed was a damn good worker and not bad on the mic either, a guy who could get fans behind him or over massively as a heel. Reportedly, he was in line for the IC title in 1987 but didn't show up that night so it went to Honky Tonk Man instead. Too bad as Reed would have made a good heel champ and respect for the title. He did team up with Ron Simmons for Doom who dominated as tag team champs in the NWA in 1990 but faded to the background afterward. It's really too bad as this was a guy who could have gone longer, even to the heights Simmons would attain but now has to rank in this list of guys who could have been bigger than they really were.

4. Terry Taylor It's a shame. Taylor was a great rising star in Mid-South, tag team champ and showed a good ability to move between heel and face. He was a good talker and sharp worker, a guy who could elevate a mid-card well and provide some nice matches. But then in WWF, he's given the absolutely idiotic gimmick of the Red Rooster and his career was pretty much done from there. Yeah, he had later runs in WCW but never the big hit he could have been as he would have made a decent IC champ and could have enjoyed a much longer run without that stupid gimmick. The story is that it was literally a coin flip between him and Curt Hennig over who would get the "Mr. Perfect" gimmick and one has to wonder how much differently Taylor would be regarded had that flip gone the other way and made him a great star rather than the joke most remember him as.

3. Jake Roberts This one is somewhat baffling to me. Roberts is naturally famous for being one of the single most amazing talkers the business has ever known. Watch him in the '80's, whether it's Georgia, Mid-South or WWF, no one commanded a camera in a promo like he did and he always managed to suck you in. His ring work was great too, fast and quick and his innovation of the DDT set a new standard for finishers. He held the TV title in Georgia but never really anything else (aside from the forgettable Smokey Mountain belt) which is surprising. Yes, his inner demons were well known but he could command a ring well and a run as IC champ might have been good with fans backing him up. Some might argue that he's a guy who didn't need the rub of a belt, he already had the heat from his act and his snake but hard to see how a guy with such stunning skills as worker and talker never got the major belts to back up his legacy.

2. Barry Windham True, Windham had a pretty good career, a tag team champion in WWF and later NWA along with U.S. champ and a key part of arguably the best version of the Four Horsemen. But Windham really seemed ready to go much bigger than that. His series of house show matches with Flair in 1987 were sensational, it seemed to elevate Windham to a main event level and most thought he was next in line to win the World title. Even when the Horsemen split, he seemed ready for further heights but injury and some bad pushes marred that. Flair and Dusty Rhodes have put over Windham massively as one of the best natural athletes they ever saw and really seemed a guy to push big time but never connected on that level. A shame as he was a great worker and talker who could have gone much higher if his drive matched his talent.

1. Magnum T.A. I know, it's a case of circumstances beyond the control of any promoter. But man, this one hurts. Magnum T.A. was the real deal: Great in the ring, fantastic on the mic, bursting with skill and charisma, the fans loved him dearly. He was a hit in Mid-South and was getting a major push in the NWA, especially Crockett. He'd held the U.S. title in the classic feud with Tully Blanchard and later Nikita Koloff, selling out arenas and it seemed sure that he was going to beat Flair for the NWA World Title at Starrcade '86. I maintain that if it hadn't been for his career-ending car accident that October, Magnum would have been the Hogan-level type to help JCP out big-time in the expansion, a great star to appeal to all fans and a major boost to business to help WCW along. It's sad to see a fine career cut short just before it could reach its true heights and leave you wondering how vastly different the wrestling world would have been had Magnum been able to go as long as he should have.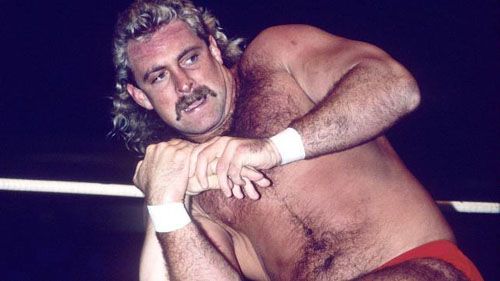 ---



Justin Watry
5. Mr. Kennedy - All of these topics have blended together for me the past few weeks. Seems repetitive. Just to spice it up, I will add in a new name. Mr. Kennedy was being positioned to be a big name in WWE. Almost right from the start. Defeated a bunch of former World Champions. Got title matches on pay-per-view. Feuded with The Undertaker for a few months. Had the Money in the Bank briefcase. Selected to be in a WWE Films feature. Seriously, you could not ask for much more than that. Of course, this is Mr. Kennedy, so it was quickly flushed down the toilet...until he ended up in TNA Impact Wrestling. Injuries. Suspension. Foot in mouth. Wrong place, wrong time...and everything in between. As fast as he rose to main event level, he came crashing down. Destined WWE main event level star for years down to TNA. Enjoy feuding with Sam Shaw...

4. Test - Should have won the WWE Championship at Survivor Series 1999. Not Big Show! Again, I do not want to repeat myself over and over, but he along with Billy Gunn deserved more of a shot during the Attitude Era.

3. Ken Shamrock - I say this as a compliment. Ken Shamrock was pretty cool during the late 1990's on WWE television. Even his TNA appearances were okay. However, it just comes down to picking wrestling over mixed martial arts. I know guys want to be tough and compete in both at the same time...and yes, it can be done! Really though, you need to give full effort to one or the other. Shamrock always had something going for him but never fully capitalized on it. Seems like a missed opportunity from both Ken and WWE.

2. Jeff Hardy - Yes, he was in an amazing tag team. Yeah, he was a former WWE and World Champion. Of course, Jeff Hardy WILL be inducted into the WWE Hall of Fame someday. No doubt! Why is he an underachiever though? Besides the obvious issues that have come up, it was his fall from grace set in motion following Summerslam 2009. Not to tell this story for the 67,399th time, but it is just mind boggling he went from the top of the top, top, top mountain...to an Orlando soundstage within a few months. Forever will that go down in the history books of blunders.

1. Matt Morgan - Clear #1 choice!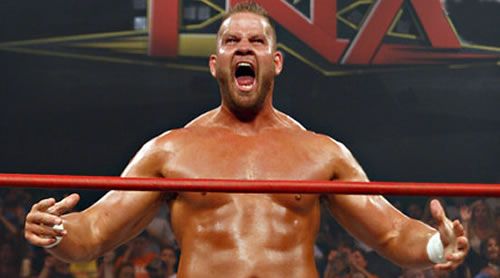 ---



Dylan Diot
5. Sean O'Haire - He was probably the most athletic wrestler to ever come out of WCW's Power Plant and the rumor was that WCW was going to built around him had the company not gone out of business. Then he came to the WWE, had some awesome vignettes and his anti-motivational speaker gimmick seemed like he would on the quick road to success. However, he cut poor live problems and was still incredible green when he finally got put on TV, so his WWE stay ended up being short lived. Sky was the limit for O'Haire but the stars were never aligned for him.

4. Matt Morgan - He had the size, build, and athleticism to be a huge star in both WWE and TNA. He never put it together and the result is the literal biggest underachiever on the list. Morgan was given a stuttering gimmick in WWE and was quickly released. Then in TNA, he was given the gimmick of "The Blueprint", was booked as a bad ass and had a great program with Kurt Angle that should have established him as a Maine enter. Again, Morgan could not put the tools together to take advantage of this opportunity and now today he is no longer in the business.

3. Mr. Kennedy - He was given a great gimmick as the self ring announcer, the microphone falling from the ceiling and his catchphrase got him over big time and he looked destined to be a star. However, the injury bug caught up to him in WWE and all the opportunities he had to be a main event star went out the window. He then pissed off Randy Orton and was released days later. He's had some runs as TNA World Champion, but he should still be in the WWE as a multiple time World Champion.

2. Jake Roberts - His promo abilities and his mastery of ring psychology is unparalleled in professional wrestling and he is rightly considered one of the best to ever step in the ring. However, he should have been cemented as one of the biggest stars in the history of the WWF, but his well known history with drug abuse prevented him from achieving the greatness that everyone knew he had in him. He should have drawn money with Hulk Hogan as a heel or shared a position with Hogan and Savage as the top babyface in the company. He should have held the WWF Championship at least once in his career. For all his greatness in the ring, the level he could have reached had he stayed on the right path still blows my mind.

1. Test - In late 1999, Test had become the hottest rising stars in the company. He was involved in a storyline relationship with Stephanie McMahon and had one of the best matches of that year with SHANE MCMAHON of all people. Then the infamous Test/Stephanie wedding occurred where Triple H pulled one over on Vince McMahon and drugged Stephanie resulting in their marriage at a Las Vegas drive-thru chapel. This angle should have launched Test into a feud with Triple H and made him into one of the top baby faces and biggest stars in the company. He should have been the third man at Survivor Series 1999 and won the championship. He literally had the hottest angle in the palm of his hands and never capitalizes. I can't remember another wrestler who literally had the chance to draw huge money fall into his lap and did not capitalize. Test could have emerged as a major superstar in the hottest period in wrestling history and the fact that he failed miserable combined with his great look makes him for me easily the biggest underachiever of all time.


---



Ryan Byers
5. Tom Magee - Tom Magee is quite the oddity in the history of professional wrestling. I don't know if there's ever been a story quite like his. After a power lifting career, Magee was trained to wrestle by Stu Hart and had such an impressive physique and high levels of athleticism that he debuted at the very top of the wrestling industry, having his first match for All Japan as a headliner against Riki Choshu in 1986. And, believe it or not, he looked *great*, like he deserved to be at the top of the card. He also got a look from the WWF and had an infamous match with Bret Hart so good that it convinced Vince McMahon that he could be the company's new, hot babyface act to replace Hulk Hogan. However, shortly after that match, for reasons that nobody really knows, the wheels started to fall off of Magee. Some claimed he just didn't look as good without top-notch opponents like Hart and Choshu, but others noted that he seemed to lose all confidence in himself somehow and never recovered as a performer. Within in a year, the WWF had all but given up on Magee and, by 1988, he was back in Japan but now working at the bottom of the card, including a Wrestling Observer "Worst Match of the Year" with former sumo Hiroshi Wajima.

4. Juventud Guerrera - If you have a discussion these days about Juventud Guerrera with just about anybody who follows professional wrestling, the subject matter will almost certainly be how batshit insane and egotistical he is. After all, this is the guy who got beaten up by Jack Evans after confronting Evans in a paranoia-induced rage, the guy who was arrested on a WCW tour of Australia for running naked down a hallway while on PCP, and the guy who ran over Brad Armstrong's leg with a car. As entertaining as making fun of crazy Juvi is, it unfortunately detracts from the fact that the guy was one of the best damn junior heavyweight wrestlers of the late 1990s and early 2000s, perhaps as good as Rey Misterio Jr. but with a more marketable unmasked look. However, for all of his in-ring talent, Juventud never actually managed to get off the ground in the United States and didn't even really become as huge of a star in his native Mexico as he could, all because of his personal problems and general insanity.

3. Val Venis - Juventud may have been a victim of his personal demons, but Val Venis was a victim of his gimmick. Sean Morley, the man behind the Big Valbowski, was actually a pretty damn talented in-ring performer, he had a good physique, and he was fairly charismatic. On paper, it originally seemed like he had more tools to become a big star than anybody else than the crop of wrestlers he debuted alongside, which included future world champions like Edge, Christian, and the Hardy Boys. However, his problem was that, for all of his talent, he was saddled with a porn star character that was never going to allow him to get past a certain level on the card. No matter the era, you weren't going to have "that porn guy" holding a primary championship or main eventing a major show. Yet, when they made attempts to take the gimmick off of him and repackage him as something else, audiences of the era just wouldn't let it happen, as they sat on their hands until, inevitably, the company just made him into a porn star again and killed any upward momentum that he may have had.

2. Marty Jannetty - When the Rockers (or, originally, the Midnight Rockers) were first making their waves in the AWA and the WWF, people were actually looking at Marty Jannetty to be the breakout star of the team, not Shawn Michaels. Though Michaels was always talented, Jannetty was a bit older and more experienced, had a better look in the early going, and he was just as good as Michaels in the ring, if not slightly better. When the two split up and had their feud, they still looked like equals as opposed to Shawn being the rising star and Marty being the - well - Marty, but eventually the gap started to widen. Jannetty was still a talented in-ring performer, but personal issues began to catch up with him and put him on a cycle of being fired and rehired by the WWF/WWE just about as many times as Goldust. Then, opting for what was no doubt a big money contract, he signed with WCW during the Monday Night War and spent what were probably the last few years of his athletic prime toiling away as a job guy in the cruiserweight division as opposed to putting himself in a position where he could potentially have one more run in the limelight.

1. Samoa Joe - Two of the biggest stars in the biggest wrestling promotion in the world over the course of the last two years have been Bryan Danielson and CM Punk. Just seven or so years ago, those two guys were among the leaders in an independent wrestling revolution, where numerous fans felt the country's most talented performers weren't in the big leagues but were instead working in gymnasiums and rec centers across the country. However, there was a third guy widely perceived as leading that revolution with Punk and Danielson, and his name was Samoa Joe. In some ways, Joe was ahead of the American Dragon and the Straight Edge Star. He was the first guy to get an extended Ring of Honor Title run. He was the guy who put on the ***** match with Kenta Kobashi. He was the guy who was picked up by Pro Wrestling NOAH and given an opportunity to main event against Mitsuharu Misawa. Now, fast-forward the same six or seven years that have passed for CM Punk and Bryan Danielson, and where is Samoa Joe? He's . . . nowhere, really. Yes, he's signed to a promotion that I am told has a national television deal, but is he doing anything meaningful on that television? Not really. Is he anything close to being a main event level guy in the U.S. promotion that is a distant second to its closest competitor? Nope. Is he even putting on great performances on par with those in his past? Reportedly, no. This man was one of the faces on the independent wrestling Mt. Rushmore of the early and mid-2000s, but now, when the other top performers of that generation have moved on to become wrestling's superpowers, he has been left far, far behind the pack.


---



Mike Hammerlock
5. Ahmed Johnson - In 1996 it seemed like it was only a matter of time before Ahmed Johnson would become WWF champion. He was the first black singles champion in company history, winning the Intercontinental title off of Goldust. Twice he was in line for a WWF title shot and had to skip the match due to injuries/health issues. He was lousy on a promo and a bit sloppy in the ring, but he had a great glower. Combine that with a monster build and an arsenal of high impact moves - he'd use an "I kill you" move to transition between "I kill you" moves - and there was very little stopping him. The health issues were legit, but with the benefit of hindsight Johnson didn't seem to want it. He never cleaned up his ring work, which would have kept him healthier and gained him more trust from the head office. To be fair, the WWE seemed to overlook Undertaker's regular in-ring foibles in the '90s. So it's hard to pin Johnson's failure to climb higher on sloppiness. Yet he also chubbed up before he retired and ballooned to well over four bills afterward. Look at some of his contemporaries like HHH, Shawn Michaels and Undertaker. They wanted it and kept themselves in pretty much peak condition into their 40s. Johnson strikes me as a case of a guy who maybe only wanted it if it came easy.

4. Austin Idol - If you watched Georgia Championship Wrestling back in the day, Austin Idol was like a comet. Crowds exploded for him. He had cool heel down to a science. Was he a functional ripoff of Ric Flair? Yes and no. The cocky playboy/nature boy character was pretty common in that era. They were all ripoffs. However, Idol was great at cutting a promo and knew how to tell a story in the ring. He had breakthrough written all over him. He probably needed to get away from Flair country to do it. That's where we run into the reason why he didn't climb higher up the mountain. He was a southern guy who seemingly got comfortable working in southern territories. He fought Jerry Lawler on and off for a decade. He was a big fish in small ponds. It probably made for a comfortable living. After Hulk Hogan took over the universe I'm guessing Idol recognized he could have starred on a national stage if he had headed north to work in some larger media markets in the late '70s and early '80s. No doubt he'd have gone way farther in the WWWF/WWF than Greg Valentine. Idol could have been the feud that defined Bob Backlund's reign. And Idol could have been a much-needed dose of charisma in the AWA proper had he gone there. We'll never know because Idol never moved outside his comfort zone.

3. Nigel McGuinness - Former ROH titleholders CM Punk, Brian Danielson, Samoa Joe and Austin Aries all became WWE or TNA champions. McGuinness was absolutely on par with those guys in ROH. In fact, McGuinness ranks only behind Joe in terms of length of his ROH reign. He beat a who's who in the indy scene to retain that title - Aries, Claudio Castagnoli, Tyler Black, El Generico, Chris Hero, Kevin Steen, KENTA, Gio Shiozaki, Roderick Strong. McGuiness had size, mic skills, a pro look and ring skills coming out his ears. The WWE wanted him and that's where we get to the sad part of this tale. McGuinness was a bit of an injury magnet. An old biceps injury turned up in his WWE physical and poof went his contract offer. He went to TNA instead (under the name Nero Wolfe), where he immediately feuded with Kurt Angle. He looked to be sure thing. TNA fans even thought he was a sure thing, voting him the #1 contender for the TNA title. Instead of latch onto a rising star, TNA jobbed Wolfe out to Rob Van Dam in his title challenge. It ranks as one of the worst booking decisions in TNA history. Ultimately McGuinness' career would come to an abrupt end after catching hepatitis B while working for TNA. Unlike some others who underachieved because of head/determination issues, health really kneecapped McGuinness. He could have been a top guy in WWE. He should have been the top guy in TNA. Didn't happen. Bloody shame.

2. Mike Awesome - 6'7", a chiseled 290 pounds, power moves and aerial ability. What else do you need? He came to a sad end, hanging himself in his home. Suspicion has been he suffered from depression caused by the cocktail of drugs he took during his career. When he showed up in ECW it was instantly apparent he was the best guy they had. It seemed unrealistic that anybody could actually beat him. Sure, Awesome was terrible on the mic, but that's why they make managers and valets. All he had to do was be awesome. I think he may have lacked business acumen. He spent spent the better part of a decade in Japan, but at Frontier Martial-Arts Wrestling instead of NJPW or AJPW. I find it hard to believe that a gigantic, athletic guy couldn't latch on with a bigger promotion. That put him on a path to ECW rather than the WWF or WCW. In WCW he got some of the worst gimmicks in history: That '70s Guy and the Fat Chick Thrilla. The WWE originally seemed to want to push him of all WCW/ECW guys in the Invasion angle, but that fizzled. Ultimately what serves as a reminder of what he could have been is his match against Masato Tanaka at One Night Stand. Just because you're the prototype, it doesn't mean that you know how to grab and hold the spotlight.

1. The Patriot - Who's the greatest ever American masked wrestler? Rey Mysterio probably. Maybe Mankind or Kane. You can argue whether Vader or Ultimate Warrior qualify as truly masked. I'm partial to Mr. Wrestling II. The Destroyer probably counts as the old school pick. It's not a terribly long list. Point here is the answer should be the Patriot, but Del Wilkes somehow managed to fumble the perfect gimmick. He was Captain America in the flesh. If you drank super soldier formula, you'd look like Del Wilkes. The man was chiseled out of stone. I first saw him in the Global Wrestling Federation back when it ran on ESPN. He instantly became their top guy. In WCW, he became tag champ (with Marcus Alexander Bagwell) almost as soon as he arrived. In the WWE he went straight into a feud against Bret Hart. It took no time to sort out that the physical specimen with the All-American gimmick was a big deal. Fans glommed onto him at first sight. All he had to do to get over was walk through the curtain. Unfortunately he never stuck anywhere. Post-wrestling career, Wilkes has been fairly forthright that he was a somewhat messed up dude in those days. Apparently cocaine really is a hell of a drug (along with every steroid and painkiller known to man). He could have been the top guy in the industry in the '90s, but he seemingly self-sabotaged his way right into the "Where are they now?" file. I suppose the happy ending is he lived to tell the tale.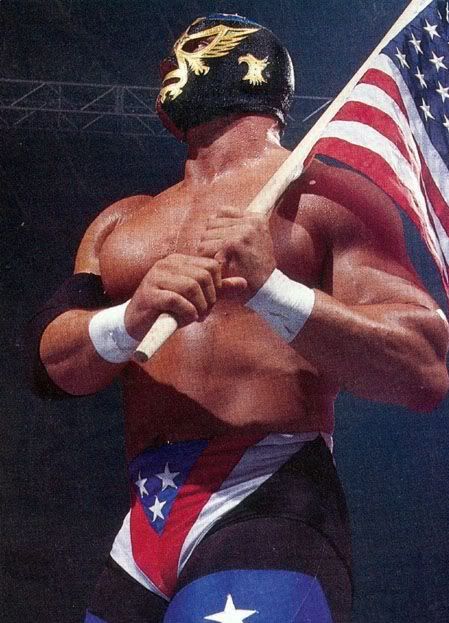 ---
YOUR TURN KNOW IT ALLS

List your Top Five for this week's topic in the comment section using the following format:

5. CHOICE: Explanation
4. CHOICE: Explanation
3. CHOICE: Explanation
2. CHOICE: Explanation
1. CHOICE: Explanation
Your heart is free. Have the courage to follow it…TO CSONKA'S TWITTER!

http://www.twitter.com/411wrestling
http://www.twitter.com/411moviestv
http://www.twitter.com/411music
http://www.twitter.com/411games
http://www.twitter.com/411mma

Have you checked out the Csonka Podcasting Network? If you haven't, you should We run anywhere from 15-20 shows a month, discussing pro wrestling, the world of MMA, the NBA, general sports, popular TV series of the past, bad movies, battle rap, interviews, MMA & Wrestling conference calls and more! Around 10 different personalities take part in the various shows, which all have a different feel; so you'll likely find something you like. All of the broadcasts are free, so go ahead and give a show a try and share the link with your friends on the Twitter Machine and other social media outlets! Running since May of 2011, there are currently over 500 shows in the archive for you to listen to.



Larry Csonka is a Pisces and enjoys rolling at jiu jitsu class with Hotty McBrownbelt, cooking, long walks on the beach, Slingo and the occasional trip to Jack in the Box. He is married to a soulless ginger and has two beautiful daughters who are thankfully not soulless gingers; and is legally allowed to marry people in 35 states. He has been a wrestling fan since 1982 and has been writing for 411 since May 24th, 2004; contributing over 3,000 columns, TV reports and video reviews to the site.
comments powered by