SPOTLIGHTS
The 8-Ball 6.16.14: Top 8 of Last Week's WWE Releasees
Posted by Mike Hammerlock on 06.16.2014

From Drew McIntyre and Jinder Mahal to Evan Bourne, Brodus Clay and more, 411's Mike Hammerlock counts down the top 8 of WWE's releases last week with the most future potential!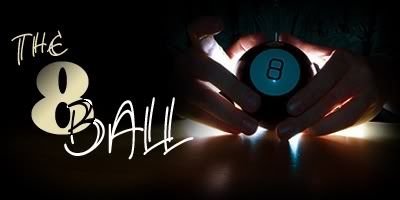 June 12 was the Day of the Long Knives at the WWE. It released a total of 11 on-air performers. That's a lot of awkward conversations for one day. To be fair, most of the wrestlers who got released weren't doing much. Only Drew McIntyre and Jinder Mahal have been making regular appearances on the WWE's main shows, though it's been as pure jobbers. Still, that's a lot of bad news to pass around in a single day. However, it's oddly good news for this column. If you subtract out Teddy Long (authority figure/manager), Aksana (female wrestler with a modest skill set) and Mark Harris (ref), that leaves eight male wrestlers.

It just so happens that this is an eight-item list column, making this terrible news for others, but a terrific development for me. Just wait a moment for me to dust off the Magic 8-Ball here. The mass produced plastic oracle will be asked to rank the futures of these eight wrestlers. The good news is all of them should have a future, at least they can have a future. The one thing the WWE absolutely gives everyone who works for it is face recognition. The wrestling business, at its core, is about selling tickets. It helps immensely when fans see faces they know on the event poster. TNA did some very good business with Christian and Jeff Hardy. Ethan Carter III (the artist formerly known as Derrick Bateman - who absolutely would have been called Master Bateman during the Attitude era) is TNA's latest WWE import.

It's a pretty easy trick to perform. Take the guy fans recognize, let him show off a bunch of moves he never got to use in WWE, book him strong, and then you've got a main eventer in your promotion. It works like a charm. Promoters should only try it if they like money.




8. Brodus Clay



Real Name: George Murdoch
Age: 34
What His Future Holds: He's not young, he's in terrible shape and his ponderous ringwork will not fit in the indies. The one thing the WWE got right with Murdoch is it made him a comedy wrestler. He doesn't look scary in a singlet. He looks silly. I can't see TNA paying for him. ROH doesn't do comedy. Chikara does, but is Murdoch going to want to put on a mask or facepaint and work for peanuts? I doubt it. I could see him possibly fitting in with AAA. He could call himself El Magilla. Japanese promotions have been a haven for big guys (e.g. Giant Bernard). All Japan Pro Wrestling certainly could stand to have someone with some name/face recognition. Yet it's possible Murdoch's wrestling days are largely behind him beyond whatever shows he works for New Jersey-based Pro Wrestling Syndicate. Time to call up Snoop Dogg and try to work bit roles in Hollywood.




7. Yoshi Tatsu



Real Name: Naofumi Yamamoto
Age: 36
What His Future Holds: Yamamoto was never a major star in Japan, but he has a landing pad there. New Japan probably takes him back and he gets himself into a tag team. He'd actually make some sense as a Bullet Club member. The good news for Yamamoto is Japanese wrestlers work well into their 40s. He'll be around for a while, but he's never going to make a splash on this side of the ocean. To a degree, his WWE career ended the second the ECW brand shut down. He's just been a jobber with a paycheck the past four years, but I guess Damien Sandow, Zack Ryder and Xavier Woods are there for that now.




6. JTG



Real Name: Jayson Anthony Paul
Age: 29
What His Future Holds: Unfortunately this marks the end of "JTG still works for WWE?" jokes. No more speculation about the incriminating photos of Vince McMahon that Mr. Paul has in his possession. He's in a strange, new world in that all he know is WWE. He even needs to invent a name for himself, though you'd think he's had enough free time to come up with something. It's a steep learning curve in front of him. The good news in his case is he's still relatively young. That's actually one of the more interesting things about this group of wrestlers. Usually a pro wrestler doesn't hit his prime until he reaches his 30s. A guy like Jayson Paul has worked alongside some of the best in the business for eight years, fans know who he is and his best years technically are in front of him. That's not a bad platform for starting the next phase of your career. Yet Paul has a lot to prove to the industry and he hasn't been working much for the WWE. So he falls into the lower half of this list.




5. Evan Bourne



Real Name: Matt Korkian
Age: 31
What His Future Holds: Assuming he's healthy, he will go back immediately to being Matt Sydal. Then he can sort through offers from ROH, Dragon Gate (Japan and USA) and New Japan. It's possible TNA could view him as a candidate to energize its X Division or that Jeff Jarrett will want him for GFW. Since he worked with ROH head booker Delirious for years, it's safe to assume ROH will be the first place we see Sydal re-emerge. In fact, the 8-Ball expects Sydal and Delirious either to feud with each other or form a tag team, or the first swiftly followed by the second. Sydal's going to get plenty of work, though he's never going to become the next big thing.




4. Curt Hawkins



Real Name: Brian Myers
Age: 29
What His Future Holds: Rumor has it that Myers has some influential friends - the Rock, C.M. Punk. Add Colt Cabana on top of that, who's probably a deadly useful contact in the indies. He's already planning to work some Pro Wrestling Syndicate shows in Jersey (pick a Titus Andronicus tune for your entrance song and you'll be all kinds of over). Networking gets you places and Myers seems plugged in to do it. He also has the selling point of being a guy many have suspected has more to offer than we saw in the WWE. People will buy tickets to see what Myers looks like now that he's off the corporate leash. Expect him to be in plenty of TNA and GFW rumors. At the very least, he'll be prominent in the indies.




3. Drew McIntyre



Real Name: Drew Galloway
Age: 29
What His Future Holds: TNA needs a head check if it doesn't sign Galloway. I'd have had him at Slammiversary. He's got a main eventer look and ability to go with it. It's always baffling when WWE gets someone who supposedly fits its model and then it jobs him to a midget in a bull costume. That seems odd. The WWE's loss is someone else's gain in this case. Galloway is going to be a champ elsewhere, possibly multiple elsewheres. If TNA doesn't sign him, then Jarrett should be all over him. If not them, then he could star in Mexico or Japan, or he could head back to Britain and be a big, honking deal there. He's instant legitimacy wherever he goes. Fans get how the business works. They understand locker room politics control wins and losses. In the WWE, Galloway was a young guy with no pull. Wherever he goes next, you get to see him prove the WWE made a huge mistake. Size, talent, experience and his prime in front of him. Drew Galloway will be just fine.




2. Camacho



Real Name: Tevita Fifita
Age: 31
What His Future Holds: Wrestling is a family business, which means Fifita can trade on his bloodlines. Being Haku/Meng's son will open plenty of doors. For instance, Jeff Jarrett worked with his dad. So did Jim Cornette, who will surely get to run some promotion's book in the future. Plus, Fifita gets to stop pretending he's Mexican. Heritage regained! Fifita looks like a tough guy (though not so much in the smiley picture above) and he has tough guy DNA. He can walk in anywhere and be a believable enforcer, or the hammer in a tag team. This guy is going to work. Expect to see a lot of him during the next decade.




1. Jinder Mahal



Real Name: Raj Dhesi
Age: 27
What His Future Holds: Finally we get to the baby of the group. Jinder is about to get unhindered. He stands 6'5" and he has a spectacular sneer. Yeah, yeah - ring ability, athleticism, build, more charisma than he was allowed to show, blah, blah, blah - but that sneer is money. He looks like wants to do bad things to you. Marketing counts. Fans need to believe the illusion they're watching in the ring. With Dhesi, sneering is believing. Promotions should be lining up for him. For instance, say you were running a Japanese promotion that wants to make major inroads in a rapidly modernizing Asian nation of 1.2 billion people. Well then, Raj Dhesi might be worth his weight in gold: young, fit, WWE pedigree. He'd be box office in Bangalore. Dhesi could head to the East for 3-5 years, conquer the world's biggest continent, and still be in the early part of his prime when he comes back across the Pacific to take another shot at the U.S. Time is on his side, enough time perhaps to turn himself into a star.

I take requests.. The purpose of this column is to look forward. What could be? What should be? What is and what should never be? What would make more sense? If there's someone or something you think should be given the 8-Ball treatment, mention it in the comments section. I might pick it up for future weeks.

P.S. Happy birthday to the Oti.

comments powered by