SPOTLIGHTS
Wrestling's 4Rs 6.20.14: WWE Monday Night Raw & TNA Slammiversary
Posted by Jack McGee on 06.20.2014

Roman Reigns won a spot in the Money in the Bank match, John Cena battled Kane for his own spot in the match, Eric Young retained the TNA World Title and more! Wrestling's 4Rs breaks down the Right, the wRong and the Ridiculous of WWE Raw & Slammiversary!


How the 4Rs of wRestling Work!
Here is a quick explanation of the 4R's. The column will run TWO times a week. We will group our feelings on the shows in various categories: The Right, the wRong and the Ridiculous. The Right is stuff that worked very well: a great promo, a great match and so on. PuRgatoRy is a section between the right and wrong. It shows equal traits from both sides that cannot be ignored and need discussed. It is not a bad place per say, as things can get remedied or go the wrong way the very next week. The wRong is what it sounds like: bad matches, bad or boring promos and so on. The Ridiculous is stuff that had no right on TV: Stupid angles and so on. And there is always a possibility of a 5th R, which is as bad as they come. This column is supposed to be analytical, and at the right time very critical of the shows, it was the whole reason it was created. This is not a "mark" column, nor a "smark" column, our goal is to analyze the show from many different fronts, reward the good and call out the bad. We will not apologize for our opinions, they are as they are, whether positive or negative.
---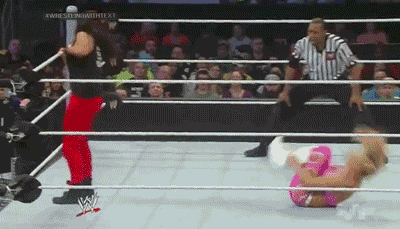 It's quite hypnotic….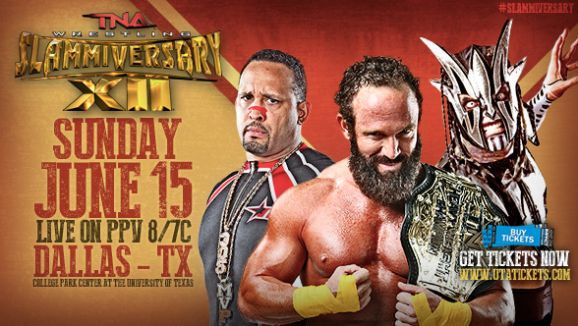 By: Jericho Ricardi
TNA Slammiversary 2014
QUICK MATCH RESULTS:
Sanada def. Eddie Edwards, Davey Richards, Manik, Crazzy Steve, and Tigre Uno via ladder climb at 10:00

Bobby Lashley def. Samoa Joe via pin at 10:00

Magnus def. Willow via pin at 10:00

Austin Aries def. Kenny King via SUPA BRAINBUSTA at 10:00

Ross and Marshall Von Erich def. Jesse Godderz and DJ Zema via DQ at 6:00

Angelina Love def. Gail Kim via pin at 7:00

Ethan Carter III def. Bully Ray via unanswered 10-count at 17:00

Mr. Anderson def. James Storm via Mic Check at 6:00

Eric Young def. Austin Aries and Bobby Lashley via piledriver to Aries at 12:00

THE RIGHT:
The opening video: An excellent video showing the history of the company over the past 12 years. They highlighted some of the best moments in company history, and this video gave things a sense of importance right off the bat. It was really good, yo. I'd like to see the company as a whole treat their own history the way this video did. Sometimes it feels like pre-2010 TNA "didn't count", and it's a shame because those years have a hell of a lot to offer. 2009 was the best year in the company's history, in my view. A Network-type archive would be ideal, but if that isn't possible I'd like to see more DVDs from the company highlighting those older events. How about some career retrospectives? Tangent over, on to the show.

The X-Division ladder match: Great opener to kick off the show, with some very innovative stuff that we haven't ever seen before (like whatever the hell Manik did on that ladder-bridge). This is the kind of stuff that put TNA on the map, and the company would do well to go back to their roots and put more of an emphasis on matches like this. There were a few badly mis-timed spots, but nothing serious unless you're sitting there actively looking for things to complain about online.

Joe Vs. Lashley: This was a good power-match, with Lashley hitting the spear while Joe was distracted. Joe could have looked a little better in the loss, but at least the loss wasn't clean. No complaints here, was an entertaining brawl. In retrospect (given how the main event turned out) the wrong guy won, but the match itself was solid.

Inducting Team 3D into the TNA Hall of Fame: GREAT choice here. They're arguably the best tag team of all time, and they've accomplished more than any other tag-team post-1998. (Pre-1998, they'd have competition from the Legion of Doom). TNA's HoF now includes Sting, Kurt Angle, and these two. A lot of people say that they should induct more than one person/team every year, but I think that by keeping it a fairly exclusive club they're increasing the importance of it organically. It certainly needs that, since the company is only 12 years old. Honorable mention goes to the crowd sign that said the real HoF includes AJ Styles and Jeff Jarrett. They're not wrong, but that ship has sailed.

Willow Vs. Magnus: While Willow being the "violent side" of Jeff Hardy is an interesting concept and I enjoy his promos, I think it might be time to just let him go back to being Jeff Hardy. Maybe bring out Willow occasionally when absolutely necessary. As things are, it's sorta like he's stuck in his alternate Limit Break form and can't get out. In any case, this was a good match that told a good story. I'm liking how Magnus has apparently reverted back to his old identity of Battousai the Manslayer.

EC3's backstage promo: A damn fine promo where EC3 correctly noted that from his view, Bully Ray is the villain in their feud. He also pointed out that he has defeated the two previous HoF entrants; so it's only fitting that he get Bully Ray next.

Kenny King Vs. Austin Aries: The battle of the alliterations was a hell of a match, as expected. Kenny King's music is particularly good, too. I did feel like this match could have used more time, but for what it was it was quite enjoyable.

Kevin Von Erich's moment in the sun: Kevin Von Erich got the biggest pop of the night for locking The Claw on one of the Bromans. Von Erich is essentially a folk hero in Dallas, and it was a great moment for the fans in attendance.

Bully Ray's intense backstage promo: "Ethan, I don't know if you're religious. But if you are... START PRAYING."

Bully Ray Vs. EC3: This had match of the night potential, a rough-and-tumble Texas Death Match with arguably the most over guy in the company battling a guy on the ascendance. It could have done more for EC3 than anything the company has done so far. Unfortunately, it was another tainted win for the guy, and it lacked the hardcore gravitas of a Foley/Edge or Foley/Orton. EC3 is still looking for that big win that'll take him to the next level. That said, it was another very good match in a show full of them.

"Fancy Lad" Rockstar Spud's attacks do 0 damage: When he was whacking Bully Ray with a kendo stick, you could almost see the zeroes popping up like in a Final Fantasy game.

The main event: Extremely fun main event. Eric Young defied the odds and made a huge impression by defeating Austin Aries and Bobby Lashley in a three-way dance. There were two particularly insane (or "just crazy enough" if you will) moments in this match. One, EY somehow hit a DVD on both Aries and Lashley at the same time. I did NOT think EY was capable of that kind of feat of strength, and he totally gave me a new perspective on his power level as a wrestler. Second, the elbow drop off the top of the cage. It was nearly as good as the one from Lockdown 2013. EY deserves to have his title reign continue, as the fighting champion who is becoming less of an underdog and more of a force by the week.

The Dallas crowd: Was awesome throughout the show, a complete 180 from the tourist-filled soundstage. The "Trouble" signs in the first couple rows during EC3's entrance? Awesome. They also chanted right along with Anderson's "FROM GREEN BAY WISCONSIN", something often missing in the Impact Zone. Just a much better show on all levels thanks to the crowd. It made a world of difference. Sometimes I wonder what the wrestling landscape would look like right now if there were parity between the two biggest wrestling companies in mere presentation. If TNA had the funds to have LIVE Monday night shows in front of large, noisy road crowds every week... Chances are, they would have broken out of their set-in-stone ratings pattern long ago. You have to spend money to make money.


puRgatoRy:
Angelina Love Vs. Gail Kim: At last year's Slammiversary (which I attended live with my girlfriend and the crowd cheered the faces and booed the heels), Gail Kim versus Taryn Terrell absolutely stole the show. Match of the night, easily. No such luck for Gail this year, as this match was fairly mediocre. At least, mediocre by TNA Knockouts standards. Had this been on RAW it would have been the best women's match on RAW in months. Despite all the hubbub around Madison and Brittany, neither was anywhere to be found in this match and the outcome merely preserved the status quo.

Bromans Vs. Von Erichs: This was a fairly average - if somewhat sloppy – match. The Von Erich boys have charisma but they need a lot of work. Still, it gave us that awesome Kevin Von Erich moment afterwards.

Anderson Vs. Storm: This match wasn't anywhere near what it could have been, and more or less amounted to your standard Impact match. The stuff with the Dallas Cowboys verbally jousting with James Storm was cool, as was their celebration with Anderson after the match. Still, I feel like James Storm has lost WAY too much in the past few months. He deserves better. Regardless, this match wasn't bad or anything.

Not doing more with the Dallas Cowboys in attendance: I held off on putting this in the Wrong, since they actually were utilized pretty well towards the end there. I just wish they had done a bit more with them. For a company in huge need of some mainstream attention right now, they really should have made a bigger commotion about the fact that they had literally half of the Dallas Cowboys sitting at ringside. If this were a WWE event they would have been mentioning it in every segment and running "Did You Know?"s touting it for weeks. Tony Romo probably would have gotten a replica title belt to show off in the media. Point is, TNA kinda wasted an opportunity here. Kinda. We did get a brief Sportscenter moment, at least.


THE WRONG:
NOTHING


THE RIDICULOUS:
NOTHING



The 411


This was a great show on all fronts, with an excellent main event that made the best of a bad situation with MVP's injury. It was a hard-fought match with EY pulling out some very surprising maneuvers. It was also shockingly devoid of interference. In general, the whole show consisted of hard-fought matches with no real interference or swerves or heel turns. It was worth $35, and I don't have anything strongly negative to say about the show.

My one issue with it is that I'd rather have seen Samoa Joe get Lashley's place in the main event, and I think the vast majority of the fans in attendance felt the same way. Lashley winning would have made sense if the main event storyline were EY having to defend against both of MVP's allies; since King didn't make it to the main event, Lashley was sorta the odd man out. His style also severely clashes with Aries and EY's styles; Joe would have made for a much better match. Still, they put on a great main event match with what they had, and I'm just nitpicking at the one thing that can really be nitpicked on.

Also, this show had a lot of collapsing guardrails, didn't it? And right after I say that guardrails are better than barricades in the Impact 4Rs. Though these guardrails were black as opposed to the usual metal, so perhaps they were new easily-knock-over-able plastic guardrails or something.

Better show than Sacrifice or any of these lame duck Impacts they've been putting on for the past couple months... and a better show than Payback or Extreme Rules while I'm at it. Best overall PPV since WrestleMania 30, and a recommended watch for both current and lapsed TNA fans.

Score: 8.5

As a reminder, I will be going by the 411 scale…

0 - 0.9: Torture
1 - 1.9: Extremely Horrendous
2 - 2.9: Very Bad
3 - 3.9: Bad
4 - 4.9: Poor
5 - 5.9: Not So Good
6 - 6.9: Average
7 - 7.9: Good
8 - 8.9:Very Good
9 - 9.9: Amazing
10: Virtually Perfect

By: Jack McGee
Raw 6.16.14:
QUICK MATCH RESULTS:
Dolph Ziggler defeated Seth Rollins via DQ (11:08)

NON-TITLE MATCH: Wade Barrett © defeated Dean Ambrose via countout (8:30)

NON-TITLE MATCH: Sheamus © defeated Bray Wyatt via DQ (11:09)

Rusev destroyed Heath Slater

Adam Rose and Summer Rae defeated Fandango and Layla via pin (1:20)

Roman Reigns won the big battle royal to earn a spot in MITB (17:00)

NON-TITLE MATCH: Paige © defeated Cameron via pin (3:00)

Stardust and Goldust defeated Ryback and Axel (1:00)

STRETCHER MATCH: John Cena defeated Kane to earn a spot in MITB (16:09)


THE RIGHT:
Opening Promo: Overall I was perfectly fine with the show's opening promo. Often times I hate them, because they are just an excuse for the authority figure to come out and talk and talk and talk and deliver nothing special for the show. This promo allowed them to announce the MITB Battle Royal, to announce the main event and more importantly some continuity. Triple H and Stephanie got to act completely unlikable, and on top of that, got to lay the screws to Reigns, Ambrose and Cena. They still hate them, and were pissed from last week when Cena saved the day and also sassed Stephanie. I agree that week in and out they can be tiring, but this promo served its purpose well.

Bray Wyatt Talks and is Great: I am a huge fan of Bray Wyatt, and feel that he is developing into one of the better promo guys in wrestling. I loved this week's promo, discussing the fact that without power he has nothing, and that the WWE World Title represented all of the power he would ever need. It represents a transition in the character, being reborn and seeking the ultimate power. That power just happens to be the WWE World Title. The WWE World Title is now the most important thing to Wyatt, which it should be because the WWE World Title should be the focus of every guy on the roster. You have a shot at the IC Title/US Title, you want that because it advances you and gets you that much closer to the WWE World Title, the main goal. The promo was well crafted, delivered well and I felt that it did its job perfectly. More of this please.

Roman Reigns won the big battle royal to earn a spot in MITB (17:00): if I am completely honest with you, I find most battle royals completely useless and tedious to get through. The Rumble is different, but a battle royal, no matter the stipulation, makes me want to turn the channel and skip around until the end. I will say that this one was actually very enjoyable. They got a lot of time to work with, I felt that they laid out the match very well and they could not have hoped for a better reaction when it came down to Rusev and Reigns. While I feel Rusev needs a feud, he has been booked like a monster and the crowd realizes that. Reigns has been booked as a dominant "it guy" for some time, and when they stood off, the reaction was tremendous. Better than the reaction for Reigns and Triple H. Part of that is the booking, and part of that is that the confrontation was fresh. I thought that they booked Rusev strong enough that he didn't appear weak when he lost, but also Reigns looked tremendous in his victory. This was a win-win of a segment overall, and I really enjoyed the entire presentation.

Stardust and Goldust defeated Ryback and Axel (1:00):I know that a lot of people seem to be down on this, but I actually loved this. They have been telling the story of Cody being down and Goldust needing a new partner. We went through the partners, and then Cody had the answer. Stardust. I like it. Some complained that "they could have done this with someone else," but no, they couldn't. it works, because Cody needed to reinvent himself, and so he took his father's Florida nickname and parts of his brother's persona and now we have a new Cody Rhodes in Stardust. Stardust felt fun, Cody looked like he was having fun and I like when things feel fresh, new and fun altogether. I am more than willing to see where this goes, especially if it keeps the Rhodes boys together for a long time. They are a great tag team and this interests me.


puRgatoRy:
Dolph Ziggler defeated Seth Rollins via DQ (11:08): The action between Dolph Ziggler and Seth Rollins was once again very good, but the problem is that they were having their third match in like, 10-days. Rollins defeated Ziggler clean on Smackdown (6.06.14) and then again on Main Event (6.10.14). Rollins not only won, but also won clean in both matches. Ziggler is Evolution's bitch, Big Dave killed him a few times, and now Rollins. The match was good, but I have no idea why they had to have it. Rollins is already giving off the feeling that he is spinning his wheels in some aspects. The Ambrose attack was perfectly fine, but this was the first of three straight matches without a finish. That's some lazy ass booking right there.

NON-TITLE MATCH: Wade Barrett © defeated Dean Ambrose via countout (8:30): Much like the opening match, this was also good and enjoyable. It played off of the first match, but Jesus, Triple H and Stephanie need to stop impersonating Barrett, they are horrible at it. The action was good here, and Rollins getting involved made sense. Well it would have been perfectly fine, except that this was the second of three straight matches without a finish. Yes, that's some lazy ass booking right there. Also, it bugged me when Ambrose got counted out that he stopped going after Rollins to attack Barrett. First of all it made Barrett look like a bitch, and also it didn't make sense because Ambrose if focused on Rollins, so he shouldn't have let him escape. I liked the match and the fact that it was impromptu and Ambrose had to work in street clothes, but it was far from right.

NON-TITLE MATCH: Sheamus © defeated Bray Wyatt via DQ (11:09): This was the third of three straight matches without a finish. ONE MORE TIME… That's some lazy ass booking right there! Sorry, I wanted to get that out of the way. But it bothered me enough that it knocked this down to the purgatory section. They had a good match, hard hitting and I liked the Usos coming to even things up for Sheamus. I love that the Usos are treated as the friends of the bigger stars like Cena and Sheamus, because in the past they would have been brushed off as little buddies or Pedigreed for their trouble. While the non-finish bothered me (in a calmative way) I did like the post fight brawl and the fact that it built to two PPV matches.

Rusev destroyed Heath Slater: Rusev destroyed Heath Slater and all was well with the world. They changed up the entrance a bit for Lana and Rusev, which is appreciated. I liked that Slater got all fired up and patriotic before his demise. The Rusev experiment is doing well I think overall, but like many, I am hoping that they get the man involved in a feud that I can care about. I appreciate that he looks strong, and I also appreciate that they are laying the groundwork for his character so that there is a foundation for him. These are all good things, but now I want to care about the guy; please get him in a feud, anything for now. Jack Swagger's an All-American American, book that.

Adam Rose and Summer Rae defeated Fandango and Layla via pin (1:20): Adam Rose and Summer Rae defeated Fandango and Layla in a match that was all about Summer vs. Layla. The ladies brawled and chased to the back, leaving the guys. They don't care about Fandango, and Rose is on thin ice with some in WWE because they don't get it or he hasn't gotten over right away. Rose won in seconds, and then celebrated with Hart. It was a segment. I would have suggested this be moved to Main Event, but I know they wanted to get the Kevin Hart thing done. It wasn't horrible, and I guess what they wanted, but it went by so fast that I never got any time to get into it or care about it.

STRETCHER MATCH: John Cena defeated Kane to earn a spot in MITB (16:09): In many ways the match was what it was supposed to be, Cena was shoehorned into the match by the Authority since Daniel Bryan wouldn't be back for the stretcher match. Rollins and Orton got involved, Ambrose made the save and Cena then scored the victory. I hated that they gave this away without any real build (no, early in the show is not build) and am generally not a fan of stretcher matches. Also, while the match was not bad, for the most part it felt like any other Cena match. Formula is fine, especially when it works, but I never felt as if Cena would lose here. Not even with the run ins. You need to make me believe, you need to make me care; this was just a solid main event that I had no emotional attachment too. Again, not bad, but not anything to write home about either.


THE WRONG:
Kevin Hart: The man was not funny, and seemed not to know damn thing when they put him out there on live commentary. The clueless face he had at times was embarrassing, and he is the kind of guest that they either need to avoid or keep to pre-tapes segments. The guy obviously has an audience in his movies, and I am sure that they are fun, but this did not work for me at all. I've never been a hug fan of the Raw guest hosts anyway, but this was not good at all.

NON-TITLE MATCH: Paige © defeated Cameron via pin (3:00): I wasn't a big fan of this at all. The wrestling here wasn't very good, Paige is not presented as special at all, and judging by reactions at ringside, it appears Cameron and Naomi are about to split. Splitting them is a mistake right now, because they are better together. Also, the division just has nothing really going for it. They missed the boat with Paige winning the title when she did. The win should have been a dominate victory (since they HAD to do it) and the next week shoe should have denounced the "Divas" Title and bring back the "Women's" Title. She could have played off of her "Anti-Diva" persona, she could have been presented differently and as a dominant champion, and that could have been the launch point for completely re-imagining how they do women's wrestling. GO listen to Csonka and Cook's podcasts, they have laid it out well several times, so I can't take full credit for the idea, I just agree with them.

John Cena Promo Time: Following Roman Reigns' big win in the battle royal, Cena gave a typical goofy ass John Cena promo, where he used his comedy to ruin the situation. 411's Joseph Lee had the best explanation of Cena these days when he cuts a promo…








THE RIDICULOUS:
NONE


THE RI-GOD-DAMN-DICULOUS:
Roman Reigns Drugs Stephanie, Stephanie Pukes on Vickie Guerrero: A segment like this reminds you of the fucked up, repugnant shit that makes you hate watching wrestling and makes you embarrassed to watch with others. I have personally never liked segments like this, and I probably never will. It's stupid, it's Vince McMahon potty humor, and it's him getting his rocks off as he books the exit of Vickie Guerrero. Listen, I get it, you want to make her look like a fool with your sneezing inside joke and all of the other shit you do to her, but you don't have to such childish and ridiculous shot. And yes I know they made Stephanie look bad too, which was genius planning the night they ran al of those Special Olympics videos.

Also, getting Roman Reigns involved in this doesn't fit his character. He's not a prankster, he's not a comedian, he's supposed to be a bad ass not a wacky guy putting Visine in Stephanie's coffee. I guess it would have been too much to ask for Reigns to beat down Triple H backstage and make Stephanie take him to the hospital. Or maybe set up a call that their kids/Vince/Linda took ill and they had to rush to their side? Something not so sophomoric would have been nice.

Also, let me get this straight, Triple H and Stephanie are supposed to have NOT seen this segment? It was already established that Triple H is watching everything the Shield does, and saw the Ambrose attack on Rollins, so why would he not be watching everything with Reigns as well? You're telling me that he didn't see that big motherfucker doing something bad to that drink? Brother's not a squirrel; he's a big ass Samoan that jacks people up in the ring. You can't miss him! Everything about this was bad, and I am glad that I got to bust out the elusive extra R in my substitute appearance.

But on top of it all, it just wasn't funny. So to sum this all up…


The 411:


I felt that the show had some very lazy booking early on with the non-finishes. Non-finishes can work in wrestling and work well, but not when you do three in a row. I felt that it took away from the show and the efforts of those in the ring. Also, the whole vomiting gag was horrendous; I have never been a fan of shit like that and never will be. I also worry about the separation of Reigns and Ambrose. It seems as if they are being pulled apart without any real rhyme or reason. They don't feel unified right now, and that lacks sense to me. They just had their "brother" turn on them, and were unified. This week, it's like, "nah, you're good man."

With that being said, they also did good work building to the PPV. Cena and Reigns got into MITB, and Rollins and Ambrose continued their build to a possible singles match at the PPV (which is not yet announced). They also added some heat to the Usos vs. Wyatts tag team match. I looked the Wyatt promo, Reigns looked awesome in the battle royal and the Stardust thing could be a lot of fun.

That is the good news.

But on the other hand, when Raw was over, there were only two matches official for the MITB PPV. Rollins vs. Ambrose is on deck for sure, but then what? How much will they shoehorn in next week? Layla vs. Summer? Paige has no opponent set. A MITB match with all of the losers, that will make great sense. Seriously, you booked half the roster as losers and you're likely going to add a match featuring those guys. That's frustrating and shows the lack of depth on the roster.

It seems that the show could have been much more without the sophomoric humor and tighter booking. But hey, what do you expect when you fire the he sad writer three days before the show? Vomit gags, that's what. I also do not care what they set up AFTER RAW on Smackdown, because this is a RAW review. Yeah, WWE were their own worst enemy on this show. There was a lot of potential in some of the stuff, but lazy and noncommittal booking held that back. It was a show that felt long as hell, no wonder I wait until Tuesdays and DVR this show.

Show Rating: 5.5

As a reminder, I will be going by the 411 scale…

0 - 0.9: Torture
1 - 1.9: Extremely Horrendous
2 - 2.9: Very Bad
3 - 3.9: Bad
4 - 4.9: Poor
5 - 5.9: Not So Good
6 - 6.9: Average
7 - 7.9: Good
8 - 8.9:Very Good
9 - 9.9: Amazing
10: Virtually Perfect

The 897th edition is over…


Forget the bad you saw and more on…

Have you checked out the Csonka Podcasting Network? If you haven't, you should We run anywhere from 15-20 shows a month, discussing pro wrestling, the world of MMA, the NBA, general sports, popular TV series of the past, bad movies, battle rap, interviews, MMA & Wrestling conference calls and more! Around 10 different personalities take part in the various shows, which all have a different feel; so you'll likely find something you like. All of the broadcasts are free, so go ahead and give a show a try and share the link with your friends on the Twitter Machine and other social media outlets! Running since May of 2011, there are currently over 500 shows in the archive for you to listen to.



Your heart is free. Have the courage to follow it…TO CSONKA'S TWITTER!

http://www.twitter.com/411wrestling
http://www.twitter.com/411moviestv
http://www.twitter.com/411music
http://www.twitter.com/411games
http://www.twitter.com/411mma
comments powered by