SPOTLIGHTS
The Magnificent Seven 6.22.14: The Top 7 Women Who Could Have Starred in Total Divas
Posted by Mike Chin on 06.22.2014

From Stephanie McMahon and Kharma to Missy Hyatt and more, 411's Mike Chin counts down the top 7 women in wrestling history who could have made Total Divas a better show!

For me, Total Divas falls someplace between abomination and guilty pleasure. I've missed more episodes than I've seen and don't consider the show worth catching up on, but I'll still check it out if I'm free and don't have anything else to watch on a Sunday night, or, better yet, read Ryan Byers's review to get the story plus the appropriate load of snark.

I get what Total Divas is and the functions it serves. It's not about actual reality or telling hard-hitting stories or giving more than a cursory look at what's legitimately going in the locker room. But I came upon the idea of imagining a fantasy cast for Total Divas that actually could deliver a much more interesting product—more than just pretty faces, but women who with (or better yet) without a script could deliver entertaining TV in a reality format.

Note: this is not reality-based list, but rather should be looked at as an all-time "fantasy team" (and not in the pervy way—mostly.) Without further ado, I give you the top seven women who could have starred in Total Divas.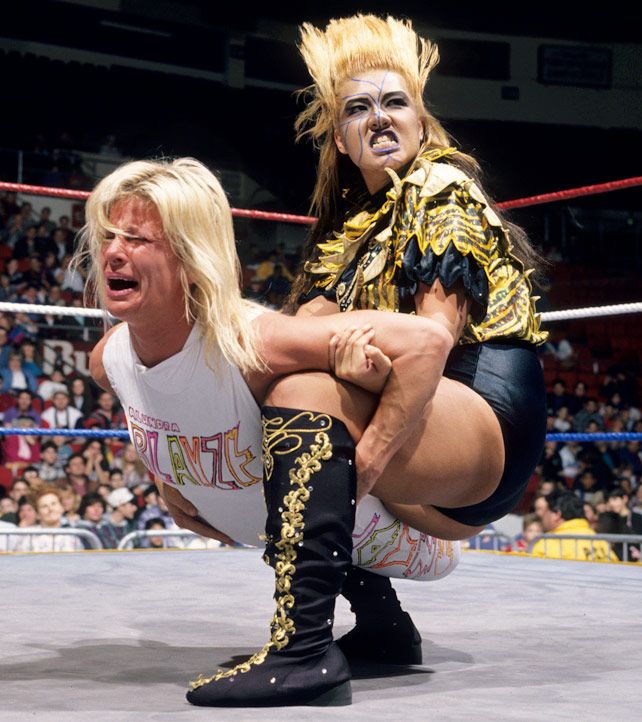 #7. Bull Nakano



The early to mid-90s incarnation of the WWF's women's division revolved around Alundra Blayze (who narrowly missed this countdown). Blayze's most interesting challenger was Bull Nakano—a Japanese star who brought a level of brutality to the WWF ring that few, if any, women have ever broached since. Nakano had a distinctive monster look, and a unique skillset that included power, agility (check that top rope leg drop), and technical skill (see the scorpion crosslock long before Paige made it fashionable). Nakano was the antithesis of the models-turned-wrestlers paradigm—not a pretty face, but a damn fine wrestler whose life outside the ring I would be genuinely interested to learn about.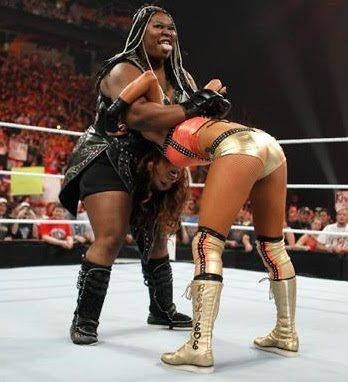 #6. Kharma



Not unlike Nakano, Kharma made a name for herself in Japan, largely based upon a powerful, stiff style of wrestling. I'd love to see the nature of the hardnosed athlete's interaction among her fresh-faced peers in the women's locker room. Moreover, when it comes to drama, Kharma's personal life could be ripe for compelling stories, between her personal history as a social worker, and the strangely timed pregnancy and tragic miscarriage that cut short her WWE run. Perhaps above all else, Kharma is a true student of the game in professional wrestling, who could transcend lame staged romantic melodrama in favor a show legitimately about wrestling.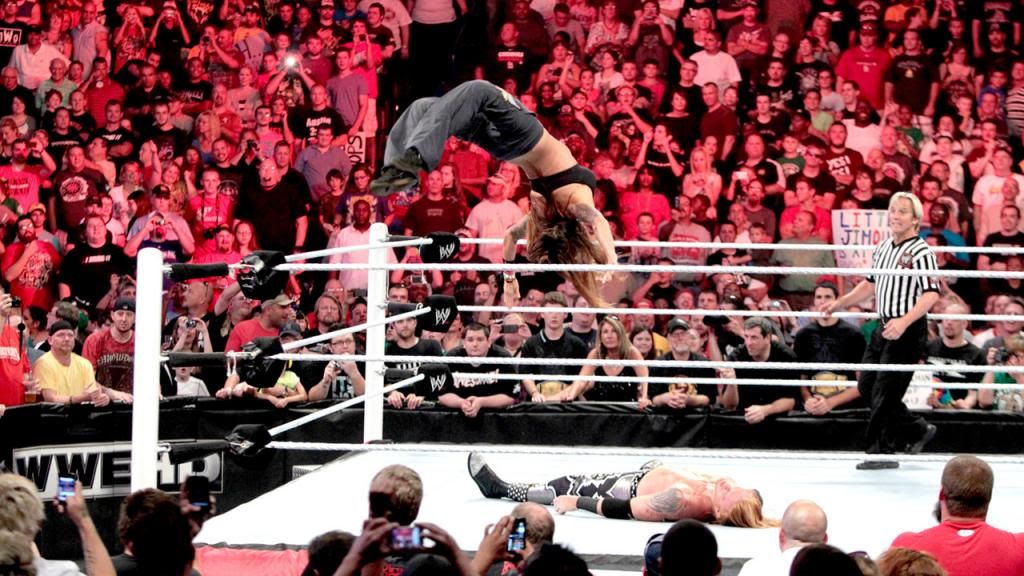 #5. Lita



Between her Hall of Fame induction speech and appearances on podcasts with Chris Jericho and Jim Ross, Lita has revealed herself as a life-long wrestling fan, who underwent an ambitious apprenticeship through Mexico before landing a WWF contract. Lita has one of the most distinctive stories, and is, as a result, one of the most distinctive personalities in the pantheon of female performers in WWE, and better yet (for the purposes of reality TV) was involved in one of WWE's most epic scandals when she purportedly cheated on Matt Hardy with Edge. She'd be a near perfect for a more Attitude Era-oriented reimagining of Total Divas.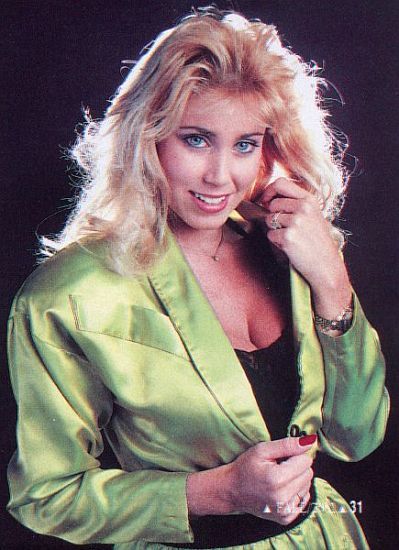 #4. Missy Hyatt



For those who think I'm cheating with this pick since Missy Hyatt wasn't really a WWF/E performer, she did in fact have a very brief run with the company hosting the super lame, short-lived "Missy's Manor" interview segment. Missy Hyatt is closer to the current Total Divas mold than any of the women I ranked behind her, given she was never much of a wrestling talent, but more of a precursor to the diva division—before Sunny or Sable, she was pro wrestling's female sex symbol, not to mention the fact that she allegedly made her way around more than her share of locker rooms. Based on the stories she could tell, and the backstage intrigue she could work her way into, I feel Hyatt had all the potential in the world to thrive as a reality TV star, had she come into the limelight a couple decades later.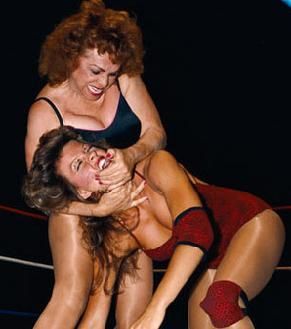 #3. The Fabulous Moolah



In addition to being one of the all-time great female performers in wrestling and the longest reigning women's champion, The Fabulous Moolah also has a claim to fame for running Girl Wrestling Enterprises—a training and booking endeavor that saw her guiding the careers of Wendi Richter, Judy Martin, Lelaini Kai, and quite a few others. Allegations have arisen over the years about her shady business practices in this capacity (taking substantial cuts of her charges' paychecks, all but pimping her students out for dubious purposes that weren't always related to wrestling). It's difficult to decipher fact from rumor and hearsay, but regardless there's more than enough intrigue in addition to Moolah's in-ring legacy to make her a first-round draft pick for a Total Divas style show, produced in the right era. As an added bonus, contracting Moolah has the added benefit of her perhaps bringing along crazy Mae Young for even greater hijinks.




#2. Chyna



From awesome physical spectacle, to groundbreaking female in-ring performer, to porn star, addict, and basket case, Chyna may be one of the most fascinating figures in the last twenty years of professional wrestling. Whether we got a glimpse into her training regimen, wrestling's drug culture, or her personal relationships with Triple H and X-Pac, Chyna is probably the last person WWE would want to feature on a reality TV show—and not so coincidentally, one of the most interesting candidates imaginable.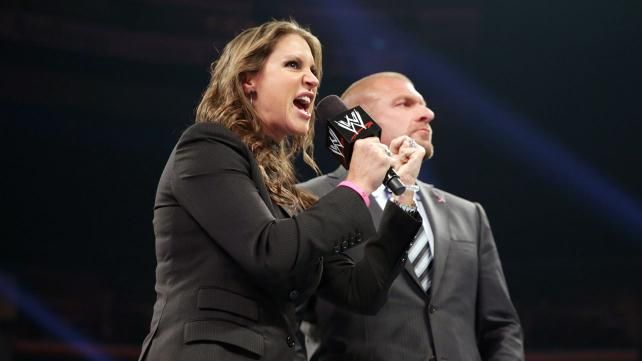 #1. Stephanie McMahon-Hemlesley



I'm fascinated by the McMahon family. Vince McMahon's ambition and ruthless aggression as a businessman. Linda McMahon's political aspirations and corporate savvy. Shane McMahon's athleticism and decision to strike out on his own rather than ride the family coattails. Triple H's unlikely rise to the position of heir apparent to Vince's throne. And Stephanie McMahon-Helmesley—the billion dollar princess who debuted as a wide-eyed doe and turned into one of The Attitude Era's most memorable heel personalities, and, by most accounts a backstage businesswoman more than worthy of the McMahon name.

Yes, yes, I know that WWE would never produce a show that really pulled back the curtain any further than the McMahons really wanted, but the idea of a reality show with any McMahon as a major player is pretty fascinating. I'd love to know more about McMahon-Helmesley's relationships with the talent roster, with her parents, with her brother, and with her husband. Moreover, in an age when the curtain has already been pulled back ever so slightly through tell-all books, documentaries, and IWC reporting, I'd love more firsthand insight into the life of a WWE executive, not to mention the nature of the WWE creative process. As such, McMahon-Helmesley is without peer as the most interesting candidate to have star in a show like Total Divas.

Which women in wrestling, past or present, would you be most interested to see on Total Divas? Sherrie Martel? Luna Vachon? Sunny? Trish Stratus? Let us know in the comments section. See you in seven.

Read stories and miscellaneous criticism from Mike Chin at his website and his thoughts on a cappella music at The A Cappella Blog. Follow him on Twitter @miketchin.
comments powered by