SPOTLIGHTS
The Magnificent Seven 7.05.14: The Top 7 Babyface Managers
Posted by Mike Chin on 07.05.2014

From Paul Bearer and Miss Elizabeth to Lita, Lou Albano and more, 411's Mike Chin counts down the top 7 babyface managers of all-time!

Wrestling has a long tradition managers—mouthpieces, interlopers, eye candy, and accessories that can add drama to matches and feuds, and elevate a professional wrestler's overall presentation. The most talked about managers tend to be heels, which makes sense since one of the most traditional roles for a manager to distract referees, trip faces, hand their charges foreign objects, or otherwise subvert the rules to help heels attain victories. But not all great managers are heels. In this week's countdown, I'm looking at the top seven face managers.

A couple notes: this list only considers personalities who served as managers for an extended period of time and were largely (if not primarily) known as managers. Furthermore, a number of the personalities listed also worked as heels (and were arguably even better in that role), but put together enough of a body of work to be evaluated as a face.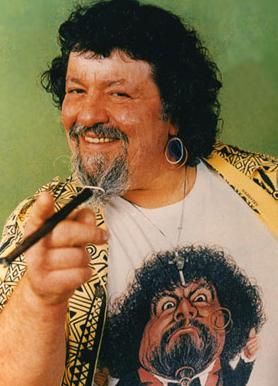 #7. Lou Albano


Though he worked far, far more of his career as a heel than a face, Lou Albano turned good at just the right time during the Rock N Wrestling days to make a huge splash during his brief spell as a face—buddying up to Cyndi Lauper and using his heel-earned credibility to add legitimacy to the young tag team champions of the day, The British Bulldogs. Albano accomplished more on paper as a heel, but solidified his legacy in the eyes of a new generation playing face.




#6. Lita



Yes, Lita was a memorable wrestler, and arguably went on to greater fame as heel Edge's femme fatale sidekick, but I'd argue the first movement to really get her noticed was running alongside The Hardy Boyz as part of Team Extreme. In this role, Lita did exactly what she should have—accentuating the positives of her team by making a cool, edgy team look even cooler and more edgy, besides offering them someone to defend who the fans actually gave a damn about. Perhaps most importantly of all, unlike Sunny or Sable before her, Lita never really overshadowed her charges, but rather stood out as a complementary piece of the entourage and made the men around her look better.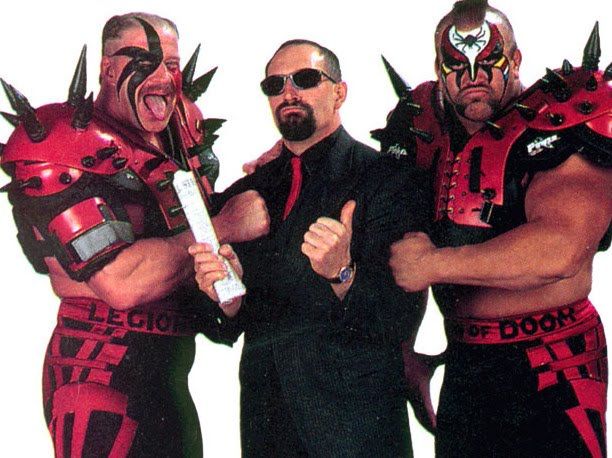 #5. Paul Ellering



A recurring theme on this list—Paul Ellering was a heel for quite some time and arguably even better in that role. Just the same, when he sided with The Road Warriors/Legion of Doom as a face he was a rare manager who could, himself, pass as a badass, with the real life credentials of power lifter. Moreover, he added a businessman's edge to the LOD act, suggesting that there was a design to their ostensible chaos, and an organizer to keep the pair focused and motivated. Perhaps the greatest testament to Ellering's credibility—he and his team somehow survived the disgraceful choice to make the Rocco ventriloquist dummy the team's mascot during their first WWE run—no small feat.




#4. Jimmy Hart



I'll be the first to admit that I've never really been a Jimmy Hart fan. On one of the earliest episodes of Legends' House the other legends weary of Hart for just plain annoying them, and I'm on board with every word they say. You can argue that it was exactly that irritating schtick that worked for Hart as a heel—but as a face?

Hart turned face to work with Hulk Hogan against Money Inc. and stayed with the Hulkster through that WWF run and into his pre-NWO days in WCW. He was fine enough in the role, if more or less a forgettable hanger on to the Hogan entourage. But if there's one moment that will always define Hart's time as a face, it came much later—after Hart had turned heel, but also after Scott Hall and Kevin Nash arrived to set a new bar for heeldom, and made everyone against them de facto faces. I'll always remember Hart being the one to frantically run to ringside and interrupt the main event six-man tag match to beg Sting, Lex Luger, Randy Savage, and members of the Four Horsemen to put aside their differences and come to the back to help out the rest of the roster that The Outsiders were taking apart with baseball bats (culminating in Nash famously lawn darting Rey Mysterio into a trailer).

Hart made his name as a sniveling, whining loud mouth, but in this brilliant moment, Hart became the everyman who would be scared out of his wits and desperate to help his friends against a heel threat unlike any before it. As such, it was one of the all-time great face manager moments to cap an otherwise OK on-and-off face run for the latter part of Hart's career.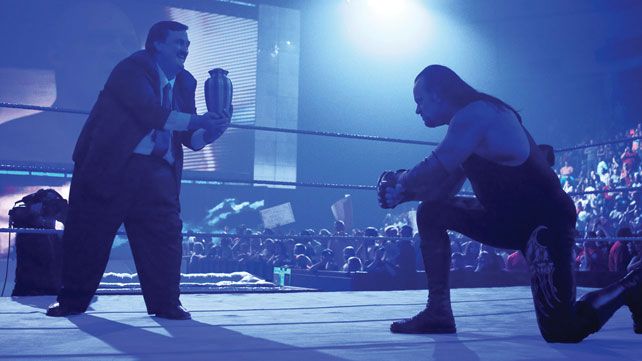 #3. Paul Bearer



An awesome heel and a very good face, Paul Bearer had a long history as a pro wrestling manager long before he came to the WWF, but there's no question that he made his name when he aligned himself with The Undertaker. For several of The Dead Man's face runs, Bearer functioned as an excellent sidekick, mascot, and, most importantly, vulnerability that heel challengers could use to get at the largely invincible Undertaker. And boy did Bearer take some serious abuse, when 'Taker himself was forced to bury him in cement at The Great American Bash 2004, or when Edge tried to get at Kane by brutalizing him—only for Kane to just not care (OK, Bearer was mostly a heel at that point, but give the man some sympathy points for that outcome). Most importantly, Bearer helped add tremendous depth to a tremendously important character, the very essence of what you'd hope for from a face manager.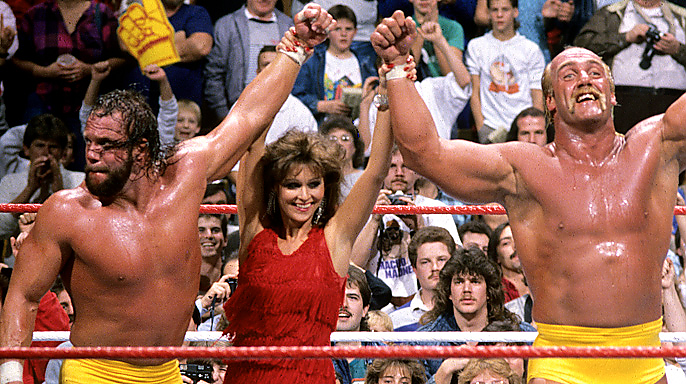 #2. Miss Elizabeth



Wrestling has its heat magnets, and then it has its sympathy magnets—folks like Rey Mysterio for his size, or Rickys Steamboat and Morton for the way sold. Make no mistake about it—growing up as a child of the 80s, Miss Elizabeth was the most beautiful woman in the world. As such, she made the perfect damsel in distress for Randy Savage to alternately defend and, well, cause distress for.

It's easy enough to write off Liz as a pretty face who didn't actually do much of anything—objectively, that's more or less true. But between The Macho Man's antics and some of WWF's finest booking, Miss Elizabeth became one of the most recognizable female icons of her day. I don't know of any fan who disliked her, and moreover, her involvement consistently made Savage's storylines more interesting, whether she was weathering her hubby's tirades, emotionally torn when the Mega Powers split, or the cornerstone of some of Savage's most heated feuds opposite Jake Roberts and Ric Flair. Liz enhanced the product and the performers around her. As a fun aside, taking her WCW work into consideration, Elizabeth may be the only person on the list to have worked both face and heel and been decisively better when she worked for the powers of good.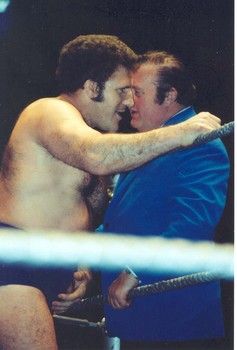 #1. Arnold Skaaland



The name Arnold Skaaland may not mean a lot to contemporary wrestling fans, particularly given that his time in the spotlight wrapped up with near perfect synchronicity to the dawn of Hulkamania in WWF and, of course, long, long before the arrival of The Attitude Era, or today's PG era. But to older fans and historians, Skaaland's record as a big-time manager is beyond reproach. He served as corner man first for Bruno Sammartino, then Bob Backlund—two of the all-time great face champions, particularly for the preceding era. Managing two world champs is a fairly lofty standard for any manager, but the statistic becomes significantly more impressive when you consider the time period and that Sammartino and Backlund's reigns combined to last over sixteen years. There are some managers whose sheer esteem helps elevate the talent around them, and Skaaland falls on that short list.

Skaaland's defining moment will likely always be throwing in the towel for Bob Backlund when he refused to submit to The Iron Sheik's camel clutch. In that moment, Skaaland characterized everything a face manager had the potential to be—yes, he looked out for the best interests of his client, but more specifically, he valued his charge's physical wellbeing and career over his championship gold. The Skaaland character wasn't in wrestling for money or glory, but rather to help his friends fight the good fight—a noble calling and the very embodiment of what a face manager could be all about.

Who is on your list of top face managers? Oliver Humperdink? Stacey Keibler? Jose Lothario? Kimberly Page? Ricardo Rodriguez? Let us know in the comments section. See you in seven.

Read stories and miscellaneous criticism from Mike Chin at his website and his thoughts on a cappella music at The A Cappella Blog. Follow him on Twitter @miketchin.
comments powered by