SPOTLIGHTS
The Piledriver Report 06.19.14: A Champion Is Stripped
Posted by Ronny Sarnecky on 06.19.2014

Will Daniel Bryan lose his main event spot as a result of being stripped of the WWE World Heavyweight Title? Or is it just a temporary setback? 411's Ronny Sarnecky takes a look!

Well, this sucks! No, I'm not talking about my NY Rangers in the Stanley Cup Finals. Although, that does suck. What I am talking about though is the situation regarding Daniel Bryan. Last Monday night, Daniel Bryan was stripped of the WWE World title. While I totally understand why the WWE did what they did, it still stinks.

A couple of weeks ago, John Cena delivered a promo where he mentioned that the reason Bryan didn't want to relinquish the title was because he was afraid that he would never get another shot at being the champion again. Even though that was a storyline quote, I can't help but feel the same way. I'm sure Bryan Danielson is disappointed in not recovering faster. He probably knows that this is his big shot. However, I'm sure that he is confident enough in his abilities that he probably feels that he'll get the shot again.

UNFULFILLED POTENTIAL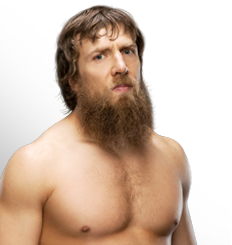 On the other hand, I'm not that certain that Bryan will be back in the same spot, with the same momentum that he had leading up to WrestleMania XXX. Remember, as over as Bryan was since last year's SummerSlam event, the WWE wasn't going to give him a chance to be the 1B face of the company (with John Cena being 1A). Their original plans were to have a face Batista go up against Randy Orton for the WWE World title, while CM Punk faced Triple H. The only reasons why Daniel Bryan was inserted into both the Triple H match, and World title main event was because the fans crapped all over Batista, and CM Punk left the WWE the night after the Royal Rumble.

Last fall, I had no faith in the WWE doing the right thing by giving Daniel Bryan the ball to run with. If not for those two circumstances, Daniel Bryan would have been buried on the undercard in yet another WrestleMania match against Sheamus. That's not exactly a vote of confidence that you believe Bryan can carry the company.

Since Bryan captured the title at WrestleMania to begin his first real run with the title, his reign has been pretty lackluster. Part of it was due to outside circumstances, and part of it was due to the WWE's booking of Bryan. Since becoming the champion, Bryan missed time due to his wedding to Brie Bella. Shortly after the wedding, he missed more time due to the shocking passing of his father. Now, he has been out due to his surgery. While I am not criticizing him for any of the time that he missed, because if I was in the same situations, I would have taken time off from my job as well. My point is that due to the time away, Bryan hasn't been able to capitalize on the momentum that he built up in his during his chase for the title.

When Bryan was featured on television, he was probably the worst booked champion in the WWE since Rey Mysterio. He has constantly looked inferior to Kane. The worst angle was where he sped off in a car after Kane tried to attack Brie, instead of kicking Kane's ass for trying to messing with his woman. If someone tried to attack Miss Elizabeth when Randy Savage was the WWF champion, the "Macho Man" would have gone berserk , and not drive away. The WWE needed to use an old Paul Heyman booking philosophy. Emphasize Bryan's strengths and hide his weaknesses. Bryan's not that big, so emphasize the fact that Daniel is the best pure wrestler in the business. Instead, we got the half-assed booking that the WWE is known for when they put the belt on a guy that they aren't fully behind.

THE FUTURE



One reason why I am disappointed in Bryan's slow recovery is a very selfish reason on my behalf. According to reports, Bryan was going to defend the WWE World title against Brock Lesnar at SummerSlam. Ever since the WWE signed Brock Lesnar, I couldn't wait to see Brock square off against Bryan. However, I never thought I would see the day. After all, the day before Brock Lesnar returned to the WWE, Daniel Bryan lost the World Heavyweight championship to Sheamus in eighteen seconds. There was no way that the WWE would use one of Brock's few matches on Daniel Bryan. That has all changed, as Brock vs. Bryan was set to happen at the end of the summer.

According to Dave Meltzer, the Brock/Bryan battle is still set to happen. However, there is a very real possibility that the WWE may be forced to take that match off of the books for SummerSlam because there is a fear that Daniel Bryan may not be back by then. If that's the case, then it is time to worry. It would be time to worry about his health. Hopefully, he recovers by then, and we don't have to be concerned that Bryan's career may be in jeopardy.

WHO'S NEXT?



As much as I would have liked the WWE to create an "interim" champion until Bryan returns, I have no complaints that the WWE stripped the title from Daniel. They had to, because you couldn't have the belt collecting dust while you try to guess when Bryan may be back to defend his title.

With Bryan out of action, who should win the belt in his absence? I think it should come down to one of two performers. Cesaro would be one of my choices. Right now, Paul Heyman is one of the hottest acts in the WWE. His charge, Cesaro, is very over, and equally as talented. You could have Cesaro win the belt, and then have Brock Lesnar challenge Heyman's newest client to a match at SummerSlam. It could be a weird take off of the WrestleMania V main event between Hulk Hogan and Randy Savage where Miss Elizabeth sat in a neutral corner while the MegaPowers exploded. It would be very entertaining to see Heyman's reactions as his two "Paul Heyman guys" did battle for the title.

My other choice would be Seth Rollins. First, I must admit that I am a big Seth Rollins mark. I think he is awesome. Just thinking about a series of WWE World title matches between Rollins and Daniel Bryan, when he returns, makes me think that the WWE could easily get the Match of the Year out of those two. Plus, I think that Rollins winning the belt would make perfect sense. I think back to The Rock. He was a heel as a member of the Nation of Domination, like Rollins was as a member of The Shield. Suddenly, he turned face for no reason expect that the fans started to get behind him, just like when the entire Shield became faces earlier this year. Then, without warning, The Rock suddenly turned heel to become Mr. McMahon's Corporate Champion. If Seth Rollins would be inserted into the Money in the Bank WWE title match, and come out the winner, he could explain that true reason for turning was because Triple H promised him the opportunity to win the WWE World championship.

No matter who leaves the Money in the Bank as champion, all is not lost for Daniel Bryan. According to Dave Meltzer, the WWE still plans to put the belt back on Daniel Bryan. I hope that's true, and that they still give him a shot to run with the ball. I can't help but remember when Dolph Ziggler received that concussion last year when he held the World Heavyweight championship. He didn't recover quickly, and the belt was taken off of him. Dolph hasn't been the same since from a booking position standpoint. I hope this doesn't happen to Daniel Bryan. Will it? My heart says no, but my head says it will. Hopefully, my heart is correct.

comments powered by