SPOTLIGHTS
The 411 Wrestling Top 5 7.11.14: Week 271 – The Top 5 Most Emotional Title Wins
Posted by Larry Csonka on 07.11.2014

From Daniel Bryan's WrestleMania 30 win and Chris Benoit's title victory at WrestleMania 20 to the Ultimate Warrior winning the IC Title from the Honky Tonk Man, the Montreal Screwjob and more, the 411 staff breaks down their top 5 most emotional title wins!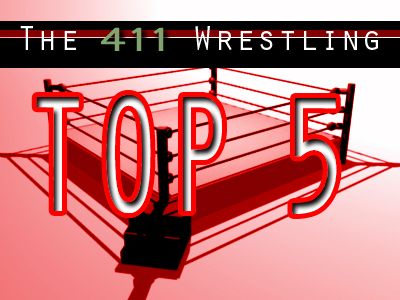 Hello everyone and welcome to 411 Wrestling's Top 5 List. We take a topic each week and all the writers here on 411 wrestling will have the ability to give us their Top 5 on said topic, plus up to three honorable mentions.

So, onto this week's topic…



The Top 5 Most Emotional Title Wins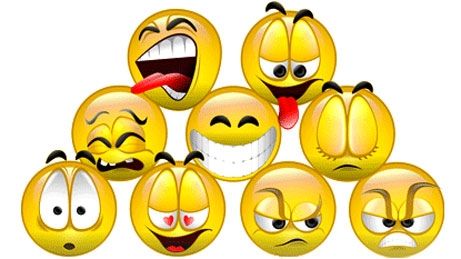 Name the top 5 title wins that elicited the biggest emotional reaction from you. Remember, this does not have to be a positive reaction.




MICHAEL WEYER
5. Austin Aries wins TNA World title The emotions here are rather mixed given time. At the time, few really gave Aries a chance as Bobby Roode was so dominant as TNA World champion, he'd beaten James Storm (who most thought for sure was next in line) and other challengers and Aries giving up the X Division title for this shot seemed to push more another victory for Roode. Instead, Aries managed to get the win and the belt, a terrific moment in so many ways as the man had been talking of giving up the business a few years before and now was on top of the company. Of course, the emotions since are a bit marred as TNA managed to blow this great opportunity by having Aries drop the belt to Jeff Hardy and this sign of turning things around instead led to more of a slump. But still, to see TNA pushing a true major worker and talker who hadn't spent at least a decade in another company was a wonderful moment as, for one night at least, this company was really great and proved it with a champion worth the name.

4. CM Punk wins World title, 2008 The June 30th, 2008 RAW seemed a slow start with Edge doing a promo trashing Jim Ross but things sparked up when Batista came out to destroy Edge. As Batista walked out, fans were hopeful and excited but still unprepared for when that guitar rasp started and CM Punk came out with a ref and the Money in the Bank briefcase. The bell was rung and one GTS later, Punk was the new World champion. It was delicious to see Edge finally get a dose of his own medicine being cashed in on after doing it twice himself. But it was better as Punk, a man so respected for his skills but seemingly lost in WWE at the time was suddenly on top, a great worker getting his due from the company. Bryan's recent run may be great but long before that, I was a Punk guy and seeing him with this belt in this moment made me so damn happy, to see WWE taking a chance on someone like him, it's why I don't give up on the company as every now and then, they provide a moment as satisfying as this.

3. David Arquette wins WCW World Title It says "emotional reaction" at the top. It doesn't say they all had to be good emotions. Yes, I've seen a lot of title victories that make me upset and angry and such. But no title change has made me scream out, throw my remote and howl "WTF?" more than this one. When WCW had a third-rate actor known best as Courtney Cox's husband pin Eric Bischoff...in a tag match no less...to become their champion, it was the moment WCW passed the point of no return. For a little publicity, WCW flushed whatever credibility they had left down the drain to allow Arquette to be champ for a few weeks. A run that helped serve as one more nail in that company's coffin so to look back at it now is to feel all the sadder.

2. Ricky Steamboat wins NWA World Title, 1989 As one of the biggest Steamboat marks on the planet, I had to rank him high on this list. After seeming to leave the business entirely, the Dragon returned to the NWA in early 1989 to pin Ric Flair in a tag match and thus be pushed to number one contender. At Chi-Town Heat, they went at it in an absolute classic, going back and forth in terrific moves, technical work and high-flying action to make you happy to be a wrestling fan. With Tommy Young down, Flair went for a figure-four only to be small packaged with Teddy Long racing in to make the pin. Fans expected a "Dusty Finish" but instead, Young backed up the victory to make Steamboat the NWA World Champion. Seeing this man I had loved watching for so long at the top of the business, at a time when holding that NWA belt really meant a lot, was wonderful and Steamboat was great with it, celebrating with wife and son, a veteran getting his terrific due at last. A reminder of why I love this business and how sometimes the good guys really can finish first.

1. Ultimate Warrior defeats Honky Tonk Man for Intercontinental title I know, not really a "match" per se and not exactly a shining battle of two great wrestlers. But all these years later and dammit, it's still my all-time greatest mark-out moment. Fans today don't get how huge a deal this was as HTM had cheated to win the belt from Ricky Steamboat in 1987 and then set the record for the longest IC reign by cheating, getting himself disqualified or counted out and annoying everyone with how long he held such a big title. Chance after chance to see him lose and yet he kept going up to the first SummerSlam when, with Brutus Beefcake injured, Honky made an open challenge to the back. When the music hit, Madison Square Garden came alive as the Ultimate Warrior charged into the ring and in the span of thirty seconds, completely destroyed Honky to win the title. The pop when the three count was made is still one of the biggest I've ever heard, the entire crowd erupting as, at long, long last, Honky Tonk was pinned to win the title. It was sheer joy to see that joke of a reign finally ended and the Warrior's greatest contribution to the business to finish HTM and send him back to the mid card where he belonged. Utterly wonderful for all of us who had to sit through that reign and one of the best title changes ever.






JUSTIN WATRY
5. Kaitlyn wins the Divas Title - I am going to list five emotional title wins that may have been forgotten about. Instead of rehashing the same moments over and over, we have to keep it fresh. Before beginning, it is only fair to mention my #6 selection was The Miz cashing in the Money in the Bank briefcase and becoming WWE Champion. Seeing him in tears saying to himself "I told you all" as he posed with the title belt to close Raw was truly amazing. Love him or hate him, he proved everybody wrong. Now to me #5 choice! Being a HUGE fan of NXT Season 3 and seeing what WWE put those women through, this was just a sweet moment for Kaitlyn and really all of the NXT Season 3 girls. Not to repeat myself because I already wrote all of this (on another website), but watching Kaitlyn win the title in her hometown and send Eve out of the company all in one match was just perfect. Go find the video, watch the finish, her emotional reaction afterwards, and tell me you are not happy for Kaitlyn.

4. Daniel Bryan's WrestleMania XXX Week - The Authority story line going on for months. The constant running him down. The GREAT heels played by Triple H and Stephanie McMahon during late 2013 and early 2014. Batista winning the Royal Rumble. Randy Orton leaving Elimination Chamber with the WWE World Title. Everything, just everything built perfectly. We can debate all day long how much was planned, how much was not, etc. Really, it does not matter. The end game was near for Daniel Bryan reaching the mountain and besting his critics. That just so happened to take place at the biggest event of the year and included a clean victory over Triple H, making Batista tap out in the main event, and taking the top prize from Randy Orton! Just amazing. Add on the amazing celebration and getting married to his dream girl less than a week later, and it does not get much more emotional than that.

3. The Rock/Backlash 2000 - WrestleMania 2000 was about as bad as you can imagine. Thankfully, WWE had a back up plan ready four weeks later that featured Stone Cold Steve Austin AND The Rock finally dethroning Triple H as champion. A hot lively crowd only put over the victory even more. Basically, it was the match and finish we SHOULD have received at WM2000. Instead, we got it at Backlash. Hey, at least we got it! Rocky pinned HHH and ended his reign of terror. Such a nice moment...

2. Brock Lesnar/Summerslam 2002 - Oh, this was classic. Maybe 'emotional' is not the right word, more like satisfying in a grand way. I rarely get wrapped up into wins and losses in wrestling. Rarely because they ultimately mean nothing. However, the story being told in the summer of 2002 tied directly to Brock Lesnar WINNING the King of the Ring tournament and then WINNING the Undisputed Championship at Summerslam. Being a massive fan of his and more than ready for the ruthless aggression era to begin, this was beautiful. Again, I hardly ever truly care about wins and losses...but here, you can bet your bottom dollar I was jacked up when Brock Lesnar won the title.

1. Mark Henry Becomes World Champion - "You're all doubters, you're all haters." "Oh, and don't start cheering!" "This is my moment, and I'm not sharing it with none of ya; you don't deserve this!" "...and I'm never, EVER losing this title!" Well said, Mr. Mark Henry. Well said.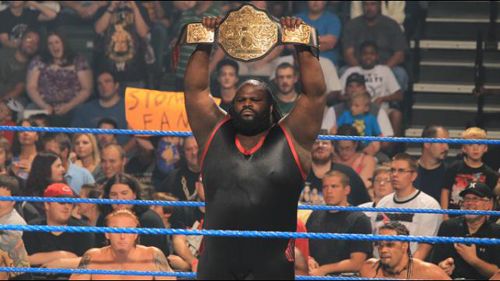 DINO ZEE
5. Edge cashes in Money in the Bank against John Cena, New Year's Revolution 2006 - Look, I was a huge Edge fan from his debut on, and always wondered when he'd get his shot at the top. It seemed he was ready to go in late 2002, only to need neck surgery and miss almost the entirety of 2003. His return in 2004 got off to a slow start, but his heel turn breathed new life. I was at WrestleMania 21 when he acquired the Money in the Bank briefcase, and patiently waited the rest of 2005 to see when he'd cash it in. I was at my buddy's house watching New Year's Revolution, and we enjoyed the card good enough. Then Cena won the Chamber match, and I was just about ready to head home, when Mr. McMahon came out. I started going nuts, as my buddy- who LOVED Cena and HATED Edge- started growing furious. I knew what was coming, and cackled with glee like a huge dork as Edge hit two spears and took home the gold. This is one of my favorite nights as a wrestling fan, period.

4. Rey Misterio, WrestleMania 22 - This was basically a forgone conclusion, but WWE did their best to throw us off the scent by inserting Randy Orton into the match, leading many to believe that he was going to walk out the champ. Instead, a pretty subpar triple threat match saw Rey Misterio climb the mountain, and dedicate the win to Eddy Guerrero in a nice moment. Yeah, WWE ruined all of that goodwill pretty quickly, but the win itself remains an emotional one for me.

3. Bret Hart wins the WCW Title, Mayhem 1999 - So 1999 wasn't exactly the best year for Bret Hart. Hell, his whole WCW run wasn't exactly the best run for Bret Hart. However, he entered 1999 looking to put an ugly 1998 behind him, and maybe even land that feud with Goldberg. Injuries healed, he was all set to return to WCW, when the Owen Hart Tragedy went down. Hart sat out for another 4 months, before returning in September to have the Owen Tribute Match with Chris Benoit. From there, he entered the WCW Title Tournament after the title was vacated, and went on to the finals of the tournament, again beating Benoit to win the title. As quite possibly one of the biggest Bret Hart fans alive, this night was the culmination of two miserable years, starting with Survivor Series 1997 and ending with him holding the Big Gold Belt above his head.

2. Hulk Hogan beats Triple H, Backlash 2002 - So, I had my heart broken at WrestleMania 18 when Hogan fell to The Rock. When the fans crapped over a proposed Taker/Triple H title match for Backlash, the match was changed to Hogan/Triple H instead. Figuring this would just be the first big win for new champ Hunter after his injury return, we still got a buddy to order the show, ready for a repeat from Mania. Instead, in a shock of shocks, Triple H dropped his newly won belt after one whole month, and dropped it to the Hulkster. The title reign was nothing to write home about (and included a comically bad feud with Undertaker), but I'll be damned if I didn't get a little teary eyed seeing Hogan celebrate another title win. Last WWF Champ, first WWE Champ: Hulk Hogan.

1. Chris Benoit wins the World Title, WrestleMania 20 - I actually don't want to talk about this too much for the obvious reasons, but there's no way I was going to list anything else as #1. Benoit's fans had waited a seeming eternity to see him get this chance, and with the Shawn Michaels red herring thrown into the match, many were worried this would be another unsatisfying finish. Instead, Benoit got the win, and had an emotional celebration with Eddy Guerrero. The moment with Guerrero is what seals this for me. Add where we're at now, and there's no way this doesn't pull some sort of emotion out. This is #1.


---



Scott Rutherford
5. Chris Benoit WrestleMania 20 - I will keep this brief…I've included this based on how I reacted at the time. Benoit was my guy for a very long time and to have him go over HHH and Shawn Michaels in MSG at WM 20 in such a decisive and clean manner was shocking and exhilarating all at once. While it's doubtful it stuck the hearts of the casual fan the same way, for a lot of us smarks who loved his particular style, it was a day of great jubilation and I just can forget how good it made me feel at the time.

4. Ivan Koloff wins the WWWF Title - When people are so invested in a wrestler that when he loses his title that a sold-out MSG crowd is deathly silent…I say that's an emotional moment. Bruno Sammartino was a superstar for the WWWF and he dominated so thoroughly that no one believed that "The Russian Bear" was much hope. I mean, Koloff was good and all but he was nowhere near the level of the champion. So it came as a complete shock to EVERYONE that after a weak looking knee drop, Koloff scored the clean pin and ended the longest WWE heavyweight title reign of all time. Easily one of the most famous title changes in history.

3. Ric Flair Beats Vader: Starrcade 1993 - It wasn't supposed to be him. Ric Flair was supposed to be washed up and a spent force by the end of 1993. Sid Vicious was the anointed one that was finally going to live up to the promise that he had shown for nearly a decade. But Sid has always managed to snatch defeat from the jaws of victory and went postal on Arn Anderson with a pair of scissors leaving WCW little choice but to shoe horn in the one person that could save the card. The build ended up being perfect as NO ONE gave Flair a hope in hells chance of winning and when he did upset Vader, the crowd goes completely apeshit. You can see Flair overcome with emotion, as this title wasn't just a validation of his wrestling ability; it was an admission that Ric Flair still had much more to give wrestling.

2. Ricky Steamboat WrestleMania 3 - The build-up for this match was one of the most perfect in WWE history and the pay-off in front of 80,000-odd fans was the highlight moment from one of the highlight cards in wrestling history. Routinely voted one of the great matches at 'Mania and usually figures in the hunt for greatest all time matches, it was the perfect blend of fighting babyface, despicable heel, impeccable booking and a memorable match. The image of Steamboat post-match riding away from the ring, spent from fighting for his life holding the title aloft with George Steele barrowing in for a hug of congratulation while a packed Silverdome was losing their ever-loving mind was and still is the stuff of legend.

1. Shawn Michaels beats Bret Hart – Montreal 1997 - Has there ever been a more emotionally charged, true to life title change in the history of the business? It doesn't matter who was right or wrong (I could make a strong case for either side) but this was the single most explosive moment in WWF history and we saw the whole wrestling world shift in the space of a few moments. Any other pick for #1 is kidding themselves. It's only been in the last few years that the personal wounds and animosity between the two parties have finally settled down.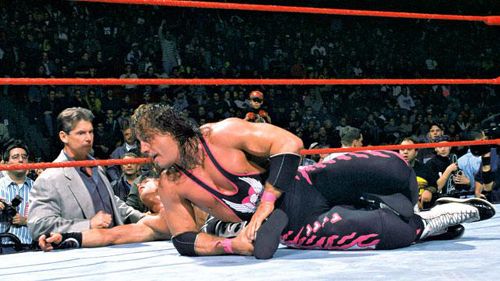 ---



Alex Crowder
5. Daniel Bryan winning the WWE World Heavyweight Championship, WrestleMania XXX - I could probably list several more, so narrowing it down to just 5 was extremely difficult. Nevertheless, I choose the 5 that I thought evoked the most reaction from me. Some may say I'm being a prisoner of the moment with this choice, but I truly feel this is one of the most emotional. Honestly, I had stopped watching wrestling and WWE specifically for a few years. I was so fed up with the booking and seeing the same people on top(Orton, Cena, and even Triple H). I started to hear about acts like The Shield, Bray Wyatt, and Daniel Bryan defeating John Cena leading to me giving the WWE another chance. All I wanted was to see new wrestlers given chances. I was incredibly happy seeing Daniel Bryan win the championship. I felt like this validated my choice to watch WWE again. I think had he lost, I probably would have stopped watching again. Regardless, WWE may have squandered that momentum a little, but they did get it right that night. If anything it renewed my optimism for WWE.

4. Undertaker and Kane pin Steve Austin in a WWF World Heavyweight Championship match, Breakdown 1998 - I wanted to include at least one from when I was a complete mark. I had just gotten into wrestling sometime in 1998 and Stone Cold caused me to leave WCW behind quickly. Generally, WWF was the show I mostly watched only turning to WCW during commercial breaks. I remember being so pissed off as a kid when Vince McMahon kept trying to screw over Austin. It really made me hate the character of Mr. McMahon. I loved seeing Stone Cold as World Champion raising hell night after night. His segments always kept me entertained and made me truly fall in love with pro wrestling. When Mr. McMahon stacked the deck against him and screwed him out of the World title; it made me hate Mr. McMahon even more. In that sense, I would say it was very effective. Few other instances in wrestling made me more angry than this one. That fact I was more of a mark evoked more hatred than what I would show today. I hated this about as much as I hated Vince McMahon winning the Royal Rumble. Austin just captivated me like no other since, so to see him screwed just made me especially angry.

3. Christian Cage winning the NWA World Heavyweight Championship, Against All Odds 2006 - During Christian Cage's Captain Charisma stage in WWE, I really started to become a major fan of his. I remember no longer being a mark yet becoming so annoyed when John Cena successfully defended the Championship against Jericho and him. Regardless, Christian Cage ended up leaving WWE for fledgling company TNA. TNA gave him a theme that matched the epic nature of his WWE theme, and on top of that they pushed him as a main eventer right out of the gate. Even today watching the end of Christian's match with Jeff Jarrett gives me chills. Few Jeff Jarrett matches reach a level of greatness, but this was one of the few. The overbooking would have hurt it a lot more had Christian lost. As it stands, the Christian win makes up for all the shenanigans. This is just a heartwarming moment because Christian finally made it to the top. The celebration just makes one feel so good for him in this moment. Christian Cage has probably been underutilized his entire career, but on this night someone got it right. I couldn't be happier with this result at the time and even now.

2. Mankind defeating The Rock for the WWF World Heavyweight Championship, Raw Episode Jan 4, 1999 - This match might not be the greatest ever, but if anything it is entertaining. Everyone loved to root for Mankind at the time, and most I knew hated the corporate champion The Rock. I've never seen a taped match with such loud ovations ringing throughout the arena. Billy Gunn of all people probably gets the biggest pop of his career for simply attacking Ken Shamrock. The crowd was insanely hot for Mankind. WCW tried to undermine the moment, yet they just made it even greater. Mankind was the everyday man's representation before Daniel Bryan was even wrestling. Mankind created sympathy for himself unlike anyone else in wrestling. If anything, this win is even more emotional for me today. Everyone knows Mankind has been unappreciated by many in the wrestling industry. My favorite Austin even interfered to possibly the greatest pop ever. The fans belief in Mankind or Cactus Jack probably forced the industry to respect and push Mankind as a viable star. Mankind took the hard path to wrestling stardom. In the end, his body paid the price but I'm sure this moment will always be one of the best. Even Michael Cole of all people sounds like he can barely talk after the victory. Few title victories are as emotional as this one to me. I will never forget this one.

1. Kazuchika Okada winning the IWGP Heavyweight Championship, Invasion Attack 2013 - I'm not even sure where to start with this match. Honestly, I had never kept up with modern day NJPW but heard about these matches. I decided to track them down and was blown away. If anyone ever wonders why NJPW is seen as consistently better than other wrestling organizations; these matches highlight the reasons better than anything. I do not know Japanese at all, yet I was completely invested while watching this series of matches. Rarely, does a match consume me like this. This is possibly the greatest feud ever, and from my first view of it Okada became my favorite in this war. Unlike most, I feel like Tanahashi is the subtly arrogant champion and Okada is just the blunt challenger. When I watched this series of matches it was like a tear almost came from my eye. I was on the edge of my seat cheering for Okada to become the new champion. I know this wasn't his first reign, but seeing him persevere against the greatest in the world brought my joy. All the crazy moves kept me on the edge of my seat; especially, when Tanahashi seemed to have the Rainmaker scouted. I remember he hit multiple high fly flows and it seemed to be over for Okada. Finally, Okada countered and finished him with The Rain Maker. This match just brings me total elation, and makes me proud to be a wrestling fan. No other match got my emotions stirring like this one. The whole series is fantastic but seeing Okada win is the best. That is why Okada's second reign is the most emotional.


---
YOUR TURN KNOW IT ALLS

List your Top Five for this week's topic in the comment section using the following format:

5. CHOICE: Explanation
4. CHOICE: Explanation
3. CHOICE: Explanation
2. CHOICE: Explanation
1. CHOICE: Explanation
Your heart is free. Have the courage to follow it…TO CSONKA'S TWITTER!

http://www.twitter.com/411wrestling
http://www.twitter.com/411moviestv
http://www.twitter.com/411music
http://www.twitter.com/411games
http://www.twitter.com/411mma

Have you checked out the Csonka Podcasting Network? If you haven't, you should We run anywhere from 15-20 shows a month, discussing pro wrestling, the world of MMA, the NBA, general sports, popular TV series of the past, bad movies, battle rap, interviews, MMA & Wrestling conference calls and more! Around 10 different personalities take part in the various shows, which all have a different feel; so you'll likely find something you like. All of the broadcasts are free, so go ahead and give a show a try and share the link with your friends on the Twitter Machine and other social media outlets! Running since May of 2011, there are currently over 500 shows in the archive for you to listen to.



Larry Csonka is a Pisces and enjoys rolling at jiu jitsu class with Hotty McBrownbelt, cooking, long walks on the beach, Slingo and the occasional trip to Jack in the Box. He is married to a soulless ginger and has two beautiful daughters who are thankfully not soulless gingers; and is legally allowed to marry people in 35 states. He has been a wrestling fan since 1982 and has been writing for 411 since May 24th, 2004; contributing over 3,000 columns, TV reports and video reviews to the site.
comments powered by