SPOTLIGHTS
The 8-Ball 6.23.14: Top 8 Potential MITB Briefcase Entrants
Posted by Mike Hammerlock on 06.23.2014

From Dean Ambrose and Dolph Ziggler to Kofi Kingston, Rusev and more, 411's Mike Hammerlock counts down the top 8 potential entrants in the second Money in the Bank match at this month's PPV!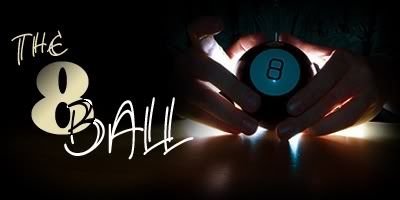 Two weeks ago the 8-Ball listed the top 8 for the Money in the Bank WWE title match. To be fair, we didn't know for sure it would be a championship match at that time, but it seemed likely. For the most part, the WWE made the right choices. The only objectionable choice is Alberto Del Rio, who stands almost no chance of winning and doesn't bring a lot to the match in terms of intrigue or high flying ability.

Yet now we've got a traditional briefcase match for MITB. Seth Rollins is in and that's awesome. He's going to be fantastic working in a ladder-based match. The question put to the Magic 8-Ball is who should join him. Before we get to who should be there, let's sort through a few folks who shouldn't be. Rob Van Dam should be kept far away. He's been terrible lately. He offers little beyond nostalgia. We don't need to see a bunch of blown spots. Kane's another former MITB winner who needs to shuffled into the discard pile.

Meanwhile, Cody Rhodes made my last list, and while I'd have no complaint about putting him in this match his Stardust reinvention would seem to indicate he and his brother will be tagging for the foreseeable future. Wade Barrett could get into the mix for the briefcase, but someone's got to wrestle in other matches on this card. An IC title defense would be a welcome addition to the card.




8. Damien Sandow



This is just about the last chance window for the former intellectual savior of the masses. Last year's Money in the Bank event marked the high point of his career and it's almost been a non-stop downhill skid from there. First they turned him into a stock, I-wear-black villain. Now he's shuffling through gimmicks each week, most often picking at the ire of local sports fans. His most likely WWE future would seem to be replacing Drew McIntyre and Jinder Mahal as the first choice heel jobber. Yet they could put together a really good story where Sandow resurrects himself with a second briefcase win. It would be the fair and decent thing to do to a guy who has gotten buried for seemingly no good reason. I don't expect Sandow to get so much as a serious look (he was the first guy out of last week's battle royal for a spot in the MITB championship match), but he'd be a thousand times better than sticking Kane in there.




7. Sami Zayn



Zayn was my main out-of-leftfield pick for the first MITB match and I'm giving him the same #7 slot here. He never fails to deliver a quality match. At the end of the day that ought be guiding who gets into this match. Fans deserve the best match the WWE can give them, and there aren't a lot of folks who are going to be more exciting than Zayn when it comes to working crazy ladder spots. He's also fully ready for the WWE. Time to deploy NXT's secret weapon.




6. Big E



Talk about a guy who needs this match. Big E sleepwalked through a six-month Intercontinental title reign during which nothing was accomplished. He went into his run with the belt as a hot up and comer. He emerged from it a nominal face with zero crowd support. Fans aren't sure he matters. He seems directionless and it's hard to get behind a guy who's on the road to nowhere. Getting into this match at least would serve as notice that he's not a lost cause. A respectable showing at MITB followed perhaps by a jump over to the tag team ranks would help get Big E's mojo back.




5. Bo Dallas



He almost vultured a win in last week's battle royal. Getting him into the MITB briefcase match would be a perfect fit for a guy riding an irrational confidence gimmick. Is he really ready to shine in a ladder match? His performance at NXT Arrival against Adrian Neville would suggest he is not. However, sometimes a guy is just in a MITB match so he can get a small piece of spotlight. And I suppose Bo Dallas actually winning the briefcase would make sense in a Honky Tonk Man/Miz kind of way. He'd certainly get a lot of heel heat from fans who consider him absolutely undeserving of having the briefcase.




4. Kofi Kingston



What makes a great MITB match is frenetic action and crazy spots: two things Kofi Kingston does exceedingly well. He's a specialty match specialist (Royal Rumble, MITB, Elimination Chamber). In that way he's kind of like Christian. The E doesn't give Kofi as much booking respect, but he generally makes an impression when he gets in a match like this. Some guys are there to win, others are there to amp up the entertainment factor. Imagine what Kofi could do in there with Seth Rollins? Probably something that helps this match steal the show. On a separate note, I'd love to see Kofi and Big E form a tag team and dust off the old Power-Plex finisher.




3. Rusev



He nearly got in the MITB belt match, being the last man eliminated in the battle royal by Roman Reigns. It was heartening to hear the crowd pop for those two colliding 1v1 in a WWE ring for the first time. Moments like that should make the WWE brass more willing to push the young guys, which really should be the theme of the rest of this year. Much as I hate Rusev's gimmick, he pretty much has to be in this match. It would be weird if he got to the doorstep of the belt match and then he didn't qualify for the briefcase match. I mean, if Big E somehow cost him a MITB briefcase qualifier and the two clashed in a singles match at the MITB event, it wouldn't be the worst thing, but you kind of expect the monster du jour to be looking for glory at the top of a ladder.




2. Dolph Ziggler



Perhaps the WWE has a partnership with Best Buy and it plans to job out Ziggler yet again in a MITB qualifier, causing thousands of people to break their televisions. That's about the only semi-legitimate reason for not having the Show Off in this match. They need his talent in the ring and he'd be one of the clear favorites with the crowd. He's a walking, talking, crowd popping machine. It would seem the WWE figures Dolph's so over it doesn't really need to give him anything. Maybe that's right, but it needs him in this match. He's the anti-John Cena. Every time Cena get near the belts in the title match, fans will go crazy hoping he doesn't get it. Every time Ziggler gets near the contract in the briefcase match, fans will go crazy hoping he does win it. Dolph has become the underdog we root for. Almost zero chance he wins, but he's got to be in there.




1. Dean Ambrose



Seth Rollins is the automatic entrant. Dean Ambrose is building toward a feud with Seth Rollins. You can bet the ranch and the dog on Ambrose is getting into this match. There is simply no way it isn't happening. The big challenge will be how to book Ambrose in the match. Will he care about the briefcase? Given his character and his justifiable need for revenge, Ambrose could spend his entire time in the match looking to kill Rollins. About the only reason for him to care about the briefcase is because Rollins cares about the briefcase, and it would drive his nemesis crazy if Ambrose comes away with it.

I take requests.. The purpose of this column is to look forward. What could be? What should be? What is and what should never be? What would make more sense? If there's someone or something you think should be given the 8-Ball treatment, mention it in the comments section. I might pick it up for future weeks.

comments powered by