SPOTLIGHTS
411's Wrestler of the Week 6.24.14: Year 10, Week 11
Posted by Larry Csonka on 06.24.2014

Bobby Lashley won the TNA World Title, Michael Elgin won the ROH World Title, Bad Luck Fale won the NJPW IC Title and more! But who won 411's Wrestler of the Week? Find out inside!




Welcome to YEAR TEN, WEEK 11 of 411's Wrestler of the Week. A quick overview of the rules to kick things off for us as a reminder…

Each writer chooses FIVE wrestlers (although ties and tag teams are allowed) from any promotion and each wrestler gets a point total attached to that ranking. It looks a little like this…

1st - 5
2nd - 4
3rd - 3
4th - 2
5th - 1

Then we tally up the votes and the official 411 Wrestler of the Week is crowned. But wait, there's more! Each week the top SIX vote getters get a points value for their ranking which looks something like this…

1st - 15
2nd – 12
3rd - 9
4th - 6
5th - 3
6th - 1

...and they go towards the 411 Wrestler of the Year award to be announced each year around WrestleMania. This will be posted every Tuesday (the voting week runs Monday through Sunday). Let's see who wins this week…

---



Larry Csonka
1) Bad Luck Fale
Shinsuke Nakamura is one of the three top guys in NJPW, and his run with the NJPW IC Title has helped elevate that title to not a secondary title, but to a main event title and actually main eventing more that the IWGP Title this year. Bad Luck Fale is the muscle for the Bullet Club, the nWo style stable controlling most of the gold in NJPW. Fale defeated Nakamura at the Dominion show to win the title. It was a good match, and Nakamura made Fale look like a complete beast here, complete with stretcher job at the end. They have done a good job of booking Fale as a monster, and the Bad Luck Fall (border toss) has been protected and is now feared as a finish. This is a huge win for Fale, which will give him chance to grow as a performer. This was easily the biggest win of his career.

2) Bobby Lashley: Bobby Lashley defeated Eric Young on Impact to win the TNA World Title. I get why they needed to make the change, but I was really enjoying Young as the fighting champion. But Lashley has been booked well, and is now 3-0 over Young. Hopefully TNA books Lashley as well as they booked Young, Lashley has been working hard since returning and could be set for a good run with the big belt.
3) Michael Elgin: Defeated Adam Cole at Best in the World to become the NEW ROH World Champion.
4) The Time Splitters (KUSHIDA & Alex Shelley)
5) Kota Ibushi


JUSTIN WATRY
1) Roman Reigns
Maybe the biggest win of his career on Monday night winning a massive battle royal and could become the WWE World Title at the Money in the Bank pay-per-view. While I would personally hold off on that moment for a bigger stage, the message has been clear for awhile - Roman Reigns will be a big star. He followed that up with a Smackdown main event win as well.

2) Michael Elgin: Adam Cole may have been able to trend on Twitter WORLDWIDE on Sunday night, but he lost the Ring of Honor Title to Michael Elgin. I am not going to pretend to know the ins and outs of ROH, but this was a big event for them on traditional pay-per-view. Hope those who watched supported them with their wallets and backed up their fandom instead of stealing the PPV.
3) Bobby Lashley: Let me explain to you the process of a new TNA Champion being crowned. First, it usually happens on free television, not PPV. Secondly, it is whenever the company gets a rare "live" airing. Thirdly, right on cue, everybody talks about how it rings in a new era! Fourthly, the TV rating 'pops' for one week. Fifthly, everybody gets warm fuzzies and is excited for the change. Then reality sets in a week later. Chris Sabin winning the title popped the rating, before it plummeted three straight weeks after. Magnus? Enough said. Eric Young - same as Sabin. Big win, new direction, fans excited, rating popped, blah, blah, blah. A week later, 400,000 viewers were gone...and near record low quarter hour numbers arrived. So far, Lashley is in the one week honeymoon phase where all is positive. Do not worry though. I have seen this far too many times to care about the (not) 'World' Title changing hands. The cycle will play out just as I discussed, and soon enough, it will be time for a NEW TNA Champion, and we are back to square one. Rinse, lather, repeat!
4) Adam Cole
5) Seth Rollins


Alex Crowder
1) Bobby Lashley
Most don't want to admit it, but everything Lashley has done in TNA thus far has been good. Lashley seems to have gotten better in the ring, and is not a terrible choice for World Champion. Lashley in some respects is underrated by some. I don't think Eric Young needed to lose the Championship yet, but I'll see how it plays out first. For now, I'll accept it since the booking did not harm Eric Young.

2) Stardust: This debut just floored me. I never expected this. Cody Rhodes somehow changed his wrestling style and character overnight. His offense looked unorthodox and the crowd was into it. Let's hope Stardust is here to stay for at least a while. He even pulled out a Diamond Dust to signify the change. The theme music was awesome and his mannerisms were perfect. This is probably the most bizarre character we've seen in a long while. That is a good thing.
3) Eric Young: Eric Young deserves some credit for having a good reign to get the TNA Championship back on track. Eric Young has arrived as a TNA main eventer. If TNA keeps Eric Young near the top, this is a very successful experiment. Eric Young made Lashley's victory legit. Hopefully, he remains a shining star in TNA.
4) Roman Reigns
5) Time Splitters (Kushida and Alex Shelly)


Ryan Byers
1) Bad Luck Fale
On this week's New Japan pay per view, Bad Luck Fale defeated Shinsuke Nakamura to become the new IWPG Intercontinental Champion. Given their relative positions in the company, this is a huge win for Fale. He has been nothing more than the 1993 Diesel to Prince Devitt's Shawn Michaels up to this point, and this is his first really significant singles victory. It's also perhaps the biggest guy in the company that he could realistically beat, given that he's not going to be going up against Kazuchika Okada or Hiroshi Tanahashi anytime soon. Nakamura's run with the Intercontinental Title took it from being an afterthought of a championship to being not even a secondary title but almost an equal to the IWPG Heavyweight Title, particularly since it is the belt that main evented this year's WrestleKingom show. The IC Championship will almost certainly not retain that role now that it's on Fale, but the mere fact that the promotion was willing to put the belt on him given its recent history demonstrates that they're ready, willing, and able to use him as something more than a bodyguard, which is a huge step up.

2) Michael Elgin: I freely admit that I'm not the biggest follower of Ring of Honor these days, but Elgin has impressed me in the limited amount that I've seen of him, and he seems like a fitting choice to be the company's champion coming out of its return to traditional pay per view. Though the ROH talent pool is nowhere near as deep as it was eight years ago, they still are developing a pool of solid young talents, and Elgin is proof positive of that.
3) Kota Ibushi: Simultaneously wrestling for New Japan Pro Wrestling and DDT, Kota Ibushi is one of the hardest working men in the spot these days. This week, he successfully defended the KO-D Tag Team Titles on Sunday in DDT after having an AWESOME IWPG Junior Heavyweight Title retention against Ricochet on pay per view on Saturday.
4) Cody Rhodes
5) The Time Splitters


Mike Hammerlock
1) Bobby Lashley
Some weeks it's tough to sort out five deserving nominees. This week you could hit a dozen without blinking. Wish I could get Cody Rhodes/Stardust on here (and RIP to deviAnt), but I felt I had to acknowledge some tag teams at #4 and #5. As for Lashley, beating Eric Young counts for a big deal. Young has been excellent during his championship run (would have loved to give him a vote this week too). I don't expect Lashley will hold the belt for a long time, but I'll echo Mr. Crowder in being pleasantly surprised by the quality of Lashley's ring work since his return to TNA.

2) Roman Reigns: Two quick complaints about Reigns' big battle royal win on Monday night. First, the coffee drugging/vomit spot was stupid on every level. Really wish they hadn't pulled off the equivalent of the Mallrats stinkpalm bit. Second, I call booking malpractice on the WWE. Reigns winning the battle royal was a much bigger deal and went over way better with the crowd than the Cena-Kane match (which was all kinds of terrible). It was like they aired the dark match after the main event. Anyway, Reigns stood out from the crowd on Raw and got the dominator role in the Smackdown main event too. Great week for him.
3) Michael Elgin: Mildly disappointing match, but a big win for a guy who has been chasing the ROH title for a couple of years now (since he and Davey Richards staged a classic at Showdown in the Sun in 2012). He and Adam Cole didn't have a bad match - they're immune to that - yet they didn't tear it up the way they can. Should be interesting to see how Elgin does as the ROH banner carrier.
4) The Time Splitters (KUSHIDA and Alex Shelley)
5) The Throwbacks (Dasher Hatfield and Mr. Touchdown)


Jeremy Thomas
1) Bobby Lashley
Lashley won the TNA World Title in the traditional "champion loses right after Slammiversary" title switch. It's an unfortunate loss for Eric Young, who I think had more of a chance to run with the belt, but definitely a feather in Lashley's cap and hopefully a statement in the company's stake in him. We'll see where it goes from here.

2) Roman Reigns: Earned a spot in the World Title Money in the Bank match on Raw, and is one of the top half of the competitors in terms of who has the best odds of coming out with the belt. Don't know if it will happen, but it could and that's something.
3) Michael Elgin: Won the ROH World Title at Best in the World, and kudos to him for a deserving run with the belt.
4) Stardust
5) Bad Luck Fale


Dylan Diot
1) Michael Elgin
On ROH's first PPV (there is a difference from iPPV), Michael Elgin defeated Adam Cole to become the NEW ROH World Champion. Elgin has been chasing the championship for over two years, and his big win combined by the importance of the show makes him my wrestler of the week.

2) Bobby Lashley: Bobby Lashley defeated Eric Young on Impact Wrestling to become the NEW TNA World Heavyweight Champion. MVP's injury was Lashley's gain.
3) Bad Luck Fale: Bad Luck Fale defeated Shinsuke Nakamura to become the new NJPW Intercontinental Champion at NJPW Dominion. Fale picked up the biggest win of his career so far and put in possibly his best performance as well.
4) Roman Reigns
5) John Cena

---
THE WINNERS~!
Special Mention…KUSHIDA and Alex Shelley - 6 Votes


Fifth Place…Stardust/Cody Rhodes - 7 Votes


Fourth Place…Bad Luck Fale - 14 Votes


Third Place…Roman Reigns - 17 Votes

Won a giant battle royal to earn a spot in the WWE World Title ladder match at the MITB PPV…



Second Place…Michael Elgin - 23 Votes

Defeated Adam Cole at the ROH Best in the World PPV to become the NEW ROH World Champion…



And 411's Wrestler of the Week is…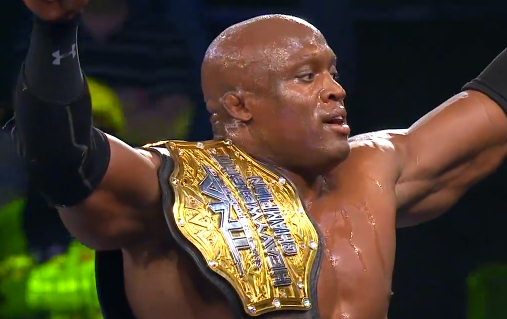 Bobby Lashley - 26 Votes

Defeated Eric Young on Impact to become the NEW TNA World Champion!




Year-End Standings~!
And here are the standings after week eleven…

Eric Young - 58pts.

AJ Styles - 45pts.
Seth Rollins - 45pts.
Roman Reigns - 45pts.

Dean Ambrose - 24pts.

Kyle O'Reilly - 21pts.
Bad News Barrett - 21pts.

Cesaro - 18pts.
Bray Wyatt - 18pts

Batista - 16pts.

Bobby Lashley - 15pts.
YAMATO - 15pts
Takao Omori - 15pts

Sheamus - 14pts.

Ricochet - 12pts
Icarus - 12pts.
Paige - 12pts.
Daniel Bryan - 12pts.

Michael Elgin - 12pts.
Bobby Fish - 12pts.

Adam Cole - 9pts.
Charlotte - 9pts.
Luke Harper - 9pts.
Triple H - 9pts.
Davey Richards - 9pts.
Eddie Edwards - 9pts.

Alicia Fox - 7pts.

Bad Luck Fale - 6pts
Biff Busick - 6pts.
Randy Orton - 6pts.
Erick Rowan - 6pts.
John Cena - 6pts.

Stardust (Cody Rhodes) - 3pts.
Tyson Kidd - 3pts.
Tyler Breeze - 3pts.
Adam Rose - 3pts.

Dasher Hatfield - 2 pts.
Mr. Touchdown - 2 pts.

Kane - 1pt
Brie Bella - 1pt
Uhaa Nation - 1pt
Kota Ibushi - 1pt
Sanada - 1pt
Alex Shelley - 1pt
KUSHIDA - 1pt

---
Voting began 4.15.14
Year-End Rankings Key:

WWE Contracted Wrestlers are represented in BLUE.

TNA Contracted Wrestlers are represented in GREEN.

ROH Contracted Wrestlers are represented in RED.

US Independent Wrestlers are represented in MAROON.

Japanese Contracted Wrestlers are represented in BLACK.

Mexican Contracted Wrestlers are represented in MAGENTA.

Other International Wrestlers are represented in INDIGO.

---
**PREVIOUS WINNERS**

Year One Winner: Ric Flair (2005-2006)


(Shortened year, starting September 2005)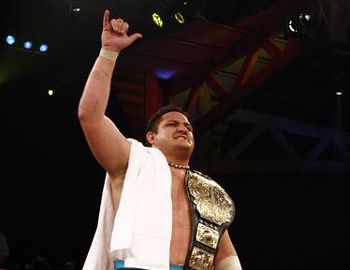 Year Two Winner: Samoa Joe (2006-2007)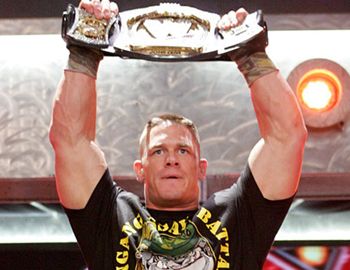 Year Three Winner: John Cena (2007-2008)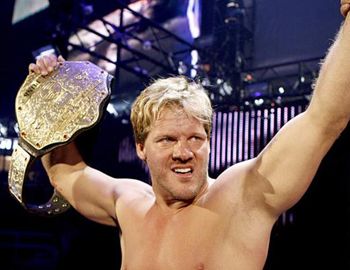 Year Four Winner: Chris Jericho (2008-2009)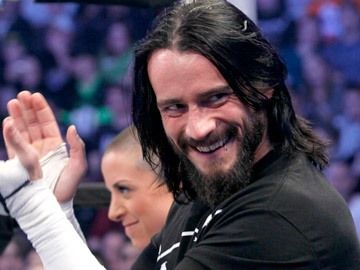 Year Five Winner: CM Punk (2009-2010)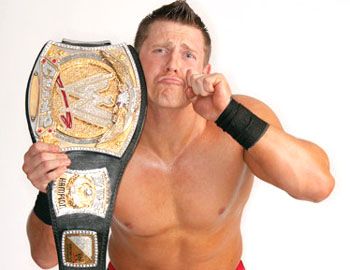 Year Six Winner: The Miz (2010-2011)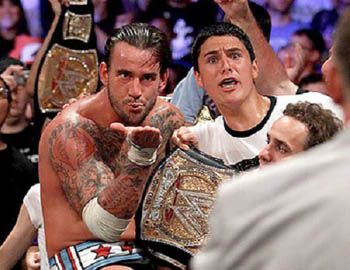 Year Seven Winner: CM Punk (2011-2012)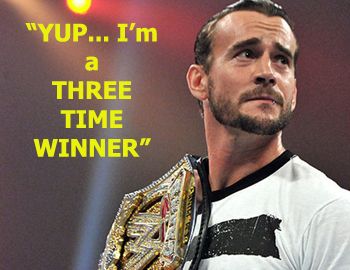 Year Eight Winner: CM Punk (2012-2013)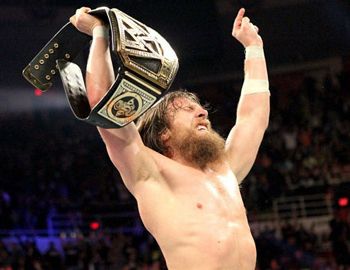 Year Nine Winner: Daniel Bryan (2013-2014)
comments powered by