SPOTLIGHTS
Wrestling's 4Rs 6.27.14: WWE Monday Night Raw & NJPW on iPPV
Posted by Larry Csonka on 06.27.2014

Triple H announced competitors for the traditional MITB match, Kane was added to the WWE World Title match, Vickie Guerrero was fired and more! Wrestling's 4Rs breaks down the Right, the wRong & the Ridiculous of WWE Raw & NJPW on iPPV!


How the 4Rs of wRestling Work!
Here is a quick explanation of the 4R's. The column will run TWO times a week. We will group our feelings on the shows in various categories: The Right, the wRong and the Ridiculous. The Right is stuff that worked very well: a great promo, a great match and so on. PuRgatoRy is a section between the right and wrong. It shows equal traits from both sides that cannot be ignored and need discussed. It is not a bad place per say, as things can get remedied or go the wrong way the very next week. The wRong is what it sounds like: bad matches, bad or boring promos and so on. The Ridiculous is stuff that had no right on TV: Stupid angles and so on. And there is always a possibility of a 5th R, which is as bad as they come. This column is supposed to be analytical, and at the right time very critical of the shows, it was the whole reason it was created. This is not a "mark" column, nor a "smark" column, our goal is to analyze the show from many different fronts, reward the good and call out the bad. We will not apologize for our opinions, they are as they are, whether positive or negative.
---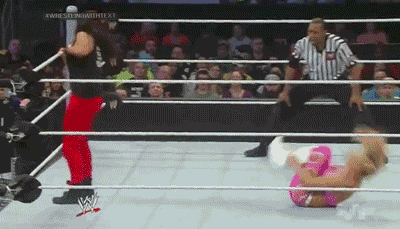 It's quite hypnotic….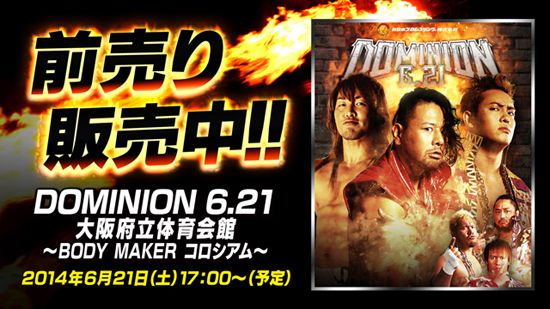 NJPW Dominion 2014 – 6.21.14
IWGP Jr. Tag Team Title Match: KUSHIDA & Alex Shelley defeated Matt Jackson & Nick Jackson (c) (16:50) when KUSHIDA used the Hoverboard Lock on Nick to become the 38th champions. [****½]

Tetsuya Naito defeated Tama Tonga (8:13) with a Stardust press. [**]

Hirooki Goto & Katsuyori Shibata defeated Yuji Nagata & Tomoaki Honma (11:20) when Goto used a reverse Ushikoroshi on Honma. [****]

NWA World Tag Team Title: Hiroyoshi Tenzan & Satoshi Kojima (c) defeated Lance Archer & Davey Boy Smith Jr. (15:26) when Kojima used a lariat on Smith (3rd defense). [***¾]

IWGP Jr. Heavyweight Title Match: Kota Ibushi (c) defeated Ricochet (13:37) with a Phoenixplex (4th defense). [****½]

Minoru Suzuki & Takashi Iizuka defeated Toru Yano & Kazushi Sakuraba (15:13) when Suzuki used a Gotch-style piledriver on Yano. [*]

AJ Styles & Yujiro Takahashi defeated Kazuchika Okada & Tomohiro Ishii (15:53) when Takahashi used the Miami Shine on Ishii. [***]

IWGP Tag Team Title Match: Karl Anderson & Doc Gallows (c) defeated Hiroshi Tanahashi & Togi Makabe (14:41) when Anderson pinned Makabe after the Magic Killer (5th defense). [***½]

IWGP Intercontinental Title Match: Bad Luck Fale defeated Shinsuke Nakamura (c) with the Bad Luck Fall to become the 9th champion. [***¾]



The Tirade



For a NJPW show, this felt odd to me. Most shows, the first half is basically there, an appetizer with a few highpoints, and then things pick up and it becomes enjoyable or even really good. This show felt more balanced, with the good spread through out, and I felt it helped the show's flow. This is not a bad thing at all, and actually a great change.


KUSHIDA & Alex Shelley beat Matt Jackson & Nick Jackson to win the Jr. tag titles in a hell of an opener. KUSHIDA & Alex Shelley had a great super juniors tournament, ruined by injures, but both men seemed more motivated than ever out there and I also felt that the crowd reacted more to them. The Bucks are the best tag team in the world right now, and continue to deliver exciting matches. I think that the title change was done due to the plans changing in the super juniors, but it was an awesome match and it came off well. This was awesome and a perfect way to kick off the show. Seriously, when your opener is better than most PPV main events, there is no wrong here.


Tetsuya Naito beat Tama Tonga in a match, which was fine. Naito slide down the card has been completely disappointing, moving on.


Things then got really good for the next three matches. Hirooki Goto & Katsuyori Shibata beat Yuji Nagata & Tomoaki Honma in a really hard hitting; knock your dick stiff match. This was simply a great and intense match, Honma looking good as he survived the beating to come back and get the crowd behind him. Nagata & Shibata brawled to the back as Goto scored the pin on Honma.


Hiroyoshi Tenzan & Satoshi Kojima defeated Lance Archer & Davey Boy Smith Jr. to retain the NWA tag team titles in a match that was a very pleasant surprise. I thought the match would be fine, but it ended up really good. Archer and Smith are a very good team, underrated to some degree because Americans only think of them as WWE failures, but they are good. Tenzan and Kojima are older and slower, but they work hard and smart, and by doing so and playing to a hot crowd this was just a ton of fun. Kojima sold most of the match, but came back and secured the win for his team. Somewhat surprising because I expected Archer and Smith to win back the titles before this, but again they came up short. I am not the biggest fan of Tenzan and Kojima singles matches these days, but I really enjoy them tagging.


The show peaked at this point, as Kota Ibushi defeated Ricochet to retain the IWGP Jr. Heavyweight Title. This was about everything you'd expect, and I expected a lot from these two. The theme of the night was guys busting their asses to deliver, and they did that here. I really enjoyed the match, some tremendous spots, good work, good crowd and a really hot closing stretch made this worth it. Part of me hated the end, it felt like it came too soon and that they could have went a few more minutes and it would have been a true MOTY contender. It was really close was awesome and I loved it. But I will say that they left me wanting to see more, and I hope we get that.


After the intermission, Minoru Suzuki & Takashi Iizuka defeated Toru Yano & Kazushi Sakuraba in a feud/match that I feel as if I have been watching for the past 10-years. It's beyond repetitive at this point, and we really need to move on to something or anything else.


AJ Styles & Yujiro Takahashi beat Kazuchika Okada & Tomohiro Ishii in a perfectly acceptable midcard style match. The match was good, and kept some heat on Styles vs. Okada, while working to set up Yuiro as a NEVER Title challenger as he pinned Ishii. It was a match that had the makings of being really good, but they never leveled up or hit the next gear, pick your phrase. But it was never meant to get wild or crazy, it was just setting the stage, was well worked and I was fine with it. Styles continues to work hard and look good in the ring, too bad there is no market for him outside of TNA.


Karl Anderson & Doc Gallows defeated Hiroshi Tanahashi & Togi Makabe to retain the IWGP Tag Team Titles. This is a love it or hate it match for a lot of people. They did tons of finishers and WrestleMania kick outs. In some ways it would be overkill, but it worked because they worked hard, sold it well and the crowd was into it. You can't be doing shit like this all the time, but it can work. I liked it, it felt fun and different from the rest of the card, which is a good thing.


Bad Luck Fale defeated Shinsuke Nakamura and won the IWGP IC Title in what ended up being a good match, and one that was way better than I thought it would be. Nakamura made Fale look like a complete beast here, complete with stretcher job at the end. They have done a good job of booking Fale as a monster, and the Bad Luck Fall (border toss) has been protected and is now feared as a finish. Fale worked hard, but appeared to be heavier and slower than earlier in the year. It could be an injury, which would be horrible timing with the G1 about to start up. Fale's in the deep A block, and that's going to take a toll on him, healthy or not. Fale did work hard, but this was a Nakamura special. He strapped Fale to his back, carried him and made him look great. That's what your top stars do.


OVERALL: While the Young Bucks lost their IWGP Jr. Tag Team Title, the Bullet Club remained strong as Bad luck Fale defeated Shinsuke Nakamura to win the IWGP Intercontinental Title. This means that AJ Styles holds the IWGP Heavyweight Title, Bad Luck Fale holds the IC Title and Anderson & Gallows hold the IWGP Tag Team Title. The Bucks will obviously go back after the tag titles, and Yujiro wants the NEVER Title. Nakamura losing the IC Title here makes me think he's the odds on winner for the G1, which I am completely fine with. With the show selling out, and that all being based on Nakamura, it's hard to argue that against him as a draw. He has narrowed the field with Okada and Tanahashi; 18-months ago it may have been a 1, 2 3 situation, now it's more like 1.1, 1.2 and 1.3. They have all proven that they can draw and are also proving that they can get others over; which is just as important. I really think that they need to build to Nakamura vs. Okada for the Dome show, which means Nakamura wins the G1, Okada defeats Styles for the IWGP Title in maybe October, and then you have your dome main event. It's fascinating to see Nakamura, Okada and Tanahashi heading into the G1 without titles or a certain direction.

Overall this was a tremendous pro wrestling show with great wresting up and down the card. The only real stinker was Minoru Suzuki & Takashi Iizuka vs. Toru Yano & Kazushi Sakuraba, but those are quickly forgotten with the four excellent matches, especially the two juniors matches. This is top tier stuff in my opinion, one of the best of the year. I wish they could have trimmed some of the stuff on the show, because if you could drop some of that, it would tighten the show and shorten it a bit, and then it comes off even better. The first half was amazing, while the second half was weaker; but anything would have been weaker after that first half. I REALLY enjoyed the show, and felt that they delivered again. If things would have been a bit different, this could have been contending with Dragon Gate Dead or Alive for show of the year.

Score: 8.85

As a reminder, I will be going by the 411 scale…

0 - 0.9: Torture
1 - 1.9: Extremely Horrendous
2 - 2.9: Very Bad
3 - 3.9: Bad
4 - 4.9: Poor
5 - 5.9: Not So Good
6 - 6.9: Average
7 - 7.9: Good
8 - 8.9:Very Good
9 - 9.9: Amazing
10: Virtually Perfect

As a reminder, this is not a basic "how good was the show" number like a TV show, as I have always felt that a PPV is very different from a regular show. I have always judged PPV on how they built to a match, the match quality, crowd reactions to matches and angles, the overall booking, how the PPV leads into the future, PPV price and so on and so forth. I have added this in here for an explanation since so many have asked, and I have previously discussed it on podcasts. I understand that this may seem different, but that is how I grade. Obviously your criteria may be different.
By: Jack Stevenson
Raw 6.23.14:
QUICK MATCH RESULTS:
Luke Harper d. Jimmy Uso

Jey Uso d. Erick Rowan

Naomi d. Alicia Fox

Bo Dallas d. Titus O'Neill

Seth Rollins d. Rob Van Dam via DQ

Bad News Barrett d. Dolph Ziggler

Stephanie McMahon d. Vickie Guerrero in a 'Knee your opponent into a pool of mysterious brown liquid' match

Jack Swagger d. Kofi Kingston

Big E. d. Damian Sandow

John Cena, Sheamus & Roman Reigns d. Randy Orton, Bray Wyatt, Cesaro & Alberto Del Rio


THE RIGHT:
Bo Dallas vs. Titus O'Neill: It seemed like the crowd were really into Bo's act this week, which I hope proves to be a trend. His voice and mannerisms are so perfect for the character, he's doing really well with it. I'm not too bothered about his lack of a feud either, Bo is the kind of character who can sustain himself as long as he keeps eeking out wins and being hilariously pleased with himself for doing so, and then patronizing his fallen opponents after the match. I mean, he needs to do something sooner rather than later, but a few more weeks building bolief and a winning streak isn't going to him any harm. I hope this week is a watershed moment in his career.

Rob Van Dam vs. Seth Rollins: This was pretty good considering it was a Rob Van Dam match that occurred in 2014. You could clearly see the similarities between the two wrestlers, I hope in 20 years time Rollins still isn't loitering in WWE and having boring matches with midcarders, living off past glories that weren't all that glorious in the first place. The two meshed well together because of those similarities, they built to some fun, athletic near falls, and Dean Ambrose's late interference to cause a DQ didn't hurt the momentum of the segment badly, we got another fun, deranged promo from him and it's a shame this feud has been so ill thought out that their first in ring confrontation is going to be as part of an eight man ladder match. I also really enjoyed the pre match dueling promo between the two, it was heated and vaguely shooty and short and sharp and exciting. I didn't enjoy Seth Rollins being put into the second class Money in the Bank match by his supposed new best pal Triple H though. It's almost as though splitting the Shield is doing him no discernible good whatsoever.

Dolph Ziggler vs. Bad News Barrett: This was a really good match, much better, I felt, than their outing a couple of months ago. I thought last time out they rushed through lots of near falls in an attempt to dazzle people into thinking something really good was happening; this time, they built really well to the finishing stretch, and there were plenty of exciting twists and turns. Bad News' injury is a horrible shame and I hope it doesn't derail his momentum too much, he's the closest he's been in years to becoming the main event star he deserves to be.

John Cena, Sheamus & Roman Reigns vs. Randy Orton, Bray Wyatt, Cesaro & Alberto Del Rio: It might have just been a rerun of the Smackdown main event, but in its own right this was really pacy and entertaining and more than fulfilled its purpose of reminding everyone that the WWE Championship Money in the Bank Ladder match will probably be pretty good. The fact that Sheamus's house of fire segment won the match for the fan favorites was a nice twist, being as Roman Reigns seemed destined to be the hero. The exchange of finishers was typically chaotic fun, and, yeah, this was effective and entertaining. Kane's addition is intriguing and I could potentially see him winning the whole thing and having a couple of months with the gold before riding off into the sunset with Daniel Bryan's boot imprint lodged in his mask, but I think John Cena is the most appealing, realistic option. A rematch with Brock Lesnar at Summerslam would be very enticing indeed.


puRgatoRy:
A pair of singles matches featuring the Usos and the Wyatt Family!: Luke Harper had a match with Jimmy Uso and it was short and Luke Harper won. Then, Jey Uso had a match with Erick Rowan and it was short and Jey Uso won. It's a different way of building up an upcoming tag match at least. Like I've implied, both matches were too short to be worth anything, but the actual title match at Money in the Bank could be terrific.

Kofi Kingston vs. Jack Swagger: This was a match! There were some nice sequences, as well as one noticeably sloppy moment. Overall it will have no lasting effect on your life

Big. E vs. Damian Sandow: These Damian Sandow segments are pretty hit and miss, some weeks they're fairly amusing and others they're just baffling. Occasionally the announcers would try and pretend that it was really Abraham Lincoln in the ring and not just Damian Sandow, which made me laugh, and as usual last year's Money in the Bank briefcase winner tried his hardest to make it work. It wasn't sidesplitting or anything but it can go in purgatory.



THE WRONG:
Naomi vs. Alicia Fox: I don't really know if this was very good- it seemed pretty uninspiring from the bits I could concentrate on, but the constant bickering between Paige and Cameron was far too distracting. Paige vs. Naomi should be a pretty enjoyable match on Sunday, but it's a shame that a bout between two of the more talented female wrestlers the WWE has was completely neutered because nobody could be bothered to tell the guest commentators to shut up for second.


THE RIDICULOUS:
Vickie Guerrero says goodbye: Ordinarily I wouldn't bother with rambling on about the disgusting way WWE treats an employee that doesn't fit the straight, lithe white male orthodoxy, but the sheer futility of doing so usually persuades me not do. But, hey, I won't get to mention Vickie Guerrero again in this column for a fair while, so let's all marvel in horror at the fact that this lady has been treated in such a needlessly disgusting way for the past decade that exiting WWE covered in unidentified brown goo while the music of her late husband boomed around the arena was actually a more dignified send off than she might have expected to receive. Maybe I have no right to be offended, maybe Vickie looks back on the past ten years with a lot of pride, feeling a sense of accomplishment- and, in fairness, at times during her stint in the company she was the only character capable of getting genuine and unanimous heel heat, and all by only screeching two words at the top of her voice. Not bad for someone who presumably didn't see herself ever becoming a recurring wrestling character before, say, 2006, and made her first appearances with an ocean of goodwill from fans behind her. I wonder, though, if Vickie would feel a lot better about the past ten years had she not been constantly, cruelly taunted by everyone from the Rock to Jerry Lawler about her weight and looks, and whether she's happy that her interpretation of Eddie's finishing move was branded 'the Hog splash.' I wonder if she looks at the near endless string of on screen romances that only served to make her look like an idiot, unaware that all her boyfriends had no interest in her beyond her power to give them title shots. I wonder if she looks at the plunges into pudding and the coatings in cottage cheese, and I wonder if she considers that she's been portrayed as this clumsy, stupid, worthless animal for eight years, and I wonder if she feels like she's been treated fairly, or if she's aware on some level that she's spent the last nine years of her life working for disgusting, unfeeling humans who think nothing of routinely degrading and humiliating the wife of one of their most beloved employees. Did anyone else feel like vomiting in their mouths when Eddie's name was being tossed around and his music was being played and it was all to try and drum up interest in a match in which his wife would be hurled unceremoniously into a vat of foul smelling brown gloop, a final slap in the face of a woman who's done all but throw fish heads at children while dressed as Santa for the entertainment of Mr. Burns? WWE have improved a lot as a company over the past few years, but there's still someone genuinely vile influencing things somewhere.


THE RAW MATCH OF THE YEAR LIST:
No change this time around!



2.17.14- John Cena vs. Cesaro


3.03.14- The Shield vs. The Wyatt Family


5.5.14- The Shield vs. The Wyatt Family


2.03.14- Daniel Bryan vs. Randy Orton


2.10.14- Sheamus & Christian vs. The Real Americans


1.27.14- John Cena, Sheamus & Daniel Bryan vs. The Shield


6.2.14- The Usos vs. The Wyatt Family


4.21.14- Sheamus vs. Bad News Barrett


5.5.14- Daniel Bryan vs. Alberto Del Rio


6.9.14- Sheamus vs. Bad News Barrett


The 411:


I kind of feel like I've forgotten to write about something really important in this episode, but I think that's just because nothing really happened. Vickie Guerrero waded through brown gloop into a hopefully more pleasant sunset, the second Money in the Bank match and a couple of other under card encounters were thrown together, and that was pretty much it. It was mostly watchable and the build to the main Money in the Bank match at least was done perfectly well, but this is certainly a skippable episode of TV.

Show Rating: 5.5

As a reminder, I will be going by the 411 scale…

0 - 0.9: Torture
1 - 1.9: Extremely Horrendous
2 - 2.9: Very Bad
3 - 3.9: Bad
4 - 4.9: Poor
5 - 5.9: Not So Good
6 - 6.9: Average
7 - 7.9: Good
8 - 8.9:Very Good
9 - 9.9: Amazing
10: Virtually Perfect

The 899th edition is over…



Have you checked out the Csonka Podcasting Network? If you haven't, you should We run anywhere from 15-20 shows a month, discussing pro wrestling, the world of MMA, the NBA, general sports, popular TV series of the past, bad movies, battle rap, interviews, MMA & Wrestling conference calls and more! Around 10 different personalities take part in the various shows, which all have a different feel; so you'll likely find something you like. All of the broadcasts are free, so go ahead and give a show a try and share the link with your friends on the Twitter Machine and other social media outlets! Running since May of 2011, there are currently over 500 shows in the archive for you to listen to.



Your heart is free. Have the courage to follow it…TO CSONKA'S TWITTER!

http://www.twitter.com/411wrestling
http://www.twitter.com/411moviestv
http://www.twitter.com/411music
http://www.twitter.com/411games
http://www.twitter.com/411mma
comments powered by