SPOTLIGHTS
The 411 Wrestling Top 5 7.16.14: Week 272 – The Top 5 WWE Matches of The '90s
Posted by Larry Csonka on 07.16.2014

From Steve Austin vs. Bret Hart from WrestleMania 13 and Undertaker vs. Shawn Michaels in HIAC to Warrior vs. Savage at WrestleMania 7, the 1992 Royal Rumble match and more, the 411 staff breaks down their top 5 WWE matches of the '90s!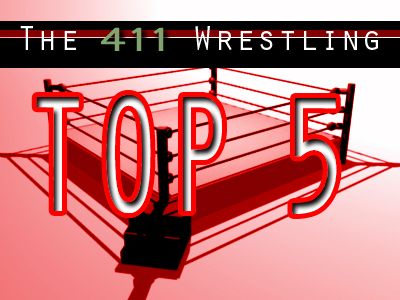 Hello everyone and welcome to 411 Wrestling's Top 5 List. We take a topic each week and all the writers here on 411 wrestling will have the ability to give us their Top 5 on said topic, plus up to three honorable mentions.

So, onto this week's topic…



The Top 5 WWE Matches of The 90s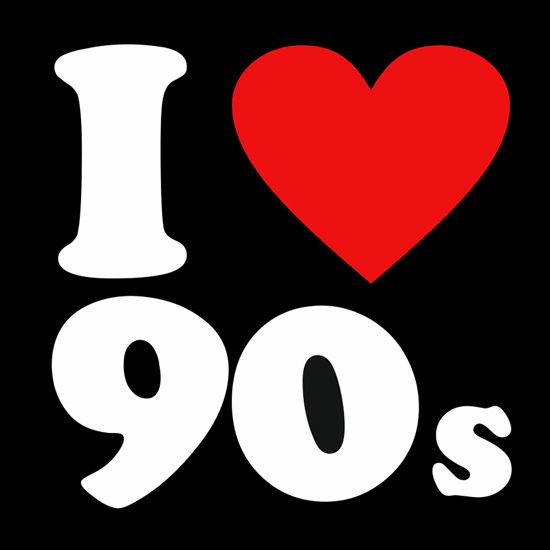 Name the top 5 WWE matches from the 1990s.




Ryan Byers
HM: The Hardy Boys vs. Edge & Christian (Ladder Match, 10/17/1999) - Shawn and Razor popularized the genre, but the Hardys and E&C took it to a whole new level for the new millennium in this match.
HM: Shawn Michaels vs. Mankind (9/22/1996) - An amazing brawl that took the two separate styles of these wrestlers and blended them into something masterful.
HM: The Undertaker vs. Mankind (Hell in a Cell, 6/28/1998) - This isn't a great "match" on the whole, but it contains not just one but two of the most memorable spots of the entire decade, so it deserves at least an honorable mention.

5. Shawn Michaels vs. Marty Jannetty (7/19/1993) - This match is a bit of a forgotten gem. Most people remember the Michaels/Jannetty match from May of the same year, in which a long-departed Marty leaped out of the crowd at Monday Night Raw and scored a shocking upset win to capture the Intercontinental Title. That match was very good, and it was bolstered by the spontaneity of the moment. However, if you're looking for a pure, in-ring classic between the two former Rockers, you're actually better suited to fast forward a couple of months and watch this match, which featured Michaels (who by this point had regained the IC strap) successfully defending against Jannetty thanks to an assist from his recently acquired bodyguard Diesel in a finish that mirrored the one in which HBK took the title back at a house show. This was an excellent contest between the old partners, which highlighted their familiarity with one another.

4. Shawn Michaels vs. The Undertaker (Hell in a Cell, 10/5/1997) - It was the first Hell in a Cell match, and, arguably, it may still be the BEST Hell in a Cell match almost fourteen years later. Throughout the Hulk Hogan era of the World Wrestling Federation, the steel cage match had become a pretty boring affair, with the focus on long holds and bland climbing sequences as opposed to the wild, heated brawls that had occurred in WWF cages before the Hulkster reigned supreme. There were brief hints that the cage match was returning to its former glory before Hell in a Cell (more on that in a minute), but this match more than any other took the WWF cage match and turned it around back into what it used to be and would be for the next several years. Unfortunately, beginning in the mid-2000s, the company overexposed the gimmick and toned down its style to the point that the match lost its effectiveness and the hard work of UT and HBK was in large part undone . . . though we can still enjoy this match in isolation.

3. Bret Hart vs. Owen Hart (Cage Match, 8/24/1994) - Speaking of cage matches, this was the first one that really broke the mid-80s to early-1990s malaise that the genre had fallen into. However, it did so not by emulating cage matches of the past and not even really by foreshadowing what cage matches would become in the future but instead by taking the unique, realistic style of the Hart brothers and putting it into the context of a steel cage. Even though it was contested under "escape the cage" rules and even though it was contested in the blue bar cage, both of which I consider to be the inferior ways to have such a match, it turned out to be one of the greatest examples of caged combat in history. It did that by - more so than any other escape match I've seen - being worked like a real fight would play out if the goal was escaping your opponent, with the addition of great peaks and valleys and pacing of the action. These two brothers were both masters of our favorite pseudo-sport, and their talents are on full display here.

2. Razor Ramon vs. Shawn Michaels (Ladder Match, 3/20/1994) - I've heard people who were not fans of wrestling in 1994 discuss this match, and their reviews are often not particularly favorable. They claim that it doesn't "hold up" or that it's not what they've come to expect from ladder matches after seeing TLC or Money in the Bank contests. However, the point that those fans are missing is that, when two wrestlers put together a match, they're typically not putting together the match thinking about how it will come off to fans ten or twenty years down the line. They're working for that crowd on that evening, and, for the WrestleMania X crowd on the evening of WrestleMania X, this encounter between the Heartbreak Kid and the Bad Guy was nothing short of a five star classic. We all knew by that point that Michaels was a world class performer, and we all knew that Scott Hall, when motivated, could hang with the best. However, the unknown was the stipulation, which had been largely unseen among wrestling fans and certainly hadn't been seen at a high level with highly athletic performers. Despite the unfamiliarity, these two knocked it out of the park, putting on what was not just a fine match for the evening but what established a new gimmick match in the mainstream consciousness and has kept it alive to this very day.

1. Bret Hart vs. Steve Austin (Submission Match, 3/23/1997) - Normally I'm all about diversity of thought and respecting other people's opinions, but, frankly, I think anybody who does not have this match listed as the best WWF match of the 1990s is either trolling you or is just flat out wrong. The match itself is a great one, and I consider it to be even greater when you consider the fact that it had to overcome the significant handicap of being a submission match in which one of the wrestlers didn't have an established submission hold (which even Steve Austin says was a mistake). Besides being exciting and well-worked, I think that you also have to take into consideration the match's historical significance, which has to rank among the top five of the promotion's entire run. This is THE match that launched Steve Austin and by extension the Attitude Era into the stratosphere, transforming a money-losing, nearly-dead WWF into a global juggernaut in the entertainment industry which is publicly traded on the New York freakin' Stock Exchange. If that's not the top match of the 1990s, I don't know what is.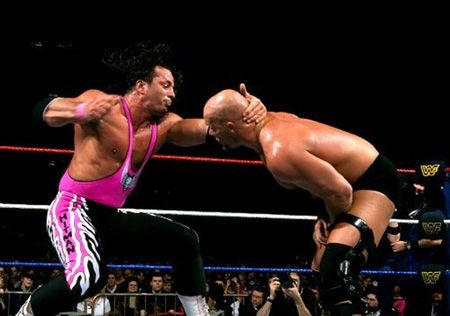 ---



MICHAEL WEYER
HM: Ultimate Warrior vs. Hulk Hogan, WrestleMania VI - Expertly planned out, a great clash of two mega-star champions that had the entire Tornto crowd on their edge of their seats for an upset victory by Warrior.
HM: Bret Hart vs. Shawn Michaels, WrestleMania XII - Beating the doubters, Bret and Shawn went Broadway in a 60-minute Iron Man match loaded with amazing moves and great storytelling, a controversial finish that finally boosted Shawn to the top as champion.
HM: Shawn Michaels vs. Mankind, Mind Games - Two guys seemingly a bad match instead turned in a fantastic war that went all over the place for a terrific battle and a highlight for WWF in that year.

5. Bret Hart vs. Mr. Perfect, SummerSlam '91 That this match turned out as amazing as it did is stunning considering the fact that Curt Hennig's back was screwed up six ways to Sunday and he shouldn't even have been in the ring. But Perfect wanted to give Bret the right rub in his long-awaited singles run for the Intercontinental title and he pulled it off. The two went at it in a wonderful clash of technical wrestling, some brawling too but mostly just wonderful mix of counters and moves back and forth with Bret's family looking on. Both men just gave their all, Perfect clearly in agony but still working better than most anyone as Bret helped him out selling every move and blow. In the end, a Perfect legdrop was countered into the Sharpshooter for the fast submission and Bret's first singles title. A fantastic fight by both men that reminds you of the glory days of the IC belt and why it meant so much.

4. 1992 Royal Rumble When it was announced that the vacant WWF title would be decided by the Rumble, there was some grousing over how this might seem a cheap victory by anyone. But damned if WWF didn't pull it off as fans were treated to what remains possibly the most brilliantly planned and booked Rumble of all time. Davey Boy Smith was #1 to quickly eliminate Ted DiBiase. Then, Ric Flair came out at #3 and proceeded to blow away his critics by sticking around for an entire hour, fighting every other guy in the bout at one point or another. It was terrific how it all worked, Flair alone at the ring at one point until Roddy Piper ran in, Flair facing other old foes like Greg Valentine and Kerry Von Erich. Better yet was Bobby Heenan in the greatest commentary job in wrestling history as he goes from confident to worried to pessimistic to outright suicidal as Flair's chances look poorer. In the end, Flair took advantage of a Hogan-Sid encounter to dump out Sid and win his first WWF championship, silencing those who considered himself over the hill. Beautiful to watch still as Flair reminded us all why he was and remains "The Man."

3. Bret Hart vs. Owen Hart, WrestleMania X High on the list of the best opening bouts in PPV history, Bret and Owen were out to steal the show and if they hadn't been forced to be on the same card as my number 2 bout, they'd have pulled it off. For twenty minutes, they put on a technical classic, Bret striving to keep it clean, Owen fighting hard and yet smartly not reducing to open cheating, out to prove he was the better brother. It's still beautiful to watch as years of working together since childhood meant the Harts knew how to put on a great show and showed it off wonderfully. In the end, Owen managed a surprise roll-up for a pin to be able to boast about getting the best on Bret. The fans were the winners as we got to see a pair of brothers who loved wrestling showing their passion off and feeding a hot crowd for a hot show with a great conflict.

2. Shawn Michaels vs. Razor Ramon, WrestleMania X Fans today brought up on the wild spot-filled TLC battles may dismiss this as rather slow and even boring. But in 1994, you simply did not see this stuff. You did not see a ladder used as a weapon to smash guys down hard, you did not see massive falls and brutal hits and hard flops like this. Michaels gets a lot of the credit but Ramon gave as good as he got, both mixing up well for a battle that helped elevate them both further into stardom. Even the usually jaded Madison Square Garden crowd had to react in stunned awe as this display that was unlike anything seen before. It made the IC belt so important to be used as the excuse for this fight as they both set the standard for every ladder match that's ever followed since in any company. Not just historical but still damn good and why it's remembered so well by so many.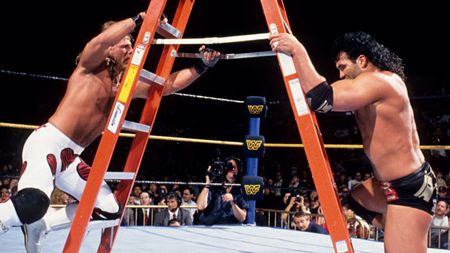 1. Bret Hart vs. Steve Austin, WrestleMania 13 My view of this match is much different than others on this site as I was there live. I was among the crowd cheering for Bret at the start but shifting to Austin as the battle went on. Yes, you get that power on TV, the wild brawl all over the crowd, the hard hits and such but being there in person, the mood was ten times bigger. It's easy to forget how skilled Austin was as a worker before his neck injury and Bret, of course, knew how to work a great match. Together, they put on a fantastic display of technical work turning into brawling with nasty hits and such. But that amazing feeling as the crowd responded to Austin, cheering him on as the battle continued, is what really makes this match so memorable. That shot of a bleeding Austin in the Sharpshooter, writhing in pain but refusing to submit, is what launched him into true super-stardom. Being there live to see this amazing battle remains my favorite moment as a wrestling fan and stands today as a bout that changed so much for those involved and why it tops my list.

---



Alex Crowder
HM: Shawn Michaels vs. Steve Austin, King of the Ring 1997 - Even though this match ended in a draw, I feel it was one of the most entertaining matches I ever saw.
HM: Hell in a Cell: The Undertaker vs. Mankind, King of the Ring 1998 - This is the most unforgettable wrestling match of all time.
HM: Steel Cage Match, WWF World Title: Bret Hart(c) vs. Owen Hart - I know they had a technical classic, but they also had the greatest steel cage match which I think is even better.

5. Special Guest Referee: Mr. McMahon, WWF Championship Match: Steve Austin(c) vs. Dude Love, Over the Edge 1998 - I feel like this match never gets the respect it deserves. This is the one match that used overbooking to perfection. Pat Patterson's over the top introductions make me laugh to this day. Mr. McMahon constantly changing the rules is great too. The Undertaker's presence is at ringside intimidating McMahon the entire time. Dude Love and Stone Cold have a brutal brawl on top of that. Whether it is getting thrown onto concrete or off a bed of cars, this match is crazy. Steve Austin finally outsmarts Mr. McMahon in the end. Another mention must go to King and Jim Ross who were at their best when announcing this match. You could tell both enjoyed the match and loved playing their parts. No match will ever use overbooking as flawlessly as this one did. This match deserves more love when it comes to all-time classics.





4. Bret Hart vs. Steve Austin, Survivor Series 1996 - This may have gotten number 1 on my list had another choice not been more influential. This match never gets old and is the perfect technical classic. I'll take this over almost any other match. Bret Hart and Stone Cold may be the best rivalry of all-time. Nothing compares to the greatness of these two sharing a ring. Every move has the right intention and hits with certain crispness. This match feels like a roller coaster where two titans clash. The ending is beyond perfect too. Steve Austin wanted to win so badly that he refused to relinquish the hold. This allowed Bret's counter to win the battle. Both men say originally that this was supposed to be their only match, but it went so well they ended up feuding almost endlessly afterwards. I think everyone that watched this match probably knew these two would meet again. I know others prefer another match, but to me this is the best of Bret Hart and Steve Austin. In addition, this is another catalyst to Austin's rise.

3. WWF World Title Match: Shawn Michaels(c) vs. Mankind, Mind Games 1996 - I actually prefer the Dude Love and Steve Austin match, but I cannot deny how important this match was to Shawn Michaels. Shawn Michaels despite his greatness had a pretty boy image that was difficult to shake sometimes. These two had completely different styles and meshed perfectly. Mankind brought credibility to Shawn Michaels' toughness that helped propel his character to new heights. On top of that, this showed that Mankind could go head to head with the WWF World champion. Also, many people consider this a 5 star classic even with a DQ ending. How many other matches that transpired in wrestling history can boast that? This match is one of the most intense brawls I have ever seen (Shawn Michaels stomping Mankind into the concrete comes to mind). Sadly, this is the one of the only times that any of us ever saw Shawn Michaels work with Mankind. These two had perfect chemistry that should have led to more matches.

2. Retirement Match: The Ultimate Warrior vs. Randy Savage, WrestleMania 7 - Every other match on my list has its own unique quality, yet I was missing a match that had flawless story telling. This match to me is the ultimate story in a pro wrestling match. Randy Savage and Ultimate Warrior are fighting for their livelihood. These two are heated rivals that put on great matches every time they wrestle. Ultimate Warrior wasn't known for being one of the best workers, yet Savage's meticulous planning brought the best from Warrior. I don't think either of these men ever matched the effort in this match. The story of the match is beyond incredible and ends in one of the best moments in wrestling history (Liz saving Savage). This match is also proof of Randy Savage being one of the greatest of all-time. The match has a hard fought battle along with a hint of romance and betrayal. What more can you ask for in a story?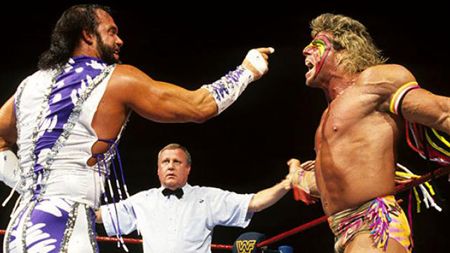 1. Special Guest Referee (Ken Shamrock) Submission Match: Bret Hart vs. Steve Austin, WrestleMania 13 - This will always be the most important match ever in my mind. This match cemented not only the rise of Stone Cold, but the WWF's peak (they ended up destroying all of their competition). The WWF ended up at the top of the mountain with no competition to combat it (to this day). This match single-handedly turned Steve Austin into the unstoppable force he became. Suddenly, the roles of villain and hero changed in an instant. This match is also a masterpiece. Few other matches can compare to the details of this match. I find it interesting that both men claim that the match left them nervous, yet it ended up being in the discussion for greatest match ever. This match has the qualities of an insane brawl and a technical classic. I'm not even sure what else to say. This match propelled the Attitude era and led to the true birth of the greatest superstar in wrestling history.

---



JUSTIN WATRY
5. Mankind Did It! - No honorable mentions from this guy. Instead of listing the same stuff and repeating the same lines over and over, I will select a few matches that meant a ton to the 1990's BUT have not been listed yet. Mankind defeating The Rock on RAW for the WWE Championship has to be discussed. It completely shifted WWE to "winning" the Money Night Wars against WCW. Also, the entire night was a big celebration of Mick Foley's career...and the never-ending nonsense that summed up WCW. Very fitting. This short Youtube clip explains it best:





4. Yokozuna Defeats Hulk Hogan - You could also include the WrestleMania IX ending but for opposite reasons. If there was ever a match to usher in a new era, it was the night of King of the Ring 1993. Hulk Hogan would not appear in a WWE ring for nearly a decade after this match. Both a blessing and a curse. There was a new champion in Yokozuna (again), all the while Shawn Michaels, Bret Hart, and others were leading the charge.

3. WrestleMania 14 Main Event - Recently on the WWE Network, Mick Foley got scolded on air for stating that Mike Tyson helped immensely with WrestleMania 14 and putting WWE over in a major way. Maybe that is why he has not signed a new WWE Legends Deal? Maybe, maybe not. I forgot who the other co-hosts were on the panel, but they laughed at Mick for saying such a thing and then put over Shawn Michaels and Stone Cold as the true stars. Mick sat there stunned, looking around confused asking others to back him up. Nope, they just mocked him for mentioning Tyson being involved in the WM14 main event. Well, Mick was right. We all love Shawn Michaels. We all love Stone Cold...but absolutely Mike Tyson gave WWE a boost! Huge moment for their business at the time. For that reason alone, it earns a spot.

2. Bret Hart/British Bulldog: Summerslam 1992 - I find this match to be over rated and outdated. In 1992, this was probably the best WWE match ever. Since then, hundreds if not thousands of matches have surpassed it in quality. Just my opinion. Even so, this is about the 1990's. Name me another WWE event that had over 80,000 fans in attendance. Name me the last time there was a BIG IC Title mach. Name me the last time WWE was overseas with a major show like Summerslam. For right or wrong, Bret Hart and British Bulldog get the spotlight here. Very, very, very good match!

1. Debuts - We all start somewhere. For WWE and their top stars of the Attitude Era and beyond, it all began in the 1990's. Yes, I am discounting their time in any other promotion. For The Undertaker, it was Survivor Series 1990. For The Rock, it was Survivor Series 1996. For Kurt Angle, it was Survivor Series 1999. For Stone Cold, it took stints in ECW and WCW before 'arriving' in WWE to reach the top. For Triple H, it took a few gimmicks, but he made it as The Game! For Kane, the Heck on a Deck door was not going to rip itself off. With Mick Foley, it took some convincing to get hired, however, his WWE debut was big in the mid-90's. All of these things may not have seemed important at the time but shaped an entire generation.

---


Robert S. Leighty Jr
HM: IC Title Ladder Match: Shawn Michaels vs. Razor Ramon (WM X) - The match that started the ladder craze!
HM: WWF Title: Hulk Hogan vs. The Ultimate Warrior (WM VI) - No match had the atmosphere of this one and they delivered big time to boot.
HM: WWF Title: Ric Flair vs. Randy Savage (WM VIII) - One of my personal favorites and all these years later I am still pissed at Flair for not showing the centerfold he promised.

5. WWF Title: Shawn Michaels vs. Mankind (Mind Games 96) - Mind blowing and insane match that sent a crowd in Philadelphia home happy. This is the match that showed Mick was a player in the WWF and showed that Shawn was more than just a happy go lucky boy with a dream. Foley called this the greatest match of his career at the time (I believe he has dropped it below his crazy brawl with Orton) and who am I to disagree with that assessment.

4. 1992 Royal Rumble Match - This was the Ric Flair show in the ring and the Bobby Heenan show on commentary. Flair went over an hour fighting off nearly all 30 guys that entered the ring at one point or another to win the WWF Title. Meanwhile this may be the Brain's finest hour on commentary as well (Mania VIII during Flair/Savage is damn close).

3. Hell in a Cell: Shawn Michaels vs. The Undertaker (Bad Blood 97) - Shawn sure has a way of making sure nobody can follow him when he is trotted out as a guinea pig for a new match concept. That was the case here in the cell as Taker beat the piss out of Shawn from one part of the cell to the other and then from the roof to the floor. This is closest thing you will see to a horror movie storyline as Shawn was the teenage girl being stalked and tortured by Taker's Jason Voorhes. Just a brutal, brutal match that is still probably the greatest Cell Match of all Time.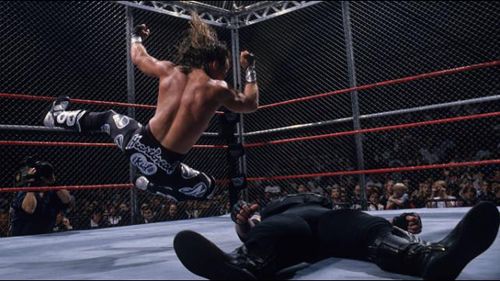 2. Retirement Match: Randy Savage vs. The Ultimate Warrior (WM VII) - If not for Steamboat/Savage, this is my favorite match of all time. The heat was off the charts and these two delivered a performance for the ages. The story in this one was fantastic as both men did everything possible and then some (5 flying elbows) to end the other guy's career. In the end the Warrior wins and things get even more dramatic from there. The post match stuff with Savage, Sherri, and Liz is the legendary and brings a smile to my face every time I see it. I can't praise this match and the angle that followed enough.

1. Submission Match: Bret Hart vs. Steve Austin (WM 13) - As much as I love Savage/Warrior, this is the match that defined the 90s and made the WWE into a juggernaut once again. The match itself is fantastic as you have two of the greatest of all time beating the piss out of each other at the biggest show of the year in front of a crazed crowd in Chicago. They told a spectacular story and pulled off the double turn so well that people have been trying to copy it ever since. The visual of Austin fighting with every ounce of his being while blood poured down his face is iconic and solidified him as the top star in the business and biggest star since Hulk Hogan.

---



Dino Zee
HM: Diesel vs. Undertaker, WrestleMania 12 - The first good match of Undertaker's streak, as the two giants delivered a fun, power move filled brawl.
HM: Shawn Michaels vs. Jeff Jarrett, In Your House 2, July 1995 - A forgotten classic to most, this match is balls to the wall fun for the Intercontinental Championship
HM: Bret Hart vs. Hakushi, In Your House, May 1995 - Bret works his magic with the Japanese import and the two put on an incredibly fun match. Could easily switch this with Bret vs. Jean-Pierre Lafitte for the same reasons.

5. Bret Hart vs. 1-2-3 Kid, Monday Night Raw, July 11, 1994 - This match absolutely blew me away back in the day, and repeat viewings don't hurt it at all. Bret and the Kid put together an incredibly fun title match on Raw, with Kid getting some excellent near falls before finally falling victim to the Sharpshooter. An excellent, fast paced, athletic encounter. Hunt it down if you've never seen it.

4. Shawn Michaels vs. Mankind, Mind Games, September 1996 - A fantastic brawl between two legends in the making, the finish absolutely hurts it, but everything else is incredibly fun. I remember heading into this match thinking that Michaels was completely out of his element, but he showed that he could absolutely hang in a wild brawl, and Mankind worked the same magic as he had with Sting years prior to get the most out of Shawn. A fantastic, fantastic matchup.

3. Randy Savage vs. Ric Flair, WrestleMania 8 - My favorite WWF match with no Bret Hart in it, some dock this match because of the criminal amount of cheating and shenanigans, but for me, it helps tell the story of Randy Savage doing anything he can to take the belt from Ric Flair, while the Dirtiest Player in the Game lives up to that name and then some in trying to keep his gold. In the end, it's Savage's cheating that nets him the gold, as he holds a fistful of trunks and ends the night with the belt, Liz, and pyro exploding behind him.

2. Bret Hart vs. Owen Hart, WrestleMania 10 - The brothers had their first one on one encounter in the WWF at this show, and boy did they live up to any and all expectations. There was great chain wrestling, some excellent counters, and even some heated brawling all mixed in. I remember as a kid thinking that Owen had no chance, and that this was just a warmup match for Bret to eventually win back the WWF title. When Owen reversed the victory roll and actually got the three, I was absolutely speechless. Regardless of my bummed out state, I knew that I had just watched an amazing match, and the best match of the night for WrestleMania 10.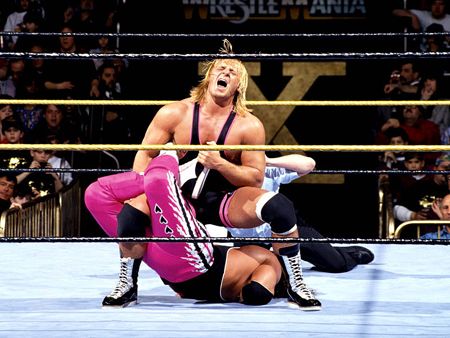 1. Bret Hart vs. Steve Austin, Submisson Match, WrestleMania 13 - Hey, yet another guy picking this match. This is, as I've said before, my absolute all-time favorite match ever, period. So this match will top any "Greatest Bret Hart matches" list, or "Greatest Steve Austin matches" list, or "Greatest WWF matches" list. This entire feud was perfection, with an absolute piece of art being put together here. At this point, you've probably read enough about this match, but let me just reiterate that if you've never seen it, please go do so. It's art.

---



Paul Leazar
5. 1992 Royal Rumble Match - Why not start of the list with the crème de la crème of Royal Rumble Matches. With the WWF World Heavyweight Title left vacant in the aftermath of two controversial finishes between Hulk Hogan & The Undertaker in the final months of 1991. To crown a new champion, the title was put up for grabs in the annual thirty man Royal Rumble match. This Rumble features a variable who's who of pro wrestling legends, fun midcarders, and other people we may not want to remember, Ric Flair artfully creates a legendary iron man run on his way to winning the whole shebang. What puts this match over the top as one of the best matches of the 90's? Bobby Hennan's announcing of the match very well deserves it own induction into the Hall of Fame. It's that damn good.

4. Randy Savage vs. The Ultimate Warrior in a Retirement Match @ WrestleMania VII - Arguably the very best match that The Ultimate Warrior was ever apart of, and featuring one of the most touching post match segments in wrestling history, Randy Savage & The Ultimate Warrior crafted one of the greatest matches in wrestling history. While not a technical masterpiece in any sense, it does feature some of the best storytelling you will ever see in wrestling. The two battle back and forth, unleashing everything in their arsenals, and looking about as tired as you'd imagine after a wrestling war the two put themselves through, the entire match leaves you feeling proud to be a wrestling fan.

3. Shawn Michaels vs. Bret Hart in an Iron Man Match for the WWF/E World Heavyweight Title @ WrestleMania XII - Being a whole eight years old at the time, and watching this match live with my next door neighbor at the time who was the same age as I was, you can take what I say to the bank. This one hour classic will leave you glued to the television screen no matter how old you are. These two battle back and forth, giving you every bit of energy they posse to put on one of the most stellar wrestling matches of the nineties. With Shawn Michaels having won the Royal Rumble, and with Bret being the fighting champion we all knew and loved, how could you not fall in love with this classic match-up that features a very heartfelt moment from Shawn Michaels when he finally captures the big one on the grandest stage of them all.

2. Bret Hart vs. Owen Hart in a Steel Cage for the WWF\E World Heavyweight Title @ Summerslam 1994 - This is THE blueprint for a steel cage match. We've all seen our fair share of cage matches, and outside of Magnum T.A. vs. Tully Blanchard, I've yet to see a cage match that can top this. Sure, it has some of my childhood colorization on it, but you cannot deny that these two brothers created something that has and will stand the test of time. Owen's constant hunt to be the best Hart and prove that he is more than Bret's baby brother made for an exciting year of WWF/E programming, with this match proving to be the crown jewel out of all of their encounters against each other.




1. Steve Austin vs. Bret Hart in an "I Quit" Match, WrestleMania XIII - I'm sure a lot of the other guys have thrown around a lot of other terrific matches that deserve the #1 slot, but I have yet to find a match throughout the 90's in the WWF/E that I could watch forever on loop without ever getting tired of it. These two legendary wrestlers crafted one of the best brawls in the history of wrestling, and manage to create the very best double turn in wrestling I have ever seen, and probably ever will see. This one literally has it all. Blood, vicious chair shots, a memorable ringbell shot to the forehead of Steve Austin, JR's endless talk of intestinal fortitude, and quality Vinny Mac announcing to boot. I defy anybody else to name a better match than this one from the 90's in the WWF/E.

---
YOUR TURN KNOW IT ALLS

List your Top Five for this week's topic in the comment section using the following format:

5. CHOICE: Explanation
4. CHOICE: Explanation
3. CHOICE: Explanation
2. CHOICE: Explanation
1. CHOICE: Explanation
Your heart is free. Have the courage to follow it…TO CSONKA'S TWITTER!

http://www.twitter.com/411wrestling
http://www.twitter.com/411moviestv
http://www.twitter.com/411music
http://www.twitter.com/411games
http://www.twitter.com/411mma

Have you checked out the Csonka Podcasting Network? If you haven't, you should We run anywhere from 15-20 shows a month, discussing pro wrestling, the world of MMA, the NBA, general sports, popular TV series of the past, bad movies, battle rap, interviews, MMA & Wrestling conference calls and more! Around 10 different personalities take part in the various shows, which all have a different feel; so you'll likely find something you like. All of the broadcasts are free, so go ahead and give a show a try and share the link with your friends on the Twitter Machine and other social media outlets! Running since May of 2011, there are currently over 500 shows in the archive for you to listen to.



Larry Csonka is a Pisces and enjoys rolling at jiu jitsu class with Hotty McBrownbelt, cooking, long walks on the beach, Slingo and the occasional trip to Jack in the Box. He is married to a soulless ginger and has two beautiful daughters who are thankfully not soulless gingers; and is legally allowed to marry people in 35 states. He has been a wrestling fan since 1982 and has been writing for 411 since May 24th, 2004; contributing over 3,000 columns, TV reports and video reviews to the site.
comments powered by