SPOTLIGHTS
The 8-Ball 7.07.14: Top 8 Alternate Endings for MITB
Posted by Mike Hammerlock on 07.07.2014

From Roman Reigns walking away with the title and Cesaro helping Cena win to Brock Lesnar taking the belts for himself and more, 411's Mike Hammerlock counts down the top 8 ways WWE could have had a better Money in the Bank ending!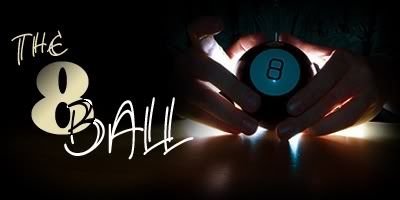 To say the least, I was less than enthused by the ending of Money in the Bank. It was a terrible, telegraphed finish. Anyone who was paying a small amount of attention leading up to the event knew John Cena was going to get the win. Even worse, he hung around the periphery of the match until the very end, when he climbed the ladder, unhooked the belts and the bulk of the WWE universe got that queasy "Oh no, not him again" feeling.

Supposedly this was necessary to get us to Cena vs. Brock Lesnar at SummerSlam. I don't have one single problem with that match at that event, but this was not nearly the best way to get there. It's a symptom of a more pernicious disease with the WWE. The storylines are becoming too programmed and predictable. I mean we're already being told the payoff for all of this will be in nine months when Roman Reigns (a guy fans clearly would love to see win the title right now) wins the WWE title at WrestleMania. Nine months? Is Reigns having a baby? Because if he's not that's a long to wait for the obvious.

First, if this is in the bag, then why am I watching between now and WrestleMania? Seriously, that's the worst kind of storytelling. Hey everyone, Ned Stark gets his head cut off at the end. Now read a thousand pages so you can get to that shocking moment when, whoa, Ned Stark gets his head cut off. Second, the WWE may have noticed that wrestlers tend to get injured. Waiting nine months might mean you miss your Reigns window.

Anyway, rather than just toss grenades at what the WWE did, this week's 8-Ball is going to look at the top ways the WWE could have done something different and vastly more interesting at MITB while still getting to Lesnar-Cena at SummerSlam. The tasks put before the Magic 8-Ball this week are that the MITB finish has to throw the fans a curve and that the rest of this summer not be a slow crawl to a match we all know is coming.




8. Sheamus: Red Devil



The WWE needs heels. A Sheamus turn would have blown minds. He could have dominated the match, which he pretty much did anyway.At some point he could have teamed with Cena and Reigns to clear out the bad guys and then, at the crucial moment, he could have turned on his erstwhile allies to win the belts for himself. The quality he's exhibited in the ring since his return at the Rumble deserves recognition. Fans clearly haven't appreciated his efforts as much as they should. Time for Sheamus to do for Sheamus. They could have booked him into a three-way dance with Cena and Reigns at Battleground, with Cena taking the belts, and Sheamus and Reigns heading off to a feud of their own. Perhaps even have Lesnar invade the Battleground title match, laying waste to everyone with Cena recovering first to crawl onto the nearest body for the win. Sheamus could head down a dark path from there. Main thing is MITB would have had the big, shock finish that got everyone buzzing rather than an obvious finish that got everyone yawning.




7. Bad Cena



When you lay around doing nothing all match long and vulture the win, when you hold up the title and everyone boos, you're a heel. The unified title was the one thing John Cena had never won, rather than tell the same Cena overcomes story for the thousandth time, tell the story about how John Cena made a deal with the devil. Orton climbs the ladder. Kane grabs his ankle. Orton looks at him in shock. Cena jumps in, hits the AA on Orton and climbs to victory with Kane holding the ladder. The next night HHH comes out with Rollins and declares "There's always a Plan B … but sometimes there's a Plan A."

Why? Lots of people lost their jobs recently. Good people, friends of Cena. The young guys have talent, but they aren't ready to carry the ball, to be the man. Much as it pains him to say this, John Cena winning at MITB was best for business. He simply couldn't let the company he loves take it on the chin anymore. When HHH came to him and explained the situation, he knew what had to be done. This is about loyalty to the WWE and to every guy in that locker room. You know Cena as champ is the right thing to do when hard times come. You know Cena is best for business. It's a burden he accepts. Then when Lesnar comes out to challenge him a few weeks later, the fans go wild. Hey Johnny, we'll tell you what's best for business.




6. Cesaro: Agent Provocateur



Have Paul Heyman secretly orchestrate a Cena win in order to set up Brock Lesnar getting a title match and his revenge upon Cena in one fell swoop. No one, not even Cena, would see it coming. Kane was supposedly the guy sent in to make sure the Authority got its outcome, but while the Authority is brazen about its naked displays of power, Heyman is devious. He'd let Kane and Orton play their game, thinking they've got things in the bag, only to have Cesaro wreck them and open the door for Cena. On Raw, Cena would then come out to proclaim he prevailed again. Hustle, loyalty and respect, y'all. Then Heyman comes out to reveal that Cena is exactly where Paul Heyman and Ba-rock Lesnar want him to be. Lesnar doesn't do tiny fights. He does epics, and Cena is the guy he wants to beat at SummerSlam.




5. Reigns: Win and Screw



Let Reigns get the big win and establish himself as a legit champ. The Authority can't have that, not even one little bit of it. On Raw, Trips and Steph declare a battle royal for the title. Reigns, Cena, Orton and Kane are the final four with Cena being the lone survivor. Book it as Orton and Kane get so focused on taking out Reigns, it opens the door for Cena. It sets up the Battleground four-way (where Cena pins Kane like he's going to anyway) and eventually Lesnar-Cena at SummerSlam. Meanwhile, Reigns gets that championship credential. The Authority can screw him out of his rematch clause (what do you think that Fatal Four-Way match was?) and then we get the story of Roman Reigns looking to reclaim what's rightfully his. Mind you, Daniel Bryan and Randy Orton can make that exact same case, which only adds to the intrigue. That's an awful lot of rightful champs running around at the same time.




4. Shades of Vince Russo



Going meta on this whole situation, what happened at MITB was about stability. We were more or less told John Cena was winning. We're also more or less being told that Lesnar is winning at SummerSlam. Big names will carry the belt until next year when supposedly Roman Reigns gets his big win. That's so stable I'm already bored. Why not inject a little 1999 into the mix? You remember 1999, don't you? The WWE swapped the belt around between seven different guys: Rock, Austin, Mankind, Undertaker, HHH, Big Show and Mr. McMahon. In all, there were 10 WWE title changes that year, which most wrestling historians consider to be the year where the WWE began to dominate the Monday Night Wars. The upside of all those title changes was that it minted a whole bunch of guys as main eventers and no one lasted long enough as the titleist to get stale with the audience. Literally, at any PPV or Raw episode you figured there was a decent chance of seeing a title change. It was the best kind of chaos. This would be a great time to see it again.

Reigns, Cesaro and Wyatt have never held the belt, which means they've still got that upper mid-carder stigma attached to them. The logic we get tossed on this subject is none of them are ready to be champ because none of them have been champ. Seriously, more people need to read Catch-22. Anyway, the WWE could have cycled through two or three different title reigns this summer before Cena or Lesnar grabbed the belt to set up the SummerSlam main event. This way the next generation could get those pesky first title runs out of the way while fans would be on the edge of their seats. The build toward Lesnar-Cena is making us all complacent. It would have been much better to have it come out of a "Holy crap, what are they going to do next?" summer.




3. Godzilla Invades Boston



Why does Cena have to be the champ going into SummerSlam? I mean, Brock Lesnar could be the champ and you'd get the same match. Real simple. Lesnar marches out during the final phase of the MITB match, crushes everyone in sight, grabs the belts and walks out. Every WWE fans gets a "This is awesome" boner in the process, even the women. Is that fair? No, but Brock has the belts and YOU take them from him if you want them. Cena emerges as the logical challenger because he has beaten Lesnar and he's got this supposed knack for winning big matches. I mean we're told this is all going to pay off in August, but you know what's better than having a great time in August? Having a great time right now and then still having a great time in August. To quote Andrew Eldritch, "I don't know why you gotta be so undemanding. I want more."




2. No Title Required



Rather than make it a title match, make it a match for a title shot. Lesnar vs. Cena doesn't need hardware in order to make it interesting. It's a headline match in the same way Undertaker vs. just about anybody or Shawn Michaels vs. just about anybody became a headline match. Cena could have come close to the win at MITB only to lose it. Then he could have been in something like the Fatal Four-Way at Battleground, once again falling short. After two close calls he could demand he get a 1v1 against the champ with Heyman interrupting his spiel, noting that if anyone deserves a 1v1 shot with the champ at SummerSlam it's Ba-rock Lesnar. Cena reminds everyone he's the 1 in 1-0 between him and Brock Lesnar. At that point Lesnar comes out, lays waste to Cena and we get a match fueled by Lesnar's need for revenge (plus his unflinching desire to claim his spot at the WWE's alpha male) and by Cena's increasing desperation to grab the big prize that continues to elude him. Two guys with everything to lose would give the match an eliminator feel. From a booking standpoint, they'd have to throw everything at each other. If it's Cena as champ vs. Lesnar as challenger at SummerSlam, Cena does still have the possibility of a rematch. In the no-title scenario, the loss would be heartbreaking. The loser would go to the back of the line. As for MITB in this scenario, then the WWE could hotshot the belt around the waists of some of the up-and-coming guys.




1. Don't Screw with Dean Ambrose



Consumed by a need for revenge for Kane screwing him out of the MITB briefcase, Ambrose ruins the Authority's party by wiping out Kane and Orton and grabbing the belts to end the night. Just like Seth Rollins proved prophetic when he insisted there's a always a Plan B, Ambrose would prove prophetic that he'd ruin the WWE's little MITB party. It would push Ambrose closer to the main event picture and fans would have gone crazy for him bringing some Attitude-style ruination to the end of the event. Meanwhile Abeyance would continue to have an iron grip on the title. To sort it all out, the 8 guys then would be entered into a tournament that would culminate at Battleground. Last two are Cena and Cesaro. It gives you time to build a story around how much this means to Cena and it puts Cesaro in a main event. It also gives Heyman a reason to bring in his other guy when Cesaro fall short.

I take requests.. The purpose of this column is to look forward. What could be? What should be? What is and what should never be? What would make more sense? If there's someone or something you think should be given the 8-Ball treatment, mention it in the comments section. I might pick it up for future weeks.

comments powered by