SPOTLIGHTS
The Magnificent Seven 7.12.14: The Top 7 Most Interesting WWE Social Commentaries of the Last 10 Years
Posted by Mike Chin on 07.12.2014

From the Straight Edge Society's no drugs attitude and Muhammed Hassan as a terrorist heel to Darren Young coming out, Cryme Tyme's African-American stereotyping and more, 411's Mike Chin counts down WWE's top 7 most interesting social commentaries from the past decade!

There's a popular saying in wrestling circles that pro wrestling is "Shakespeare for the masses." The label is indicative of sports entertainment's appeal to a general audience—learned and unlearned—in addition to its escapist qualities that help the everyman (and woman) retreat to a world removed from their real lives and surroundings.

Like Shakespearean plays, the lessons pro wrestling propagates through angles and matches are suggestive of societal norms, or at least the perspectives of the bookers and, to an extent, the consumers of the wrestling product. With all of that said, I think it's especially interesting to look at what professional wrestling--and particularly WWE, as the best established wrestling promotion today--have to say about social issues and dimensions of diversity including race, gender, sexual orientation, religion, socioeconomic classes, and international relations. So, this week, I'm looking at seven of WWE's most interesting social commentaries from the last ten years.

Note: I typically don't include honorable mentions, but for further thought and consideration in the comments section, some narrow misses included the Eugene character for its representation of intellectual disability, Jack Swagger as a Tea Party heel, Rusev as a de facto representative of Russia, Daniel Bryan's Yes Movement, JBL's millionaire character, the rise and fall of one-legged Zach Gowen, and Vince McMahon calling John Cena, "my [n-word]" live on pay per view.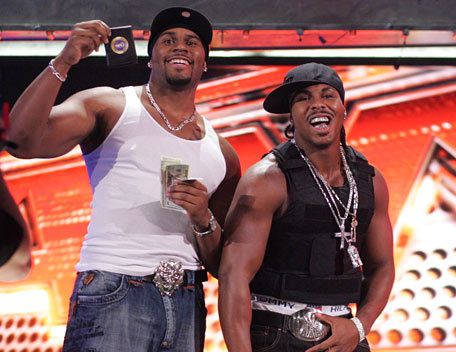 #7. Cryme Tyme



Take two young stars—a big power wrestler and a smaller guy with more athleticism and charisma. A similar formula has worked reasonably well for a variety of teams ranging from greats like The Hart Foundation and The Brain Busters to serviceable mid-card squads like Power and Glory and today's Rybaxel.

Indeed, Cryme Tyme seemed set up for reasonable success—except they were black. Race may not have mattered had WWE not proceeded to build their entire gimmick around them stealing things from other wrestlers, only to pawn them off to score a quick buck.

In another era, it might be easier to understand this brand of casual racism, but Cryme Tyme had its WWE runs from 2006 to 2010 at a point when you'd really think the company would know better. There are counter-arguments—that the act was a satire, or that having a gimmick at least offered the team greater longevity than they would have otherwise had as directionless mid-carders. Each of these arguments is supported by the fact that, as a team, JTG and Shad Gaspard were always faces (though Gaspard turned heel for his brief solo run), and that their pairing came on the heels of Eddie Guerrero's success as a hero who lies, cheats, and steals. Just the same, saying that the team was a joke still implies that the joke was funny, which demonstrates a remarkable lack of sensitivity for such a major company in such a recent time period.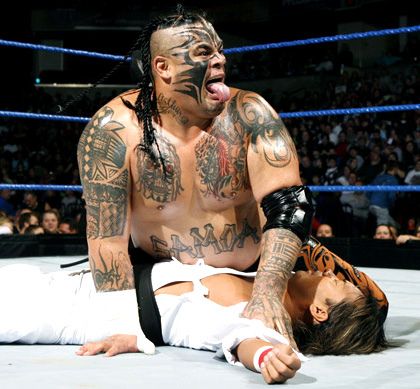 #6. Umaga



Wrestling has a history of uncontrollable savages, whether we're talking about Kamala as the Ugandan Giant, or The Wild Samoans tag team. But in 2006—concurrent with Samoa Joe running wild as a stiff, straight-laced, submission wrestler in TNA and the indies—Eddie Fatu got handed the gimmick of Umaga, the Samoan Bulldozer who only listened to his handler, Armando Alejandro Estrada, and later the McMahons.

In all fairness, Umaga was far more successful than one would expected—a legit fringe main eventer who had very good matches with the likes of John Cena and Triple H, and was a perfectly reasonable upper mid-card threat beyond that point. Just the same, the story of the non-verbal, uncivilized beast felt strikingly anachronistic for WWE to use in the late 2000s. As wrestling got its druthers in one of its most reality-based eras, Umaga simply didn't fit and felt like exactly the sort of throwback wrestling fans had to shrug their shoulders at when they tried to justify their love of sports entertainment to people who didn't understand.

Perhaps worst of all, WWE didn't seem cognizant of the xenophobia it engendered with the Umaga character, going so far as to feature the character in the extraordinarily high profile "Battle of the Billionaires" match at Wrestlemania 23 opposite Bobby Lashley. Not unlike the Rusev character (whose push is purportedly based on Umaga's first run) the character is all about how what is foreign and different is also inherently weird and scary.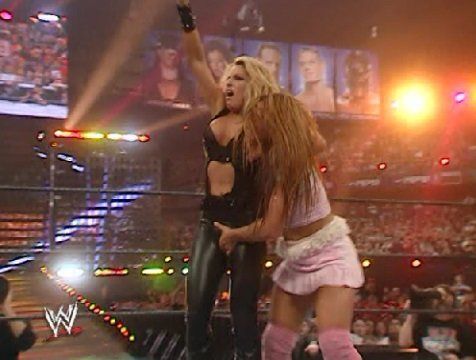 #5. Micke James


The angle by which Mickie James entered WWE, as a crazed fan/lesbian stalker for Trish Stratus taught us two important lessons about how WWE sees women. First, it reinforced that, although the Attitude Era was over, WWE would continue the tradition of viewing women as sexual accoutrements over athletes—saddling even two of the brightest female stars of their adjacent and overlapping eras with a sex-centered angle. Moreover, the company demonstrated it's understanding of lesbianism, not so much as a natural orientation but as something only an insane woman could embrace—and that such a woman would automatically default to the same brand a bombshell sexiness that Stratus represented, and aim to all but sexually assault the object of her affections the way the worst of mankind would (say what you will—the climax of their WrestleMania 22 showdown feels oddly rape-y in a way that even Goldust in his prime never really broached).

To be fair, I wasn't above enjoying parts of the Stratus-James angle as much for the solid ringwork as for the escapist fantasy qualities the angle represented. Just the same, it's more than a little sad that one of WWE's only really compelling female-centered angles of the last decade had to revolve around such a juvenile take on a lesbian character.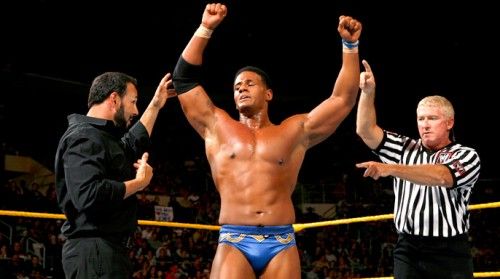 #4. Darren Young



I have given (and will continue to give) WWE a lot of flack over the course of this article, but where reality meets booking, WWE actually did a pretty admirable job of working with Darren Young when he became the first for-real, openly gay active WWE superstar. After Young came out, the WWE brass sent Tweets applauding his courage and accepting him in the WWE Universe in an extroverted fashion. In another era, the promotion may have promptly taken to having Young wear eyeliner and pink trunks, and have him gyrate against his opponents as an effeminate heel. To the contrary, WWE celebrated its first openly gay wrestler by actively turning his tag team face and giving The Prime Time Players a mini-push.

Perhaps the most telling part of all for this story was where it led. While Darren Young and Titus O'Neil performed as faces and picked up a few wins, they never really climbed the ladder. Then O'Neil turned on his partner and defeated him soundly in the grudge match to follow at Elimination Chamber. Some might argue that Young was punished for being gay, but I'd actually contend WWE was better than that. They didn't punish Young. Nor did they reward him. They kept a solidly middle card act right where he was, and right where he belonged, independent of his sexual orientation. In so doing, WWE didn't go out of its way to make Young a poster boy, or a token success story—it affirmed that sexual orientation really didn't matter, and went about its business.

(Note: there's probably a whole other argument to be made here about the intersection of sexual orientation and race, and that were Young a white man WWE would have pushed him harder. That's not an argument that I'm prepared to do more than acknowledge at this moment.)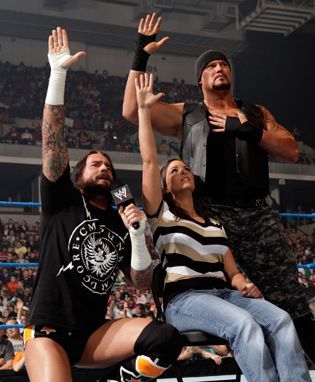 #3. The Straight Edge Society



The last decade has been one of image scrubbing. Between the Chris Benoit tragedy, the mire of other performers who died too young, the history of the early nineties steroid scandal, what we've learned about concussions, and morally void Attitude Era, WWE had some ground to regain in the public eye, and took on PG programming wholeheartedly. In such an era, who could be a more effective main event hero than a performer who doesn't so much as drink or smoke—who lives his life by a straight edge code—besides being top-notch in-ring performer and arguably the best promo guy of his generation.

Wasn't CM Punk a slam dunk as a face?

While a longer history would tell the tale of Punk arriving as a high profile good guy based on his worked shoot promo work, he traveled a lengthy road to get there. The conventional wisdom is that Punk first truly found his footing in WWE when the promotion made him a heel based on the very virtues the company otherwise celebrated you.

WWE is no stranger to satire. During the Attitude Era, Right to Censor was essentially heel for espousing traditional values. Today, Bo Dallas is a villain because he purports to inspire others through platitudes and hugs. WWE makes fun of what its fans make fun of—but CM Punk was different.

While WWE may have valued Punk as a straight edge champion, the company nonetheless ultimately understood his values as heel fodder, seeming to say: OK, this guy isn't doing anything wrong, but just the same he's taking his virtues too far. The dude must be crazy.

And the Punk character was crazy, not as a lone wolf with a code, but rather an evangelist for his own values and ultimately a cult leader. As such, WWE put the straight edge movement in a box, and made it the focal point of a borderline sacrilegious character, which transferred pretty fluidly to the Punk-led, fundamentally darker incarnation of The Nexus.

Yes, WWE would come around to Punk as a face again, then a more mainstream heel, then a face again before he walked away from WWE. Just the same, The Straight Edge Society marked WWE's first attempt at really defining Punk's character, and stands out as a pretty fascinating glimpse at how WWE views other-ness from a behavioral stand point.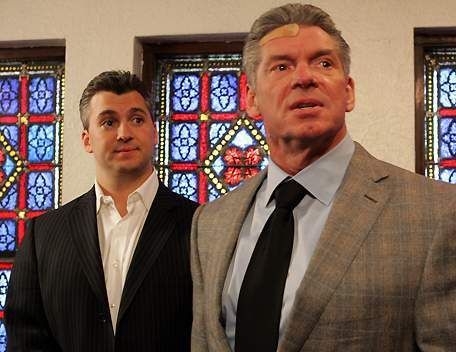 #2. Vince McMahon vs. God


WWE has dabbled in religion off and on for decades. There was Hulk Hogan's mantra, telling kids to "Say their prayers," not to mention that he typically appeared wearing a cross, thus extolling the presumed Christian values of the core audience. There was Papa Shango as a practitioner of Voodoo. Friar Ferguson got a brief run (before WWE purportedly dropped the character due to criticism from the church; this gave way to rebranding and the rise of Bastion Booger). The Undertaker strapped Stephanie McMahon to a cross in his Ministry days. And before he turned into vampiric Kevin Thorn, Mordecai starred briefly as a monster heel and religious zealot.

But in 2006, WWE took religion to a new and weird extreme. Amidst a feud with born-again Christian Shawn Michaels, Vince McMahon picked a fight with God, going so far as to book Michaels with God as his tag partner to square off against Vince and Shane McMahon. WWE walked an unusual line, at once sort of implying God didn't exist in having the lord as a non-factor in tag match, and yet also clearly implying there was a God when bolts of lightning threatened to strike McMahon dead on a Raw leading up to the confrontation.

The most memorable part of the angle may be the McMahon men wandering into a church, in which McMahon proceeded to sip a mouthful of holy water and imitate Triple H's water-spewing entrance. The moment was certainly worth a chuckle but also demonstrated a disrespect for sacred religious imagery that WWE had scarcely broached up to that point—much less with the company's owner perpetrating the deed. The moment set the tone that religious beliefs and values were no longer a given in WWE; nor was shunning them truly grounds for generating heat on a heel. On the contrary, the moment seemed to assert that Christianity was fair game for comedic fodder.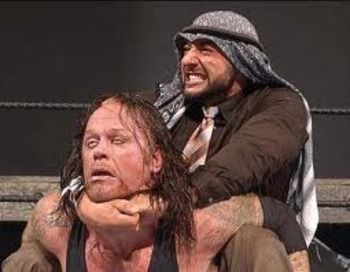 #1. Muhammed Hassan


For me, Muhammed Hassan will go down as one of history's most fascinating case studies in wrestling booking, politics, and outcomes. The character started out as a truly complex one—just an American of Arabic descent, who received racist reactions from his countrymen in the aftermath of 9/11. He was a note-perfect heel in the sense that he was actually pretty justified in his discontent—and just the same was vicious in the ring and (purposefully) annoying enough on the mic to draw heat.

Maybe the storyline was too convoluted, or maybe WWE underestimated its audience. Regardless, shades of gray booking gave way to Hassan leading a pack of ski-mask-wearing caricatures of terrorist cronies in an assault on The Undertaker. The attack happened in July 2005, in close proximity to the London bombings. UPN, the network airing Smackdown at the time, threw a fit and compelled WWE not to allow Hassan on the show again. WWE complied and what may have been designed as a stepping stone for Hassan—feuding with 'Taker—turned into the end of his career as WWE had The Dead Man bury Hassan at the next PPV, and never had him appear on screen again, before releasing him that September. While most wrestlers his age (he was 24 at the time) and abilities would have worked the indies and likely surfaced in TNA at one point or another, Hassan retired altogether from professional wrestling.

Rarely have reality and WWE storylines intersected in more potent ways than in Hassan's story. After feuding with Hulk Hogan, Shawn Michaels, and The Undertaker, the man looked primed to become a world champion of similar ilk to 1990-1991 Sgt. Slaughter. Instead, he wound up an unusable talent, future endeavored way before his time. One could suggest that Hassan, the man, ultimately fell victim to a similar brand of discrimination to what the character accused his American opponents and the fans of; one of the great ironies of the situation is that Hassan—real-life Mark Copani—wasn't Arabic at all, but rather an American of Italian descent, hailing from upstate New York.

There's plenty of argument as to whether WWE should embrace or steer clear of current events—particularly as it pertains to using international affairs to play off the stereotypical wrestling fan's xenophobic tendencies. One has to wonder if Rusev and Lana will, in the long run, be better or worse off for their kayfabe connections to Russia. That said, Hassan's story will always stand out as a worst case scenario, when WWE booking went too far-a-field, combined with poor timing in relation to real-world events, and resulted in the destruction of a promising young star's career.

Which WWE social commentaries interest you? Let us know in the comments section. See you in seven.

Read stories and miscellaneous criticism from Mike Chin at his website and his thoughts on a cappella music at The A Cappella Blog. Follow him on Twitter @miketchin.
comments powered by