SPOTLIGHTS
Wrestling's 4Rs 7.11.14: WWE Monday Night Raw & Csonka's Updated 2014 PPV Rankings
Posted by Larry Csonka on 07.11.2014

John Cena faced off with Seth Rollins in the main event, Paige teamed with AJ Lee against The Funkadactyls, The Miz battled Chris Jericho and more! Wrestling's 4Rs breaks down the Right, the wRong & the Ridiculous of WWE Raw &


How the 4Rs of wRestling Work!
Here is a quick explanation of the 4R's. The column will run TWO times a week. We will group our feelings on the shows in various categories: The Right, the wRong and the Ridiculous. The Right is stuff that worked very well: a great promo, a great match and so on. PuRgatoRy is a section between the right and wrong. It shows equal traits from both sides that cannot be ignored and need discussed. It is not a bad place per say, as things can get remedied or go the wrong way the very next week. The wRong is what it sounds like: bad matches, bad or boring promos and so on. The Ridiculous is stuff that had no right on TV: Stupid angles and so on. And there is always a possibility of a 5th R, which is as bad as they come. This column is supposed to be analytical, and at the right time very critical of the shows, it was the whole reason it was created. This is not a "mark" column, nor a "smark" column, our goal is to analyze the show from many different fronts, reward the good and call out the bad. We will not apologize for our opinions, they are as they are, whether positive or negative.
---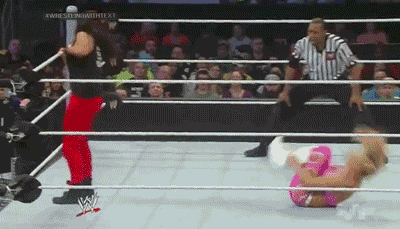 It's quite hypnotic….
By: Jack Stevenson
Raw 7.07.14:
QUICK MATCH RESULTS:
The Wyatt Family d. The Usos

Rusev d. Rob Van Dam

Randy Orton d. Dean Ambrose

Alberto Del Rio d. Dolph Ziggler

Sheamus d. Damian Sandow

Chris Jericho d. The Miz

Paige & AJ Lee d. The Funkadactyls

Kofi Kingston d. Cesaro

Bo Dallas d. El Torito

John Cena d. Seth Rollins via DQ


THE RIGHT:
Roman is Raw: Raw began with Roman Reigns marching through the crowd, which is one of his favorite past-times. His destination was the ring, his purpose, to cut a badass promo on the Authority. It was so refreshing and different in every way from the usual opening monologue- it was razor sharp and straight to the point, not even close to 5 minutes long, and with much more of an edge than you might expect. He branded Kane "Randy Orton's bitch" and claimed that, compared to Reigns himself, John Cena really did suck. Both comments got a predictably huge reaction, and with every week that goes by it becomes more and more apparent that all his shortcomings in the ring are irrelevant- this guy is WWE's future. He can hold the crowd in the palm of his hand with just a handful of slow, considered sentences, he's turned 'a jumping punch' into one of the most recognizable and devastating moves in all of WWE, and he's just cool as fuck. As for the rest of the segment, Kane took exception to Roman's insults and came out for a fairly fun brawl in which well meaning road agent Finlay was nearly speared out of his boots. Does this mean we get to see Roman Reigns vs. Finlay? No, probably not :( Still, a fine opening to the show.

The Usos vs. The Wyatt Family: OK, obviously just rerunning the Usos vs. The Wyatt Family over and over again until the implosion of the universe occurs isn't a viable strategy for the tag division, and new, competitive, dangerous teams desperately need to be added into the mix. But The Usos and the Wyatts seem to have been fighting each other for a long, long time, possibly since the implosion of a hypothetical pre-existing universe from trillions and trillions of years ago, and it still isn't getting boring, watching them get in the ring and bludgeon each other. This was another excellent outing from these four, with the usual mix of explosive strikes and Usoicide dives and exciting near fall sequences. I guess they'll be another match at Battleground for the titles, which the Wyatts will win, which I'm totally on board with, as much as I like the Usos. Surprisingly few complaints from me here, despite how repetitive this should be by now.

Dean Ambrose vs. Randy Orton: I thought this was largely a really fun match. The early stages kind of aimed for 'gritty' and ended up with 'a bit dull,' but there were some nice flashes of Ambrose's unique offense and mannerisms. As the match wore on it got better and better, they never really hit the heights they could have done, but there were some good near falls. and Ambrose hurling five chairs into the ring for absolutely no reason whatsoever was pretty funny. There was a little sloppiness in places, but these two are going to have a terrific PPV match sometime in the future.

Dolph Ziggler vs. Alberto Del Rio: There was a lot to like about this. With barely any time to work with Ziggler and Del Rio just went straight to hitting the cool spots and big moves, which was a pretty smart strategy; the highlights of this were much more highlight-y than an equivalent Raw midcard match, Ziggler getting caught in the ring skirt and Del Rio's cool as fuck vertical suplex off the top rope. Sadly, they finished in stupid fashion by having Ziggler totally forget about the fact he was on the brink of beating Del Rio because Fandango started dancing on a table. And, hey, listen, I'm not saying Fandango pouting and slowly gyrating and fluttering JBL's cowboy hat in an alluring way ISN'T utterly hypnotic, because it absolutely is, but in the context of a wrestling match it made Ziggler look so silly. Fandango was great though- he was doing guest commentary and was equal parts funny and sleazy, and his dance at the end was that of someone who is so comfortable in his character and is really passionate about performing it. Mostly this was pretty great.

The Hitman cometh: Bret Hart dropped by to say hello and punch Damian Sandow in the head. He accomplished both of those things. I like Bret Hart a lot and it's always cool when he appears, even though he always seems vaguely bemused and tired. It was really nice to see him in front of an adoring Montreal crowd. It was even nicer to see Jerry Lawler stand, happy and healthy, in the same building that he almost plunged into the abyss from two years ago. The huge response he and the doctors that saved him got was just lovely. A thoroughly likeable way to spend a few minutes.

Chris Jericho vs. The Miz: Again, lots to like here. First of all, let's discuss the new Miz. He's no longer a loud obnoxious brat- the Miz has grown up. He speaks much more slowly and quietly, he maintains this kind of arrogant distance from everyone around him, he's now so convinced of his own superiority that he doesn't feel the need to bellow that fact at people. In many respects, he's like 2009 Chris Jericho! He's also like 2003 The Rock, and 1991 Rick Martel (the first thing he did having shrugged off a Chris Jericho attack was nervously feel his own face to make sure it hadn't been damaged). He's meshing bits and pieces of different characters together and hoping to create his own identity- in one respect it's working, as this is the most watchable he's been in quite some time, but in another respect it isn't because the debt he owes to all these different people is too obvious and people are going to keep comparing him to them, especially The Rock, which is a comparison few people could take on favorably. Still, there's promise there. Chris Jericho looks like he hasn't missed a beat and his brief promo against Bray Wyatt was terrific- I think the younger Chris Jericho would have fallen into the Cena trap of trying to wise-crack against someone who really needs to be taken seriously, but 2014 Chris Jericho is colder and more battle hardened, so it worked tremendously. Bray Wyatt did his usual, which is totally fine but not all that compelling anymore. On the whole though, this segment was hugely enjoyable.

El Torito vs. Bo Dallas: Bo picking on El Torito is a really great move to develop the character. We're seeing his mask of serenity slip as he tears into the helpless bull and essentially just bullies him, before he quickly regains his composure and tries to be inspirational Bo Dallas again. El Torito has a weirdly strong gravitational pull considering he's relatively small, it sucked 3MB in and two of them never escaped. I hope that doesn't happen to Dallas. As long it doesn't, this was a clever segment and a good step for Bo's character.


puRgatoRy:
Nikki Bella vs. Alicia Fox: This was meant to be a match in which both wrestlers would have one arm tied behind their back, but predictably Fox was having none of it and just beat down one armed Nikki Bella. This was a bit more creative than your usual women's angle, which I appreciate, but it was still fairly forgettable and uninspiring.

Rob Van Dam vs. Rusev: This wasn't too bad. Van Dam and Rusev certainly have their flaws but at least they also have fairly distinct styles, so this was slightly more interesting than a lot of other WWE midcard matches. I also thought there was at least a slight chance that Van Dam could end Rusev's streak with the help of Colter or something, it wouldn't be a sensible move but it wasn't outside the realms of possibility. In the end Rusev won in impressive fashion, and it's good that he's claimed a notable scalp beside Big E's.

Sheamus vs. Damian Sandow: This dovetailed directly from the Hart/Sandow segment, with Sheamus trotting out to give Bret a hug and continue Damian's humiliation. Sandow was dressed as Bret (I forgot to mention earlier, actually, that his parody was really great this week, especially the bit about tapping out to Shawn Michaels in Montreal).and there was a really weird moment where Sheamus was doing the Ten Beats, or However Many Beats Sheamus Feels Like This Week, of The Irish Sounding Drum That Might Just Be a Thing WWE Made Up, I'm Not Going To Research That (they really need to come up with catchier names for their finishers), and all you could see of his victim was Bret Hart's old pink and black attire and a bit of black hair. I briefly thought there'd been a terrible time travelling accident. Anyway, the match wasn't up to much, Sheamus won it and that's pretty much that.

Kofi Kingston vs. Cesaro: Before the match Cesaro cut a super fun, short promo on Quebec, it was nothing more than making fun of their language but the way he delivered it was so great. It makes me think maybe Cesaro and Paul Heyman shouldn't be together, they've never truly clicked as a duo, probably because Cesaro's multilingual, sophisticated European clashes jarringly with Heyman's oleaginous, sleazy New York lawyer, and Cesaro seems capable of handling himself on the microphone, especially if he sticks to short, sharp promos. The match was too short to be worth anything.

John Cena vs. Seth Rollins: These two had an outstanding match on Smackdown a few months back. This was solidly entertaining but too short and paint by numbers to reach those heady heights. The post match stuff was surprisingly similar to last week- Kane and Orton beat down Cena, Rollins tried to cash in his briefcase but was thwarted by Dean Ambrose, and Roman Reigns came down to punch some bad guys. It worked tremendously last time out because it was so unpredictable- obviously this time it wasn't, and it made for a curious end to the show, not bad but barely remarkable. The main event program is running out of steam, and there's still a couple of weeks build to go, so that doesn't bode tremendously for the next couple of weeks.


THE WRONG:
The Funkadactyls vs. PaigeJ Lee: There was little of value here- Cameron was kind of enjoyable in yawning and putting on lipstick rather than actually wrestling, and then immediately getting pinned when she did enter the ring, but that doesn't make up for how completely useless her post match brawl with Naomi was. Paige is clearly sucking up to AJ in preparation for an eventual heel turn, which might make for some interesting TV later on, but for now just seems heatless and predictable. The match was nothing, although Naomi had some cool offense as she often does.


THE RIDICULOUS:
NOTHING


THE RAW MATCH OF THE YEAR LIST:
No change.



2.17.14- John Cena vs. Cesaro


3.03.14- The Shield vs. The Wyatt Family


5.5.14- The Shield vs. The Wyatt Family


2.03.14- Daniel Bryan vs. Randy Orton


2.10.14- Sheamus & Christian vs. The Real Americans


1.27.14- John Cena, Sheamus & Daniel Bryan vs. The Shield


6.2.14- The Usos vs. The Wyatt Family


4.21.14- Sheamus vs. Bad News Barrett


5.5.14- Daniel Bryan vs. Alberto Del Rio


6.9.14- Sheamus vs. Bad News Barrett


The 411:


I thought this was an excellent show. The Montreal crowd was absolutely electric for almost everything that occurred, and they were rewarded with plenty of good wrestling and angles, building logically and consistently to Battleground. There was a bit too much that was a bit too middling for it to be a really great show, but I still felt this was one of the best episodes of Raw this year, perhaps the best that wasn't building to or immediately after WrestleMania. A hugely enjoyable three hours.

Show Rating: 8.0

As a reminder, I will be going by the 411 scale…

0 - 0.9: Torture
1 - 1.9: Extremely Horrendous
2 - 2.9: Very Bad
3 - 3.9: Bad
4 - 4.9: Poor
5 - 5.9: Not So Good
6 - 6.9: Average
7 - 7.9: Good
8 - 8.9:Very Good
9 - 9.9: Amazing
10: Virtually Perfect
CSONKA's PPV RANKINGS

TOP PPVs For 2014
As a reminder, this is not a basic "how good was the show" number like a TV show, as I have always felt that a PPV is very different from a regular show. I have always judged PPV on how they built to a match, the match quality, crowd reactions to matches and angles, the overall booking, how the PPV leads into the future, PPV price and so on and so forth. I have added this in here for an explanation since so many have asked, and I have previously discussed it on podcasts. I understand that this may seem different, but that is how I grade. Obviously your criteria may be different.

Click the score of the show to go and read my review, write up and or report from that particular event.
Dragon Gate Dead or Alive 2014 - 9.5


ROH-NJPW War of the Worlds - 8.9

NJPW Dominion 2014 - 8.85

NJPW Invasion Attack - 8.8

NJPW New Beginning in Osaka - 8.75

DGUSA – Open the Ultimate Gate 2014 - 8.5

WWE Payback - 8.5

WWE WrestleMania 30 - 8.4

WWE NXT Takeover - 8.1

NJPW WrestleKingdom VIII - 8.0

WWE NXT Arrival - 8.0

NJPW Back to the Yokohama Arena 2014 - 8.0


SHIMMER 62 - 7.9

DGUSA Way of the Ronin - 7.9

EVOLVE 29 - 7.8

NJPW Best of the Super Juniors Finals 2014 - 7.8

NJPW Fantastica Mania III - 7.7

WWE Money in the Bank - 7.7

EVOLVE 26 - 7.6

EVOLVE 27 - 7.5

Dragon Gate KING OF GATE Kick Off 2014 - 7.5

EVOLVE 25 - 7.4

NJPW Fantastica Mania II - 7.4

Dragon Gate: The Gate of Maximum 2014 - 7.3

NJPW Wrestling Dontaku 2014 iPPV - 7.2

NJPW 42nd Anniversary iPPV - 7.2

NJPW Road to New Beginning - 7.1

NJPW Fantastica Mania - 7.0

Dragon Gate Truth Gate - 7.0

NJPW New Beginning in Osaka - 7.0

WWE Elimination Chamber - 7.0

NJPW New Japan Cup Night One - 7.0

NJPW New Japan Cup Night Three - 7.0

ROH-NJPW Global Wars - 7.0

CHIKARA: You Only Live Twice - 7.0

TNA One Night Only – Slammiversary – 7.0

ROH Best in the World 2014 – 7.0


NJPW Road To Wrestling Dontaku 2014 (Day One) - 6.8

DGUSA Revolt! - 6.75

TNA Sacrifice – 6.6

NJPW Kizuna Road (Day 2) - 6.7

TNA One Night Only – Old School – 6.5

2014 - A Wrestling Odyssey - 6.5

WWE Extreme Rules - 6.3

Dragon Gate Rainbow Gate 2014 - 6.1

TNA One Night Only - Tag Team Tournament – 6.0

TNA Lockdown 2014 – 6.0

TNA One Night Only - Joker's Wild II – 6.0

EVOLVE 30 - 6.0


WWE Royal Rumble - 5.9

EVOLVE 28 - 5.5

DGUSA – Mercury Rising 2014 - 5.0




The 903rd edition is over…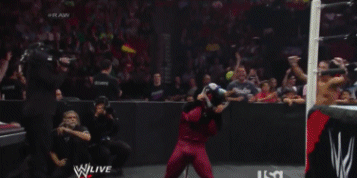 Have you checked out the Csonka Podcasting Network? If you haven't, you should We run anywhere from 15-20 shows a month, discussing pro wrestling, the world of MMA, the NBA, general sports, popular TV series of the past, bad movies, battle rap, interviews, MMA & Wrestling conference calls and more! Around 10 different personalities take part in the various shows, which all have a different feel; so you'll likely find something you like. All of the broadcasts are free, so go ahead and give a show a try and share the link with your friends on the Twitter Machine and other social media outlets! Running since May of 2011, there are currently over 500 shows in the archive for you to listen to.



Your heart is free. Have the courage to follow it…TO CSONKA'S TWITTER!

http://www.twitter.com/411wrestling
http://www.twitter.com/411moviestv
http://www.twitter.com/411music
http://www.twitter.com/411games
http://www.twitter.com/411mma
comments powered by