SPOTLIGHTS
The Magnificent Seven 7.19.14: Top 7 Matches That Made Triple H Hated
Posted by Mike Chin on 07.19.2014

From beating Brock Lesnar at WrestleMania 29 and squashing the Spirit Squad to beating Booker T at WrestleMania 19 and more, 411's Mike Chin counts down the top 7 matches that made Triple H a hated man!

With the possible exception of John Cena, Triple H is the single most controversial figure in contemporary wrestling. He's an icon of the Attitude Era, has delivered more than his share of excellent matches, and has willingness to put over people like Cena, Christ Benoit, and Daniel Bryan has legitimately helped make some major stars. Just the same, he's also viewed as a politician, a schemer, and a spotlight hog.

There are a lot of factors that contribute the people's love and hate of Triple H—the fact that he married into power, his role in The Kliq and by extension the Montreal Screwjob, his lengthy title reigns, the fact that Eric Bischoff kayfabe gave his character the World Heavyweight Championship, his promos which have ranged from truly great to painfully long and redundant.

I suspect history will tell us Triple H was one of the all-time greats as an all-around professional wrestler. Just the same, I suspect a significant segment of the generation of fans that watched his entire career will always hold something against The Game. For the purposes of this column, I've chosen to focus on in-ring activity, counting down the seven matches that made the IWC hate Triple H.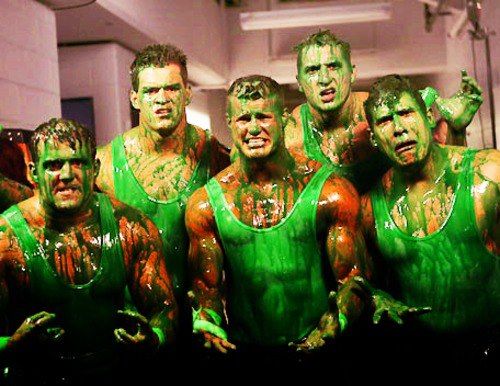 #7. With Shawn Michaels Versus The Spirit Squad at Vengeance 2006



This pick may be more emblematic than literal, since most hardcore fans sort of hated The Spirit Squad gimmick and the DX reunion was still enough of a novelty that fans weren't annoyed by the team. Just the same, this match represents some of the core principles that fans most resent about Triple H. It's The Game, teamed with his real-life best friend, proceeding to dominate despite being at a 5-2 man disadvantage. Moreover, the five men they took apart were all up and comers, each of whom had potential to make it as stars out of which only Nicky (who would go on to be known as Dolph Ziggler) ever attained any meaningful success.

We'll see more of Triple H going over younger talents later in the countdown, and there are some similar instances that I would argue were far less egregious and may have actually helped the new stars by giving them the rub (e.g., the DX-Legacy program). This match, however, was ultimately little more than a burial that marginally furthered the legacies of two Hall of Fame-bound legends, while utterly stunting the growth of a quintet of could-have-been stars.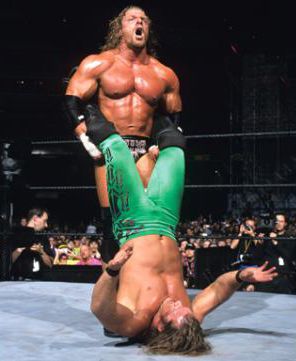 #6. Versus Chris Jericho at Wrestlemania 18



There are two knocks against this match. The first is that, despite having the world title on the line, the match had no business main eventing Wrestlemania 18 when Rock-Hogan 1 was on the undercard. Triple H has mostly been exonerated for that point, since he purportedly argued not to go on last, knowing they couldn't follow the return of The Hulkster at 'Mania. The second point, however, remains an issue—that Chris Jericho's historic reign as the first unified world champion ended at the hands of Triple H—and Y2J was a complete afterthought relative to The Game feuding with his real-life wife, Stephanie McMahon.

The match wasn't great anyway, but it's a sore spot for many of us fans that Jericho wasn't booked to appear on Triple H's level, and moreover, most of the drama of the match centered on Triple H trying to get his hands on McMahon in ways that I'm sure was supposed to feel like a payoff, but ended up feeling more uncomfortable to watch, and irritating for keeping the Trips and Steph in the spotlight over Jericho as one of the IWC's underappreciated darlings of the preceding decade.




#5. Versus Kevin Nash at Bad Blood 2003



I'm actually an apologist for Kevin Nash's first championship run as Diesel, and for a great deal of his unpopular work in WCW. That said, Big Sexy had little business challenging for a world championship in 2003.

The Bad Blood Hell in a Cell match represented two of Triple H's major problems in the eyes of the IWC. 1) He was doing business with his (arguably undeserving) buddy—and not just once, but in a rematch of the previous month's uninspired schmoz. 2) The match itself was plodding as hell and overbooked. On top of all of that, the match suffered from a predictable finish, and only added to Triple H's bloated title run of the day.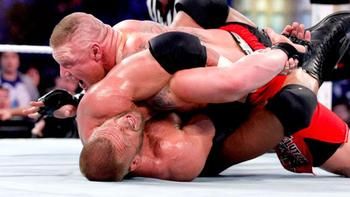 #4. Versus Brock Lesnar at Wrestlemania 29



Now, for our most recent encounter on the countdown. To be fair, I don't think Triple H-Lesnar 2 was a particularly bad match. But on a Wrestlemania that revisited of Rock-Cena and Punk-'Taker, the pairing seemed lazy and uninspired—the rematch no one was really craving after The Beast got a perfectly satisfying, dominant victory over The Game at the preceding SummerSlam. The show could have conceivably seen Lesnar face off with CM Punk, The Rock, Alberto Del Rio, The Undertaker, John Cena, Chris Jericho, Mark Henry, Ryback, Randy Orton, or Sheamus, any of which I'd argue would have been more interesting (if not, to be fair, all first-time encounters in their own rights). Instead, this 'Mania showdown came across as Triple H needing to get his win back.

The argument can be made that Lesnar still won the feud by taking the rubber match between the two at Extreme Rules the following month, but I'm in the contingent that says a win at 'Mania trumps most other things, and thus this read as the just one more chapter in the story of Triple H getting booked into a major win he really didn't need.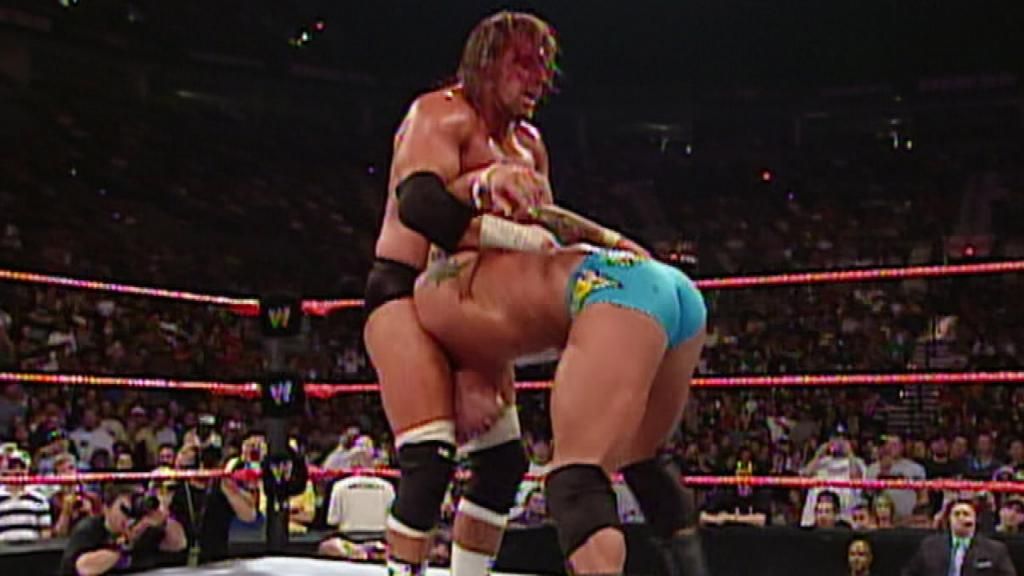 #3. Versus Randy Orton at Unforgiven 2004



Randy Orton was over like rover when he beat Chris Benoit to become the youngest world champ in WWE history. Similarly, he seemed poise for a huge face run when Evolution abruptly turned on him the next night, setting him Orton up for a big-time feud with his former mentor, Triple H.

To be fair, Orton's first face run didn't really connect. He lost much of the edge and dickery that had gotten him to the top of the card in the first place, in favor of becoming a pretty generic good guy. Just the same, any opportunity for the character to really thrive withered and died when Triple H crushed him for a new title reign that no one really wanted to see. In theory, the win set up Orton for a hero's journey to reclaim the title at 'Mania, but before Orton could play Daniel Bryan 2K14, Batista usurped his spot in a series of events that quite arguably set back Orton's whole career two or three years. It all started with this match.




#2. Versus The Rock, Mick Foley, and Big Show at WrestleMania 2000



This was the first, but not the last time when everyone expected Triple H to drop the strap after a lengthy title run, only for him to retain it—not via stunning creative twist, or even a particularly good match, but rather via a run-of-the-mill screwjob that would have been fine on an episode of Raw, or even a less significant PPV. But 'Mania? Really?

The story headed into this Fatal Fourway match was that each of the competitors had a McMahon in his corner. The Rock was the obvious and, by most conventional logic right choice to go over, after emerging as the face of WWE in Stone Cold's injured absence, and after the McMahon-Helmsley Regime had just hit the sweet spot of gathering a ton of heat, with fans just starting to get legitimately tired of their schtick. Mick Foley was a serviceable backup choice to allow a veteran to retire on a high note.

Bottom line: no one wanted to see Triple H win. I have a theory that WWE very deliberately booked around that, and not so different from Brock Lesnar ending the streak, a heel reigning at the end of WrestleMania 16 was all about subverting expectations and teaching fans never to take any outcome for granted.

That would all be well and good if WWE had had a purposeful place for this angle to go, but no—they were just saving the biggest title of change of the year not for 'Mania, but rather for friggin' Backlash, when The Rock got his too little too late win, and went on to trade the strap with Triple H before Kurt Angle entered the mix in the fall. All in all, it was a squandered potential historic moment, and one of many to make hardcore fans further resent The Game.

(On a side note: this story closely paralleled that of the SummerSlam 2003 Elimination Chamber, which Goldberg got his first crack at WWE gold, only to get swerved out of it by sledgehammer shot, only to go on to win the strap anyway at the next PPV. That match narrowly missed the countdown.)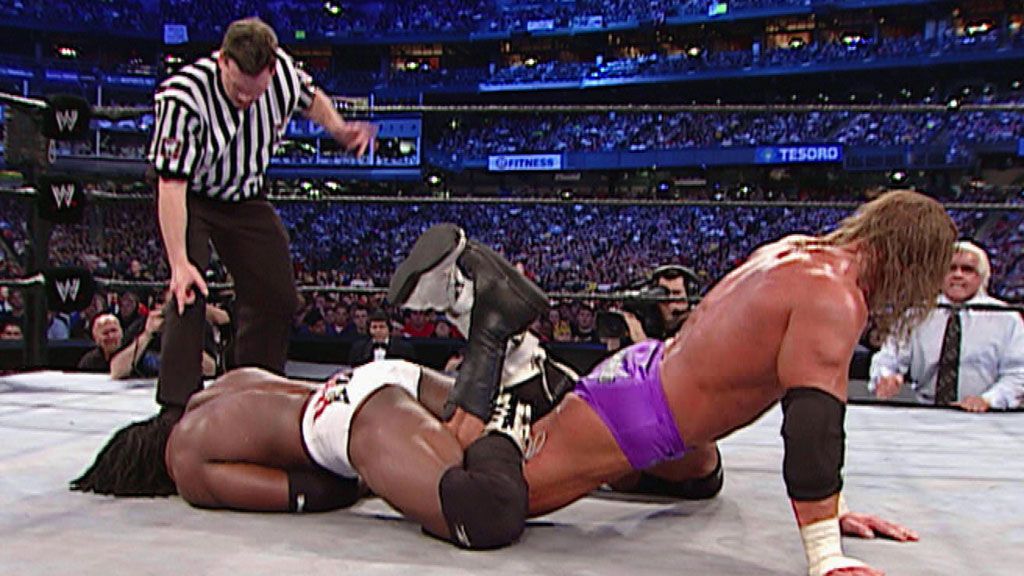 #1. Versus Booker T at Wrestlemania 19



We can go back and forth about whether the Triple H-Booker T angle was truly racist. Regardless, you had white collar uber-dick heel Triple H heading into WrestleMania against Booker T, walking a path of redemption that blurred the lines between reality and storyline. This was Booker T who legitimately overcame a stay in prison and went on become one of wrestling brightest stars. Booker T, who stood on top of the mountain when WCW folded and had WWE shunt him back down the card, only for him to bide his time, and fight, scratch, and claw his way back to what could have been the peak of his career, challenging for the World Heavyweight Championship at a WrestleMania.

Booker T should have had this win, if just for a sliver of redemption and justice in the form of a legit WrestleMania moment. Even with Goldberg on his way in (his signing with WWE is the excuse I hear most often for why Triple H retained the strap), Triple H could have dropped the belt to Booker and regained it in time to do Goldberg the favor. Instead, this world title match at WrestleMania was reduced to just another Triple H defense, in which the elitist heel won in decisive fashion for a match that, at best, could be called a little boring (more frankly, it was a snoozefest).

Heels can get big wins. They can retain their titles. And when they do so to serve a larger story, the fans can more or less accept it. But when the same guy benefits in similar fashion time and again, and it just happens to be a guy with massive stroke backstage, it leaves a bad taste in the mouths of the kinds of fans drawn to the IWC.

Want to defend Triple H? Want to add more fuel to the fire? Tell us all about it in the comments section. See you in seven.

Read stories and miscellaneous criticism from Mike Chin at his website and his thoughts on a cappella music at The A Cappella Blog. Follow him on Twitter @miketchin.
comments powered by