SPOTLIGHTS
The 8-Ball 7.14.14: Top 8 Potential IC Battle Royal Winners
Posted by Mike Hammerlock on 07.14.2014

From Sheamus and Bo Dallas to Dolph Ziggler, Kofi Kingston and more, 411's Mike Hammerlock counts down the top 8 potential winners of the Intercontinental Title Battle Royal at WWE Battleground!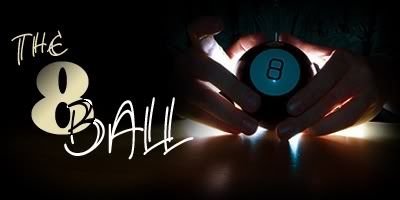 At Battleground this Sunday, Bad News Barrett's misfortune is good news for some lucky wrestler. The WWE is holding a battle royal to sort out a new Intercontinental champ. The match itself won't be anything amazing. It is a battle royal after all, and it's roughly the 90th battle royal the WWE has staged this year. Still, it's an interesting field of entrants. If WWE Creative decides to finally, you know, plotting out some storylines for the IC champ, then it's got a bunch of good choices to choose from at Battleground.

Yet before the Magic 8-Ball turns its formidable powers toward who should win this battle royal, let's sort through some of the folks who've got no business winning the belt. Miz should get into the match, but it would suck if he won. What he needs is to find himself in a tag team, pronto. Stardust would be an excellent choice, but it would seem the Dust Brothers have some sort of tag team story in front of them. Christian could be a surprise entrant, but it would be reruns having him return to win the IC title in a shocker. Adam Rose would be fun. Some might say it's too soon, though I'm of the opinion it's never too soon. It's only a matter of whether you can make it work afterward. What they're doing with Sandow is baffling. Normally you'd think there would some sort of payoff or direction to come out of Sandow's gimmick-of-the-week booking, that he wouldn't be getting that kind of television time unless they wanted to do something with him in the future. Au contraire, I'm almost positive WWE Creative has no plans for Sandow beyond next week's goofy jobber routine. Big E had a horrible IC title run and should be kept far away from a singles title until he loses his preacherman affectation. Alberto Del Rio? Not on your life.

Now that we've gotten past some of the folks who should be going over the top rope, let's get to the guys who should be getting victory consideration.




8. Fandango



Fandango is invested to the hilt in his character. Sure, he's one-note, though plenty of pro wrestlers are one-note. He also just got his butt kicked by two women, which makes him seem a wee little bit less than the toughest dude on the roster. Yet if the plan is have a top hand like Sheamus continue on with the U.S. title, then having more of a comedy act hold the IC title would help differentiate the two belts. Fandango could ape Honky Tonk Man's routine of improbably retaining the IC belt, which no one ever much expected him to win the first place.




7. Kofi Kingston



It looks like he's headed toward a tag team with Big E, which is totally fine by me. They've got a nice contrast in their ring styles. I'm hoping, not that I've got any specific reason to hope for it, that those two dust off the finest tag team finisher ever: the Power-Plex. Yet in case the plan is to play off Kofi and Big E as allies rather than a tag team, then perhaps the WWE brass has noticed again that whenever you give Kofi a chance to show his stuff in the ring, he tends to deliver. His near-win at Money in the Bank easily was the surprise mark out moment of the night. The problem with Kofi is not and never has been Kofi, it's been the gnawing conviction in the fanbase that the WWE will never fully get behind Kofi. Anyway, this is a battle royal and Kofi's been stellar in past battle royals. They could capitalize on the Kofi-tease moment from MITB and reward him with a big battle royal win.




6. Ryback



Now that we're no longer forced to pretend Ryback is invincible, he's potentially a lot more interesting. He still brings size and some high impact moves to the table. It's real easy to imagine where a guy like him could take over in a battle royal. On top of that, Ryback has yet to win any kind of gold in the WWE, and an IC run would help keep him legitimate for the next few years. He's never going to be a world-beater, but he can be a legitimate mid-carded. The key to having him settle there is putting a secondary title around his waist, even if it's just for a month or two.




5. KENTA



Supposedly they're sending him to the WWE Performance Center, where Mr. Kobayashi should need approximately 20 seconds of instruction. The man is ready-made. He doesn't need to wrestle a single match in NXT. Just have him debut as a surprise entrant in the IC battle royal and start laying waste to people. WWE fans can have their eyes bug out while they ask, "Who is this guy?" I mean, no one will see this coming. Unlike other international star debuts - Taka Michinoku, Ultimo Dragon, Sin Cara - rather than have the WWE tell us KENTA is great, it could just have him be great. Give him the golden debut. That's one way to make the fans sit up and take notice.




4. Bo Dallas



I … I bolieve … I bolieve that … I bolieve that Bo … I bolieve that Bo will win, I bolieve that Bo will win, I bolieve that Bo will win. Somewhere fans have got to break out that chant. I'm loving Bo so far. Beating up on Torito has been a stroke of genius, especially the BoDog (isn't that name trademarked by Canadian egomaniac Calvin Ayre?) off the second rope. If Fandango could work as an unlikely champion, Bo would work even better. The way to make his irrational self-confidence gimmick work best is to make it seem like he might be onto something. Sure, he'll cheat and connive his way to victories, and he'll probably benefit from all kinds of outside interference, but he can always play it off as the result of his unshakeable self-bolief.




3. Dolph Ziggler



It's been more than a year since Dolph has worn a belt. That needs to be remedied in the near future. The WWE could stand to have an IC champ who truly pops the crowd when he steps out from behind the Titantron. Dolph remains almost inexplicably over with the crowd given how he got booked as a professional opponent for most of the past year. Expect Dolph to be one of the clear favorites with the crowd to win. Seeing that Battleground likely is headed toward an ambivalent or frustrated reaction to a John Cena win in the main event, it would make sense to give the fans in Tampa something to cheer about leading up to it. Few things would put smiles on faces more than a Dolph Ziggler win. Beyond that, if Ziggler wins, it could set up Lesnar-Ziggler somewhere between now and WrestleMania, which would get my wholehearted approval.




2. Cesaro



Cesaro probably should be the odds-on favorite to win. The WWE needs to get him back to where he was early in the 2014 when he kicked his game into hyperdrive. If the plan is to book the IC champ super strong, then Cesaro is just about the best choice available. Also, if Brock Lesnar is going to get a lengthy run with the WWE title, then another Paul Heyman guy holding the IC title creates a powerhouse stable. Eventually it also sets up Lesnar vs. Cesaro to sort out which one is the baddest bad ass. Like others in this match, Cesaro has serious battle royal credentials. He should be in the final four of this match at the very least and a win here would put him on course, hopefully, to get into the main event picture within the next year. It's go time for Cesaro.




1. Sheamus



Ever since the brand split ended, I haven't understood the logic behind the IC and U.S. titles. They fill the same space and there's no real difference between them. Which one counts as the more important secondary title really depends on who happens to be wearing the belts at any given moment in time. The whole situation is a mess. The simple way to solve it, since the WWE clearly isn't going to do anything to differentiate the belts, is to combine them. Sheamus is holding the U.S. title and he's entered into the IC battle royal. Pretty obvious solution. Sheamus regularly kicks tail in battle royals (technically it's battles royal). He won the U.S. title in a battle royal. This would be nice symmetry. It also would reward a guy who's wrestling about as well as anyone on the planet at the moment. Sheamus has been good to great since his return at the Royal Rumble. Whether he stays a face or turns heel, Sheamus unifying the WWE's mid-card titles would kick up the stature of that IC-U.S. belt behind a strong champion.

I take requests.. The purpose of this column is to look forward. What could be? What should be? What is and what should never be? What would make more sense? If there's someone or something you think should be given the 8-Ball treatment, mention it in the comments section. I might pick it up for future weeks.

comments powered by