SPOTLIGHTS
Wrestling's 4Rs 7.18.14: WWE Monday Night Raw Reviewed
Posted by Jack Stevenson on 07.18.2014

John Cena and Roman Reigns teamed up to take on Kane, Randy Orton and Seth Rollins, Rusev and Jack Swagger faced off, Ric Flair returned and more! Wrestling's 4Rs breaks down the Right, the wRong and the Ridiculous of WWE Raw!


How the 4Rs of wRestling Work!
Here is a quick explanation of the 4R's. The column will run TWO times a week. We will group our feelings on the shows in various categories: The Right, the wRong and the Ridiculous. The Right is stuff that worked very well: a great promo, a great match and so on. PuRgatoRy is a section between the right and wrong. It shows equal traits from both sides that cannot be ignored and need discussed. It is not a bad place per say, as things can get remedied or go the wrong way the very next week. The wRong is what it sounds like: bad matches, bad or boring promos and so on. The Ridiculous is stuff that had no right on TV: Stupid angles and so on. And there is always a possibility of a 5th R, which is as bad as they come. This column is supposed to be analytical, and at the right time very critical of the shows, it was the whole reason it was created. This is not a "mark" column, nor a "smark" column, our goal is to analyze the show from many different fronts, reward the good and call out the bad. We will not apologize for our opinions, they are as they are, whether positive or negative.
---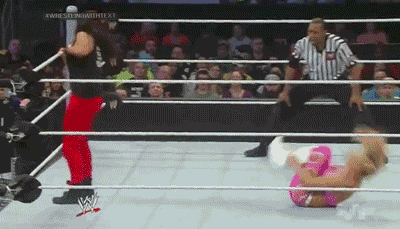 It's quite hypnotic….
By: Jack Stevenson
Raw 7.14.14:
QUICK MATCH RESULTS:
The Miz d. Sheamus

Dolph Ziggler d. Fandango

Alberto Del Rio d. Rob Van Dam

Alicia Fox & Cameron d. Nikki Bella

Big. E d. Cesaro

AJ Lee d. Eva Marie

Bo Dallas d. The Great Khali

John Cena & Roman Reigns d. Randy Orton, Kane & Seth Rollins via DQ



THE RIGHT:
Sheamus vs. The Miz: This was a really enjoyable opening match, perhaps surprisingly so. The Miz continues to look re-energised by this pretty enjoyable new character of his, and the loose storyline of "will Sheamus be able to hit him in the face?", which is supposedly going to develop into a fully fledged angle, made for entertaining viewing. The reaction when Sheamus does land the Brogue Kick will be tremendous. A good start to what might well turn out to be a really good feud.

STING!: This was such a fantastic little moment, I can't believe they wasted it on a video game commercial. We were transported to a dark and mysterious room, where several dark and mysterious violinists were playing their musical instrument of choice in a dark and mysterious manner, their faces obscured. There were flashes of a dark and mysterious figure, the dark and mysterious violins reached a dramatic peak... and then the violinists revealed that their faces were all coated in Crow face paint! Cue Sting! STING! STING ON WWE RAWish! Sadly, he only appeared in the video package and it was only so he could be all "hey WWE 2K15 looks pretty rad, reckon you should go ahead and pre-order it," but still, it was really really cool and undoubtedly the greatest video game commercial of all time.

Big E vs. Cesaro: This was a super enjoyable power match in the vein of the excellent Bad News Barrett-Sheamus wars, two big guys just slamming each other into a pulp. It was too short to be properly great or anything but there was plenty of potential shown, and I thought it was on balance the match of the night. There was a cool bit where Cesaro grabbed a steel chair and just LAUNCHED it in Kofi Kingston's direction, who had accompanied Big E. to ringside- that one act felt far more aggressive and dangerous and real than the whole of his beating two weeks ago, which was just excessively violent for what it was. Kofi got his revenge by preventing Cesaro from using another chair to maim Big. E, distracting the Swiss Superman long enough for Big. E to land the Big Ending and pick up the win. A productive segment all round.

Jericho and Wyatt have words: In the immediate aftermath of that first segment where Bray Wyatt interrupted Jericho's return promo and beat him down with Harper and Rowan, I was picturing an absolutely electric feud that would light up WWE's summer. It doesn't look like we're going to get that. Bray doesn't seem to have anything new to say and so we're getting a rivalry that's barely distinguishable from all the other Bray Wyatt feuds. I'm still enjoying it though. Jericho hasn't lost a step in the ring or on the microphone, and I think the match between the two could be fantastic. Wyatt's promos might be terribly samey but they're still above average. It's all pretty good- not as good as it could be, but pretty good nonetheless.


puRgatoRy:
Cena & Reigns vs. Orton & Keigns (and Rollins): The main eventy stuff this week was pretty similar to the main eventy stuff from the last fortnight, but it did its job well enough. John Cena and Roman Reigns were scheduled to team with Dean Ambrose in the main event, but while they bickered in the ring Ambrose was ambushed backstage by Orton, Kane and Rollins. Typically, even when getting ruthlessly beaten down Ambrose still managed to be a total bad-ass by asking his attackers if that was all they had (to which Rollins replied by curb stomping Ambrose into a crate, so maybe that wasn't a great strategy.) This meant Cena and Reigns had to go it alone, which they did in a pretty disappointing 2 on 3 handicap match- it was OK, but slower and more formulaic than I'd have liked, and the post match mayhem with everyone hitting their finishers on everyone was a bit convoluted in places and didn't draw the crowd response they would have wanted. Still, for a placeholder main event, this was perfectly fine. I like how every week they seem to shoehorn in Roman Reigns spearing someone to finish the show, even when said show has already reached its natural conclusion- it absorbs the impact of some of his necessary high profile losses and underlines that he's still the coolest fucker on the planet.

Dolph Ziggler vs. Fandango: Dolph and Fandango were having another match, and as usual it ended in a most controversial fashion. This week, Summer Rae and Layla, both spurned by Fandango in recent weeks, popped up on the announce table to do some sexy dancing, distracting their mutual foe long enough for Ziggler to pin him. Then, they both hit the ring and kissed Dolph on the cheek. On the one hand, re-emphasizing Ziggler's slick ladies man credentials is a smart move that gives him a little more direction than your average midcarder, and should ensure fans stay with him regardless of his win-loss record, since we'll cheer anyone that we envy in some way and isn't presented as a total evil dickhead. On the other, despite flashes of vague promise, this Summer Rae-Layla storyline ultimately turned out to be a regression to the old Attitude Era standard, where women, when left to their own devices, just stole each others men and threw food at each other and then made up and implied they might secretly be fucking each other. It's naked sexism and it's uncomfortable to watch sometimes.

Let's Detente like it's 1969!: The Real Americans and Rusev & Lana decided to try and ease tensions between their two nations tonight on Raw. It didn't go outstandingly. It ended with Swagger cinching the Ankle Lock in on Rusev, which I'm pretty sure is the exact opposite of what detentes are meant to achieve. This feud continues to be inexplicably popular with crowds despite the outdated Cold War sentiment and Lana's one dimensional character. It's not my place to complain about people enjoying things but I'm surprised it's doing this well. Still, it's nice in a way that something so old fashioned can still draw such a great reaction, and it's energised Swagger and Rusev a great deal, so it's got a big upside, I just wish it was much substantial and less xenophobic.

Rob Van Dam vs. Alberto Del Rio: This was a match! I'm pleased Alberto Del Rio won, that's two wins in a row for him on Raw now which is impressive by his standards and gives me hope WWE haven't entirely given up on him. I hope they have given up on Rob Van Dam, I hope he's in the Damian Sandow role by Summerslam.

AJ Lee vs. Eva Marie: AJ and Eva Marie had a thoroughly unremarkable match, which the champion won in routine fashion, as you'd expect. More intriguing were the outside goings on, which saw Paige provide flattering commentary about AJ, refer to her as her "frienemy," and then meet up with her after the match for a mutual hair appreciation session. It's another example on this show of women being treated like second class citizens, the idea that these two supposedly fierce competitors would, of the nine trillion different compliments they could pay each other, choose to discuss each other's hair, but at least it's slightly different to your usual Divas storyline, and the talent involved means I give it sliiiiightly more of a chance than I do the usual female fare WWE offers.

The Great Khali vs. Bo Dallas: Bo Dallas did the same as he does most weeks, patronize a wrestler, win on a fluke, and get an immediate comeuppance. He eked out a win over Khali via count-out, then got chopped in the head when he tried to console his new "big buddy." It was OK but it's hard to go above purgatory unless he starts to do something more meaningful.

Flair tries to WOOOOOOOOOOOOOOOOOOOOO Renee: God this was strange. Ric Flair came back for a little in ring segment, which I guess is leading to a more permanent storyline for him. He strutted around like a deranged peacock and gave Renee Young, um, shall we say... quite a bit of attention, which started off kind of funny and rapidly deteriorated into 'uncomfortable and creepy.' Then he said that John Cena would win the Fatal Four Way match at Battleground, then Roman Reigns came out apparently to disagree, but instead he just shook Ric's hand, and the segment just sort of ended, bar Flair and Cena bumping into each other on the entrance ramp and Cena giving Flair the World Heavyweight Championship. It was substantially better than Flair's last, desperately and depressingly confused appearance, and that's enough to lift it into purgatory- there's promise here that Flair can use his legendary charisma to do something really productive. That something is most definitely not 'hovering on the brink of publicly begging Renee Young to fuck him.'


THE WRONG:
Nikki Bella vs. Alicia Fox & Cameron: There's only so many times you can watch Nikki Bella lose largely uninteresting handicap matches before it becomes, well, entirely uninteresting. It has now well and truly become entirely uninteresting. We get the message- Brie Bella isn't here anymore. Now bring her back so she can wrestle Stephanie and we can get to the genuinely interesting bit of the angle- seeing if Steph is still as capable in the ring as she seemed a decade ago. I'd be more positive about the tease that Nikki might be starting to think Brie was selfish for quitting if I had any faith WWE would take it anywhere deep and worthwhile, but they won't so I'm not. Cameron and Alicia are friends now for some reason! Things just happen in the Divas division.


THE RIDICULOUS:
NOTHING


THE RAW MATCH OF THE YEAR LIST:
- No change.



2.17.14- John Cena vs. Cesaro


3.03.14- The Shield vs. The Wyatt Family


5.5.14- The Shield vs. The Wyatt Family


2.03.14- Daniel Bryan vs. Randy Orton


2.10.14- Sheamus & Christian vs. The Real Americans


1.27.14- John Cena, Sheamus & Daniel Bryan vs. The Shield


6.2.14- The Usos vs. The Wyatt Family


4.21.14- Sheamus vs. Bad News Barrett


5.5.14- Daniel Bryan vs. Alberto Del Rio


6.9.14- Sheamus vs. Bad News Barrett


The 411:


A fairly inoffensive show, casual sexism aside, that set up all the big stories for Battleground in a perfunctory way. The really good was non-existent, but so was the really bad. It's background viewing this week and nothing more.

Show Rating: 6.0

As a reminder, I will be going by the 411 scale…

0 - 0.9: Torture
1 - 1.9: Extremely Horrendous
2 - 2.9: Very Bad
3 - 3.9: Bad
4 - 4.9: Poor
5 - 5.9: Not So Good
6 - 6.9: Average
7 - 7.9: Good
8 - 8.9:Very Good
9 - 9.9: Amazing
10: Virtually Perfect
The 905th edition is over…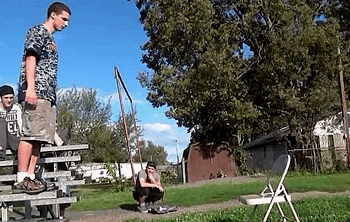 BAH GAWD THAT MAN HAS A FAMILY!

Have you checked out the Csonka Podcasting Network? If you haven't, you should We run anywhere from 15-20 shows a month, discussing pro wrestling, the world of MMA, the NBA, general sports, popular TV series of the past, bad movies, battle rap, interviews, MMA & Wrestling conference calls and more! Around 10 different personalities take part in the various shows, which all have a different feel; so you'll likely find something you like. All of the broadcasts are free, so go ahead and give a show a try and share the link with your friends on the Twitter Machine and other social media outlets! Running since May of 2011, there are currently over 500 shows in the archive for you to listen to.



Your heart is free. Have the courage to follow it…TO CSONKA'S TWITTER!

http://www.twitter.com/411wrestling
http://www.twitter.com/411moviestv
http://www.twitter.com/411music
http://www.twitter.com/411games
http://www.twitter.com/411mma
comments powered by