SPOTLIGHTS
The 8-Ball 7.21.14: Top 8 Desired Matches for SummerSlam
Posted by Mike Hammerlock on 07.21.2014

From Roman Reigns vs. Randy Orton and Seth Rollins vs. Dean Ambrose in Hell in a Cell to Jack Swagger vs. Rusev in a Flag Match and more, 411's Mike Hammerlock counts down the top 8 wanted SummerSlam matches!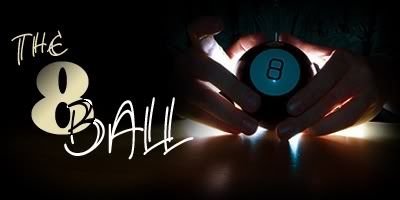 Thanks to Ace Rimmer for suggesting this one. Battleground just ended and we're now officially on the Slog to SummerSlam. Yet what matches should they give us for our staged pugilistic amusement? I'm not asking what matches will they give us. Got no interest in that. We'll be getting their choices soon enough and regardless of whether we like it.

No, the Magic 8-Ball is trying to sort out the optimal card. For instance, we know we're getting Brock Lesnar vs. John Cena. No need to list that here since it's as likely as death and taxes. Yet the 8-Ball also needs to build on the setup the WWE has given us. No turning Cesaro into competitive eater and challenging Big Show to a hot dog eating contest. Can the 8-Ball turn SummerSlam into the show of the year? Or maybe just the best wrestling show this August? Let's shake that sucker and find out.




8. Roman Reigns vs. Randy Orton



We all know it's coming. No problem with that. These two don't need any bells or whistles. They'll have some stipulation-heavy or specialty matches later in this feud, but mano-a-mano works here. Orton's a great choice for Reigns in 1v1 action. Orton takes a lot of crap, but he knows how to work. He'll take sick bumps. He can hit big impact moves. He knows how to give a bout a main event feel. That's what we're looking for: Reigns to show he can be THE guy.




7. AJ vs. Paige, Lumberjill Match



Back before the WWE was PG, a SummerSlam lumberjill match would have been bikini-mandatory. In this case the jiggle factor takes a backseat to the wrestling. Regardless of whether Paige turns heel before SummerSlam - you'd think she has to, but maybe they'll string along the frenemy angle - they could do this match. The plan would be to have both AJ and Paige wipe out the lumberjills one by one until it's just the two of them left standing. It's King Kong vs. Godzilla, but with curves, pretty smiles and skimpy outfits. The idea is to establish them as the the two dominant players in the division in order to give their rivalry some teeth. For what it's worth, the endgame here is to have them settle their differences at Hell in a Cell.




6. Chris Jericho and the Usos vs. the Wyatt Family



The Family had themselves a bad Battleground. It's time to band together to take out their common enemies. The Usos have won their feud vs. Harper and Rowan, but they fit nicely into a six-man match which sets up further hostilities between Bray and Jericho. The Family needs to show it can be a force again. This is absolutely necessary.

Alternate idea, have Jericho bring along Steampunk and Crash from the Robot Combat League and give us Robots vs. Wrestlers.




5. Sami Zayn vs. KENTA with Daniel Bryan as the Special Guest Referee



Daniel Bryan may not be able to wrestle for us, but he could give us a match with two guys who leave it all in the ring just like he does. Plus, it's important to have him play a major role in SummerSlam. Real simple set up, tell HHH he doesn't know the first thing about talent or how to put together a great wrestling match, that fans want to see talent instead of politics. Have AmDrag successfully maneuver his way into setting up a Daniel Bryan-approved match with KENTA and Zayn as his two hand-picked choices. Each of them can debut on Raw, beating some WWE staples (e.g. Kane, RVD). Bryan also would serve as the guest ref. Biggest plus, we get a superior match.




4. Dust Brothers vs. Ascension vs. RybAxel vs. Kofi/Big E



The WWE's tag team division needs a serious reboot. When they dismantled a host of teams earlier this year, they forgot to make new teams. How does that even happen? You'd think at WWE Creative meetings they'd be plotting out the division with 6-8 active teams at all times. Unfortunately I suspect the tag team discussion in those meetings goes something like this: "All right, Vince wants Khali to team with Torito. He wants to call them Burrito Vindaloo and Khali should consider Torito to be a sacred animal."

Anyway, it's time to replenish the ranks. Cody Rhodes' evolution into Stardust has given his team new life. Kofi and Big E have been established as buddies and it's only a matter of time before they make their relationship official and become a full-fledged tag team. I continue to hope beyond reason that they'll make the Power-Plex their finisher. The Ascension has done everything it can in NXT, so it's time for them to ascend to the WWE. A SummerSlam springboard would be a nice start. Meanwhile, someone has to eat the pin here, which is why RybAxel is involved.




3. Seth Rollins vs. Dean Ambrose, Hell in a Cell



Clearly these two need to be placed in an enclosed space and allowed to maul each other. That's what Hell in a Cell is for. I know there's that whole HIAC pay-per-view later in the year, but it's kosher to break out the cell for special occasions. The WWE now owes us a classic between Rollins and Ambrose since it didn't happen at Battleground. Go wild, batter each other. Technically it's a playground that favors Ambrose. Rollins has been a belt collector wherever he's been, but Ambrose has been a brawler. We've got fury on both sides. Now stick them in the optimal structure to release that fury.




2. Swagger vs. Rusev, Flag Match



I get the feeling Swagger is way more over than the WWE brass expected. On top of that, they need the U.S. to beat Russia without Rusev submitting or taking a pinfall. A flag match would provide the perfect solution. First guy to retrieve his flag wins (each one hanging above opposite corners). Swagger can outmaneuver Rusev and waive the Stars and Bars to a giant "U-S-A!" chant. Then Rusev can grab his flag and lay out Swagger while Lana punches Zeb in the nuts. Fun times.




1. Sheamus vs. Miz vs. Dolph Ziggler, IC-U.S. unification match



First to get two falls wins the match. They were the final three in the IC battle royal, with Miz hijacking Dolph for the victory. Originally I wanted to work Cesaro into this match, but the concept only works with three guys. Basically, all three get a pinfall at various point, building tension for the final pin. It's time to sort out the muddled mid-card belt situation. This is a way to do in grand fashion.

I take requests.. The purpose of this column is to look forward. What could be? What should be? What is and what should never be? What would make more sense? If there's someone or something you think should be given the 8-Ball treatment, mention it in the comments section. I might pick it up for future weeks.

comments powered by