SPOTLIGHTS
The 411 Wrestling Top 5: The Top 5 Non-WWE Matches Since 2000
Posted by Larry Csonka on 08.06.2014

From Kurt Angle vs. Samoa Joe at Lockdown 2005 and Hiroshi Tanahashi vs. Minoru Suzuki from King of Pro Wrestling 2012 to Team ROH vs. Team CZW from Death Before Dishonor IV and more, the 411 staff counts down the top 5 non-WWE matches since 2000!

The 411 Wrestling Top 5: Hello everyone and welcome to 411 Wrestling's Top 5 List. We take a topic each week and all the writers here on 411 wrestling will have the ability to participate and give us their Top 5 on said topic. So, onto this week's topic…




















Week 275 - The Top 5 Non-WWE Matches Since 2000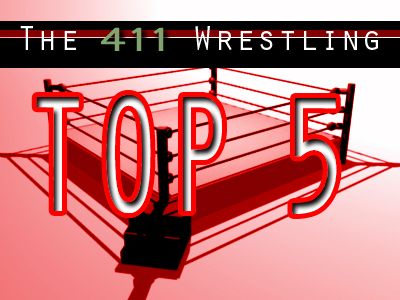 Dylan Diot
5. Hiroshi Tanahashi vs. Minoru Suzuki (IWGP Heavyweight Title Match NJPW King of Pro Wrestling 2012) - For this type of list, I feel at least one match from Japan should be on the list. I've only been watching Japanese Pro Wrestling for one year and it's impossible to watch everything when you have multiple promotions in the US you want to watch. I'm sure there is a Kobashi, Misawa, or Tanahashi vs. Okada match that can be on the list but for me, this is the match that turned me into a Japanese pro wrestling nut. This is as beautiful a technical wrestling match as I have ever seen. The mat work in this match was out of this world and to have the crowd lose their minds for thirty minutes and have only ONE pin fall attempt goes to show the greatness of Hiroshi Tanahashi and what a masterful worker Minoru Suzuki is.

4. Samoa Joe vs. CM Punk- ROH Joe vs. Punk II - The Joe/Punk trilogy is one of the few trilogies of matches that has been compared to the gold standard of Flair/Steamboat from 1989. The three matches they had were all classics and brought back the 60-minute draw as an acceptable tool in wrestling again. This is regarded as their best match, an absolute war of a sixty-minute draw and is likely the match that got Joe his job in TNA and Punk his job in WWE. They became two of the brightest young stars in the aftermath of this match and helped complete the resurgence of ROH in 2004 in the aftermath of the Feinstein incident.

3. ROH Joe Vs. Kobashi, October 1, 2005 - ROH was able to get a big score when they announced Kenta Kobashi, one of the greatest workers of all time, was coming to ROH for two shows in 2005. They immediately booked Kobashi against their biggest star and the man on the roster that matched him best in terms of style, Samoa Joe. The result was a match with one of the biggest fight atmospheres in independent wrestling history and a classic match where Joe looked every bit on the level of Kobashi. Joe's chest is one of the most famous images in wrestling, just beaten raw by the onslaught of Kobashi chops. This is the most sold DVD in ROH history and is highly considered one of the best matches in the history of the company.

2. AJ Styles vs. Samoa Joe vs. Christopher Daniels (Unbreakable, September 11, 2005 - TNA X Title Match) - This was during a period in which TNA was just thrown off Fox Sports and was about to begin the Spike TV era and they needed a buzz heading into their big cable TV re debut. This match delivered that buzz. It was the peak of the X-Division, being put in the main event of a monthly TNA PPV for the first time and these three went all out and put on a classic. This is the best match in TNA history and it should have launched a new era of wrestling and been the match that TNA shaped itself after for years to come. Unfortunately, that was not meant to be.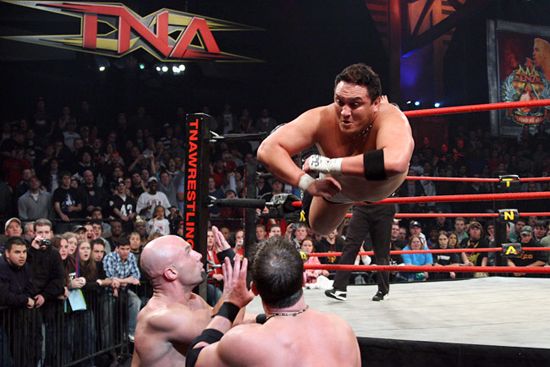 1. Dragon Kid, Genki Horiguchi, and Ryo Saito vs. CIMA, Masato Yoshino, and Naruki Doi- ROH Supercard of Honor - I don't think any match has had more to due with shaping the landscape of independent wrestling as it is today than this match. Dragon Gate didn't have many eyes on it in the United States at this time and when they came in to Ring of Honor during WrestleMania weekend, they got everyone talking. They had a match that was non-stop and with spots that had to be seen to believe. It was the absolute definition of a classic. This match led to a yearly tradition of Dragon Gate wrestlers coming in during WrestleMania weekend, led to the birth of Dragon Gate USA and EVOLVE, and boosted the popularity of Dragon Gate to the point where it is arguably the second biggest promotion in Japan as of 2014. It also shaped the non-stop, crazy pace of matches we see today in promotions like PWG and from wrestlers like the Young Bucks among others. The impact this match has had on professional wrestling is incredibly understated and should be considered the best non-WWE match of the 2000s.

---



JUSTIN WATRY
5. WCW Mayhem 2000 Main Event - Well, this party is rocking! Suppose somebody has to dive in the pool first, huh? Not like there is much NON-WWE stuff since 2000 worth watching...but let me take a stab. As usual, no honorable mentions! First up will be a personal choice because I was there live. Scott Steiner vs. Booker T was the best thing WCW had going for them in 2000 and 2001. Everything else that mattered was either gone or no longer important. It was clear as day when I walked into that arena WCW was no longer "WCW." The entire upper section I was sitting in had me and one other person (who I went with). No joke - two people. Everything else was empty. Oh, and the tickets were free I won off a radio trivia contest. Even with that, it was just cool to see some wrestling from Steiner and Booker over the World Title.

4. WWE vs. WCW for the ECW Title - What a mess. Tazz was in WWE. Mike Awesome was in WCW. Yet, the two had a fight in ECW for their championship. Never again will something like that happen. Solely for historical value, it has to be mentioned near the top of the list.

3. RVD vs. Jerry Lynn - ECW was nearing its final days. Like I mentioned above, it was becoming more and more obvious. WWE was just too far ahead of anybody else; the clock was ticking. Even so, Guilty and Charged is well, guilty as charged as being one of the more memorable ECW shows before the company folded. True to form, there was Jerry Lynn and Rob Van Dam doing what they do best. RVD would make a splash in WWE a few months later. Lynn would go on to win gold in WWE but not much else right after. Shame. Check out their Guilty as Charged 2001 match as well as many others from them in ECW.

2. FCW: Dean Ambrose vs. Seth Rollins for 30 minutes - It says non-WWE, right? I am going to count NXT as WWE, so that removes them. However, I am going to cheat and say FCW is non-WWE. Makes sense? No? Too bad. This is being written in late July, so hopefully by the time Summerslam happens (or has it already happened?), these two get to show off once more. Seth Rollins vs. Dean Ambrose in FCW was great. However, they need to do it on the grand stage when the lights are on bright. Since we got the ridiculous bait and switch at WWE Battleground, it MUST come at Summerslam. Give them 30 minutes, and you have your match of the year - just like in FCW.

1. Final Nitro Main Event - I doubt there will ever be a day like this again in wrestling history. A school that morning, it was openly discussed in class as a 'major event' where students were commenting and such. Fans or not, WWE buying WCW was treated like legitimate news. Watching the program that night with Vince McMahon popping in and out of both shows, making little comments, plugging WrestleMania 17, and all that was just surreal. Same with Shane McMahon appearing live in a WCW ring. Ring of Honor will never have that remarkable 'moment' with WWE. Obviously, TNA Impact Wrestling is never going to have that. This was not just Sting and Ric Flair saying goodbye to WCW. This was WWE saying goodbye to everybody else beneath them. The landscape had changed. It felt like a funeral, not just for WCW, but for any kind of wrestling competition. Good or bad, WWE was king.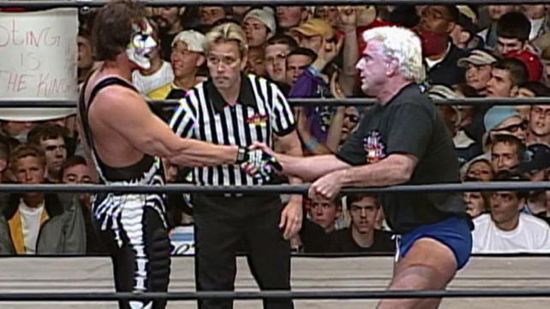 ---



Shawn S. Lealos
5. Turning Point 2004. December 5, 2004. Tag Team Steel Cage Match – America's Most Wanted (Chris Harris and James Storm) vs. Triple X (Christopher Daniels and Elix Skipper) - I was a fan of TNA from day 1 and actually watched the weekly pay-per-views when they were just getting started. I was starved for a wrestling alternative since my beloved WCW shut down, and this was it. I immediately became a huge fan of Triple X, who I thought was very entertaining and exciting to watch. I became a huge fan of America's Most Wanted because I love tag team wrestling and TNA was bringing it back. Then, in this steel cage match, I watched one of the best tag team matches I had seen since the Hardy's, Dudley's and E&C were fighting in the WWE. And when Elix Skipper hit the hurricanrana from the top of the cage, the mach went down in history for me.

4. ROH Joe Vs. Kobashi, October 1, 2005 - I am writing these in reverse order and I never really thought about it but the fact that Joe is in my Top 4 should say something. This match was exhaustive and entertaining all at the same time and the two men just beat the hell out of each other through the entire match. The two just wouldn't give up – hell, Kobashi kicked out of Samoa Joe's muscle buster. The match was just fantastic.

3. ROH Joe Vs. Punk II, October 16, 2004 - When I was a kid watching wrestling growing up, there were a ton of 60 minute draws, and most of them included Ric Flair when he was the NWA Champion. Some of them were brilliant (like when he fought Barry Windham), and others were not. However, when looking at a 60-minute draw that really blew me away, look at Ring of Honor and the second match between CM Punk and ROH World Champion Samoa Joe. The two also went to a draw in their first match, but this second one was a thing of beauty. They were both young but were two of the best in-ring workers in the world at the time.

2. TNA Lockdown 2008. April 13, 2008. World Heavyweight Championship – Samoa Joe vs. Kurt Angle - Man, Samoa Joe was amazing at the time, but when Kurt Angle came in and the two began to feud, Joe just turned things up a notch. These matches are proof that Samoa Joe was the biggest star in TNA Impact Wrestling at the time and this particular match was just amazing, hard hitting and fun from start to finish.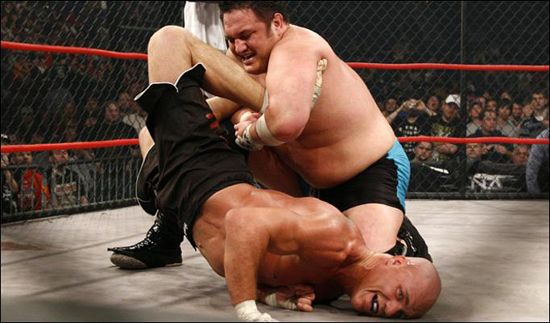 1. AJ Styles vs. Samoa Joe vs. Christopher Daniels (Unbreakable, September 11, 2005 - TNA X Title Match) - Sure, after awhile, it seemed like Daniels and Styles fought so much that it just kind of wore itself out. The matches were still incredible, but nothing like they were in the start. However, when Styles, Daniels and Samoa Joe were battling for the X-Division title, there wasn't much better going on in any wrestling promotion at the time. This was the best of the best, three of the best wrestlers in TNA history, in their prime, going at it for the most exciting title in the world. I think it is the best TNA match of all time.

---



Scott Rutherford
HM: Davey Richards © vs. Michael Elgin (ROH Showdown In The Sun Day 2 03/31/2012 - First part of the match was just there then suddenly turns into a barn burner.
HM: ROH World Title: Samoa Joe vs. CM Punk (ROH Joe vs. Punk II 10/16/2004 - Their first match was an unexpected thriller. This one manages to build-up on it effectively and add new layers of storytelling.
HM: Mitsuharu Misawa [c] vs. Kenta Kobashi (NOAH Navigate for Evolution '03 - Day 9 - GHC Heavyweight Championship 3/1/2003) - We get the passing of the torch as Kobashi finally beats Misawa to become the Ace. Probably the most important puro match of the 2000's.

5. AJ Styles vs. Samoa Joe vs. Christopher Daniels (Unbreakable, September 11, 2005 - TNA X Title Match) - The majority of matches on my list fall into the category of matches that you could almost mistake for real fights. They certainly have their share of high spots and contrived action but for the most part they are notable for the brutal nature of the ring work. This match is the anomaly. This match is just 3 guys, who easily are in the top 10 workers in North America at the time, going out in the ring for 20 minutes and putting on a match full of spectacular moves and non-stop action. While there isn't a coherent storyline that goes through the match as such, it does have a solid logic behind it. Each man knows that the other two can pull out a victory at anytime with any of their big moves. So each guy beats the crap out of the others with stiff kicks, punches, clotheslines, suplexes and the like, work their way into a one-on one position and then hit a big move for the attempted win. While the story is simple it's the way they go about it. Every move is done with purpose and intensity and there are no noticeably blown or dead spots and when they go for the big high spot, it gets nailed with precision. It's not often you see a 280lbs man do a no hands plancha and nail his target. In any other year this probably would have gotten MOTY honors but the next match on my list put paid to that. Funny, watching this match back today in preparation of writing this blurb I'm still amazed the WWE at least didn't sign Samoa Joe and at least try and see what happened as he was certainly the MVP of the match and had the aura of a star about him.

4. Kenta Kobashi vs. Samoa Joe (Joe vs. Kobashi, ROH October 1, 2005) - Some matches carry themselves based on the storylines. Some matches carry themselves based on insane spots and elaborate spectacle. Some matches though, are great just because the two combatants like to pound the piss out of their opponents. This is that kind of match. Kenta is a wrestling legend while Joe was just coming into his own and considered one of the best wrestlers in the world at that point. Both men where killers in the ring and to say this match was highly anticipated does not do it justice. When word started getting out that this match was one of the best in North American history it was in danger of failing to live up to the hype, No need to worry because 9 years later this match is still fucking awesome. The story was an easy one to follow, Japanese wrestling legend comes into the US to face the upstart killer and both men beat the crap out of each other. This match carries a heavy MMA-type flavor as the leg strikes and holds have a definite shoot edge to them. Everything is as hard hitting and intense as you would expect and then about ¾ of the way through Joe gets trapped in the corner and Kenta starts laying in the chops in rapid succession. He does upward of about 40 and just when it looks like he's about to peter out he picks up steam and fires off another 20 odd as the crowd is losing its ever-loving mind. Finally the more experienced Kenta gets on top and beats Joe down until Joe can't answer back, then hits a lariat and gets the win. A brutal, instant classic and MOTY hands down.

3. CAGE OF DEATH: Team ROH of Samoa Joe, BJ Whitmer, Adam Pearce, Ace Steel & A Mystery Partner vs. Team CZW of Chris Hero, Necro Butcher, Claudio Castagnoli, Nate Webb & A Mystery Partner (ROH Death Before Dishonor IV 7/15/2006) - I'm not a big garbage wrestling fan and I loathe CZW with their blood and guts bullshit. However, with the cross-promotional feud with ROH they managed to produce some fine matches and a great wrestling angle that culminated with this epic match. This is a demon hybrid of a hardcore match, inside a MMA-style Heel in a Cell cage that has no roof, fought under old-school War Games rules. While the action itself is your basic hardcore, spot fest what makes it so great is the story inside the match that takes it over the top. Unlike most War Games this one started out with ROH winning the coin toss giving the faces (this was held in an ROH arena) the advantage. All things seemed to being going smoothly with Samoa Joe and the surprise entrant Bryan Danielson along with BJ Whitmer handling the CZW crew easily when Danielson suddenly attacks Joe and takes out his leg rendering Joe unable to continue as Bryan walks out of the match Suddenly CZW are 3-1 up and destroy Whitmer and this theme runs until all men are in the cage with CZW having a 5-on-3 advantage. When it looks like CZW may actually beat ROH HOMICIDE comes out as the actual mystery man for ROH and the crowd goes apeshit. Things go insane as the violence goes up several notches and thanks to the manic Homicide the ROH crew win the match.

Where to begin…the Danielson/Joe stuff was awesome. Heel Danielson is more concerned about his title match next month with Joe, goes through the motions of pretending to be in the match to only take Joe out. Suddenly ROH is two guys down that happen to be the two main ROH guys at that. After the entrance of Ace Steel it was apparent the ROH were only going to have three guys in the match so when Homicide comes in it's a real surprise. The spots are insane as you would expect but they are certainly reigned in from the usual CZW garbage with the only exception being Homicide handing out forks to the ROH crew. This was a hugely satisfying blow-off to a great feud and the match ending promo between Homicide and Jim Cornette setting up the next round of ROH storylines.

2. Jushin Liger & Minoru Tanaka vs. Yoshinobu Kanemaru & Tsuyoshi Kikuchi (NJPW 29.08.2002) -My favorite straight up tag team match ever and the real MOTY for 2002 which went to the Angle/Benoit vs. Edge/Rey No Mercy match. This is a match I would make any non-puro fan watch (like I was at the time) and more than likely they will come out the other side thinking this match is great. Taking place in the thick of the NOAH vs. NJPW feud that was producing **** matches quicker than you can dream them up, we have the cherry on top with this match. A rematch from a few months prior and takes place in a NJPW arena, Liger & Tanaka are actually NJPW heels and you can sense the reluctance from the NJPW crowd to cheer them against the NOAH guys but they dutifully do so anyway. The first ten minutes is just a fight. There are very few fancy moves or big spots as it's about establishing the hatred between the teams and as the match goes on Liger & Tanaka get increasingly heel-ish with their actions slowly turn the crow against them. This is best exemplified when Liger has Kikichi in a camel clutch and is trying to rip him in two and Tanaka puts his boot hard in Kikishi's face and torques him back even further in a truly dick move that actually gets the New Japan crowd chanting KI-KI-CHI. Things ramp up when Tanaka is repeatedly going for the arm-breaker submission but Kikichi, who by now is quite earning incredible sympathy from the crowd and when he finally hot tags Kanemaru with about 8 minutes left all hell breaks loose. This is where the crazy counter/reversal sequences start and its balls to the wall down the stretch. At the end all four men are laid out, Kanemaru gets up, hits Liger with a series of rolling Germans and Kikichi then hits a sit-out power bomb for the win and the crowd goes crazy. I cannot do this match justice. The first part is a war, the second part is athletic but still intense. Each series of moves lead to a logical next step and there is no resting for 22 minutes. You need to find this match now.

1. Hiroshi Tanahashi vs. Minoru Suzuki (IWGP Heavyweight Title Match NJPW King of Pro Wrestling 2012) - So much has been written about this match. I certainly don't think I could add that much too it. Thinking it through while re-watching this match I still can't help but notice the stark differences between how this match is worked and how the WWE treat its main events and even how it presents its wrestlers. Each man has a distinct look and personality. Tanahashi is the superstar full of flash and sizzle while Suzuki is the grizzled hard-headed, ex-MMA fighter that has the look of a man that would just as soon rip your face off with his teeth as stretch you and pound you to submission with his fists. They way they look, the way the present themselves and the way they wrestle reflect the personality of each man. Perhaps this is why this match works. The little grace notes each man puts in make the match that little bit extra special. My favorite…Tanahashi has Suzuki in an abdominal stretch and plays some air guitar on him, which you know would piss Suzuki off. So when he slaps the piss out of Tanahashi for being an idiot it fits the persona of each man and it weaves into the working of the match. The other great aspect is that it was worked against type. The popular thing now is kicking out of multiple finishers down the stretch to build up suspense, which is a cheap but extremely effective tool. These guys went at it for 30 minutes and didn't rely on that crutch and the only pinfall attempt was actually the winning moment of the match. They built suspense through sheer hard work and when the pinfall came you knew it was the end. Each man also picked a body part to work on and stuck to it making it easy to follow. You don't need a deep knowledge of wrestling psychology to get what's going on If you haven't seen it, put aside 30 minutes and be amazed at one of the greatest matches you will ever see.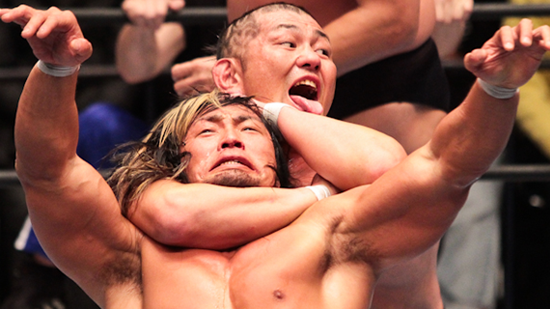 ---
YOUR TURN KNOW IT ALLS

List your Top Five for this week's topic in the comment section using the following format:

5. CHOICE: Explanation
4. CHOICE: Explanation
3. CHOICE: Explanation
2. CHOICE: Explanation
1. CHOICE: Explanation
comments powered by