SPOTLIGHTS
Wrestling's 4Rs 8.01.14: WWE Monday Night Raw Reviewed
Posted by Jack Stevenson on 08.01.2014

John Cena addressed his match with Brock Lesnar, Chris Jericho faced Seth Rollins, Stephanie McMahon confronted Brie Bella and more! Wrestling's 4Rs breaks down the Right, the wRong & the Ridiculous of WWE Raw, TNA Impact and Dragon Gate on iPPV!


How the 4Rs of wRestling Work!
Here is a quick explanation of the 4R's. The column will run TWO times a week. We will group our feelings on the shows in various categories: The Right, the wRong and the Ridiculous. The Right is stuff that worked very well: a great promo, a great match and so on. PuRgatoRy is a section between the right and wrong. It shows equal traits from both sides that cannot be ignored and need discussed. It is not a bad place per say, as things can get remedied or go the wrong way the very next week. The wRong is what it sounds like: bad matches, bad or boring promos and so on. The Ridiculous is stuff that had no right on TV: Stupid angles and so on. And there is always a possibility of a 5th R, which is as bad as they come. This column is supposed to be analytical, and at the right time very critical of the shows, it was the whole reason it was created. This is not a "mark" column, nor a "smark" column, our goal is to analyze the show from many different fronts, reward the good and call out the bad. We will not apologize for our opinions, they are as they are, whether positive or negative.
---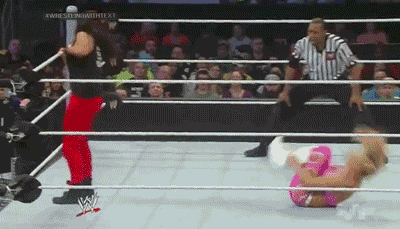 It's quite hypnotic….
By: Jack Stevenson
Raw 7.28.14:
QUICK MATCH RESULTS:
John Cena d. Cesaro

The Usos & Dolph Ziggler d. The Miz & Rybaxel

R-Truth d. Bo Dallas

Adam Rose d. Damian Sandow

Diego d. Fernando

Natalya & Naomi d. Cameron & Alicia Fox

Chris Jericho d. Seth Rollins via DQ



THE RIGHT:
The Forecast Calls for Flurries of Passion: Raw did NOT open this week with John Cena, Roman Reigns, Randy Orton and Kane arguing with the Authority and each other in some form and combination, which was a blessed relief. Instead, John Cena came out and cut one of his frowny face promos about meeting Brock Lesnar at Summerslam- and, hey, it was really rather good. It was serious, intense, honest, and gave Cena-Lesnar II a real big fight feel three weeks before it even takes place. I particularly liked the way he emphasized how out of control Brock was, and that no one can know what will happen if he wins the WWE Championship, or who can possibly take it off him. It sounds really simple written down on paper/computer screen, but watching it live I was like "ohhhhh fuck, I'd forgotten what an unstoppable psychopath Brock was." And who will be able to take the belt off Brock Lesnar, should he win it? Serious question. The only answer I have is "Roman Reigns in nine months maybe." Hmmmm. Anyway, Paul Heyman came out and did his usual, his client is Brock Lesnar, conquer conquer conquer, conquer conquer, conquer. Like I said last week, a poor Heyman promo is better than the vast majority of people's best mic work, but for the second consecutive week I thought he wasn't quite at his best, it was just a bit predictable and bland by his standards. Then things went really downhill, so far downhill this segment almost tumbled out of the 'right,' because John Cena started to go into hysterics about PASSION and how PASSIONATE he is and how HE FRIGGIN LOVES THE WWE, LOVES THE FRIG OUT OF IT HE DOES. SO MUCH PASSION! It was a bit ridiculous to watch him quivering and howling and appearing on the verge of tears and took away a bit from his excellent work earlier. But I still came away from this segment feeling more excited for Cena-Lesnar than I had before it, and it led directly into a great opening match, so I think the positives slightly outweigh the negatives. Speaking of which...


John Cena vs. Cesaro: While it was nowhere near the level of their jaw-dropping collision back in February, still the best match Raw has hosted this year for my money, this was still an entertaining encounter, peppered with some staggering feats of strength. In many respects it was kind of a diet version of that February match- some of the spots were taken from it verbatim, but it didn't have the same structure that made the original so fantastic, and Cesaro is no longer at the stage he was where you really thought he might be able to snag an upset. Still, watching the Swiss Superman superplex Cena from the ring apron, all the way over the top turnbuckles and down to the mat never fails to dazzle, and there was plenty to enjoy otherwise here. A good opening match.


Triple H is very angry at us: Triple H marched to the ring, with Stephanie shuffling meekly in tow, to let us know that he was truly disgusted at us all for taking pleasure in his wife's arrest last week. Stephanie then asked for Brie Bella to come to the ring so they could try and put their issue to bed, but got Chris Jericho instead, who is probably the last person she wanted. Jericho mocked them both for a bit until Seth Rollins attacked him, setting up a match for later in the night. All of this was excellent. It was really fun to see HHH losing his temper so much with the crowd; with most superstars even the most vociferous boos will only get an angry glare or a "shut up!" out of them, and it suits Hunter's power drunk character to launch into such a tirade against us all. It was something different and excitingly direct. For her part, Stephanie sold her humiliation really really well, and Chris Jericho was as fantastic as you'd expect as the smug antagonist, particularly in getting the whole crowd to sing the Bad Boys song. This worked tremendously.

Dolph Ziggler & The Usos vs. The Miz & Rybaxel: The majority of WWE six man tags are good fun these days, and this was no exception. Lots of flying all over the place from the fan favorites, while the Miz continued to entertain in his new role as Hollywood narcissist and Rybaxel did what they do best- exist without being massively offensive. A nice, breezy addition to the show.

R-Truth vs. Bo Dallas: A welcome piece of character development this week for Bo. I'd quibble with the decision to end his streak this early and to R-Truth of all people, but his post match attack turned him from a goofy, annoying, but ultimately harmless motivator to a jealous, childish hypocrite, and did so very neatly and smoothly. The crowd seemed just as into him after the match as they were before it, so I don't think the defeat did him much damage. Broadly successful.

Chris Jericho vs. Seth Rollins: This was fantastic, yet another match that would have made the little vanity top 10 list I do in almost any other year in Raw history, but is kept out because the wrestling quality on this show this year and last has just been incredible. Still, this was really really good, intense and athletic and brimming with exciting near falls. If you told me from six years ago, evangelical Ring of Honor fan that I was, that one day we'd get a good quality Chris Jericho vs. Tyler Black match on Raw I'd have practically come. The only down note was the post match beat down from the Wyatts, which did nothing to save this flat feud.

Stephanie and Brie Bella are not friends: So here's a thing- this week, Raw concluded with a serious angle in which women were taken seriously and neither of them had to flash their bum at Dolph Ziggler or anything. AND THE CROWD REACTED POSITIVELY! Who could possibly have known? I mean, the only reason this feud has turned out so well is because it's a spin-off of some feud with some men in it, so let's not call this a giant leap forward for WWE and its treatment of women, but still. Stephanie McMahon closed the show by trying to apologies to Brie Bella for attacking her last week in the hope that Brie wouldn't press charges. Brie agreed not to do so as long as Nikki got a raise, she got her job back, and a match was made for Summerslam... Brie Bella vs. Stephanie McMahon! Steph pretended to be mortified at the idea, and was pretty darn convincing too, but then slapped Brie off the ring apron and promised to turn her into her bitch. This was dramatic, fresh, cathartic, and the crowd adored it; considering how anemic the feud has been for so long, I'd say that's quite an achievement. And, hey, the match itself should be... a spectacle. One way or another.



puRgatoRy:
The Weird Adventures of Paige & AJ: So Paige attempted to apologies for attacking AJ on last week's Raw, blaming her youthfulness for having acted so rashly. AJ came out, didn't accept, things got tense, and ended with AJ driving Paige out the ring while the deposed Divas Champion pleaded for their friendship. As I've mentioned before, I find it hard to put Divas angles firmly in the right when WWE have such a strong track record of mediocrity in women's wrestling, and Paige was noticeably not as smooth and confident on the microphone as her counterpart, which is far from ideal because she's the one whose got to do the most acting- I think this would be a lot more convincing the roles were switched, and AJ had been the one coming back trying to convince us she was a reformed character. Still, this angle is odd enough to attract my interest personally, and at least this week they weren't complementing each other's hair.

Randy Orton gets revenge: Roman Reigns was scheduled to be wrestling Kane on this week's episode, but was attacked as he made his entrance through the crowd by Orton, which scuppered those plans. Reigns fought valiantly but with Kane siding with Orton this week, the numbers game proved too much for him, and eventually he was finished off by the Viper, who RKO-ed him through a table. It wasn't anything particularly compelling, Orton, Reigns and Kane have been at each other's throats in some form for months and months now so I don't get particularly excited to see them interacting, and the beat down on Roman wasn't that interesting. But Orton brought some good intensity and the RKO through the table was a cool image and, hey, at least it's preferable to a Roman Reigns-Kane match. Could have been worse.

Naomi & Natalya vs. Cameron & Alicia Fox: This was OK but I really don't remember much about it. Purgatory it is then!



THE WRONG:
USA vs. Russia Part 13466774.92: The problem with patriotism is, it's really really limited. Limited and boring. One week of Lana being all "America is full of FOOLS!" and then Colter being all like "RUSSIA SUCKS!" was kind of fun, but this week it was just same old same old. The crowd were still reasonably hot for it so maybe they're seeing something I'm not, but a sizeable proportion of them also cheered when George W. Bush appeared on the screen so there's no accounting for their taste. Jack and Rusev fought to a standoff this week- hopefully we can find a decisive winner quickly.

Adam Rose vs. Damian Sandow: Damian tries his best with this bizarre gimmick of his, but he misses more than he hits, and this week was just lackluster. I still firmly believe Adam Rose has potential to at least fulfill the Santino Marella role, and even that is being wasted. This was a flat segment that did nothing for anyone.

Diego vs. Fandango: Just in case people still didn't think WWE has a serious sexism problem, when Michael Cole noted that Summer Rae and Layla were trying to get revenge on Fandango, Jerry Lawler responded with "typical women." Otherwise this was more of the same. The Slayers distract Fandango, lower card person wins.


THE RIDICULOUS:
NOTHING


THE RAW MATCH OF THE YEAR LIST:
No change.



2.17.14- John Cena vs. Cesaro


3.03.14- The Shield vs. The Wyatt Family


5.5.14- The Shield vs. The Wyatt Family


2.03.14- Daniel Bryan vs. Randy Orton


2.10.14- Sheamus & Christian vs. The Real Americans


1.27.14- John Cena, Sheamus & Daniel Bryan vs. The Shield


6.2.14- The Usos vs. The Wyatt Family


4.21.14- Sheamus vs. Bad News Barrett


5.5.14- Daniel Bryan vs. Alberto Del Rio


6.9.14- Sheamus vs. Bad News Barrett


The 411:


Lots to enjoy this week, including a befuddlingly brilliant angle with Brie Bella and a great Seth Rollins-Chris Jericho match. It was quite a refreshing Raw as well, with the likes of Cena, Orton, Reigns and Kane being limited to one segment each. And, OK, they made up for that I guess with two separate in ring segments centered around the Authority, but at least they were both strong segments. This was an episode that gave me real hope that the road to Summerslam might actually have some twists and turns on it, rather than just being tediously long and flat. Thumbs up!

Show Rating: 7.5

As a reminder, I will be going by the 411 scale…

0 - 0.9: Torture
1 - 1.9: Extremely Horrendous
2 - 2.9: Very Bad
3 - 3.9: Bad
4 - 4.9: Poor
5 - 5.9: Not So Good
6 - 6.9: Average
7 - 7.9: Good
8 - 8.9:Very Good
9 - 9.9: Amazing
10: Virtually Perfect
The 909th edition is over…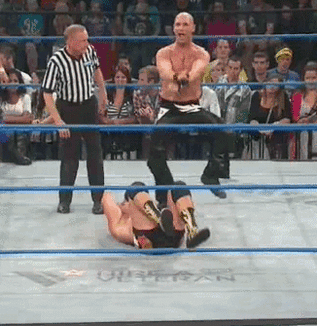 Have you checked out the Csonka Podcasting Network? If you haven't, you should We run anywhere from 15-20 shows a month, discussing pro wrestling, the world of MMA, the NBA, general sports, popular TV series of the past, bad movies, battle rap, interviews, MMA & Wrestling conference calls and more! Around 10 different personalities take part in the various shows, which all have a different feel; so you'll likely find something you like. All of the broadcasts are free, so go ahead and give a show a try and share the link with your friends on the Twitter Machine and other social media outlets! Running since May of 2011, there are currently over 500 shows in the archive for you to listen to.



Your heart is free. Have the courage to follow it…TO CSONKA'S TWITTER!

http://www.twitter.com/411wrestling
http://www.twitter.com/411moviestv
http://www.twitter.com/411music
http://www.twitter.com/411games
http://www.twitter.com/411mma
comments powered by