SPOTLIGHTS
Is John Cena the Greatest WWE Champion of All-Time?
Posted by Daniel Wilcox on 08.15.2014

WWE has been pushing John Cena as the greatest WWE champion of all-time, but is there validity to the claim? 411's Daniel Wilcox takes a look!




In recent weeks, John Cena has been described as "the greatest WWE Champion of all time," by Michael Cole and other unbiased personnel on WWE television. Hulk Hogan even chimed in recently to say the same thing. Like most pro-Cena propaganda, the claim has been met negatively with reaction ranging from a raised eyebrow to a middle finger and everything in between. My friend Mark posted an angry YouTube video to show his utter disgust.

As a wrestling observer who considers himself somewhat level-headed, I don't believe the claim to be as outrageous as it first seems. Rather than definitively answer the question of who is the greatest WWE Champion of all time, today I seek to evaluate the argument and assess whether or not John Cena really might have a claim to the title of greatest WWE Champion of all time.

To be able to effectively answer this question, we have to have some kind of agreeable criteria upon which to base our arguments. Now for the sake of clarification, we're talking about the greatest WWE Champion of all time. Not the best professional wrestler of all time, nor the greatest world champion of all time. This eliminates guys that will always be associated with the NWA or WCW moreso than WWE. Guys like Harley Race, Lou Thesz, Sting, Dusty et al are therefore out of the reckoning straightaway.

Caveat: for the purposes of this article, we will assume by "WWE Champion" we mean holder of any world title that has been active under the WWWF/WWF/WWE banner, including the World Heavyweight Championship [2002-2013].

So what makes a great WWE Champion?



Making Money



Arguably the most important factor in being a successful champion is the ability to generate money. Professional wrestling is a business after all, and at the end of the day, the bottom line is all that counts. But measuring a performer's ability to make money in comparison to stars of yesteryear is a near-impossible business. Even if you could compile all the relevant figures in terms of house attendance gates, pay-per-view buyrates, television ratings, merchandise sales and so on and so forth, you have to take into account things like inflation, as well as how the business has completely changed over the years. Now I'm a guy with qualifications in economics, but that's not something even I would care to tackle.

Bruno Sammartino used to draw mammoth crowds. We've all heard the stories of how he would sell out Madison Square Garden night after night. Unquestionably, Bruno Sammartino was a professional wrestling draw, regardless of who he was in the ring with.

Years later, Hulk Hogan burst onto the scene and revolutionised the business. When he became champion in 1984, Hulkamania began to run wild and arguably it hasn't stopped since. Hogan was such an obvious draw in terms of live attendance, but he also shifted an unprecedented amount of merchandise. Hogan became a superstar the likes of which wrestling had never seen. Again, regardless of who his opponent was, Hulk Hogan is one of wrestling's all-time greatest draws and he carried the company on his back for a number of years.

After the likes of Shawn Michaels, Bret Hart and Diesel put the WWE in the financial doldrums during the mid-nineties, Stone Cold Steve Austin emerged and took the world by storm. Austin vs. McMahon and Austin vs. Rock made some serious money, as did the Austin "3:16" shirt, a T-shirt you couldn't walk down any high street in America without seeing. Now, during this period, Austin had an incredible supporting cast including Rock, DX, Undertaker, Mankind and more, but there's no denying – ratings and buyrates support it – that Austin is a phenomenal draw. The Rock can be entered into a similar category. His merchandise did ridiculous numbers, particularly throughout 2000 and 2001. His numerous returns have always been a ratings-booster and his appearances on pay-per-view in recent years have cemented himself as arguably wrestling's greatest success story.

Enter John Cena. Professional wrestling is so much different in the 21st century, even in comparison to the Attitude Era. It's arguable that the name "WWE" is the true draw in the modern age. But nobody can deny the amount of money John Cena makes the company – it's the reason he has been on top for so long. We all know about the merchandise he moves, that's well-documented. But generally speaking, any time John Cena wins a title, makes a return or is advertised for a match on Raw, ratings go up. Comparing Cena to someone like Hogan is just so difficult however, due to factors such as the champion scarcely appearing back in the day. But one thing is for sure, if Cena wasn't making Vince McMahon and co. some serious money, the guy wouldn't be where he is today.

I could spend months researching and analysing all the figures available – assuming those are accurate, and it would still be pretty much impossible to answer who is the best drawing champion of all time. But based on the evidence we have available and a little bit of common sense, John Cena is unquestionably in the top tier of wrestling's all-time money-makers with the likes of Stone Cold and Hulk Hogan.



In-Ring Prowess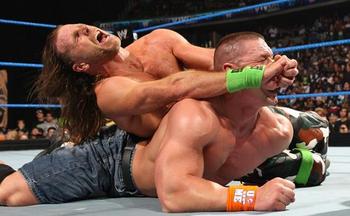 Here we go.

John Cena is not on the same level as the likes of Shawn Michaels, Bret Hart, Kurt Angle etc in terms of his ability to put on a crisp, technically sound professional wrestling match.

However, in terms of putting on an entertaining match, filled with suspense and drama, John Cena is an all-time great.

I would like to think that most of our readers have grown out of this thought pattern that John Cena "can't wrestle." People who still have that mindset have probably stopped reading and gone straight to the comments section anyway.

John Cena has had outstanding matches with the likes of Shawn Michaels, Kurt Angle, Chris Jericho, CM Punk, Edge, Randy Orton, Daniel Bryan, Brock Lesnar, Triple H and more. People will then argue that Cena is often carried, or that he can't have a good match with a lesser opponent. But Cena has had some damn good battles with the likes of Bobby Lashley, Batista, Mark Henry and even the Great Khali. Let's not forget the classic Last Man Standing match with Umaga. And I've no doubt that Cena has many classics ahead of him.

So many great performers – the aforementioned Bret Hart and Shawn Michaels being two, Eddie Guerrero and Chris Benoit being two others – have not been able to draw as champions in ways that others have despite being so damn good in the ring. Even more recently, there has been debates over the drawing power of guys like Daniel Bryan and CM Punk. John Cena is a guy that can go in the ring and make bank. Steve Austin was the same, despite his numerous injuries. Austin had some classics during his run on top, and you could usually depend on him for a good match. Hulk Hogan will never be known as in-ring stalwart despite a couple of great matches with Warrior and Savage, but in the 1980s, that wasn't as important a factor as it is today. Hogan knew how to work a crowd into a frenzy without exerting too much energy, and that's all that mattered back in the day.

Nevertheless, it is hard to argue that John Cena doesn't deserve a mention near the top of the list of best in-ring performing champions considering the sheer volume of great matches he has had and with the variety of opponents with which he has had them.



Longevity



John Cena has been the face of the WWE for the best part of a decade. John Cena became the face of the company either the day he won his first WWE Championship at WrestleMania 21, or the day he took that title to Raw in the Draft Lottery a few months later. Whichever it is, since then, he has been the number one guy. That can't really be disputed, in the same way that Hulk Hogan was the number one guy from the day he won his first world championship and proceeded to dominate in the 1980s.

Other top tier stars, whether you want to talk about Bret Hart, Shawn Michaels, Steve Austin or The Rock, were never "the man" for anyway near as long as John Cena has been. In some cases, this is due to injuries shortening careers. In other cases, it's because people wanted to move on to other ventures. That's a valid counterpoint, but the fact remains the Stone Colds and Rocks of the wrestling world were only on top for a few years.

Perhaps a more important counterpoint to be made is that by the time John Cena came to the forefront of the wrestling world, WWE had no competition. WWE has had a monopoly on mainstream professional wrestling since WCW died and because of that, there hasn't really been a need to take big risks on new stars. WWE makes a ton of money from a whole host of other ventures, whether that's in-house merchandise, films, TV deals, toys and all the rest of it. Perhaps, if there was competition kicking Vince's ass in the TV ratings, WWE would look to other stars to take over. But that isn't the case, and as The Champ has been here for a decade, unmovable at the top of the pecking order.



Legacy



How will John Cena be remembered ten years from now? Or a few decades from now, even?

People use performers' characteristics as a way undermining what they accomplished. For example, it's often argued that Hulk Hogan only remained on top for so long because of the politics that he played. He only worked with guys he wanted to work with. He nixed feuds because he didn't want to put guys over. He did this, and he did that, to make sure he kept his spot. Even Steve Austin refused to work with a few people, or a refused to do business in a certain way. Some of these points are valid, some are not. If you're that important to the company's financial strength, you probably should have some in what goes on.

Considering how long he's been around, we don't hear much of that type of thing in regards to John Cena. After ten years on top, if the only guys allegedly held down by Cena are the likes of Ken Doane and Alex Riley, then the guy's not done too badly. And more importantly, I don't think there's ever been a professional wrestler as dedicated to his fans as John Cena. Now I'm not saying no other top stars have done their fair share of charity work, but John Cena spends untold amounts of time with sick children, working with charities and promoting good causes. And from everything we've seen, heard and read, it's something that he genuinely loves to do. There aren't too many guys that actually have a bad word to say about John Cena as a man, and that can go along way in defining a legacy.

In fact, when all is said and done, I think people will remember Cena's work ethic and character far more than they'll remember his number of title reigns or even his body of work. That man lives for sports entertainment, and he lives for his fans.



Conclusion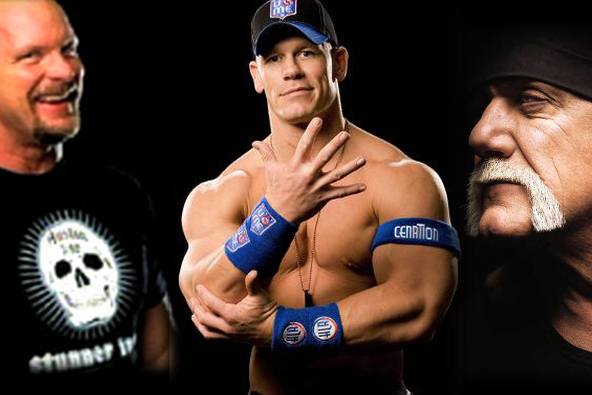 John Cena isn't the greatest in-ring technician of all-time. He may not necessarily have sold as many T-shirts or tickets as Steve Austin or Hulk Hogan, but I bet he's not far off. He may never star in summer blockbusters, but he's still a name that a hell of a lot of people outside the wrestling world are familiar with.

John Cena may well never have a run as a top-tier villainous performer. His character may well never change. But if that's the case, he's still a guy that will continue to inspire a generation of young fans, and he still manages to outperform most of his contemporaries in the ring while making the company he works for a ton of money.

John Cena's the total package and he's here to stay, one way or another. And as long as he shows up and delivers with the same dedication that we've seen from him for the last decade, then I'm perfectly OK with that.

Would I like to see John Cena have a complete character overhaul, turn heel and break the hearts of thousands of Cenation soldiers around the world? Maybe, but out of curiosity more than anything else.

If WWE wants to tout John Cena as the greatest WWE Champion of all time, I don't really have a problem with that either. It's an argument that can never definitively be answered anyway, because everyone has their own criteria and times change so quickly that it's invalid to compare superstars generations apart anyway. But I am pretty confident that years from now when people look back on the career of John Cena, even the man's most ardent detractors will say "do you know what? That John Cena wasn't so bad after all."


comments powered by