SPOTLIGHTS
The Curious Case of Kurt Angle
Posted by Dino Zee on 08.17.2014

With rumors swirling of Kurt Angle wanting to return to WWE and WWE not being interested, 411's Dino Zee takes a look at where everything went wrong, and whether or not it's something worth saving...




Kurt Angle is someone who, from nearly his very start in professional wrestling, has earned respect from the fans. We've always appreciated what he can do in the ring. I think he probably got some extra love for being someone who wrestled "for real" and still made the switch to the "fake stuff" nearly seamlessly.

I say "nearly" because I remember his first few weeks in the WWF. He wasn't atrocious, but he wasn't totally comfortable, either. Still, there was something there. Something that let us know that, with a little more time, he'd be ready to roll.

From the end of 1999 until the summer of 2006, Kurt Angle was one of the very best wrestlers in WWE. He had great matches with anyone who shared the ring with him. It didn't matter if it was one on one, tag team, triple threats, or 6 man Hell in a Cell matches- Angle delivered consistently each and every time out.

I was lucky enough to attend WrestleManias 19 and 21. At these events, I watched Kurt Angle salvage the main event after Brock Lesnar jumped onto his head with an ill-fated Shooting Star Press. The composure Kurt kept while his concussed opponent did his best to not pass out is something that remains in my head. No, they didn't go for an extra 15 minutes, but it was Kurt who kept that together and prevented some weird minutes-long stall where nothing happens. That was also the night many of us thought we were seeing the last Kurt Angle match, as word had gotten out that he was going in for neck surgery on his repeatedly broken neck. That he managed to show up, put together a great match, and keep it together when the wheels nearly fell off is a testament to his skill.

Two years later, he stepped into the ring with Shawn Michaels. I've called it the greatest match I've seen live, and I don't even know how much competition there is for it. Crazier still is that this match managed to, at the very least, meet the stupid crazy expectations that I had for it. It seemed simple enough- put two of the very best in the ring, get a great match. However, we'd seen Angle and HHH fail to light the arena on fire, and even going way back, there's always that SummerSlam 1993 match with Michaels and Mr. Perfect that shows that the best laid plans can sometimes come up short.

In the summer of 2006, Angle was moved to the ECW brand, where he'd supposedly be the "great veteran wrestler" presence on the show, and help to legitimize the name to a new audience. His match with Randy Orton at that year's showed a new, more intense Angle, one looking only to win wrestling matches. It seemed like he was going to be a great presence on the fledgling show, one that would help bring along the younger guys with his veteran experience.




Of course, as I said before, sometimes the best laid plans can come up short. On August 25, 2006, news broke that WWE had released Angle from his contract. The two sides of the story we as fans were given was that WWE let him go because they wanted him to rest, recover, and possibly go to rehab. For his part, Angle claimed to have asked for the release because he wanted to take time off and heal. Either way, most of us assumed he'd sit on the sidelines for a bit, get better, and then if he felt like it, pick up where he left off in WWE.

But that September, TNA dropped the bomb on us, as they announced the signing of Angle. As we debated who Angle should feud with, TNA made up our minds for us, as they set him up with Samoa Joe. After three great matches, Angle was firmly established in his new home, and he even helped Joe show that he could hang with the top guys, and not just beat up the X Division talent. Well, at least to the fans who hadn't seen much of Joe outside of TNA.

Angle would continue to be excellent throughout his TNA run. An excellent TNA Title match with Samoa Joe remains a favorite for most fans, as well as his matches with Sting, Jeff Jarrett, and AJ Styles. He was always kept strong in the company, even when he had personal life stumbles that would probably earn a little depush if it was WWE.

It appeared as though there was always that chip on his shoulder, as if every outing in TNA was done to stick it to WWE, who thought he was done. To prove he absolutely had plenty left in the tank. And I think he more than made his point.

He's slowed down the last year or two, with numerous injuries taking their toll. Still, TNA has kept him in relevant positions, from a Hall of Fame redemption angle to now being the on-air authority figure. However, there have recently been reports that Angle is looking to rejoin WWE when his TNA contract runs out, and that he'd like to close his career where it started. It doesn't appear as though there's any bad feelings with TNA, and that he simply wants to go back "home" as it were.




An interesting turn in all of this, however, is the word that WWE apparently wants nothing to do with him. Now, I'm not one of those who reads every report and then immediately calls it crap. I try to use my own common sense and extract what bits of truth may lie in the overall report. So, let me say that I do believe that WWE has said that they don't want anything to do with him. I also think that's probably not totally true, and is probably being done more to avoid starting a bidding war, or even being accused of tampering. Kurt's under contract, and trying to mess with it may not be the best move.

Again, I'm not a lawyer either, so I might have that messed up. Still, that's the conclusion I've come to.

What's disheartening about this, is the word that Vince McMahon himself is the one who is supposedly very against bringing Angle back. This, to me, lends itself to WWE feeling like Angle lied to them to get out of his contract, only to immediately sign with TNA. Now sure, this wasn't quite on the level of Lex Luger showing up on the first Nitro, but I don't think it's totally unreasonable for WWE- and more specifically, Vince himself- to still harbor bad feelings if they honestly believe they were lied to.

The idea that a talent like Kurt Angle wouldn't be welcomed back just doesn't sit right. Not in a world where we've seen Hogan, Warrior, and Sunny welcomed back. That he may have burnt his bridge by allegedly pretending to be at wits end and needing a break, only to immediately return to action is also not the most ridiculous concept, either.

However, I just can't see WWE being that petty. Not for an all time great. Not for an "Olympic hero." Not for Kurt Angle. I'd assume a sit down with some apologies and concessions would be the easiest way to smooth things over. After all, there is so much use for Kurt Angle in this wrestling world. He could manage. He could go to NXT and help train the next wave of stars. Hell, if he's still feeling it, he could probably work an Undertaker-like schedule and only have a couple matches a year, all of them at huge events.

What I think is that Kurt Angle's physical condition is the biggest hurdle here. WWE knows what kind of shape he was in 8 years ago- do they think he's gotten better? They have to have someone keeping eyes on TNA, and one would assume that those eyes have relayed how his body is continuing to break down. And that's when you have to ask the question- is Kurt Angle worth it at this point?




It seems so ridiculous to even consider measuring whether or not Angle is "worth it," as the answer would seemingly be a resounding "Duh!" But if you're WWE, do you really want to bring in an old performer who has been gone for nearly a decade that left on, at the very least, less than ideal conditions? Do you want a guy that's had numerous legal issues while away? Who has struggled with substance abuse problems while away?

If I was in charge, I'd have Angle back in a heartbeat, with nearly no questions asked. But I'm a fan, and I think with my heart. If you're someone as calculating as Triple H or Vince McMahon, do you really see much value in Kurt Angle? Is he truly one of a kind? Is there no other veteran out there who commands respect, can still wrestle good matches, who could serve as a teacher?

At this point, one can only accept the fact that Kurt Angle made his own bed. He made his own decisions. He proudly stuck with TNA because they stuck with him. There's nothing wrong with that. But if he always imagined an easy return to WWE, then perhaps he's even more aloof than he sometimes seems. If he's never tried to mend the fences with anyone in WWE, and honestly thought he could just get the word out that he wanted back, and they'd just take him, then I have to question his methods.

Kurt Angle is a Hall of Famer. WWE or TNA. His body of work is incredible. His added legitimacy is something we as fans will always appreciate about him. But he hasn't made fans out of everyone he's come across, and at some point, we have to be able to separate Kurt Angle the Performer from Kurt Angle the Man, because the two are clearly different, and one has caused many problems for the other.

It's a sad state when an all-time great may not have any interest from WWE concerning a possible return. It's a curious case, indeed. But to be fair, one has to grant that Kurt Angle made his own decisions, and they have landed him in this odd no-man's land.

And again, I'm not saying I fully believe WWE. I think there is interest, and I think that in all likelihood, they work this out. Still, at this point, there is something sad about an all time great not being able to come back home. We want the "complete" Kurt Angle collection. Even though his time in TNA is now longer than his time in WWE, we still want him back on Raw. We want 3 I's, we want "It's true," we want goofy Kurt. If the two parties can't come to terms when the time comes… well, Kurt's only got himself to blame.

And if it can't come together, I think that TNA has more than taken care of the man, and deserves a little more consideration than "I sure can't wait to go back to WWE when this is all over with."

Come on, Kurt. Get your affairs in order, and make it so you can get what you want. All we want is for you to be happy. And that should do it for this week. Until next time, have a great weekend, and remember to enjoy your WWE, your TNA, your Lucha, your Puro, and your Indies.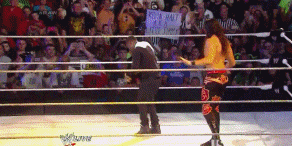 It's ALL Wrestling. It's ALL Stupid. We ALL Love It.
comments powered by