SPOTLIGHTS
The 411 Wrestling Top 5: Top 5 WWE Performers of the '90s
Posted by Larry Csonka on 08.25.2014

From Steve Austin, Shawn Michaels and Hulk Hogan to Razor Ramon, the Undertaker and more, the 411 staff breaks down their top 5 WWE performers of the 1990s!

The 411 Wrestling Top 5: Hello everyone and welcome to 411 Wrestling's Top 5 List. We take a topic each week and all the writers here on 411 wrestling will have the ability to participate and give us their Top 5 on said topic. So, onto this week's topic…


























Week 278 - Top 5 WWE Performers of the 90s

Name your top 5 WWE performers during the time period of January 1, 1990 to December 31st, 1999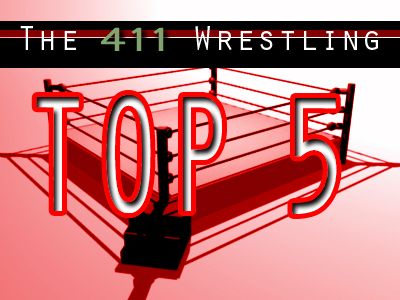 Daniel Wilcox
5. Bret Hart - Anyone who's familiar with me as a writer will likely be aware that I'm not one of Bret Hart's biggest fans. I've always been a Shawn Michaels guy, I guess. But it's hard to argue with Hart's body of work in WWE in the 1990s. With Hulk Hogan coming to the end of his spell on top of the company, and the likes of Ultimate Warrior and Randy Savage moving on, Hart was the guy that picked up the pieces and looked to carry the company into the next generation. You can place the blame on Hart (and in fairness, Michaels as well) for the decline in business, but truth be told there were other factors in play out of Hart's control. What's undeniable, however, is the quality of in-ring product Bret provided throughout the decade. Hart had a number of classics with the likes of Davey Boy, Mr. Perfect, and of course Shawn Michaels and Steve Austin. Hart was a ring general and unquestionably an all-time great, and his contribution to the business cannot be underestimated. All that said, Bret was arguably at his most entertaining at the dawn of the Attitude Era and the feud between the Hart Foundation and Steve Austin, a feud that propelled the Rattlesnake to the top. Above all else, it's for that star making run that Bret edges out other classic 90s performers such as Mick Foley and The Undertaker in my eyes.

4. Triple H/The Rock - Yes, putting these two together is a bit of a cheat, but when I began writing an entry for each, I realized the similarities could not be ignored. Truth of the matter is, both of these guys wouldn't have their best years until 2000, and as such that can't be taken into consideration. But in the late 90s, these two laid the groundwork for what would turn into two phenomenal careers. Both guys overcame cringe worthy first gimmicks before beginning their ascent to superstardom. Both guys had tremendous rivalries with Mick Foley that delivered some damn good matches. The Rock and the Game would then feud as leaders of their respective factions culminating in a magnificent ladder match at Summerslam 1998. Obviously, Triple H's D-Generation-X was far more important an alliance than the Nation, and for that reason I considered placing The Game higher than The Rock, but The Great One would reach the pinnacle and become WWE Champion and headline WrestleMania before the decade was out, becoming the company's second biggest star in the process. The world championship would come to The Game by summer of 1999, but it would take him another year to become the company's top heel. Regardless, both guys are two of the decade's most iconic figures who go on to bigger and better things, but it's impossible to leave them off of a list like this.

3. Vince McMahon - I don't think too many people would argue the notion that Vince McMahon vs. Stone Cold is one of the greatest rivalries in professional wrestling history, if not the best. It's certainly the most important one of the 1990s. As far as Vince McMahon goes, the Montreal Screw job changed everything. McMahon was thrust into the spotlight in a way that he never had been before. Sure, everybody already knew he was the boss, but that was the birth of the on-screen Mr. McMahon character. So Vince took the opportunity and created arguably the greatest heel in wrestling history. No great hero can succeed if they don't have a great adversary to overcome, and there's be no greater foil than Mr. McMahon, the evil boss. Whether he was demonically screaming into the face of his bloodied and beaten rivals, or swimming in a pool of beer in the middle of the ring, Mr. McMahon delivered pretty much every time he was on-screen during the Attitude Era. People paid good money to see this guy get his ass handed to him, and McMahon certainly knew how to take an ass kicking. It's quite an obvious thing to say that professional wrestling wouldn't be where it is today with Vince McMahon, the businessman and wrestling promoter, but it's just as true to say that professional wrestling wouldn't be where it is today without Mr. McMahon, the evil television character.

2. Shawn Michaels - Maybe there's a little bit of personal bias here, but it's hard to argue that Shawn Michaels isn't one of the greatest of all time. You can argue about his politicking and his attitude all you want, but when it comes down to lacing up a pair of boots and delivering in the ring, there's only one Shawn Michaels. The Heartbreak Kid carried the company for a number of years in terms of its in-ring product. The guy was involved in a pair of all-time classic matches with Razor Ramon, before becoming WWE Champion after another classic with Bret Hart. Shawn would bring out the best in all of his opponents, whether it was Mankind, Vader, Diesel or Jeff Jarrett, the guy flat out delivered. Sure, business wasn't great around the time, but again, there were plenty of factors in that, not just the guys at the top of the card. Michaels would go on to form one of the most important stables of all time, DX, and revolutionize the product in ways that continue have ramifications on the product even today. Michaels would bow out by putting over the biggest star of the next generation in what we all assumed would be Michaels final match at WrestleMania XIV. Whatever nickname you give to Michaels, love him or hate him, the guy was and remains to this day, an innovator, an icon, and one of the greatest of all time. The 1990s belonged to one man, until a certain Texas Redneck came along and flipped the script.

1. Stone Cold Steve Austin - There aren't too many times when "no explanation needed" is an acceptable answer in one of these columns, but this may well be one of those times. Steve Austin revolutionized professional wrestling in the late 1990s. The guy had some classic feuds and matches with the likes of Bret Hart and The Rock, and that's all good, but Austin was so much more to the industry. From the moment Austin dropped the "3:16" line at King of the Ring 1996, it was clear this was a potential star. He wasn't necessarily an obvious choice in terms of a conventional wrestling star, but his actions and manner made the audience fall in love with him in a way that hadn't been seen since Hulk Hogan in the mid-80s and arguably hasn't been seen again since. In an ironic sort of way, the guy's brutal neck injury helped garner the kind of support that would take him to the top of the wrestling world. He was the most badass underdog of all time and his character encapsulated the mind-set of so many professional wrestling fans. Austin wasn't the first nor the last to raise a middle finger to authority, both literally and figuratively, but there's no question that nobody raised hell like Stone Cold did. Austin was a part of so many iconic moments during the decade that we're almost tired of seeing the beer truck, the Tyson confrontation, the Zamboni, etc. There's such a nostalgic fondness of the Attitude Era, despite its flaws, largely because of the chaos this man created. He was the perfect anti-hero, and this made him the ultimate 90s wrestling icon. He guy delivered in the ring and on the mic and became arguably the most popular professional wrestler in history. It's no surprise that over a decade since his last match, people still clamor for the Texas Rattlesnake to step into the ring one more time. Austin made not have had the post-wrestling success of the Rock or even Hulk Hogan, but the man remains a household name worldwide. Dwayne Johnson may have called himself the People's Champion, but Steve Austin was the guy everybody rooted for, every time.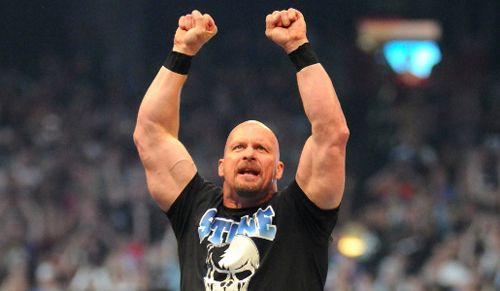 ---



DINO ZEE
5. Hulk Hogan - Gone from WWE by June of 1993, his time in WWE during the 90's is obviously limited, but he still deserves mention in my opinion. He closed out every WrestleMania he appeared in, won the 1990 and 1991 Royal Rumbles, and even competed for the tag championships. He may not have delivered the best technical matches, but Hogan's ability to perform- instead of wrestle- was always his calling card. I'm putting him in here, well aware of the fact that people may be able to think of more than my 5 for this list. It's like there's more than list of 5 that's viable or something.

4. The Rock - Who knew that Rocky Maivia kid would turn out to be okay? It took a little bit, but once he joined the Nation in the summer of 1997, all bets were off, and The Rock was looking to take over. Interviews skills that could carry any 20 minute segment, ridiculous moves that got you to laugh and cheer, and a brilliant feud with Steve Austin all allowed Rock to hone his craft and become one of the best performers of the 90's. This isn't about who was the biggest star, but who the best performer was, and Rock's lack of time in WWE compared to the top 3 is what keeps him down a bit.

3. Steve Austin - I won't confuse star power for performing. There's no doubt that Austin was WWE's biggest star of the 90's, but I can't award him the top spot as "Performer of the 90's" when he was there for 4 years. The top two did more for longer periods of time. Regardless, Steve Austin took his time in WWE and made it COUNT. We all thought he was getting the usual WCW treatment when he debuted as The Ringmaster, but even that gimmick couldn't contain him, and within months, he was the King of the Ring and cutting interviews that would live forever. The neck injury may have taken away the sound technical wrestler that we loved, but his ability to morph into a straight brawler remains impressive as well.

2. Shawn Michaels - For years and years, I hated this guy with the passion of a 7 year old mark. He helped screw Bret, he lied about it to Bret's face, and he lied about it to everyone else. For years. Eventually, I grew up and got over it. With that comes the acknowledgment of what he brought to the table. Shawn Michaels consistently delivered in the ring, against all sorts of opponents. He and Bret basically carried WWE through its darkest hour, and made sure that while the fans may not have all the big names they were used to, they'd get (at the very least) the best matches possible.

1. Bret Hart - If you're at all familiar with me, this shouldn't be even 1% of a surprise. Bret Hart is one of my favorite wrestlers ever. He was absolutely my wrestler of the 90s. Whether main eventing, or stuck in abysmal midcard feuds so that Shawn Michaels and his friends could circle jerk with each other, Bret Hart constantly turned in incredible performance after incredible performance. Everyone's entitled to their opinion, but I don't think there's any other choice for this one, honestly.





---



Justin Watry
5. Bret Hart - I am not including Stone Cold, Triple H, The Rock, Mick Foley, Kane, and others. They are legends...but only became mega stars the last few years of the 1990's. It his is to truly cover ALL ten years, then I will cover ALL ten years. Also, all of you lucked out. I had a lengthy column written here but just had it deleted on me. Since I do not save things on file ever (hence why I say Google it!), I shorted everything upon re-typing it all. Babbling over, Bret Hart entertained no matter what his role was. Heel, face, tag, solo, etc. It did not matter. True WWE Hall of Fame talent.

4. The Undertaker - Decade of destruction, right? The Undertaker may not have had the greatest feuds of all-time during the 1990's or even the best matches, but he had longevity. Anybody can come in, get hot with a live crowd, and rack up wins for a few months or even a few years. To be a min event player for years and years and years and years and yeas without an ounce of doubt in your credibility, that says a lot. The Dead Man is probably THE greatest character in wrestling history, and his run during the 1990's showed that.

3. Vince McMahon - Without Vince McMahon, none of us would be reading/writing this column.

2. Hulk Hogan - Hulk Hogan is WWE. Brett Favre is the Green Bay Packers. Yeah, they may go elsewhere and work for the 'enemy' sometimes. Yeah, they may bicker and argue with the behind the scenes management. Yeah, they may make ridiculous demands on occasion. Yeah...who cares? WWE is home for The Hulkster, and every fan knows it. He may not have been around in the 1990's as much as others, but he built everything up to that point and despite my earlier claims of including guys in WWE for the full decade, he is the exemption to the rule.

1. Shawn Michaels - No explanation needed.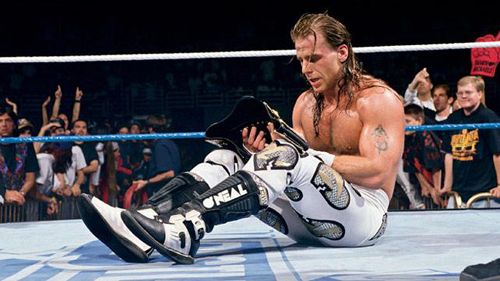 ---



Paul Leazar
5. Mankind/Dude Love/Cactus Jack/Mick Foley - When Mankind came out of the looney bin that was the WWF's creative department for gimmicks during the 90's, I was immediately entranced. Having him immediately have beef with The Undertaker definitely helped matters (not to mention being one of the best feuds throughout 1990's WWF). The rest really turns out to be a wonderful footnote. Dude Love was fun for a time, Cactus Jack was borderline insane in completely different manner from Mankind. Not only was Mick one of the best WWF stars of the 1990's, but he's probably in my top three guys when it comes to all time favorites.

4. Stone Cold Steve Austin - If were just talking the 90's in general, I'd rank Austin that much more highly (same for Mick), but when he came roaring onto the scene as Ted Dibiase's chosen Million Dollar Champion, things looked bleak. Then he turned into this incredible rebel character that grew into of the many megastars that came out of wrestling that we all know and love.

3. Hulk Hogan - Hogan went of the WWF in 1993, but he was still riding that Hulkamania train right into King of the Ring that year where he lost to Yokozuna, and rode the red and yellow right into WCW a few years later. What ranks him higher than the other two guys? Hogan was still carrying the company on his twenty something inch pythons for those three years, which turns out to be an immensely impressive feat.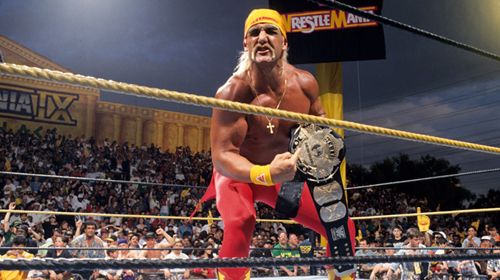 2. Shawn Michaels - So, when Hogan left, we entered the "New Generation" of WWF. An immensely fun, confusing, colorful, and at times, down right awful (I'm looking at you 1995 WWF). But two giants would emerge from the uncertain times at the top of the cards, which makes their achievements that much impressive in my mind because there were times when the WWF looked like they might bite the dust. Shawn Michaels is the first of those two guys. A wonderful talent in The Rockers, an exciting heel turn when he tossed Jannetty through The Barber Shop's Window, and he took of from there until he turned into The Heartbreak Kid, a multiple time WWF Champion, and the co-founder of Degeneration X, one of the most influential stables in the WWF/E's history, if not wrestling. Who can top that?

1. Bret Hart - Bret Hart, that's who. The heir apparent to what Hogan would leave behind (heck, even before he left). Bret was a terrific wrestler, a person that was very easy to connect with, and could probably put on a five star match with a wet paper bag in his prime. This guy had more classic matches in the WWF than I can count, more terrific feuds that anybody to come out of the Attitude Era in my mind (British Bulldog, Shawn Michaels, Steve Austin, The Undertaker, and Psycho Sid just to name a few). For my two cents, Bret Hart has to be the very best star that WWF/E produced during the 90's, simply because if he didn't step up, we might not have a WWE to watch today.

---



Scott Rutherford
5. Davey Boy Smith - I'm sure this selection is going to draw a few blank stares or blinks of disbelief, but I truly do think Davey was one of the top guys for the WWF during the 90's. Remember we are looking for performers, not stars. He was a guy you could put anywhere on the card and he would fit. Opening guy, tag wrestlers, main eventer on a B-PPV. He was a credible Intercontinental Champion which he won in a ***** classic. He was the inaugural European Champion which he won in another ***** classic and another near ***** rematch. He was a fantastic tag wrestler working with Owen Hart as the power guy to Owens technical expertise, having decent-to-great matches with any team they came across. Remember the insta-classic they had against Shawn Michaels and Steve Austin? He was a great babyface and equally adept at being a shit-eating heel. He was a super well-rounded worker and a benefit to the promotion.

4. Steve Austin - I debated heavily about the inclusion of HHH, The Rock and Steve Austin. I left the first two out primarily as they ascended right at the tail end of the decade and made their marks as main eventers largely in the new millennium. Steve Austin made it to #4 because he started gaining serious traction in 1996 before exploding in 1998 and changing the business forever. Sorta hard to leave him out based on that fact alone. We all know that he won King of the Ring by default and likely wouldn't have been paired with the returning Bret Hart at Survivor Series '96 if it wasn't for Hart being such a champion for Austin backstage. Funny how these things work out because those two moments lit the fuse under the "Stone Cold" character and brought about the late 90's boom in wrestling popularity. Oh, and the guys was insanely charismatic, great in the ring and outrageously entertaining.

3. The Undertaker - While as a worker the Undertaker hit his stride during the 2000's, for most of the 90's he was The Man in the WWE. The guy that stuck with Vince through thick or thin no matter how dire things became. He was a major part of the WWE's transition from the Hogan era, through the Hart/Michaels years and finally oversaw the advent of Attitude. He has, hands down, the greatest gimmick of all time and managed to stay relevant and credible even in the face of some extremely silly booking and angles. While his work might not have been up to that of Bret Hart or Shawn Michaels, in his defense he was often saddled with lumbering giants that were big and clumsy that likely took years off his career thanks to all of the injuries he sustained. He is the WWE stalwart we judge others by and a large part of what made the WWE so vital in the 90's.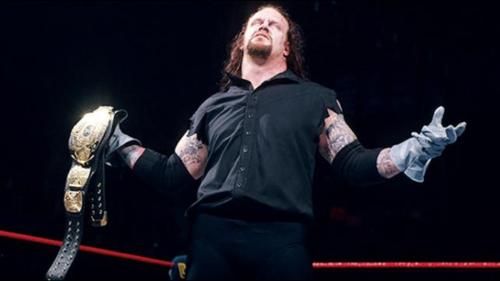 2. Shawn Michaels - I'm sure a lot of people are going to put Michaels first but the topic is performers of the 90's and in the decade of the 90's Shawn was second best. If you look at it from his heel turn breaking off from Marty Jannetty right up until he went on the shelf in 1998, he was a pretty special talent and that he marked with some of the best matches of the decade in North America. He innovated the ladder match, set the high water mark for Hell in a Cell and pulled out a diverse range of great bouts with guys ranging from Jeff Jarrett to the Undertaker. What didn't help Shawn was his well-documented bad attitude for much of his main event run and his unfortunate back injury cutting him off right when he was about to hit his prime as a worker. If it helps…career vs. career I would put Shawn over my choice for performer of the 90's.

1. Bret Hart - Bret gets the top spot based more on the length of his run as a singles worker and the time he spent in the main event. From his coming out party against Curt Hennig in 1991 right up until his match with Chris Benoit in tribute to his brother Owen in late 1999, Bret always managed to put on a high caliber of match with just about anyone. While he wasn't as flashy as Shawn Michaels he did possess a great move set that was hard hitting and rugged without the showy highspots. This gave his matches a strong sense of realism and a great sense of the dramatic. The knock against Bret is that he was/is a big mark for himself but I argue that was what made him so f'n good in the ring. He carried himself like he was the best thing going and since he treated everything he did seriously, it showed through in his matches and helped make people believe and get invested.

---



MICHAEL WEYER
5. Owen Hart Some will argue Owen was really the most talented of all the Hart brothers, even Bret. His flying skills were amazing, able to go across the ring at times and his technical work was stunning to watch as well. His WWF push was mostly due to Bret's influence, he and Jim Neidhart as "the New Foundation" and then with Koko B. Ware as High Energy. Neither team went far but Owen still was showing his stuff. That all paid off in 1994 as he turned heel, his cocky demeanor and boasting of being the best turning the feud with Bret into a fantastic war with classic bouts all around. He and Yokozuna made an odd tag team who actually worked well as champions for most of 1995 and he and Bulldog made an even better team the next year, both skilled to mix well and elevate themselves higher. The Hart Foundation reunion in 1997 was great with he and Bret making up and Owen having a run as IC champ. He seemed lost after Bret left but his work with the Nation was good and that led to a revival of the Blue Blazer. His tragic death still haunts but that's because of how great Owen was in the ring as we wonder what might have been but at least happy for what we have.

4. Razor Ramon Scott Hall was one of those guys who always seemed to have the potential to be a big star but not quite the right trappings. After years of failed pushes, he finally got it in WCW as the Diamond Studd but wasn't used properly. WWF was smarter, taking his act and adding more to it with stubble, gold chains and a "Cuban" accent that made Tony Montana sound legitimate. So was born Razor Ramon and Hall sold the character beautifully as reeking with arrogance but backing it up in the ring, skilled with power moves and the awesome Razor's Edge finisher. He was a heel feuding with Savage and challenging Bret for the WWF title but his act soon won over fans to make him a face. He finally paid off his promise in 1993 winning the vacant IC title and the gold belt just seemed to fit him perfectly as he'd hold it four more times over the next two and a half years. Shawn Michaels may get the kudos for the ladder match but Ramon was right there with him taking bumps and boosting it up. The Clique could dominate behind the scenes but also in the ring with great matches and Razor always had fans rooting for him against Nash, Waltman and many others. His exit is famous for starting the New World Order but without that fantastic legacy he'd laid in WWF, it wouldn't have been as big a deal. Ignore his personal demons and Razor remains one of the shining stars of 1990's WWF and another case of why the IC belt was so hot in this period, all by a guy reeking of machismo.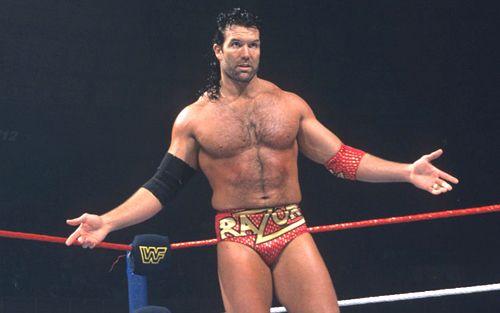 3. The Undertaker RD Reynolds perfectly described the Undertaker as the prime example of how so often the stuff that sounds incredibly stupid on paper becomes huge. He seemed just another gimmick at the 1990 Survivor Series, an undead zombie in funeral clothes but he wowed fans with his size and skill like the top rope walk. He soon began gaining more of a following, his inability to feel pain getting him over in a feud with the Ultimate Warrior and even a brief reign as WWF champ. Turning him face just worked as the fans responded to him, going wild whenever that gong rang and the lights went out. He was slowed by years of "monster" battles and casket matches but made it work with his power and unique charisma. He was allowed to show more edge against Mankind in 1996, a tougher attitude that led to another title reign in 1997 and his Hell in the Cell matches adding more to his legend. More importantly, Undertaker was a good company man, always loyal to WWF and that led to more of a push. But the real reason Undertaker shines is simply for taking a concept that seemed so bad and making it work for so damn long and well, winning over fans as a monster they could root for.

2. Bret Hart Yes, there are complaints of Bret one of those guys who bought into his own character and such and the cracks about him repeating his match style so much. But he's still one of the greatest technical workers the company has ever known, brilliant in the ring and able to keep a crowd going. He started off the decade as tag team champion before moving to singles, his reigns as IC champ elevating that belt even more in classic battles against Perfect, Davey Boy and others. It was a surprise when he was made WWF champ in 1992 but he made it worthwhile, facing all comers and always the crowd on his side. He faltered in '93 a bit with the Lawler feud but made up for it the next year regaining the title and his fantastic war with brother Owen. That so many fans believed the heat between he and HBK was real is a testament to how well they worked together and made their Iron Man match an epic encounter. The fun "heel in the US/face in Canada" bit was something only Bret could pull off and the Screw job may be his legacy but also points to how huge a star he was to make it such an event. His WWF tenure may have ended badly but there's no denying the impact Bret had on that decade and the company he loved to make WWF something to watch in those years.

1. Shawn Michaels It was tough, really was, to pick between him and Bret for number one. But I give it to Shawn as a nudge as he showed a great evolution. When the '90's started, he and Marty Jannetty were the Rockers, arguably the best team never to hold the WWF tag team titles, amazing with double teams and flying moves. His heel turn was rough but soon got him over with his arrogant attitude and showboating but he could back it up with amazing skill in the ring. Technical work, high flying, brawling, cheating, he could do most anything with some fantastic selling as well. His ladder matches against Razor Ramon upped the game for the entire business and his no-holds-barred battles with Nash and Foley were stunning to watch as well. He kept on through injuries and on top of the company in 1996 when it was in a rough time. Yes, he was an asshole behind the scenes, which he fully admits today but could still be a great draw as shown by how, with DX, he helped push the envelope of the business further. He may have ended the '90's out with injury but he built up a legacy he would later boost further that makes him the Show-Stopper for a generation of fans.

---



Alex Crowder
5. Mick Foley/Dude Love/Mankind/Cactus Jack - I'll admit that a few people would be honorable mentions in The Undertaker, Kane/Triple H/The Rock/Ric Flair. Those last four had too short of a run to consider and Undertaker's was too lackluster. That leads me to give Mick Foley the 5th spot. I mean Mick Foley is so underrated even today. I mean people don't realize how integral to the 90's he was. If we included entire bodies of work, I would rate Foley even higher with his ECW/WCW stuff added. Mick Foley came into the WWF and injected life into the lifeless Undertaker. I mean Undertaker would be higher on this list if not for his boring insomnia inducing feuds throughout the early 90's. Mick Foley changed all that on his own. Mankind was the first to actually challenge the Undertaker. When it comes to memorable promos Foley is certainly up there. I mean the three faces of Foley of promo remains one of the most awesome. The sit down interview with JR could touch even the coldest soul. Let's not forget the Love Shack and his partnership with Stone Cold. Those two had great chemistry as opponents and partners. He also had great chemistry with McMahon and I loved when he created Mr. Socko trying to cheer up Vince in the hospital. Mankind in my opinion molded both Triple H and The Rock in the late 90's. I would say he helped Austin and Michaels a lot too. He gave Michaels a tough guy edge he needed, and he helped establish Austin's first world title reign. Foley really was good in the 90's.

4. Owen Hart - Owen Hart again is underrated just like Foley. I mean you could conceivably put others like Mr. Perfect, The British Bulldog, Diesel, Razor Ramon, Goldust, Ahmed Johnson, or even Roddy Piper on a list like this; however, I must go with Owen Hart. I feel Owen had the most main event time in the 90's of these midcard acts. Owen Hart acted as the main fringe main eventer of the 90's. Owen flirted with the main event with his awesome 90's king act and he followed that up in the late 90's with the Black Hart. Then you include his entertaining 90's tag team. He did awesome things with The British Bulldog and I loved his tag team with Jeff Jarrett. I'm not kidding either, they were entertaining. Owen continued to entertain in the Nation of Domination who remains one of the most underrated stables in its own right. The Owen I kicked your leg out of your leg promo was awesome and fit his whiney character well. Owen's feud with Bret was incredibly awesome. He played the heel character so well that you couldn't cheer for him, but you could laugh at his antics even while hating him. Owen's midcard stuff with Steve Blackman, Ken Shamrock, Triple H, and Edge among others was decent work too. Owen Hart was the backbone of the 90's WWF similar to how the cruiserweights were the backbone of late 90's WCW. Owen Hart made everything as entertaining as he could whether it was tagging with Koko B. Ware or feuding with Stone Cold.




3. Shawn Michaels - Shawn Michaels was incredibly awesome throughout the 90's. He did decently with the IC Title and had good ladder matches with both Bret and especially the ones with Razor Ramon. Shawn had an awesome on and off again feud with Bret Hart. I mean Bret and him had the iron man match, which today is severely underrated. The story of that match was incredible even with no falls. Shawn had a great character too and I actually loved the not getting hit in the face story-line. Rick Martel and Shawn made that more entertaining than it had any right to be. Shawn Michaels did eventually outgrow the midcard and he got even better as a main eventer. I would say his career parallels his greatest rival Bret. The only difference is that Bret got to start sooner in the 90's than Shawn. Shawn was a little further down the card and basically left as Bret left. Either way, the original Hell in a Cell is still a classic, the first match with Austin is one of the best, his match with Mankind was incredible, and he brought the best matches out of Psycho Sid probably due to their friendship. Shawn had the great stuff with Bret and was an awesome tag team partner to Austin. I wish those two had gotten more time together. I mean Shawn is one of the best ever, and what else can I say.

2. Bret Hart - Bret Hart was the model of consistency when it came to 90's WWF. It all started with the IC Championship and I would say Bret like Michaels was one of the best IC Champions ever. He even brought a great match out of Piper who has never impressed me in the ring. If that wasn't enough he single-handedly made the King of the Ring PPV. Also, Bret took all the meandering feuds he was given and made them worthwhile. I mean Bret took a pirate who didn't do much and brought a 4 star match out of him. Bret had a highly entertaining feud with an old Jerry Lawler. On top of that, you have the great stuff he did with Steve Austin, Shawn Michaels, The Hart Foundation, The Undertaker, Mr. Perfect, and Owen Hart. Bret had the longevity that no one else had because he was pushed heavily throughout all of the 90s. Bret carried the company at a time when everything was falling. He also helped usher in one of the most creative story-lines ever in the face Canada/heel America story-line. Bret Hart is in my estimation the greatest wrestler of all-time. This man could accommodate any style whether it was high-flying 1 2 3 Kid, fellow ring mechanic Austin, all-around performer Shawn Michaels, or the big hoss Diesel. Bret was one of the best when it comes to 90's wrestling.

1. "Stone Cold" Steve Austin - I think Austin's Ringmaster work was underrated at times. I mean Austin actually came into the company in 1995 and had underrated gems with Savio Vega of all people. I mean I cannot think of any other good singles match with Savio Vega. If that wasn't enough his rise to Austin 3:16 made him must see television. Austin was just one of the funniest badasses with the way he trash talked his opposition. I mean go watch the old vhs/dvd cause Stone Cold said so. I mean once I got that VHS it really had me hooked on Austin. All those vhs/dvds from the time were highly entertaining because Austin speaking was pure entertainment. I mean he did lose a step on the mic once the 00's hit, but from late 96 to mid 98, there was no one better. He really captivated people from 1996 to 1998. I would dare say he single-handedly made the mediocre 97 Rumble into a must watch match. Then, when you get into 1997-1999 Austin really hit his stride and was consistently the most entertaining part of the show. Austin had numerous great matches in the 90's. Let's not forget great moments too like attacking Bret in the ambulance, the beer bash, the zamboni, the corvette, ruining McMahon's award, getting McMahon arrested, beating him with the bedpan, paging Rocky sucks, the great interviews with Bret, giving Pillman a swirly, and stunnering everyone before the rumble in 98. I could probably go on all day with memorable Austin moments. Another thing is how he late he would stay after the shows to interact with fans, and that to me certainly contributes to performing. In my own estimation, Austin dominated the final years of the 90's and used that to propel himself as one of the greatest if not the greatest.





---



YOUR TURN KNOW IT ALLS

List your Top Five for this week's topic in the comment section using the following format:

5. CHOICE: Explanation
4. CHOICE: Explanation
3. CHOICE: Explanation
2. CHOICE: Explanation
1. CHOICE: Explanation
comments powered by