SPOTLIGHTS
The Wrestling News Experience 08.25.14
Posted by Stephen Randle on 08.25.2014

News and thoughts on WWE's plans (or lack thereof) for Rey Mysterio, the future of the New Nation, Smackdown's move to Thursdays, a preview for tonight's Raw and more!

Monday August 25th, 2014

For the very last time, from 411Mania's Canadian offices in Waterloo, Ontario, Canada, this is The Wrestling News Experience, with Stephen Randle!



The Second-Most Important Streak To End This Year

Good morning, everyone, and welcome to the final Experience. I am Stephen Randle, and just like the Blue Jays playoff chances for the last twenty-one years, I suppose it's fitting that this column ends in August. But more on that at the end, I've still got one column left to write. Although, I suppose I could half-ass it. What are they going to do, fire me? Ah, what the hell, let's do it one more time.

Moving on.




Last week, coming off one of the most critically-acclaimed shows of the year, WWE opened Raw with an awkward segment involving the Bella Twins airing dirty laundry to almost no crowd reaction. Could we bury this thing in the bottom of the seventh quarter hour already? And will someone from WWE, now that I'm no longer officially associated with one of those dastardly Internet websites, contact me and explain why Daniel Bryan is married to Brie Bella on both Raw and Total Divas, but they never mention the fact that Nikki is engaged to John Cena? Anyway, I'm sure we'll have more of this dreck tonight at some point. You've been warned.

But onto happier news, as Brock Lesnar is still WWE World Heavyweight Champion (now in a handy single belt form), and there continues to be much rejoicing. He'll have to face John Cena again at Night of Champions, but once that speed bump is out of the way, the question must be asked: can anybody actually beat The Beast Incarnate?

Meanwhile, Seth Rollins and Corporate Kane (apparently "Corporate" and "Demon" are actually titles, like some jerks insist on being called "Doctor") sidelined Dean Ambrose through the use of excessive force (and breakaway concrete bricks, somehow), leaving Ambrose free to film a movie, and also probably lurk somewhere just outside Rollins' line of sight. With that obstacle out of the way, Mr. Money in the Bank is temporarily free to attempt to cash in his briefcase at any time. Well, I mean, in theory.

Plus, it seems like the wars between Roman Reigns and Randy Orton, and Chris Jericho and Bray Wyatt, are not quite finished. I can't help but feel like at some point, we'll get a tag team match, playa. Also, rematches at Night of Champions. But you already knew that.

And while Rusev appears to have moved on to bigger game in the form of Mark Henry, apparently Jack Swagger has spiralled as a result of his loss at SummerSlam. At this point, the only thing left for Swagger to do may very well be...to Bo-lieve.

Also, it looks like Cesaro might have finally righted the ship and targeted US Champion Sheamus for his next feud, which, hey, we always like it when two big guys stiff the crap out of each other. And new Divas Champion Paige apparently also won the ability to be easily distracted during matches, which might explain why it keeps changing hands. Will anything else interesting happen? You'll have to find out by watching, tonight on Raw!

Or you could watch the other show full of lame, pre-determined finishes regardless of actual quality in the people involved, because the Emmys are on! No, I don't care. Stop giving The Big Bang Theory awards!




- Hope exists for fans of the Xavier Woods-Big E-Kofi Kingston faction, as apparently they have been appearing on house shows as a unit. Sorry, people who figured that WWE suddenly worried about seeming racially insensitive, it looks like the correct reason may have been "they were too busy booking SummerSlam and decided to put it on hold until that PPV was over". Really, there was a reason the "racial sensitivity" option was paying such long odds, you should have seen that coming.

- Allegedly WWE has no plans to actually use Rey Mysterio on TV despite renewing his contract, and are apparently just paying him money so that nobody else can use him. Yeah, because he'd be the key to saving TNA from oblivion or something. Also, if WWE wants to pay me not to wrestle or appear on their shows at all, I'm willing, and my price is probably much cheaper than Rey's.

- Apparently Brooke Hogan is trying to organize a country music band. Because nobody knows the hardships that make the best country music lyrics like a spoiled rich kid from Florida.

- Reportedly, there has still been no decision on what surgery Daniel Bryan may have, what his injury actually might be, or if he will even have another surgery at all. I am shocked and amazed that I haven't actually seen a single person offer the suggestion that WWE might be lying to us and hiding the fact that Daniel Bryan actually isn't injured so he can make a shocking return to face Brock after Night of Champions. Dammit, now I want that to be true.

- TNA will stay on Spike TV until the end of 2014, at which point there may be a new deal in place, or TNA may move to another network, or it may finally die forever. At any rate, the promotion is currently appearing to shed talents like a long-haired cat in summer, so by December, they might not have enough wrestlers to put on a TV show anyway.

- It's been confirmed that Smackdown will, in fact, be moving to Thursdays in October, which, hey, at least it's not Fridays, but I do have to question moving Smackdown directly in the line of fire that is Thursday Night Football (NBC: Remember "Must See TV"? We Gave Up On That, Have Some NFL!), but hey, the increased competition might force WWE to actually put some effort into making Smackdown something worth watching. Or they could forget about it completely and take whatever ratings they get. Hey, USA keeps renewing the contract, so they keep getting away with it!



HOT: Monday Night Wars

I am shocked at how even-handed the first episode of this (now on the Network, only $9.99) was, aside from a continued attempt to re-write history and pretend that Billionaire Ted was funny and lighthearted. I am curious who will take over for Eric Bischoff in the role of "guy who defends the WCW side to the death" once they run out of all the old footage of him from the Rise and Fall of WCW DVD. Seriously, guys, you can see the old, mid-2000's Raw Tron in the background.



NOT: Jack Swagger

And from losing to Rusev straight into a losing streak gimmick that seems intended to get Bo Dallas over. Once again, I don't care because it's Swagger, but he was arguably the most over he's ever been in WWE, and they've given up on that because Rusev needs to get over so he can eventually face John Cena in matches nobody wants to see.



HOT: Mark Henry

Speaking of reasons why Rusev will not get over, there's no way he comes out of a feud with Henry looking like anything more than a guy who got lucky to beat a bigger, stronger, more talented wrestler. And I never thought I'd say that about Mark Henry, but there you go. More importantly, weren't they building Henry up as part of a tag team with Big Show literally hours earlier on the same show?



NOT: The Bella Twins

And here I thought this couldn't get more awkward. Never underestimate the power of two women who can't wrestle, can't act, can't connect with the crowd unless they're leaching off their husband's heat, can't emote realistically, can't...you know what, I need to stop listing things they can't do before I get mean.



HOT: Paul Heyman

WWE must be very thankful that they have Heyman stapled to Brock to deal with the fact that Lesnar won't be making any live appearances until Night of Champions. Hey, how did we manage to get five weeks between SummerSlam and Night of Champions? Weren't there only like three weeks between Payback and Money in the Bank? Who's making these PPV schedules?



NOT: The Miz

As this column draws to a close, I want to thank Miz, who probably more than any other wrestler, provided an easy entry on this list whenever he was around due to nobody giving a crap about anything he does, because he's almost hilariously boring. Hey, way to win due to lame countout and then get your ass kicked post-match by Ziggler, then lose decisively to Roman Reigns on Smackdown! You totally deserve another title shot!



HOT: Dean Ambrose

What? It's for charity!



NOT: Paige vs AJ Lee

Who the hell thought that a good idea to intensify this feud would be to alternate having Paige and AJ skip around the ring during the others' matches and somehow be so distracting that they fall prey to easy roll-ups by far inferior opponents? Because I want to shake their hand. And by "shake their hand", I mean "beat them about the head and body with a baseball bat".



HOT: Kalisto and Sin Cara

Hey, look, it's a couple of masked guys who could replace Rey, probably for much cheaper! Okay, they already tried once with Sin Cara, but that was a different guy, and Kalisto is also pretty good, so you've got two chances to screw it up!



NOT: Harper and Rowan

Hey, Bray, I don't know if you're paying attention, but your lackeys somehow turned into ineffective jobbers while you were feuding with Chris Jericho. And could someone please remove the kid singing "Whole World In His Hands" from their intro music? Maybe replace it with something a little easier on the ears, like fingernails on a chalkboard.




Inactive List as of 08.18.14

WWE

- Bad News Barrett, out until December as of June 24th (shoulder)
- Christian, out indefinitely as of March 25th (concussion)
- Daniel Bryan, out indefinitely as of May 12th (neck surgery)
- Darren Young, out 4-6 months as of April 13th (ACL)
- Fernando, out 3-4 weeks as of June 22nd (knee)
- Rey Mysterio, out indefinitely as of April 15th (hand)
- Tamina Snuka, out 6 months as of June 6th (knee surgery)

NXT

- Cal Bishop, out indefinitely as of June 25th (torn rotator cuff)
- Corey Graves, out indefinitely as of May 30th (concussion)
- Dana Brooke, out indefinitely as of June 18th (leg)
- Kendall Skye, out 6-8 weeks as of June 18th (broken wrist)
- Marcus Louis, out indefinitely as of June 25th (leg)
- Veronica Lane, out indefinitely as of June 18th (leg)

Transactions

- Dean Ambrose, WWE, out indefinitely as of August 18th (brick to head)

- Fernando, WWE, returned to action on August 19th Main Event

- Todd Phillips, WWE, promoted to Smackdown announce team



WWE World Heavyweight Champion: Brock Lesnar
- 8 day reign, defeated John Cena on August 17th (SummerSlam PPV)
- Next title defense: vs John Cena, Night of Champions PPV



WWE Intercontinental Champion: Dolph Ziggler
- 8 day reign, defeated The Miz on August 17th (SummerSlam PPV)



WWE United States Champion: Sheamus
- 112 day reign, won a battle royal that included former champion Dean Ambrose on May 5th (Raw)



WWE Tag Team Champions: The Usos
- 175 day reign, defeated The New Age Outlaws on March 3rd (Raw)



WWE Divas' Champion: Paige
- 8 day reign, defeated AJ Lee on August 17th (SummerSlam PPV)



WWE NXT Champion: Adrian Neville
- 179 day reign, defeated Bo Dallas in a Ladder Match on February 27th (NXT ArRIVAL PPV)



WWE NXT Tag Team Champions: The Ascension
- 327 day reign, defeated Corey Graves and Adrian Neville on October 2nd NXT



WWE NXT Women's Champion: Charlotte
- 88 day reign, defeated Natalya on May 29th to win the tournament for the title vacated by former champion Paige
- Next title defense: vs Bayley, NXT Takeover 2 PPV




De Marco asks What If Brock Never Left?

Wyatt wonders if WWE Network is bad for business.

Chin has The Magnificent Seven.

Dino looks at Lesnar's destruction of John Cena.

Archibald examines if WWE is truly racist.





On the latest After Dark, I reassure people that the podcast will remain even if the writing won't continue, and then we look back at SummerSlam and the Raw that followed, including whether Brock was put over too much by destroying Cena, if Dean Ambrose might end up in the Mania main event, and the chances of Kurt Angle ever wrestling in WWE again!






So, here we are, at the end of it. My last weekly wrestling column on 411, which means that for the first time in nearly eleven years, I can watch wrestling as the fan I always want to be, and not the cynical old wrestling journalist I've been. My time here at 411 has been a labour of love, and I kept it up as long as I possibly could, but the fact of the matter is that it is finally time to move on. I would probably have done this forever if I could, but a whole pile of outside influences, not the least of which is my six-month old son, have conspired to make me realize that it's just not feasible anymore.

I won't be totally gone from this website, I'll still be contributing here and there in things like Fact or Fiction and things of that ilk, and TWNE After Dark will live on for as long as I can manage to find a free hour to rant into my laptop while people listen to me for some strange reason. But the saga of what I'm proud to call 411's longest weekly news report, The Wrestling News Experience, ends here.

Thank you to all the writers at 411, past and present, we've all been like some sort of strange family together. Thanks of course also go to Ashish and Larry, the big bosses, who let me get away with so much over the last decade, even though they probably could have fired me any number of times if they really wanted to. Over the years I've talked and worked with lots of interesting and creative people, and I don't regret a single second of my time spent with this site.

In addition, I want to thank everyone who read even one thing that I contributed to 411, whether you liked it or hated it, agreed or disagreed. I hope I occasionally made you laugh, made you think, or at least made some time pass in an interesting fashion. Remember, opinions can't be wrong, reasonable people can disagree, and just because someone doesn't like the same things you do, doesn't mean they're a terrible person. Not that there aren't plenty of reasons why I'm a terrible person, but you get my point.

I suppose it would be appropriate to end with some sort of quote, since I spent my entire career ripping off someone or other in some way, and I think I've got the perfect one. I think it's exactly the right thing to say when you're finishing up something that has taken up a significant portion of your life, and you're looking ahead to what comes next. And it doesn't hurt that in my mind, it will always be spoken by the truly amazing Robin Williams.

"To live will be an awfully big adventure".

***

411 will have live coverage of Raw tonight starting at 8 pm EDT.

From our promotional department, I've been informed that if you really do like 411Mania and all it provides, or even just me (and really, who doesn't like me), don't forget to bookmark the site in your browser or make 411 your homepage, and tell all your friends about how awesome 411 is.

And don't forget, you can follow all of the everyday goings on in 411 on Twitter.

Stephen's Twitter
http://www.twitter.com/411mania
http://www.twitter.com/411wrestling
http://www.twitter.com/411moviestv
http://www.twitter.com/411music
http://www.twitter.com/411games
http://www.twitter.com/411mma

That's our show, I will, obviously, not be back next week. Also, don't forget my final 4PC in the Games Zone on Wednesday, and the TWNE After Dark podcast on Wednesday, airing live at around 11 pm EDT on Spreaker.com, posted on 411 shortly thereafter.

Here it is, your very last Moment of Buddy.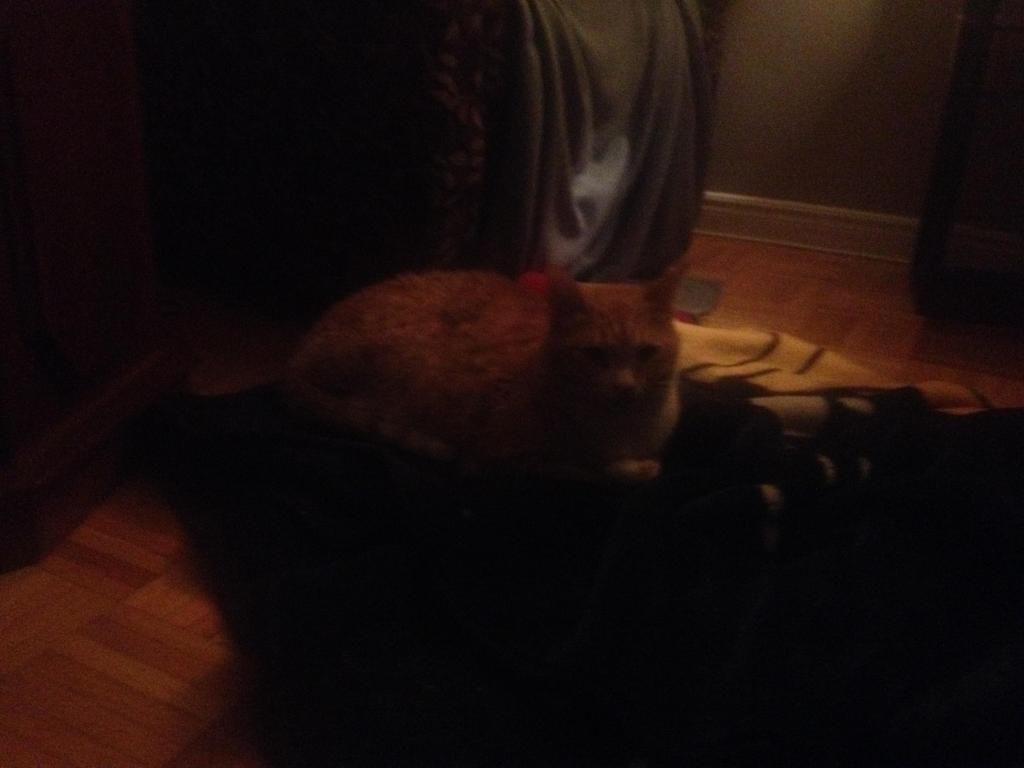 Why Are You Still Here?
The Column's Over.
Go Do Something Else.




Have a good one, and always be a fan.
comments powered by