SPOTLIGHTS
411 Fact or Fiction Wrestling: Batista's Latest WWE Run, TNA's Future, Bella vs. Bella, More
Posted by Larry Csonka on 09.04.2014

Was Batista's WWE return bad right from the start? Is the feud between the Bellas the worst in WWE? Is the card for Takeover II the weakest of the NXT specials so far? 411's Stephen Randle and Nick Marsico debate these topics and more!

Welcome back to the latest edition of 411 Fact or Fiction, Wrestling Edition! Stuff happened, people loved/hated it and let everyone else know. I pick through the interesting/not so interesting tidbits and then make 411 staff members discuss them for your pleasure. Battling this week: First up is the one and only Stephen Randle! He battles Nick Marsico!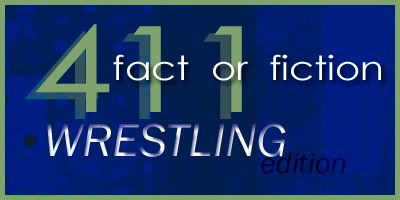 Questions were sent out Monday.


Participants were told to expect wrestling-related questions, possible statements on quantum physics and hydroponics.





1. You agree with Batista when he says that his WWE return was "bad from right off the bat".



Stephen Randle: FACT - And I also agree that it wasn't his fault at all. He got caught in WWE's stubborn refusal to push Daniel Bryan despite it clearly being what the fans want and what made sense from a storyline perspective, and as a result, his "conquering hero" return was only good for a one-week crowd pop, until it became clear that he was going to win the Rumble and take a spot that was perceived as not being his. If Bryan wasn't in the picture, Batista's return probably would have gone off without a hitch, but he was, and WWE Creative, for whatever reason, decided to ignore logic and the result was the torpedoing of all Batista's momentum. Ironically, if he came back right now, the fans would be thrilled to see him as a non-Cena option to legitimately take down Brock, but since Guardians was such a big hit, that may no longer be an option.

Nick Marsico: FACT - He's right about that. The crowd was interested in seeing him and wanted to know what he would do, but they brought him in wearing skinny jeans and acting like a big Hollywood hotshot... as a face. I am still shocked (well, maybe not) that WWE expected to get a different reaction to him being immediately pushed to the very top when the entire audience wanted somebody else in that spot. If Batista is telling the truth, and I believe he is, he knew what was going to happen and should have pushed harder to turn heel ASAP. That all said, I don't think his run ended up being a disappointment. He happily tapped out to Bryan to give him a huge WrestleMania moment. When he did finally go heel and joined up with Orton and Triple H, he participated in two absolutely spectacular matches against The Shield. His blue outfit was amazing and the promo at the WrestleMania press conference where he made fun of himself for wearing skinny jeans is among my favorite pro wrestling moments of the year.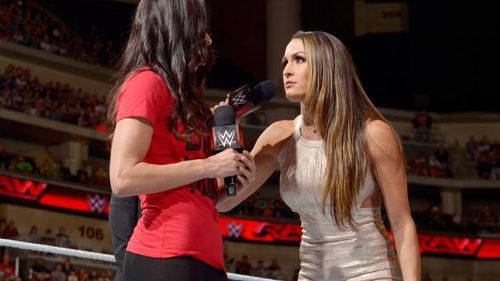 2. The feud between the Bellas is the worst feud in WWE at this time.



Stephen Randle: FACT - But only because Swagger vs. Rusev just ended. Actually, from a logical standpoint, the entire feud between Brie, Steph, and now Nikki makes complete sense. However, it's taking up way too much time and being booked way too high on the card considering the lack of talent found in The Bella Twins. Nikki might be trying, but Brie is just death out there, and this week's Raw, featuring what seemed like an eternity of "Growing Up Bella" segments, plus an incredibly awkward shoehorning of this feud into the Women's title picture, which had been toddling along just fine without any interference, is pretty much hitting rock bottom on this entire insipid thing. At this point, I have to hope that Daniel Bryan doesn't come back from injury any time soon, because you just know he's going to end up dragged into this somehow.

Nick Marsico: FACT - Yeah, it's trash. I'd be a horrible liar if I said it wasn't entertaining me, though. The "Growing Up Bella" vignettes were heartwarmingly horrendous and I hope they never end. Nikki's elbow smash at SummerSlam was freakin' awesome, I will say. The matches are going to be shit, I will also say. I hope the over the top serial soap opera acting is being done on purpose, but even if it isn't I still think it is just tremendous to watch unfold in front of my eyes. They are just trying so hard. Not sure what they're trying hard at, necessarily, but they are trying hard.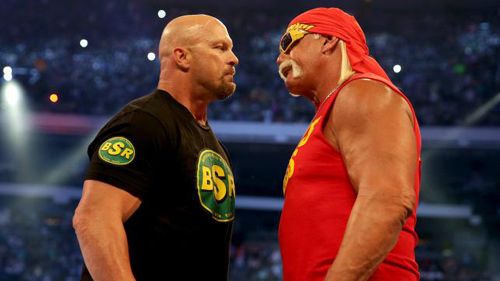 3. WWE needs to focus on their current crop of talent and repairing their mid-card instead of banking on possible matches with past stars (like Hulk Hogan and Steve Austin) at future WrestleManias.



Stephen Randle: FACT - Although it goes further than that, because they should have been doing that long before now. Ever since the Attitude Era ended, they have basically lost all their top talent from that time period without using them to put over anyone from the new generation. Austin, Rock, Flair, Triple H, HBK, Undertaker, their final matches were basically against each other, or against guys who didn't need the rub (Cena and, arguably, Brock). Beating any of those guys in retirement matches would have made a new star instantly, but instead WWE refused to put over them over anyone who wasn't already "established". And then they keep bringing back all those retired stars and making them the focus of Raws and PPVs, which continues to make the newer wrestlers look inferior. At this point, if John Cena went down with a long-term injury, there is nobody left with enough credibility on the roster to take his spot, and it's WWE's own fault for cultivating him to the exclusion of almost everyone else. The damage isn't irreversible, but they need to actually start doing something, anything, different than what they've been doing, and break out of what seems like an eternal holding pattern based on John Cena alone on top.

Nick Marsico: FACT - Certainly. I would call this the number one rally call from the majority of those of us who know how to use keyboards. It's probably completely futile to waste keystrokes saying this over and over, but ain't it the truth? I like the idea of honoring the past at WrestleMania if done well, like it was at the beginning of this year's show. I don't even have a problem with putting together a match with a past star of the ilk of an Austin or Hogan. Vince does need to let go, however, and start embracing the younger guys that the Universe is going absolutely batshit for. Yeah, The Rock helped pop a huge buyrate for a few WrestleManias in a row, but he only became a star because when he was a younger guy Vince embraced him and allowed him to become a star. Why is Cesaro a heel getting ready to challenge Sheamus for a midcard title? Why do they still consider Randy Orton to be somebody whose presence must be felt any time the WWE World Title is brought into the conversation? The word focus is especially important here. Cesaro was given the opportunity to have an enormous WrestleMania moment and he absolutely killed it. He was already gaining tons of popularity for his in-ring brutality and the ridiculousness of the giant swing, he got to toss Big Show out of the ring like a child to the massive roar of the crowd... and then he inexplicably turns heel and falls off to the wayside. I will give credit where credit is due when it comes to making all three members of The Shield into stars upon their own accord and pushing Rusev very strongly and not being afraid to have the evil Russian defeat the American Hero over and over again. But for every Shield and Rusev there's a Cesaro and a Damien Sandow and a Big E, all who were given opportunities, shined when put in the spotlight, and then had WWE's lack of focus tear up their tickets to the next tier.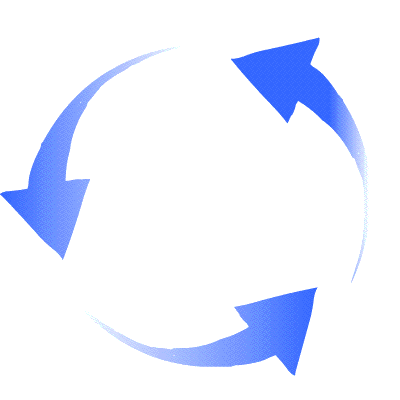 SWITCH!



4. Once they secure a new TV deal, TNA should consider dropping all PPV going forward to focus on becoming a great TV product.



Nick Marsico: FACT - Most definitely. I thought that was the original plan, but they did a couple regular PPVs after announcing that it would be One Night Only shows until the end of their PPV contract. I could be wrong on the timing of all of that, but it appears to be the direction they intended to be going and will likely ultimately end up sticking with. I don't necessarily agree with the way it's being presented, though. They should do a few specials a year that are live and not on their regular night. For example, if they stay on Wednesdays, maybe LockDown, Slammiversary, Destination X and Bound For Glory should be Tuesday night live specials. I'll always remember the way WWE promoted the Chris Benoit v. Shawn Michaels World Title match on RAW in Phoenix back in May 2004. They called the match "The Showdown in the Desert" and made it a big freakin' deal. Instead of doing No Surrender and Hardcore Justice and Genesis and Mistaken Enema and Turning Point, do shows like that; announce a big match as part of an ongoing feud and heavily promote it for a few weeks as the huge main event on a standard episode of the show. That way you don't spend three weeks every month building up to the fourth week's episode, thus under promoting half of the matches and watering down the entire concept of a supposed "PPV quality" free episode of the show.

Stephen Randle: FACT - Mostly because PPV wasn't making them any money, and was probably actually costing them a fair bit. If they can get enough time under TV contract to steady the ship, they need to focus on making that product good, and also on merchandising, which should be a huge source of revenue for them if they exploit it correctly. This is especially true now that, thanks to the WWE Network, even less people will be inclined to buy a $40 PPV from a far inferior company when they can watch WWE for (say it with me) $9.99 a month.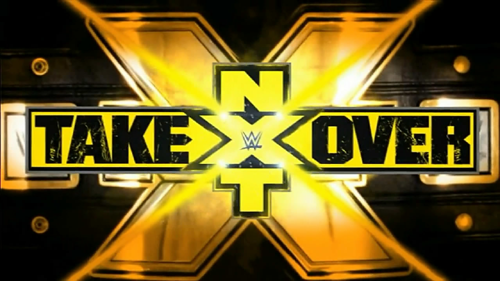 5. The card for NXT Takeover II looks to be the weakest of the specials so far.



Nick Marsico: FACT - It does indeed have the weakest card on paper, as ArRival had Cesaro/Zayn, Paige/Emma and Dallas/Neville in a ladder match as the main fare. Takeover had Zayn and Breeze fighting for the #1 Contendership, a heavily promoted Natalya v. Charlotte match in which the women had Bret Hart and Ric Flair in their respective corners and Neville defending the title against a revitalized Tyson Kidd. September 11th has a main event that makes sense as Neville defends against his three top challengers in Zayn, Breeze and Kidd and The Ascension defending the tag belts against Sin Cara and Kalisto, who are a stronger team than their original Takeover opponents El Local and Kalisto. It's a different show this time, and different doesn't mean worse. Charlotte and Bayley are likely to put together a very good match and while I'm currently trying to catch up on my NXT viewing, I know that Enzo Amore and Sylvester LeFort are pretty awesome characters and a Hair vs. Hair match can be fun. Also, Mojo Rawley rules, even if he kinda sucks.

Stephen Randle: FICTION - Nah, I'd put it on par with the first Takeover. We'll get good wrestling, three title matches, and maybe a surprise or two. Sure, there's another Mojo Rawley match on the card, but we got that on the first NXT special, and I think that show turned out all right in the end. Maybe we won't get a MOTYC like Cesaro-Zayn, but I wouldn't count out the four guys in the main event, because I'm sure they'll be trying to make an impression.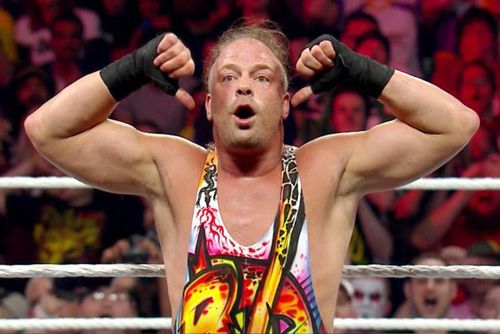 6. Rob Van Dam's most recent WWE run was a complete disappointment.



Nick Marsico: FICTION - I don't think so. What were people expecting? He wasn't coming back to be the focus of the show and dominate the world like Brock Lesnar nor is he a young up-and-comer trying to make an impact. RVD popped in, had some good matches, lost to guys he should have lost to and, most importantly, was kept out of the spotlight. He was just another member of the roster, which is fine. He seems to come back just to be able to wrestle in front of big crowds and have a good time for a little while before going back home to hang out with his wife and stay dry.

Stephen Randle: FACT - He was hurt half the time, he won no matches of importance, and nobody he worked with was particularly helped by his presence. The fact that he's basically been written off with no fanfare or even attention to the fact should tell you exactly how little he means to the product outside of the fading nostalgia pop. If I had to guess, I'm not sure he even really wanted to be there, but WWE is paying him enough to make it worthwhile for some reason.







Your heart is free. Have the courage to follow it…TO CSONKA'S TWITTER!

http://www.twitter.com/411wrestling
http://www.twitter.com/411moviestv
http://www.twitter.com/411music
http://www.twitter.com/411games
http://www.twitter.com/411mma



comments powered by