SPOTLIGHTS
VIOLENT PANDA Saturday News 08.05.06
Posted by Peter Kent on 08.05.2006

Jeff Hardy returns! Trish & Lita retiring? Hogan's organs fall down! & what's all this about the UFC?



VIOLENT PANDA News Report 08.05.06



This is Peter Kent filling in for Michael Melchor. I think he went to a cup-stacking tourney.

So let me crack my knuckles here and try to fill your head with the latest goings-on in the world of pro wrestling. The news will be in italics, and my incredibly useful and insightful comments will be in.. non-italics.

WWE.com says: "After spending three years combating his personal demons, a refocused and rehabilitated Jeff Hardy is prepared to return to the place where he began his career as a teenager."

Wow. Jeff Hardy in the Wellness program. I hope he's really straightened out, because by the way guys are dropping he won't last long at all if he's not clean. I've always been a big Hardy fan, and he was part of one of my favorite matches of 2005 – Monster's Ball 2. Re-uniting the Hardies to dominate the tag scene seems to be one way to go, though that might be something better to do down the line. Hell, how about making Jeff's return match in ECW against Big Show for the title? That's one train wreck I'd LOVE to see!

Torrie Wilson's FHM photospread is online, and it is here.

(***)

WWE is finally considering giving ECW its own TV tapings once the current 12 week trial period ends. The crowd reaction at the Hammerstein Ballroom in NYC this past Tuesday apparently hammered home the point even to those who have been against the new ECW. The feeling is that the crowd reaction this week made the show something special.

Well, I guess you could say that these people are ridiculous for not realizing this to begin with, but hey, at least they're going to change it up. I am personally hoping that Vince is realizing that the "top star" of ECW actually pays him to perform – the crowd.

From the Observer: Lita and Trish both leaving the WWE? "The company's two longest tenured female performers are expected to be gone within two months. As noted before, Trish Stratus is finishing up. Her wedding to her long-time boyfriend is set for 9/30 and her contract expires about the same time. She hasn't signed a new deal, nor is she negotiating a new deal. She's expected to leave shortly before the wedding.

At the very least, she is expected to take a sabbatical and there is no indication as to whether she is considering coming back at any point. In addition, Lita's (31-year old Amy Dumas) contract is expiring in the next month or two and there are said to be no negotiations going on for her to sign a new deal, even though she's hooked up in storyline with Edge, the current WWE champion, which seems to guarantee her a spot as part of a main event act. In both cases, there is no negativity within the company as both aren't missing any shots nor making any demands, nor refusing to do anything they had already signed to do.

Lita is looking at getting into acting, although not necessarily on the big-time level like so many who get out of wrestling are aspiring to. She's said to have had a lot of strong money years (Stratus has had some even stronger years--in the $450,000 range) and never lived extravagantly and can go a long time with what she's saved without having any financial issues.

The company is not negative about either at some point returning. The vibe on Lita seems to be that there is a good chance she may return at some point down the line, but she's expected to be gone for a fairly substantial period of time."

I love both women and if this is true, I'm sorry to see them go. I'd at least like to see them have one final singles match against each other where they just go all out.

Lita as an actress, I'm not sure how that'll work out. Her ability to do stunts may help her, but her voice and fairly un-expressive face probably aren't going to do her any favors. Without Lita, Edge may be in big trouble, IMO. I think it'd be wise to have him use one of the new diva search girls as a replacement. Or Mickie?!

From PWInsider.com: WWE has announced the signing of 2006 Diva Search loser Rebecca DiPietro. She has been assigned to OVW. Two other Diva Search losers, Maryse Ouellet and Brooke Adams, have also been offered tryouts in OVW but no deals yet.

Seems like with the diva search, the WWE ends up signing any one of them who is remotely interested.

Hogan Injured? From the Observer: WWE.com reports that Hulk Hogan told Vince McMahon today that he may have cracked his meniscus and that he may not be able to do any of his three remaining appearances for WWE. Right now, Hogan is scheduled to appear on RAW this Monday, the 8/14 RAW, and Summerslam to face Randy Orton. Hogan apparently suffered the injury as he was getting up from his couch. He says when he got up, he heard a snap. He will be having an MRI this week to determine the nature of the injury."

Wow, Hogan's getting old, huh? You ever heard of that disease that happens to old people, where their organs just FALL DOWN?

WWE.com has a DX "Vince Loves Cock-A-Doodle-Do" t-shirt which will be available for purchase starting August 8th: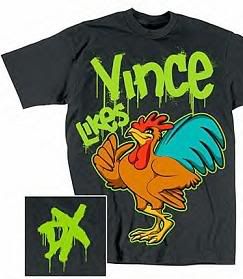 ...


...

CHIKARA Pro wrestler Sweet 'n' Sour Larry Sweeney played Nick Hogan on Raw on Monday.

He has yet to comment about it on his myspace, but he has said this in the past: "Oh sure, Milano cheated when he beat me. He pulled the hair. He had the trunks. He put Tiger Balm on his thumb and jabbed me in the eye, causing a burning sensation."

Whether or not Randy Orton used Tiger Balm when sending Larry to the arena floor on Monday has yet to be ascertained.

The WWE's Unwell roster, alert Phil Mushnick:

Joey Mercury: In rehab. Painkillers, was it?
Chris Masters: Apparently being treated for a "mental issue", of all things.
Great Khali, Bobby Lashley and Super Crazy: Liver enzyme issues, which may be due to either steroids (GASP!) or hepatitus (Thanks, Cowboy Bob!).
Jimmy Korderas: "Health reasons".
Matt Hardy: A staph infection issue.
Kid Kash: Suspended for 30 days. It is said to have nothing to due with his behavior, though a story has been circulating which I love, so here it is: After Batista's return match, the wrestlers were told to all gather and give Dave a standing ovation when he walked into the back. But Kid Kash was NOWHERE TO BE FOUND! The room got quiet, the "Theme to the Incredible Hulk" played, and a single, misty tear formed in the corner of Dave's eye as he asked: "Where's Kash?"
Rob Van Dam: Busted for possession, should be wrestling on the next episode of ECW.

TNA is considering running international tours in China and India sometime in the future. There is a lot of excitement in TNA right now with the possibility of more TV time on SpikeTV and the tickets for Bound for Glory in Michigan going on sale this weekend.

TNA in China? That's awesome.

Here is the updated card for Hard Justice:

* Jeff Jarrett w/ Scott Steiner vs. Sting w/ Christian Cage for the NWA Title
* Senshi vs. Petey Williams for the X-Division Title OH NO
* AJ Styles & Christopher Daniels vs. Homicide & Hernandez for the NWA Tag Team Titles
* Kevin Nash vs. Chris Sabin in an X-Division Title #1 Contenders Match
* The Naturals vs. The James Gang vs. Frankie Kazarian & Matt Bentley vs. America 's Most Wanted in an NWA Tag Team Titles #1 Contenders Match
* Monty Brown vs. Samoa Joe vs. Rhino in a Falls Count Anywhere Match
* Abyss vs. Brother Runt
* Gail Kim vs. Sirelda

That's not a bad card, but I dunno… There's no one "blowaway" match. I still can't believe they're going to risk killing their women's division by putting a potential Jackie Gayda Incident Part 2 on a PPV. They'll probably end up hedging their bets by having it go 5 minutes and have main-event level shenanigans.

New Japan's Los Angeles Dojo has been closed down due to "high costs".

Apparently, they drew about TWELVE fans at their last show.

Former WWE champion set to make a very big splash in the world of mixed martial arts… Dave Meltzer says: "For whatever this is worth, the St. Paul Pioneer Press today claims Brock Lesnar's fight MMA fight will be in October in Las Vegas. Within the industry, the belief is Lesnar has signed with K-1/Hero's. I do know that UFC talked with him but believe they are not going to get him. Neither K-1 nor Hero's has a show in Las Vegas in October, so at least part of that story is false. There is a Hero's show in Japan in October, but if he's going to debut on that show, one would expect he will make an appearance to announce it Saturday night in Tokyo, so we'll know in two days or less about that one. If it is with K-1, for all concerned, it makes the most sense for him to debut on New Year's Eve. Lesnar's lawsuit settlement with WWE saw him for all real purposes win the case outright without an official verdict which would set a bad precedent for WWE's future enforcement of such clauses. He's allowed to do anything he wants to do at this point, at least as it pertains to anything he's considering or has talked about."

- Furthermore, top MMA trainer Pat Miletich has this to say about Brock's prospects: "One year from now, there won't be anybody alive who can beat him."

…and that final bit helps me segue into something I've been thinking about for a while. Check out some recent domestic 2006 buyrates, here. From MMA Weekly:

Royal Rumble 340,000 buys
UFC 57 350,000 buys
No Way Out 140,000 buys
UFC 58 275,000 buys
Wrestlemania 22 560,000 buys
UFC 59 400,000 buys
Backlash 130,000 buys
UFC 60 600,000 buys

Now, remember that these numbers are just buys within the US. WWE's No Way Out and Backlash were, I believe, over 200,000 with buys from outside the US. I think Wrestlemania almost broke a million buys total.

But the sudden surge in popularity of the UFC is very clear. Have you noticed more and more kids in the WWE stands lately? Is this a conscious effort on the WWE's part to try to appeal to kids with stuff like the Punjabi Prison match and the uber-cheesy "King Booker" gimmick? Is this because the UFC is drawing away some of their older male demographic?

From an interview with Jason Buhrmeister, UFC head Dana White on why UFC is better than the WWE: "...Because it's real. I think the WWE is fantastic. It's amazing when you're 12 to 15 years old. But when you hit 16 or 17, you realize it's fake, and you want to see something real. I was a huge WWE fan as a kid. I got to an age when I got tired of the sh*t. It was just acting."

So it's clear at least on the UFC's end. They want the men – the WWE can have the boys.

If you don't think Vince is worried about the UFC, consider this. When Vince "fired" JR and tried to bury him for the millionth time, he tried to steal Mike Goldberg from the UFC. "'Steal'? Isn't that hyperbole?" you may ask. No. He wanted Goldberg to NO SHOW a UFC event, offering the guy a $200,000 Raw announcing gig to do so. Goldberg declined the offer, and allegedly when he told UFC officials about this, it raised a lot of eyebrows.

The UFC has become a force. Their TV ratings have yet to reach Raw levels, and without current, original content, I wonder if they ever will. But a FAR greater percentage of UFC fans order the pay per views than WWE fans.

We're starting to see UFC-style gimmicks emerge in the WWE. Kurt Angle has changed his style to a UFC blend. When CM Punk debuted, Tazz and Styles hyped up his "martial arts" background.

I think it'd be a mistake to emulate the UFC in-ring style in the WWE. As I've often said, real fights are BORING. I watched a UFC best-of show, and in many of the matches there's minutes of lying on the ground and two guys just circling each other, waiting for the time clock to run out. I believe that the entire reason wrestling became fake in the first place was because a few big matches ended up being so dull as to almost kill the sport.

With a fake fight, in theory, it can always at least attempt to be spectacular.

Here's some of these new-fangled 411 internet hotlinks for you:

Phil Feltham has a story about the time he interviewed Edge.

Rajah and Sat try to decide whether Chavo is going anywhere but straight down.

Michael Weyerreviews a book about the greatest tag teams. They were originally called "relays"? That's awesome. And then the topic shifts to former 411 writer Scott Keith.

Stuart Carapola says Mick Foley should have stayed retired in 2000. You're crazy, Stuart.

John Dalton has a Smackdown recap for you. Undertaker wrestled King Booker, apparently.

John Nocero has a Smackdown review, and lets us know that all the divas took a pie to the face. Vince is just stuck in the 50's.

Larry Csonka (who is not retiring) recaps TNA Impact, and says the wrestling was sub-par this week.

And then once you're all done boning up on your 411 wrestling content, make sure you've read and studied my review of WWE's MSG Classics. Hogan vs. Flair, not too shabby.

I'll see you all Tuesday morning for the VIOLENT PANDA Weekly Review, covering TNA, ECW and Raw.



comments powered by