SPOTLIGHTS
Another Reason Why WWE Will Make Tons of Money Off of WrestleMania 29
Posted by Larry Csonka on 11.12.2012

Check out the prices of the corporate suites….

- As previously reported, WWE has already sold in the neighborhood of 50,000 tickets for WrestleMania 29, for a gate of $10 million. It should also be noted that WWE makes a lot of money off of corporate suites. According to Pwinsider.com, here are the details on those suites for the event…

"Suite pricing will range from $12,500 to $17,500 based on suite location and proximity to the ring. All single suite rentals will include 18 suite tickets and six VIP parking passes. You will also have the opportunity to buy an additional six suite tickets at $205.00 per ticket. Food and beverages are not included in the suite rental fee."

This is an increase from the past few years at WrestleMania where you could purchase a suite for an average $200 a person price tag, including the ticket to the event. Under the rates given by the stadium, that price tag raises to $695 a person and that doesn;t include food.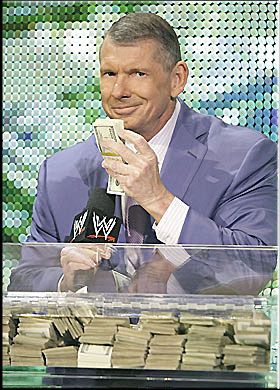 More must-read wrestling news:
* Who will announce Raw tomorrow?
* Jack Swagger set for new push
* Latest on Hulk Hogan's sex tape lawsuit
* The Top 10 Survivor Series Wrestlers
* 411's TNA Turning Point report


comments powered by