SPOTLIGHTS
[AUDIO] 411's TNA Conference Call Report: Jeff Hardy Discusses Lockdown, His Health, Missing the UK Tour, More
Posted by Larry Csonka on 03.06.2013

The TNA World Champion speaks, free audio included…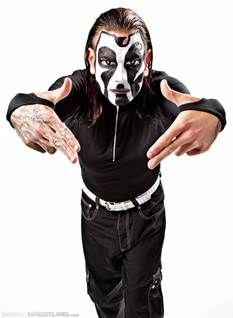 - The call started at 1:38PM ET. Lindsey Bynum welcomed s to the call and hyped tomorrow's Impact Wrestling, and the Lockdown PPV.


Jeff Hardy joined the call.


Jeff is asked about missing the UK tour, and he says he was very disappointed and looks forward to returning there some day. While he was home he has been dealing with his father's health issues.


When asked about approaching a cage match now as opposed to when he first broke in, Jeff says that he treats it the same way although he works smarter. He has had great matches, and looks at Sunday's match as a challenge. He admits that he is afraid to try some things now since he is a father.


On his recent EP release through TNA, he is happy with it and is focusing on the full album, which he and his band have finished. It should be out by August.


Jeff is asked about his history with Bully Ray and how they have come full circle and are now main eventing a PPV. He says Ray is in tremendous shape and they both have reinvented themselves and is honored to main event the show with Ray. He is very proud.


On the final show in the Impact Zone, Jeff says it will be a heart felt goodbye, but it is time to hit the road.


He is asked about recovering from injuries at an older age, and says that it is just tough, but he is taking care of himself. He ices, sees a chiropractor, works out more and gets more massages.


He discusses how he and Matt are different, but always worked well together and brought out the best in each other.


On his new contract and the TNA schedule, he says that he loves the schedule because he can be home more, and loves being part of an alternative product.


When asked how much longer he will wrestle, he says he has no idea, but it will be up to when he body says he has to quit. He hopes to work until 45 or 50 if he can.


On Sunday's match, he says it will be different. He loves Lockdown and feels one of his best matches ever was at Lockdown against Kurt Angle. He will give it his all at the show.


Jeff is asked about Bret Hart's comments against Bischoff and Hogan recently, and he says that he has no comment, everyone has an opinion and he appreciates what Bischoff and Hogan do for TNA.


Jeff puts over Bully Ray's transformation and the fact that he has worked so hard to get there. He is proud that they have come from the tag team ranks and risen to the top.


Jeff is asked about TNA's relationship with the UK fans. Jeff said that it was hard to watch the shows, because he wanted to be a part of the hot shows in the packed houses.


When asked about Rockstar Spud wining British Bootcamp, Jeff is not that familiar with him but wishes him luck.


OMEGA wrestling is brought up and how it included several guys that went on to be stars in the business. Jeff says that he learned to see talent and help mold it and help it to realize its full potential. He is at a point where he tries to compliment and encourage young talent when he can. Jeff says he feels Christian York could have done more in wrestling with a chance. He also puts over Joey Abs.


Jeff says 2012 was a great year for him personally and professionally, and feels that 2013 could be even better for him.


Jeff starts to break up a lot here, but discusses staying healthy for his daughter and to make time for his family. To be in TNA at this time allows that.


When asked about future world champions, Jeff says the roster is full of talent, and breaks up again. Landline dude, landline.


Jeff says Eddie Vedder has been a musical inspiration for him, while his mom and dad are heroes to him.


When asked about TNA scaling back PPV to four big live PPV events, Jeff says this Sunday is a very important show to prove to fans that they are worth their investment.


Jeff is asked about he and Matt always recording a lot of their lives, and he says that they used to do that all the time, but don't do it like they used too. He is asked about Youtube being a help to the product, he says it likely is, but he isn't into that sort of thing as far as the technical side of it.


When asked about Matt possibly returning to TNA, Jeff says it would be cool, but that is up to TNA and Matt because he is doing his own thing.


On negotiating his new contract, Jeff says that he found himself bored at one point, but felt that the right move was to stay with TNA. TNA helps him a lot with his music, and he has more family time, which was a big factor.


Jeff is asked what he wants to accomplish in wrestling, he says nothing right now. He feels he has done what he has wanted to do, ad feels it is important to keep doing what he does.


Jeff always felt that out of the Hardys, Dudleys and Edge and Christian, he felt that Edge was the one that would be huge, but that they could all succeed with the right chance.


Jeff recalls an odd fan experience when he received a letter from a female fan, signed in her blood.


When asked about a dream opponent, Jeff said he would love to face Jushin Thunder Liger.


Jeff is asked about the passing of Paul Bearer, and says he was gad to have known him because he was a very great man.


Jeff says he learned so much working as an enhancement talent, and that is something he misses in wrestling today.


Finally Jeff discusses his face paint, and painting his eyelids. He notes seeing Johnny Depp doing it in a Pirates of the Caribbean film, and thought it was cool. He treats his face as a canvas, and keeps a photo record of the designs, because they will never be the same. He also mentions working with Sting, and how his face paint influenced him since he has been a fan.

---


You can listen to the complete call at this link, or via the player below…








Must-read wrestling news:
* Paul Bearer passes away
* Complete WWE Smackdown taping results (SPOILERS)
* Update on Rey Mysterio's injury
* Miz talks possible match for WrestleMania 29
* Ask 411 Wrestling: The Undertaker, Chris Benoit, More
* The Top 5 WrestleMania Dream Matches

comments powered by