SPOTLIGHTS
411ís WWE Main Event Report 1.02.13
Posted by Michael Benjamin on 01.02.2013

Antonio Cesaro defended the US title against The Great Khali, Wade Barrett fought in a gauntlet match and more! Check out 411ís full WWE Main Event report for all the details!

Hello! I'm Michael Benjamin and I'm going to be writing the WWE Main Event recaps from today onward. That basically makes me "The Main Event" of 411mania. No big deal.

Khali won a battle royal last week, earning himself a United States title match against Antonio Cesaro tonight. So... There's that!

Let's get to the show.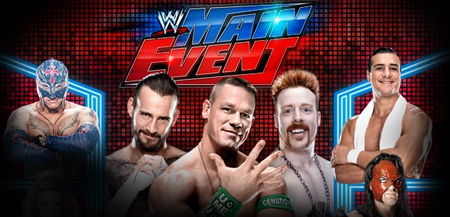 WWE Championship Roll Call:
WWE Champion: CM Punk
World Champion: Big Show
IC Champion: Wade Barrett
US Champion: Antonio Cesaro
Unified Diva's Champion: Eve
WWE World Tag Team Champions: Daniel Bryan and Kane



WWE MAIN EVENT 1.02.13



PYRO~!

Cole and Miz welcome us to the show. Michael Cole announces that we'll find out if CM Punk is medically cleared to compete on Raw later tonight. Miz's excitement is contagious as usual. How do you think The Miz is doing in this role? Let me know in the comments. It seems like the IWC is split on him.

We get a video package of Antonio Cesaro making disparaging comments about America over footage of him demolishing his opponents. It was pretty much the same video that aired a few weeks ago when he wrestled Ryder.

Cesaro makes his way down to the ring with a mike and says that the clip just shown was a terrible video put together with horrible music and no substance. Miz, still standing in the ring with Cole, cuts off Cesaro with a couple of lame one liners. Cole says that Cesaro has never faced anybody like Khali.

A brief video package putting Khali over airs next.

Matt Striker attempts to conduct an interview with Khali backstage but Natalya and Hornswoggle cut him off. Khali tells them that they talk too much and marches to the ring chanting USA. The crowd joins in on the USA chant. Cesaro assumes they're cheering for him because he's the US champion.



~Commercial Break~





United States Championship: Antonio Cesaro (c) vs. The Great Khali (w/ Natalya and Hornswoggle)


Well this should be interesting. Let's see what Cesaro can get out of 2013 Great Khali. I say that like 2008 Great Khali was tearing it up or something. Anyways, the bell rings and we're off. Cesaro goes straight for some kicks but Khali is having none of it. Cesaro's forced into the corner and gets hit with a huge chop. Khali hits him with a second chop and follows up with a clothesline to the outside. Cesaro gets back in rather quickly. Khali overpowers him again and sends him to the outside. Hornswoggle attacks him on the outside. Yep.

Khali tries to step over the top rope but Cesaro grabs his leg and hyperextends it by yanking it over the top rope. The big man is grounded and Cesaro has a game plan now as he works over the leg. A few minutes of working the leg over only gets Cesaro a two. He stays the course and stomps on the leg some more. Khali manages to chop Cesaro to regain offense. Cesaro whips him in the corner and runs at him. Khali hits him with a big boot to maintain offense as we head to our second commercial break!



~Commercial Break~



We're back and Khali is standing over a fallen Cesaro. Every time Cesaro tries to get back on offense, Khali cuts him off. You know, with chops and punches and the like. Cesaro eventually ducks a chop and hits Khali with a spinning lariat! Cesaro sets him up for the Neutralizer AND HE HITS IT! That was impressive as hell. Slightly anti-climatic but IMPRESSIVE. They told a simple big man/little man story and it worked.

OFFICIAL RESULT: Antonio Cesaro retains @ 10:00 via pin
RATING: *3/4 (An extra 1/4* for that Neutralizer.)

Matt Striker conducts a post match interview with Cesaro. Cesaro says that he doesn't hate America. He's just superior to everybody in America! He tells Miz to stop hiding behind an announce table and challenges him to a match. Miz sticks up for Americans and I'm not clear as to whether or not Miz accepted the challenge. I'm assuming they're holding that off for a bigger stage. That rivalry has been rumored for a hot minute now.

We see some footage of Wade Barrett defeating Kofi Kingston on Monday for the Intercontinental Championship.



~Commercial Break~



We get a quick clip from Raw covering the Punk/Vince angle.

A WWE physician sent out a Tout earlier today saying that CM Punk is 100% and will be defending his WWE championship against Ryback in a TLC match on Raw.

Kofi is on commentary saying that he'll beat Wade Barrett on Smackdown for the IC title in a rematch and says that Barrett's victory was a one time thing. Barrett's headed down to the ring and I don't think he agrees.

Barrett says that when Kofi won the Intercontinental championship, mediocrity won. He puts over his bare knuckle fighting background and challenges anybody in the back to a non title gauntlet match. One by one, they will all fall victim to the Barrett Barrage. Putting yourself into a gauntlet willingly isn't the smartest move in the world but it beats being a chicken shit heel like everybody else so I'm all for it.

The Raw Rebound covers the AJ/Dolph toast that closed out Raw. Has anybody else noticed that AJ isn't as hot as a heel? That almost never happens. Oh yeah, and that segment kind of sucked too.



~Commercial Break~





Gauntlet Match One: Wade Barrett vs. Yoshi Tatsu


I don't like Yoshi's chances here. Yoshi is fired up though. Barrett hits the Bull Hammer almost immediately for the quick win.

OFFICIAL RESULT: Wade Barrett @ 00:13 via pin
RATING: N/R



Gauntlet Match Two: Wade Barrett vs. JTG


JTG comes in firing with punches but Barrett quickly gets him cornered. Barrett locks in a sleeper about forty seconds in which is kind of weird considering how quick this is probably going to be. Barrett goes for a back body drop but JTG reverses it! He hits a drop kick and whips Barrett into the corner. Barrett throws him off and hits him with the Bull Hammer.

OFFICIAL RESULT: Wade Barrett @ 2:06 via pin
RATING: 1/4*



Gauntlet Match Three: Wade Barrett vs. Justin Gabriel


Do you think that they're still trying to recreate those Nexus chants? Gabriel comes in with a couple of dropkicks and sends Barrett to the outside as we head to commercial.



~Commercial Break~



We're back from the commercial break and Gabriel is still on offense. He has Barrett locked in an ARM BAR~! Barrett powers out and clotheslines him to the outside. Barrett follows him to the outside and rolls Gabriel back in for a two count. Gabriel tries to mount some offense but Barrett doesn't allow it. Barrett hits the pump handle slam for TWO. That's like the closest nearfall we've had all night.

Barrett hits an elbow off the top for another two. Gabriel starts to land some kicks and Barrett is down! He runs to the top rope and hits a crossbody for two! He immediately connects with a moonsault off the top for another two. Gabriel's on the apron now! He lunges at Barrett but Wade catches him, sets him down, and hits him with the Bull Hammer for another three count!

OFFICIAL RESULT: Wade Barrett @ 8:42 via pin
RATING: *1/4



Gauntlet Match Four: Wade Barrett vs. Kofi Kingston


Kofi's in! This catches Barrett by surprise and it's only a matter of seconds before he falls victim to the Boom Drop! BOOM, BOOM, BOOM! Trouble in Paradise! That's all she wrote!

OFFICIAL RESULT: Kofi Kingston @ 00:44 via pin
RATING: N/R

OVERALL: We had a decent show tonight. There wasn't as much wrestling as normal but Main Event does a great job of making the midcard titles seem more important than they appear on Smackdown and Raw. Cesaro looks stronger than ever and despite losing, Wade Barrett walks away from tonight looking great after beating three men in relatively quick fashion with the Bull Hammer.

Sheamus vs Dolph Ziggler is announced as our next Main Event! That should definitely be a step up from this week's in ring action.

I'll see you guys next week!



TWITTER
http://www.twitter.com/411wrestling
http://www.twitter.com/411moviestv
http://www.twitter.com/411music
http://www.twitter.com/411games
http://www.twitter.com/411mma
comments powered by