SPOTLIGHTS
411ís WWE Smackdown Report 1.25.13
Posted by Michael Benjamin on 01.25.2013

The Big Show teamed up with Rhodes Scholars to battle Alberto Del Rio and Team Hell No, the Rock and CM Punk had their final confrontation before this Sunday and more! Check out 411's full WWE Smackdown report for all of the details!

Welcome to another official 411 Smackdown Report! I'm Michael Benjamin and I'm absolutely stoked for the Royal Rumble. Let's see what the go home show looks like, shall we?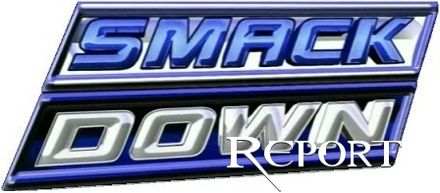 Championship Roll Call:
WWE Champion: CM Punk
World Champion: Alberto Del Rio
US Champion: Antonio Cesaro
IC Champion: Wade Barrett
Unified Diva's Champion: Kaitlyn
WWE World Tag Team Champions: Kane & Daniel Bryan

---


WWE Smackdown 1.25.13

THEN. NOW. FOREVER.

- PYRO~! Here comes Kane and Daniel Bryan. They've come out to address the rumors about them going soft. According to Kane, nothing could be further from the truth. D-Bry agrees with Kane on various subjects up until Kane says he'll win the Rumble. Kane says he's been in thirteen rumbles and 2013 is his year. Daniel Bryan says he's never won one though and that HE is going to win the rumble. They go back and forth on that topic before Big Show interrupts. He says that nobody cares about their plans. They have a 1 in 30 chance of winning the Rumble. Big Show has a 100% chance of beating Alberto at the Rumble. Well shit. I shouldn't have went with Alberto in the round table. Daniel Bryan reminds Big Show that he defeated him for the world title last year and Big Show angrily brushes him off. Big Show verbally attacks Alberto a bit before returning his focus back to Kane and Daniel Bryan. He calls them bugs. Kane says that they're not bugs. THEY'RE THE TAG TEAM CHAMPIONS. That brings out The Rhodes Scholars. Sandow says that they're making a critical mistake by worrying about the Royal Rumble and not their tag match. Cody makes it simple for the audience and says that they WILL take the tag titles from Hell No on Sunday. The Rhodes Scholars propose an alliance with Big Show to 3v2 all over Bryan and Kane but here comes Alberto to even out the numbers. Can you guess what happens next? Booker T comes out and books the six man tag for later tonight. He adds an elimination stipulation which is pretty cool. This segment did a great job of hyping up their matches at the Royal Rumble and setting up tonight's main event. All of these guys are great in their respective roles and it resulted in a very strong opening segment. They're 1 for 1 as far as segments pimping Sunday's show goes.

- THE ROCK IS HERE TONIGHT~! He's going to comment on The Shield's attack last week.



~commercial time~





Sheamus vs. Wade Barrett


LOBSTER HEAD. Sheamus enters first. I like that.The bell rings and we're off. Some back and forth brawling starts us off. A short arm clothesline from Sheamus gets Barrett down for our first nearfall of the match. Barrett's not going to let Sheamus maintain control though, as he fights back with his bare knuckle offense. Sheamus goes for the early Brogue but Barrett rolls to the outside. Sheamus catches him and gives him the CLUBBING BLOWS TO THE CHEST. Barrett recovers and knocks Sheamus off the apron with a hard right as we head to...



~commercial break!~



Wade Barrett gives Sheamus a clothesline to the outside as we come back from the commercial break. THAT WOULD HAVE ELIMINATED SHEAMUS IN THE RUMBLE! Sheamus gets to his feet at seven and Wade chokes him on the top rope when he tries to get back in. Barrett approaches Sheamus on the apron but Sheamus launches himself over the top rope and knocks Barrett down with a big shoulder block. We get some back and forth power moves before Sheamus hits a nice back breaker for TWO. Barrett goes for the Irish Curse but Barrett slips off. Sheamus maintains control and goes upstairs. Barrett grabs his wrist and pulls him all the way down. Barrett catches him with a kick to the face and only gets TWO. Barrett goes upstairs for a splash but Sheamus gets his knees up. Sheamus goes for a Cloverleaf but Barrett gets the roll up. Kick out at 2! Barrett hits White Noise but only gets two! What's it gonna take!? A Brogue kick. Sheamus wins. Barrett and Sheamus deliver another solid match!

OFFICIAL RESULT: Sheamus @ 9:03 aired via pinfall
RATING: **3/4



~commercial time~



- Josh and JBL take us back to Raw. We get a video package covering the Rock/Punk/Shield segment. I'm really hoping The Shield maintain momentum far past Punk's reign.

- Backstage we see Punk talking to Heyman.



~commercial time~





Natalya (w/ Khali and Hornswoggle) vs. Rosa Mendez (w/ Primo & Epico)


Rosa, Primo and Epico enter during the commercial break. Both tag teams are on commentary. Rosa locks in a side headlock on Natalya but gets whipped into the rope. She bounces off the ropes and kicks Natalya in the stomach. Stiff Clothesline for two. Arm drag by Natalya followed by a clothesline. TWO. Natalya rolls through a roll through and goes for a Sharpshooter. No go, as Rosa gets to the ropes. Rosa gives us a dance as Primo and Epico pop for it on commentary. Then Hornswoggle gets on the announce table and dances back at Rosa, which distracts her. Natalya gets her in the Sharpshooter and it's over. The faces dance after the match. Ugh.

OFFICIAL RESULT: Natalya @ around 3:00 via Sharpshooter
RATING: 1/4*



~commercial time~



- Here comes Punk and Heyman! Punk says that he's so frightened that he can't sleep at night. What he's afraid of, is his own potential. He's barely scratched the surface and it terrifies him. One thing stands in the way of his 432 days though. One thing that would make it go up in smoke. The crowd chants for Rock. CM Punk says that it's not The Rock, but it's The Shield. He has a letter from Vince McMahon to explain. Heyman unfolds the letter and speaks.

"As per the chairman of the WWE. If The Shield gets involved in the WWE championship match at the Royal Rumble, you CM Punk, will officially be stripped of the championship."

- Punk says that Vince wants to steal the title from him. He says that he's going to do what nobody else has the balls to do. Punk steps outside the ring and grabs a chair. He calls out The Shield. He says he wants to set the record straight. Punk's about to sit down and wait but their music hits and they're headed to the ring through the crowd. They slowly surround the ring and begin to enter like they're going to attack. Punk says to them that he can only explain himself in the simplest of ways. He says that he never asked them to attack Rock, Ryback, or anything in his life. He tells them to stay out of his way. He does not want to lose the title because of them. This will be the biggest victory of his career and he's going to do it by himself. He says that if The Shield believes in justice, they'll never have to cross paths again. The Shield deliberate and slowly retreat before exiting through the crowd. So Maddox and The Shield were hired by Heyman without Punk's knowledge right? Perhaps a story about Heyman not having faith in Punk and Punk proving him wrong? Punk/Lesnar? I'm sorry. Let me refocus.

- In two days, The Rocks inferiority will meet true greatness and Punk will prove that he's the best in the world and the greatest of all time! That brings out The Rock. He says that he's going to put an end to the garbage right now. The Rock says that his gut tells him that CM Punk is working with Shield. His heart says that he doesn't care! He's gonna stick his boot straight up CM Punk's candy ass on Sunday! Rock says that Punk's walls are closing in. He's going to crack under the pressure. And when that happens, Rock is going to hook him for the Rock Bottom. Before he hits the mat, time will stand still. Punk's final thought will be "it's over". The Rock promises Punk, just like he promised the world, that he will be the next WWE Champion. If you smell... what The Rock is cooking. This was a GREAT segment to sell any on-the-fencers on the show. Everybody involved was on top of their game.

- Orton's walking! Somebody get a camera on him. We gotta catch this!



~commercial time~





Randy Orton vs. Drew McIntyre


3MB are rocking out in the ring before Orton's music hits. JBL says that 3MB is what happens when the Mean Street Posse meet up at a karaoke bar. Orton hits a powerslam in the early going. McIntyre gets to his feet but ends up in a modified back breaker. In comes Mahal! RKO! McIntyre! RKO! In comes Slater! RKO! Fun segment. Orton should have tossed them all over the top rope after though.

OFFICIAL RESULT: Randy Orton @ 00:50 via DQ
RATING: N/R



~commercial time~





The Miz vs. Darren Young (w/ Titus)


Cesaro on commentary! The bell rings and we get some back and forth action to start. Cesaro says that he's a tremendous athlete and that he'll defend his championship before going on to win the Rumble this Sunday. Cesaro sounds a lot better on commentary where his lines aren't written for him. He's doing an amazing job. In the ring, Miz goes to the top rope and hits an ax handle on Young. Darren Young fights out of a Skull Crushing Finale and Miz applies the Figure Four for the win. Well that was quick. I don't like PTP's track record as of late.

OFFICIAL RESULT: The Miz @ 2:46 via Figure Four
RATING: 1/2*

- Cole and Matthews pimp the main event and say that it'll have Royal Rumble implications. They'll explain when we return from...



~commercial time!!!~



- Ah, they give us that awesome stat package for the Royal Rumble match. This video could literally sell me on ANY Royal Rumble.



Alberto Del Rio & Hell No vs. Big Show & The Rhodes Scholars


Alberto and Rhodes start us off. Alberto hits a nice snapmare followed by a gut buster for two. Sandow and Bryan in now. Bryan corners Sandow and hits the yes kicks. Or the no kicks. Whichever you call them. He tags in Kane and Kane hits a nice running dropkick. A chokeslam follows that and THERE GOES SANDOW~! Sandow is out at 2:30. Big Show's in and Kane hits a running DDT for two. That's how I would have done it in WWE 13. Gotta spam that running DDT. GozzoFTW is the gamertag if you want to get DDT spammed. Big Show hits a KO punch on Kane on the outside. Kane's eliminated at 3:46. We're at 2v2 as we head to...



~commercial time~



Bryan and Rhodes bring us back from the commercial break. We get a double clothesline! Rhodes made the tag to Big Show but Daniel Bryan couldn't make it to Del Rio. Show goes for a chokeslam but Daniel Bryan kicks his way out of that while screaming no! A dropkick to Show's legs takes the big man down! He goes upstairs but Show catches him with a chop to the chest! He tosses Bryan to the outside but he skins the cat! He's back in the ring and Big Show hits him with a knockout punch! Another count out at around 6:40 aired. This is doing a really good job of selling the LMS match. Del Rio is in now and he hits the ropes. Big Show catches him with a chokeslam and he rolls to the outside. Del Rio makes it to his feet, rolls in the ring, and falls back to the outside to break the count. They start fighting in the ring and Del Rio sends Big Show to the outside! Big Show looks like he tweaked his knee kayfabe and gets counted out at 8:46 aired. Cody in quickly and he can't roll up Alberto. Cody and Alberto are the final two. Cody's stomping away at Del Rio. Misses the disaster kick! Del Rio hits an enziguri and goes for the pin! 1... 2... NO! Cody's looking good in there with Del Rio! Alberto hits another running kick to Cody in the corner and gets a three count! This was a really fun match. Though the eliminations were quick, they all made sense. Big Show knocks Alberto out with the KO punch after the match and flips the announce table on him! Big Show counts to ten over a chorus of boos. Very nice storytelling there.

OFFICIAL RESULT: Alberto Del Rio (sole survivor) @ 10:20 via pinfall
RATING: ***

OVERALL: This was a great go home show for The Royal Rumble. If the match wasn't good, it was short and advanced a story. Well... minus the Natalya match. CM Punk and The Rock did a great job promoting their match, as did the six men involved in the main event. There was Rumble hype everywhere and I couldn't be more excited for the show on Sunday.

As always, thank you for reading!




TWITTER
http://www.twitter.com/411wrestling
http://www.twitter.com/411moviestv
http://www.twitter.com/411music
http://www.twitter.com/411games
http://www.twitter.com/411mma
comments powered by