SPOTLIGHTS
411's WWE Main Event Report 2.20.13
Posted by Michael Benjamin on 02.20.2013

Big Show took on The Usos, Brodus Clay and The Great Khali in succession, Justin Gabriel faced off with Titus O'Neil and more! Check out 411's full Main Event report for all of the details!

It's Michael Benjamin. It's Main Event. Lets do this.

SHOW... ON.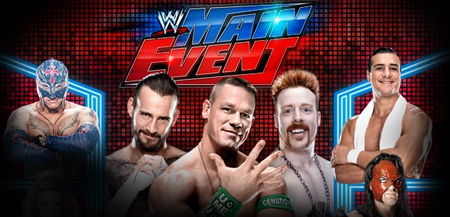 WWE Championship Roll Call:
WWE Champion: The Rock
World Champion: Alberto Del Rio
IC Champion: Wade Barrett
US Champion: Antonio Cesaro
Unified Diva's Champion: Kaitlyn
WWE World Tag Team Champions: Daniel Bryan and Kane



WWE MAIN EVENT 2.20.13



- Here comes Big Show! Big Show is extremely upset that they showed a picture of Alberto holding the title. That's pretty low of the production team... He calls out Miz and Cole for making fun of him. He asks if they think they're special. Big Show blames Booker T for making him look like an idiot every time he's in the ring. I love psychotic Big Show. He says that there's nobody with the guts to laugh in his face and he makes an open challenge to anybody in the locker room. Out come the Uso bros.



Big Show vs. The Usos


The Uso Bros pounce and Big Show throws them off. This match iwill be contested under tornado rules. They each take a headbutt and go flying. Next up, chop city. Final Cut to Jey Uso. He goes to the second rope for the Vader Bomb on Jimmy but Jey pulls him out of the ring! They quickly follow up and nail Big Show with a double suplex. I'm honestly surprised that they hit that. A double superkick followed by a double elbow drop! They hit their weak version of Event Omega but Big Show brushes it off. He sends Jey to the outside and hits a HUGE shoulder block on Jimmy, turning him inside out. He hits the double chokeslam and gets a double pin. That was a actually a really fun squash. Here comes Brodus!

OFFICIAL RESULT: Big Show @ 3:37 via pin
RATING: *



Big Show vs. Brodus Clay


Here we go! They grapple to start for an awkwardly long period of time before Big Show throws him off. They circle and grapple again. Brodus pushes him off this time and gets a little funky. Big Show wants a test of strength. Brodus obliges and Big Show sucker punches him in the gut. They exchange punches and Brodus comes out on top. He dominates for a hot minute before Big Show throws him over the top rope as we head to our first...



--Commercial Break--



We're back as Big Show dominates Brodus. Big Show's working over the left arm of Brodus in plodding, err, methodical fashion. Headbutts to the shoulder from Show. Brodus fights back and gives Show an Irish Whip! A headbutt takes the big man down! The biggest one. Big Show dodges a splash with a boot! He goes for an elbow drop and Brodus rolls out of the way! Brodus charges into a KO punch.

OFFICIAL RESULT: Big Show @ 9:57 via pin
RATING: *1/4



Big Show vs. The Great Khali


It all comes down to this... It's the chop vs the headbutt. They slug it out to start. Call your friends! Tell them to change the channel to Ion! CHOPS FROM KHALI! CHOPS FROM SHOW! Khali hits Show with a huge forearm and Big Show hits the ground! Show rolls outside for a breather as Khali hits a running senton over the top rope! Just making sure you're still reading. We're gonna head for another...



--Commercial Break--



Spear from Big Show as we come back from commercial. Show corners Khali and hits a few punches to the gut. Big Show charges at Khali in the corner but Khali hits a boot! Show runs into a BIG CHOP~! He rolls to the outside for another breather but Khali follows him out this time! Khali whips Big Show into the steps! He took it like a champ! John Cena could take notes from Show on hitting the ring steps. Khali gets on the apron to get back in the ring and Show hits him with a knock out punch! Khali hits the floor and gets counted out! This was far better than it had any right to be.

OFFICIAL RESULT: Big Show @ 7:30 via count out
RATING: **

- Miz takes off his suit coat and gets into the ring! There's no ref so this is just going to be a brawl. Miz pounces on him with boots to the face before Big Show can get out of harms way. Show takes a few steps up the ramp before running back to the ring to get back in. Miz knees him off of the apron and Big Show leaves. Miz DOES NOT need to be involved in major angles every week. I have a really hard time buying Miz on the same level as Big Show too. I get that Show just wrestled three matches. Miz just doesn't ooze bad ass "chase the faces off" charisma though.

RAW REBOUND: We get a video recap of The Rock revealing the new WWE Championship. I don't LOVE it but it beats the hell out of the spinner belt. They also hype up McMahon/Heyman for next week. This is where Lesnar comes into play, right?

- Matt Striker is backstage with Maddox. I can't believe how blatantly they're ripping the "assistant to" gimmick from The Office. Well, I guess I'm not that surprised. Brad Maddox declares that we are now in the Bricky era. Maddox acts like he's in charge and books McMahon vs Heyman on Monday. I really like this guy. He shines whenever given the opportunity.

- We get a Jack Swagger and Zeb Coulter Youtube promo. I don't even know what to say about his situation. How are they going to tackle this one?

- Matt Striker is backstage with Justin Gabriel. Gabriel says that he's not intimidated by Titus because he jumps out of airplanes. Titus shows up on the scene blowing his whistle. He immediately takes over the interview. MILLIONS OF DOLLARS. MILLIONS OF DOLLARS. Justin tells Titus that if he wants to talk numbers, Justin has one number for him - 450. OHHHHHHH!



--Commercial Break--





Justin Gabriel vs. Titus O'Neil


So is Justin Gabriel's entire gimmick that he likes to jump out of planes? And that he's South African* Paul London? NO DARREN YOUNG!? So many questions! Ding ding! Here we go. Justin starts us off with some kicks and chops. Titus is like "nuh uh" and dominates. He corners Gabriel and delivers some headbutts. The crowd is sitting on their hands until Titus boos himself. Hey, it was actually pretty effective. Dropkick from Gabriel! Gabriel hits a plancha over the top as we head to our final... (* - Edit. I wrote Australian the first time because I'm an idiot.)



--Commercial Break--



We're back! Gabriel gets stopped in his tracks and thrown to the ground by Titus. Gabriel attempts a springboard attack from the apron into the inside but Titus catches him with a big boot. Titus follows him to the outside and delivers a foot clubbering. He rolls Gabriel inside and gets a two. He follows up with more punches and kicks before locking in the deadly bear hug. Gabriel escapes and Titus charges him in the corner! Gabriel evades and heads back to the apron! He goes to the top rope but Titus charges! Gabriel leaps over him, turns around and gets taken down with a huge clothesline. Gabriel rolls back to the apron. Titus goes for a suplex but gets caught with a huge kick to the head! Gabriel hits the 450 and gets the win.

OFFICIAL RESULT: Justin Gabriel @ 9:00 via pin
RATING: **

OVERALL : This was a pretty boring show. I like Big Show. I really do. Featuring him in three matches for over 50% of the show isn't going to make it rain snowflakes though. Gabriel vs Titus was nothing special either. I REALLY hope Main Event isn't beginning to take a quality dive like all of the other B shows eventually did.



TWITTER
http://www.twitter.com/411wrestling
http://www.twitter.com/411moviestv
http://www.twitter.com/411music
http://www.twitter.com/411games
http://www.twitter.com/411mma
comments powered by