SPOTLIGHTS
Tremendous Tirades 3.07.13: TNA Impact Wrestling
Posted by Larry Csonka on 03.07.2013

Leave the memories alone, Impact Zone…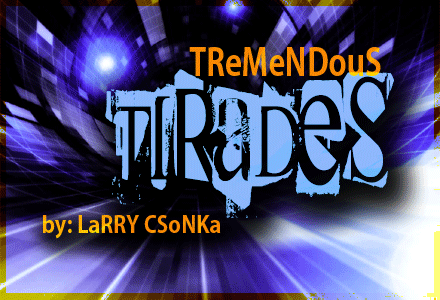 Introduction
It's the road to WrestleMania, and with that being the case, I have dusted off the old Tremendous Tirades name for new alternate recap to the main shows that will air each week (Raw, Impact and Smackdown). This will not be another traditional recap, but instead it will be a mash up of the Rs, Instant Analysis and my usual Twitter ramblings I would do during the shows; completely uncensored and as the ideas flow unfiltered to the old keyboard.

I felt that last week's Impact was all over the place. They were finally back to the regular shows after the UK run and got Jeff Hardy back, and then realized that they had to build a PPV card, even though they were on week seven of the build to the show. The show wasn't all bad, there were enjoyable elements to the show, but it was so hectic and desperate, like please care about our PPV that I came away from the show feeling that it lacked.

Tonight is the go home show for the Lockdown PPV, one of TNA's FOUR live PPV events a year…




Tonight's edition of the show comes to you live from the Impact Zone in Orlando Florida for the last time. Leave the memories alone…
So wait, Kurt Angle finds out who the VP of Aces and 8s is LAST week, keeps it quiet for a whole week even though it will have crippling effects on the entire company, and when asked who it was, just walks away with the mask. I mean, really, Angle cannot stop tweeting on a drunken and nightly basis, so we're to believe that he could keep quiet about this? Who the hell thinks this whole Aces and 8s angle has been executed well?





"I DO!"




ARIES CALLS OUT HARDY: Following the ridiculousness of Angle not revealing who the major threat to TNA is, and it better be good, Austin Aries came to the ring. He was still pissed about last week's meeting with Bully Ray, because Ray said he would never be champion again. Aries was so pissed he decided to call out the current champion, Jeff Hardy, to prove a point. Aries is good on the mic, I am fine with his promo. Aries and Hardy work well together, I am all for watching them have a match. And they delivered the usual very good match that you would expect from them. I also really liked the non-finish, as neither guy should be losing heading into the PPV this weekend. Matt Morgan is sort of a downer for me, but it also could be part of a bigger plan. With all of the speculation of a Bully Ray heel turn, and the fact that Bully conveniently made the save and never touched Morgan, it could be setting up something up what's to come at Lockdown. Overall I felt this was a strong opening to the show.

Rating (1-10): 8.0



Sting gave a wild promo backstage, not wacky Sting, but fired up and pissed off Sting; hyping up his team for the best of three series tonight and the Lethal Lockdown match on Sunday. This was good stuff.


Morgan's promo about the run in was perfectly fine, as it sticks with his previous motivation, which is to fuck with Hulk Hogan. Also, his beard is pretty magnificent.


WHEN WES MET KURT: Wes Briscoe came out to cut a bad promo. Well, I am sure that he didn't intend it to be bas, but it was. He looks like he has no confidence out there, and just mumbles through things. Please take the mic away from him as soon as possible. Thankfully Kurt hit the ramp to cut him off. Angle made the mistake of delivering a monologue, and decided to attacks Wes before revealing who the VP was. D Low, Kenney and Snow hit ring, and as Angle tried to let everyone know that D Lo was the VP, he delivered a low blow to Angle and he and Wes beat them down. We all had the feeling that D Lo was the man playing the role under the mask, but I think we all hoped that the reveal would be someone else, someone important. That's right, the backstage agent and inactive wrestler is the big VP of the top heel stable. Smell the lack of fucks given, recognize that.

Rating (1-10): 2.0


D Lo spoke with his brothers in Aces and 8s, and questioned whether or not Sting could trust the men he will team with Sunday. The plot thickens…

STING vs. DEVON: This is the first of a three man series, with the winner of the series getting the man advantage in Lethal Lockdown. This is a fine theme for the show, but unless the heels get the advantage, you fuck the psychology of the match. It was Sting vs. Devon in 2013, so basically what you'd expect. A fan threw a drink in Sting's face, and then Devon tossed Sting into the post, legit busting him open, which led to the pin. That had to suck.

Rating (1-10): 3.0



Velvet talked about winning the Knockouts Title, and was interrupted by Kim, who claimed that Sky and referee Taryn Terrell conspired to get Sky the title. As Kim talked shit, Sky slapped her.


Prichard talked to Snow, and announced that Danny Davis was taking over for Taz as a Gutcheck judge.


They met with the ladies backstage, and Al Snow's jacket is fabulous. They eliminated Ivelisse Veliz. Lea'd Tapa moves on to be judged later in the show.





"FAAAAAAAAAAAAAAKIN BULLSHIT!"




Chavo, Hernandez and Sky vs. Daniels, Kaz and Kim: Chavo, Hernandez and Sky vs. Daniels, Kaz and Kim is actually a style of match I do like right before a PPV, as it is a match that can work to hype two PPV matches, and usually there is a cluster style finish that doesn't really damage anyone heading into the PPV. Overall a fun six person match, some fun work, Daniels and Kaz continue to be great and Kim picked up the win to give her the heat heading into the knockouts title match. This was a perfectly acceptable segment.

Rating (1-10): 6.5



Sting is pissed off backstage, and questions if he can trust his team. Magnus and Joe argue over the fact of trust, but then says that they are at war. Magnus promises to show us who he is. Pissed off and blood covered Sting is pretty fun.



We get another update on AJ Styles, straight from Gainesville, GA. AJ threatens the camera crew as he is spotted talking with a biker dude. Hmmmmmmmmmmmmm…


DOC and GARETT vs. JOE and MAGNUS: This was the second match in the best of three series for the Lethal Lockdown advantage. Keeping Garett in a tag environment was a smart move, because no one wants to see him in a singles match. I also loved the Joe and Magnus reunion, playing off their old tag team, but in the segment before, still acknowledging their animosity from their feud. Joe and Magnus decided to get on the same page, and busted out their old teamwork and finish to gain the victory. They then celebrated together, putting the drama behind them. The match was fine, I liked the faces working together and not falling for the tactics of Aces and 8s, who tried to divide and conquer with their mind games. Also, please keep Joe and Magnus together again for a while, because matches with Daniels and Kaz as well as Aries and Roode would be awesome.

Rating (1-10): 6.5



Kenny King says he is a star, and he proved it by defeating RVD last week. He will take on all comers at Lockdown.


Eric Young makes his case for Sting to pick him for the final best of three match tonight. Sting has to pick between Young and Storm. Young gave a passionate promo about Aces and 8s taking away what he loved, and stated that he has been in several battles, and nothing about that is funny. Sting then chose Storm, who stood there and didn't say anything until picked.


GUTCHECK w/Lea'd Tapa: The crowd hates Lea'd Tapa, and constantly chants NO as she tries to cut her promo about her performance. It was not very good; she doesn't have much mic presence. Danny Davis says he hears the crowd, but Davis says he sees a future in her and says yes. Prichard then grabs the mic and takes the time to mention the passing of Paul Bearer. I appreciate the sentiment, but that was oddly timed, like he wanted to get the crowd from being so negative. But hey, that's just me. Prichard puts over Tapa as the crowd chants no, and he agrees and says no. Tapa then cuts her promo, which is a little better than her first attempt, but still not very good. Snow then mentions Paul Bearer, and starts to talk about Tapa. He says he gets a reaction, and he says yes. Fucking really? Sorry TNA, I believe you missed the boat with Ivelisse Veliz. Have fun with Tapa in OVW Danny Davis. I know that people will say that she "got a reaction" and that is why she got it, but that wasn't heel heat, that was go away heat in my opinion. Tapa is fine to invest in down the line, but she needs a LOT of work. Ivelisse could have been used now and helped the division, which is thin.

Rating (1-10): 3.0



Robbie E talks about his feud with Rob Terry, which is actually a PPV match this Sunday. Seriously, eight weeks to build a PPV and they put the battle of the Robbie on the show.




"It'll be a mat classic for sure…"




ANDERSON… ANDERSON vs. STORM: So we hit the third match in the best of three series for Sunday's Lethal Lockdown match. Outside of the recent match with Angle, the match, while short, was one of Anderson's better outings since his return as he appeared motivated. Aces and 8s came out to the ring, followed by Team TNA. Anderson caught Storm off guard with the mic check and won the match and advantage for Aces and 8s at Lockdown. It felt very rushed, but was fine.

Rating (1-10): 6.0


HARDY AND BULLY GO FACE TO FACE: The main event angle for the show was Bully Ray and Jeff Hardy going head to head three days before their title match. Ray stated that they will do what they do best, and that is make pro wrestling history. He then put over that Hardy has battled back and won the title, this is all a big deal. Ray even stated that he was proud of Jeff, and then allowed him to speak. Hardy then stated that many have beaten his ass, but he kept the title. He then admitted that Bully Ray would kick his ass at the PPV, but questioned if it would be enough. Jeff then said he was proud of Ray for al he has done. We have the mutual admiration society meeting today. Ray declared he expected to be great, he expected to be a great tag team wrestler; but he never looked at himself and felt pride, but he can only do that by beating Hardy at the PPV. Ray vows to beat Hardy with his best move, no escaping from the cage; he will win and declare himself the champion. Hulk Hogan gimped his way out to the ramp, and put over the match as huge. He says Jeff and ray as the best of the best, but now, TNA is ready for a change and it will go on to greatness. He adds that they are looking for the next leader to take them into the future, and if he has to crawl to Lockdown, he will be there to see who the next champion is. "May the best man win, brother." Aces ad 8s then hit the ring and Team TNA also ran out as we have a big old brawl to end the show. The words were fine; the execution was fine, but while I like Hardy vs. Ray; there is simply no buzz, no heat for the match with the face vs. face dynamic. That is the risk you take with the face vs. face match, and I am sure that they have something big planned for the PPV, but as the final go home angle, I was left wanting more…

Rating (1-10): 6.0


LOCKDOWN CARD
* Steel Cage World Title Match: Bully Ray vs. Jeff Hardy ©
* Lethal Lockdown: Aces & Eights (Devon, Mr. Anderson, D.O.C, Garett & Knox) vs. Team TNA (Sting, Magnus, Samoa Joe, James Storm & Eric Young)
* Steel Cage Match: Wes Brisco vs. Kurt Angle
* Tag Team Title Match: Daniels & Kazarian vs. Bobby Roode & Austin Aries © vs. Hernandez & Chavo Guerrero
* Knockouts Title Match: Gail Kim vs. Velvet Sky ©
* X-Division Title Match: Kenny King © vs.
* Robbie E vs. Rob Terry




The Tirade


The good news is that the show was focused, mostly, on the PPV on Sunday, which is what a go home show needs to be. Outside of not liking the Gutcheck choice, I also feel that the timing of the Gutcheck was poor, as they need to spend every minute selling hat PPV. They only have four live PPV events now, and they need to put every ounce of energy into selling those shows.

I liked the best of three series with the Lethal Lockdown advantage on the line, because while predictable, it is a simple angle to run and works. I also liked that Sting did a job on TV, although it really should have been to someone that needed it more than Devon. The closing angle was fine, but as mentioned, just didn't feel like a big go home angle. I also hated that they didn't announce an X-Division title match. Under the new PPV format, there is no reason that they couldn't have booked a complete PPV card.

All things considered, this was an average show, and not exactly the show you need as the go home for a PPV.

Show Rating: 6.0

As a reminder, I will be going by the 411 scale…

0 - 0.9: Torture
1 - 1.9: Extremely Horrendous
2 - 2.9: Very Bad
3 - 3.9: Bad
4 - 4.9: Poor
5 - 5.9: Not So Good
6 - 6.9: Average
7 - 7.9: Good
8 - 8.9:Very Good
9 - 9.9: Amazing
10: Virtually Perfect




---
BONUS COVERAGE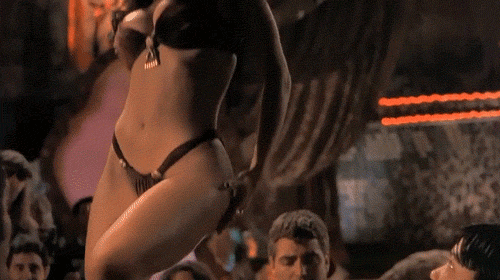 Your heart is free. Have the courage to follow it…TO CSONKA'S TWITTER!
http://www.twitter.com/411wrestling
http://www.twitter.com/411moviestv
http://www.twitter.com/411music
http://www.twitter.com/411games
http://www.twitter.com/411mma
Larry Csonka is a Pisces and enjoys rolling at jiu jitsu class with Hotty McBrownbelt, cooking, long walks on the beach, Slingo and the occasional trip to Jack in the Box. He is married to a soulless ginger and has two beautiful daughters who are thankfully not soulless gingers; and is legally allowed to marry people in 35 states. He has been a wrestling fan since 1982 and has been writing for 411 since May 24th, 2004; contributing over 3,000 columns, TV reports and video reviews to the site.
comments powered by