SPOTLIGHTS
411's WWE Smackdown Report 3.08.13
Posted by Michael Benjamin on 03.08.2013

Dolph Ziggler fought Alberto Del Rio, Sheamus battled Big Show, Ryback wrestled Damien Sandow and more! Check out 411's full WWE Smackdown report for all of the details!

Oh hey! Didn't see you there. Guess what I just did? Watched Smackdown. It's Michael Benjamin here with another Smackdown report! Let's get to the show, shall we?

SHOW... ON!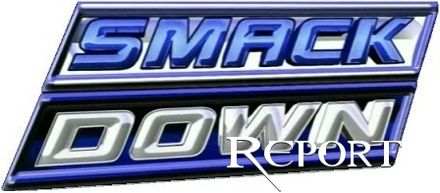 Championship Roll Call:
WWE Champion: The Rock
World Champion: Alberto Del Rio
US Champion: Antonio Cesaro
IC Champion: Wade Barrett
Unified Diva's Champion: Kaitlyn
WWE World Tag Team Champions: Kane & Daniel Bryan

---




WWE Smackdown Report 3.08.13



- Then. Now. Forevz.

- Here comes Jack Swagger, accompanied by Zeb Coulter and their badass entrance music. "Welcome to Jack Swagger's America." Swags says that he's going to be the next World Heavyweight Champion before quickly handing the mic over to Zeb. He nailed those three lines though man. Nailed them. Zeb cuts another long winded xenophobic promo, specifically about illegal immigrants stealing jobs this time. Jack nails one more line before Alberto Del Rio, along with Ricardo Rodriguez, interrupts the festivities.

- "No, no, no! You've got it all wrong. I want to show you a video of what America is all about." They air a video of Alberto and Ricardo parodying Swagger and Zeb's YouTube videos. Ricardo cuts a promo about how the American stomach lining can't handle Mexican food. You read that right. The running joke is that "Jack" has no idea when to speak. I thought that ADR was mildly funny playing Swagger. This type of angle is a little light hearted for the type of story they're trying to tell but there's plenty of time for Alberto to snap. Perhaps things get a little more serious after Zeb and Swagger reveal that Ricardo is an illegal immigrant?



Non Title Match: Team Hell No vs. 3MB


Jobber entrance for 3MB. Mahal is going to be sitting this one out. Kane and McIntyre start us off. Kane dominates right out of the gate. In comes Slater and his luck is no better. Kane catches him with a huge chokeslam and tags in Bryan. Heath Slater goes for a powerbomb but Bryan gives him a rana over the top. The numbers game catches up to Daniel Bryan and he ends up on the receiving end of a 3v1 assault. 3MB isolate Daniel Bryan in their corner. McIntyre goes for an Irish whip and Daniel Bryan reverses that into a float over DDT! HOT TAGS! Kane decimates Slater with fast and furious offense. Slater manages to sneak up to the second rope for an ax handle, but Kane catches him with an uppercut. Kane delivers a nice sideslam and signals for a chokeslam! Slater actually fights out of that! Kane tags in Bryan. Bryan Cleans house and picks up a quick win for Team Hell No. Heading into Mania strong?

OFFICIAL RESULT: Team Hell No @ 4:00 via pinfall
RATING: *

- Matt Striker is backstage with Dolph Ziggler, AJ, and Big E. Langston. Dolph says that he was voted to wrestle Alberto tonight because the fans wanted to see him steal the show. He mentions that Zeb told him that it didn't look like he swam through a river filled with sewage to get here.

- Ryback and Mark Henry have another stare down as Ryback makes his way to the ring!



--Commercial Break--



- Brad Maddox is joining us on commentary! He absolutely stole the show on Main Event a few weeks ago when he covered for Miz. I ended up recapping his commentary more than the match.

- We get a recap of the Triple H promo on Raw. HHH/Brock 2 = Yawn. Sorry, I'm usually not cynical. I just can't get into this. I did like Trip's promo though. "...Or are you just going to sit there and bleed?"



--Commercial Break--





Ryback vs, Damien Sandow


Damien Sandow is already in the ring trashing Ryback's intelligence. Maddox claims that he's in charge. When he finds out where JBL is he says "Is he okay? Why is he climbing a mountain? Have we checked on him?" Ryback chases Sandow around the ring as Maddox demands more security for himself on commentary. Maddox says that he's in power and in charge of Michael Cole. They're actually having a hilarious back and forth regarding Brad's position in WWE as Ryback fights out of a headlock and delivers his patented offense. Ryback hits a spine buster and a meat hook clothesline. Maddox says that he's going to go in there and help Damien but instead decides that Damien is doing a fine enough job on his own. "It's okay, Damien! You're doing a good job in there buddy!" Ryback finishes Sandow off at around the three minute mark. Maddox tries sending us to commercial break off cue before Matthews and Cole run down tonight's show. This was an extended squash for Ryback. If you had told me a week ago that Cody would be getting squash wins and Sandow would be on the receiving end of quick losses, I would have told you to go fuck yourself. I wouldn't have. I would have disagreed though. Again, Brad Maddox is the most interesting part of the segment he's in. I'm glad they're still finding air time for him.

OFFICIAL RESULT: Ryback @ around three minutes via pinfall
RATING: *



--Commercial Break--



- We get a recap of Shield's attack on Show at the end of Old School Raw. Everybody's complaining about Big Show turning face for a six man at Mania but if they go that direction, I really don't think he needs a face turn for motivation to be in that match. Especially on a one off.

- Backstage, Big Show tells Matt Striker says the doesn't know what happened with The Shield. It wasn't a big deal to him. They got in his way and they knocked him out. Same with Sheamus. Same with Orton. He'll knock em all out! I love that attitude. All like "Whatevz nothing personal i knocked them out anyway."

- Maddox is going to be with us for the rest of the show on commentary. Cole tries sending us to break before Maddox says "Quick! I got the last word!"



--Commercial Break--





Non Title Match: Dolph Ziggler (w/ AJ and Big E Langston) vs. Alberto Del Rio (w/ Ricardo Rodriguez)


Here we go. These guys had a **** match on Main Event recently. Lets see what they do tonight. Big E hits Alberto with a clothesline behind the referees back rather quickly. Ricardo gets involved and goes to dump his bucket of water on Big E. Big E moves! RICARDO COVERS AJ IN WATER! (Did I just capitalize that?) Big E tries to restrain AJ from attacking Ricardo but she escapes and chases him around the ring. She dives at Ricardo but Big E catches her! Outside shenanigans can generally kill the flow of a match, but this was pretty exceptional. Very entertaining stuff from all of the B characters. The ref sends Big E and AJ to the back as we head to break. Cool cool cool. No outside BS when we get back!



--Commercial Break--



Dolph Ziggler is dropping elbows as we return from commercial break. Brad Maddox is slowly transitioning from getting his gimmick over to getting the heel acts over. He's playing a great heel announcer right now. Legitimately. We've been crying about not having a heel announcer for awhile. Backstage, Swagger and Coulter are looking on. Alberto hits an amazing reverse suplex off of the top rope and the ref begins a ten count! Both men make it to their feet and exchange BOO/YEAH punches! They go back and forth with reversals before Ziggler gets hit with a tilt-a-whirl back breaker. Ziggler gets to his knees and Alberto hits a superkick! 1... 2... NO! The crowd is firmly behind Alberto Del Rio. Ziggler gets caught up in the ropes and Alberto hits his patented kidney shots on Ziggler into the Backstabber! KICKOUT AT TWO! Maddox fires Cole and makes Matthews assistant commentator as Alberto goes for an ax handle off the top rope. ZIGGLER INTERCEPTS WITH A DROPKICK! Kick out by Del Rio! Del Rio hits the German Suplex! TWO! Ziggler hits a Tornado DDT! TWO! Ziggler goes for the sleeper but Del Rio reverses into the arm breaker. Ziggler rolls him up! No! Alberto gets him in the arm breaker again and wins! Wow! This match was awesome. These guys have amazing chemistry and the right man went over. Trust me, Ziggler lost no credibility here.

OFFICIAL RESULT: Alberto Del Rio @ 14:10 via pinfall
RATING: ***3/4

- Daniel Bryan/AJ altercation! Bryan mentions that AJ left him at the alter. AJ's all like "you're still on about that!?" AJ says she doesn't care about that anymore. Her boyfriend has the Money in the Bank briefcase. He's a future world champion. Daniel Bryan goes on about Kane. The concept of Kane filling the same void in Bryan's life as Ziggler fills in AJ's life is hilarious. 18 second jokes ensue.



--Commercial Break--





Mark Henry vs. Yoshi Tatsu


Brad Maddox says that Yoshi Tatsu is his favorite of all time. Tatsu ends up getting hit with the WSS within 30 seconds. Brad says that Mark Henry is one of the reasons he hasn't returned to the ring yet.

OFFICIAL RESULT: Mark Henry @ 0:40 via pinfall
RATING: N/R

- The Donald Trump HoF ceremony video airs. He's a great choice for the celebrity wing.

- Matt Striker is backstage with Sheamus. Sheamus says that Big Show's massive ego took a huge dent. Sheamus says that kids run up to Show and say "Shrek, Shrek, Shrek". He says other stuff equally as lame and geared towards my three year old daughter. (She's actually a Cena mark.)



--Commercial Break--



Raw Rebound: We get a recap of point/counter-point with John Cena and The Rock. Like I said in the Main Event report, I liked the serious tone of the promo. It was exactly what they needed.

- I'M COMING HOME. I'M COMING HOME. So they show a Cena/Rock graphic for Mania. THAT'S AN AFTER THOUGHT. The song is just too catchy...



Non Title Match: Kaitlyn (w/ Layla) vs. Tamina


I wonder at what point they decided to make this Tamina thing a two month ordeal. They lockup to start and Tamina fights her way out. Layla gets taken out by Tamina. Maddox takes Tamina's side and tells Michael Cole that he's texting Vickie about a performance review for Cole. Maddox is calling for medical attention after every spot. Tamina lifts Kaitlyn up and hits a Samoan Drop for the win!

OFFICIAL RESULT: Tamina @ around 2:40 via pinfall
RATING: 3/4*

- Backstage, Damien and Cody are watching the monitor. Cody asks Damien what he thinks of Kaitlyn. He says she's a good performer who has made the best she could out of an insuperior genetic pool.



--Commercial Break--



- Justin Gabriel is ready to wrestle Fandango in the ring. Fandango says that this is unacceptable. Lillian Garcia can't pronounce his name correctly and he won't wrestle until she can do so. Lillian tries but even Brad Maddox knows that she's butchering his name. We can thank Lillian for missing out on the debut of Fan... Dan... Go!

- Backstage, Booker T can't believe what Fandango is trying to pull. Teddy and Booker T have another minor argument. Teddy tries to explain how to pronounce Fandango but Booker is having none of it.

THE OFFICIAL RAW REBOUND: I don't know how this recap is different than the others but I digress. Here is your Raw Rebound. This one is of The Undertaker's return. That walk halfway down the ramp he did at the beginning of Raw. They cut to Vickie announcing the fatal four way and Punk eventually winning said match. I dig the match and I appreciate the importance they are placing on the streak. This was still an uninspired and lazy way to set this match up.



--Commercial Break--





Sheamus vs. Big Show


I'm assuming this is how we're getting to that six man tag match build up tonight. They brawl as the bell rings and it looks like Sheamus is going to come out on top. Maddox says that he's great friends with Big Show. They talk and text all the time. Show and Sheamus are brawling on the outside. Big Show delivers a nice chop to Sheamus. Sheamus rolls in the ring and quickly delivers THE APRON CLUBBERING~! He doesn't finish the job and Big Show sends him to the outside. BREAK!



--Commercial Break--



Big Show is still in control as we return from break. He delivers a nice sideslam for two! "Did you see him look at me?" says Maddox in response to Cole asking why he's obsessed with Big Show. Big Show corners Sheamus and delivers a shit ton of chops! Sheamus drops. Big Show lifts him up to his feet and attempts a clothesline but Sheamus fights back! Clothesline from Celtic Warrior! Sheamus is in control! He hits a high running knee lift! He goes for a shoulder block off the top rope but Big Show catches him! Sheamus escapes that and hits a DDT for TWO! Both men make it to their feet and Sheamus goes for White Noise! Big Show escapes and goes for the KO punch! Show ducks and gets hit with White Noise! Sheamus is in the zone! BROGUE TIME! Big Show ducks! Sheamus dives through the middle rope and tackles Big Show down to stay on offense! Nice! They brawl on the outside and Big Show comes out on top! He throws Sheamus in the ring and follows him in! Sheamus gives him a Brogue off the apron though! HERE COMES THE SHIELD!

OFFICIAL RESULT: Double DQ @ around 12:00 via The Shield
RATING: **3/4

- The Shield charge the ring and here we go! Here comes Orton to even the numbers! The Shield take control of Orton and Sheamus but Big Show recovers and makes the save! The Shield escapes! Big Show knocks out Sheamus and Orton hits an RKO on Show! THESE GUYS COULD NEVER CO-EXIST!

OVERALL: Smackdown was pretty good tonight. Ziggler and Alberto had another great match. Plus, Sheamus and Big Show wrestled an entertaining big man brawl yet again. Everybody can collectively breathe a sigh of relief, as Kaitlyn was featured tonight. It appears as if they haven't completely forgotten the Divas on the road to Mania. Brad Maddox made every segment more interesting with his quick wit and fresh heel perspective on things. All in all, you should check out this episode of Smackdown if you have some time to kill.



TWITTER
http://www.twitter.com/411wrestling
http://www.twitter.com/411moviestv
http://www.twitter.com/411music
http://www.twitter.com/411games
http://www.twitter.com/411mma
comments powered by