SPOTLIGHTS
Tremendous Tirades 3.08.13: WWE Friday Night Smackdown
Posted by Larry Csonka on 03.08.2013

Wherein Mark Henry kills a man, Fandango doesn't debut (again) and a reluctant alliance is slowly forming…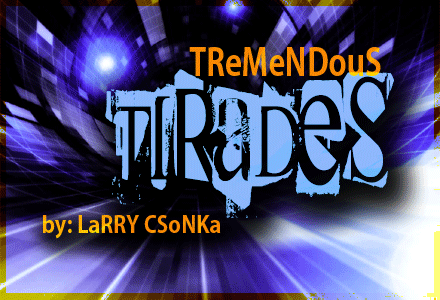 Introduction
It's the road to WrestleMania, and with that being the case, I have dusted off the old Tremendous Tirades name for new alternate recap to the main shows that will air each week (Raw, Impact and Smackdown). This will now be a recap, but instead be a mash up of the Rs, Instant Analysis and my usual Twitter ramblings I would do during the shows; uncensored and as the ideas flow.

I felt that last week's show was just a show, with nothing really important happening. There was some good wrestling and promo stuff on the show, and at the end of the day the show was fine, but once again it was a show you did not have to watch, because you missed nothing at all.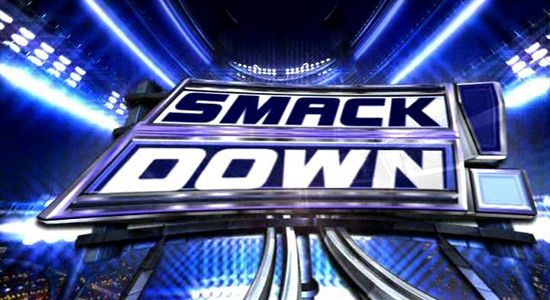 Tonight's edition of the show comes to you from the Times Union Center, Albany, NY




If you guessed "show opening promo," a winner is you!: That's right, it wouldn't be a wrestling show in 2013 unless we kicked off the show with a promo. Seriously, it is one of those things in modern wrestling that annoys me to no end. There are a few that I always hate, they are…


Show opening promos

Champions that don't get to enter last

Entrance music for run ins

Anyway, back to the promo, it was the same shit Jack and Dutch always say. It's pretty bad when the most over part of their act is Dutch's awesome mustache. So after a few minutes of the usual deal, Del Rio and Ricardo came out, and instead of being serious. Because lets face it, being Hispanic you'd think that Del Rio would be pissed about this, they did COMEDY~!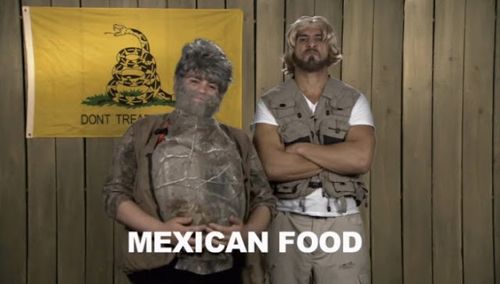 Yeah. I'm sorry, but considering that this is a world title feud heading into the biggest show of the year, I guess I thought that there would be a serious tone to things. The worst part is that outside of the ridiculous outfits, it wasn't even that funny. It's simply the same shit, different week. And even worse than that, it did nothing to make me want to see their WrestleMania match.

Rating (1-10): 2.0


Non-Title Match: Team Hell No © vs. 3MB: Kane and Daniel Bryan battled the 3MB on Smackdown this week, and after Monday's Raw, I am sure the result was never in question. That being said, they had a fine match, and I will say that McIntyre and Slater continue to work hard, even though they have been booked into oblivion. The tag team champions walk away with the victory, but still no real direction heading into WrestleMania.

Rating (1-10): 6.0



Striker met with Dolph, AJ and Big E Langston and asked Dolph how it will feel to lose yet another match on the road to WrestleMania.


Ryback and Mark Henry came face to face backstage.


The very annoying Brad Maddox joined commentary.


We get a recap of the Triple H promo from Monday, which I really liked.


Ryback vs. Damien Sandow: Damien Sandow hit the ring to let us know that he was going to face a barbaric brute in the Ryback. Ryback defeated Sandow in what was basically an extended squash, which was perfectly fine. With the stand off backstage and quick stare down on Monday, along with the recent rumors, it looks as if Ryback is on a collision course with Mark Henry. The feeling is to help rebuild Ryback, following the damage that has been done to him following his WWE Title match losses as well as his losses to the Shield.

Rating (1-10): 6.5



We got highlights from after Raw, where The Shield attacked Big Show and gave him the triple powerbomb. That looked absolutely terrifying for Show. Striker then interviewed Show, who blamed Orton and Sheamus for what happened. He then said that the right hand was the answer for everything, but then looked off with concern…


Non-Title Match: Alberto Del Rio © vs. Dolph Ziggler: Following last week's fan vote, we got this week's match between Ziggler and Del Rio. For the most part I don't complain about a match like this, because it is usually good, and this one was no exception. They work well together, and I like good wrestling. But I will say what I said before; WWE constantly devalues Ziggler by having him lose almost all the time. Yes, he is not a champion, but the guy holds MITB, and is likely going to be a champion soon. But if and when he becomes champion, how can anyone care or believe in him? Good performances are fine, but when you are a JOBBER, and the man has been a giant jobber, it doesn't matter. WWE feels they can do this because they believe the MITB case entitles Ziggler's career to Tabula Rasa. Unfortunately for him it doesn't work that way, and when he wins the title and "isn't over" like they want, they will wonder why. Well I have been telling you why for years now when it comes to stuff like this. But this was a good match and a good win for Del Rio, unfortunately they continue to not help Ziggler in any way.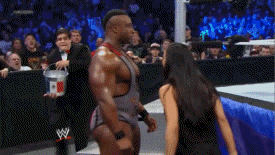 "Tony Acero's reason to visit the spank bank."



Rating (1-10): 5.0



AJ and Daniel Bryan met backstage. Call me crazy, but I think those crazy kids could still make it if they gave each other a chance…


Mark Henry vs. Yoshi Tatsu: Mark Henry. Arrive. Kill a man. Leave. Getting built up to lose to Ryback at WrestleMania, which isn't the worst idea.

Rating (1-10): 10.0



Sheamus did a backstage interview, filled with comedy and toilet jokes. Moving on…


We get a recap of the John Cena and Rock promo from Monday, which I felt was a nice piece of business.


Non-Title Match: Kaitlyn © vs. Tamina Snuka: This was your typical WWE Divas match, which was given next to no time, which means that they didn't even really have time to do anything. Kaitlyn about blew up her face, Cody Rhodes looked on all concerned in the back because he wants to plow that back 40. Anyway, Tamina winning sets up a title match, and they are laying more of the groundwork for Layla's coming heel turn on Kaitlyn. Overall this was forgettable, since WWE treats the ladies s such.

Rating (1-10): 4.0



Fandango was supposed to debut, Lilian fucked up his name, he left.


We get a Raw Rebound on the Undertaker's dong returning.


Swagger and Dutch talk, we the people.


Big Show vs. Sheamus: I am one of the people that thought that Show and Sheamus had a good series of matches for the World Title, so I really had no issues with the match in theory. Also, it plays off of the recent actions and Show's promo from earlier in the evening. They had a strong, but short match, which was used to build up the Shield attacking, and the reluctant teaming of Show, Sheamus and Orton to fight them off. They managed to run off the Shield, but since Big Show gives no fucks about Sheamus or Orton, he knocked out Sheamus. Orton, who also gives no fucks about Big Show and wanted revenge, gave Show the RKO. It's looking more and more like our six-man WrestleMania tag match is getting closer to reality.

Rating (1-10): 8.0




The Tirade


Once again, Smackdown is not a bad show, it is just an uneventful one. We had some good wrestling, some small moves towards WrestleMania matches; but we once again were filled with a lot of filler in Raw Rebounds and such. I guess the silver lining is that the show rarely offends, and is easy to watch. In what in a theme when it comes to the show, if you have the time it is a fine show to watch, but if you missed the show, you're really not missing anything.

Show Rating: 6.0

As a reminder, I will be going by the 411 scale…

0 - 0.9: Torture
1 - 1.9: Extremely Horrendous
2 - 2.9: Very Bad
3 - 3.9: Bad
4 - 4.9: Poor
5 - 5.9: Not So Good
6 - 6.9: Average
7 - 7.9: Good
8 - 8.9:Very Good
9 - 9.9: Amazing
10: Virtually Perfect




---
Your heart is free. Have the courage to follow it…TO CSONKA'S TWITTER!
http://www.twitter.com/411wrestling
http://www.twitter.com/411moviestv
http://www.twitter.com/411music
http://www.twitter.com/411games
http://www.twitter.com/411mma
Larry Csonka is a Pisces and enjoys rolling at jiu jitsu class with Hotty McBrownbelt, cooking, long walks on the beach, Slingo and the occasional trip to Jack in the Box. He is married to a soulless ginger and has two beautiful daughters who are thankfully not soulless gingers; and is legally allowed to marry people in 35 states. He has been a wrestling fan since 1982 and has been writing for 411 since May 24th, 2004; contributing over 3,000 columns, TV reports and video reviews to the site.
comments powered by