SPOTLIGHTS
Tremendous Tirades 3.15.13: WWE Friday Night Smackdown
Posted by Larry Csonka on 03.15.2013

A tale of two ways to sell a world title feud…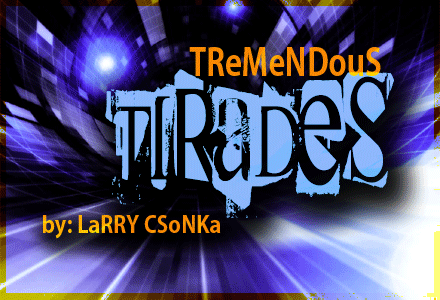 Introduction
It's the road to WrestleMania, and with that being the case, I have dusted off the old Tremendous Tirades name for new alternate recap to the main shows that will air each week (Raw, Impact and Smackdown). This will now be a recap, but instead be a mash up of the Rs, Instant Analysis and my usual Twitter ramblings I would do during the shows; uncensored and as the ideas flow.

I felt that last week's show was one of those "just a show" shows. In all while not bad it just wasn't all that great. The show had some good wrestling, some small moves towards WrestleMania matches; but we once again were filled with a lot of filler in Raw Rebounds and such. I guess the silver lining is that the show rarely offends, and is easy to watch. Nothing you had to watch.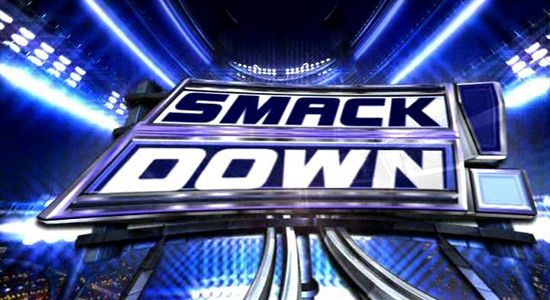 You can listen to the live (Friday night at 10:30PM ET) or the archive version of Business as Usual with Steve Cook, independent wrestler Tony Sly and myself at this link!




Sheamus and Randy Orton vs. Rhodes Scholars… HOLY SHIT WE'RE STARTING WITH A MATCH: We got a replay of the Shield attack from Monday Night Raw, which was a nice reminder of why these guys have started to team up. The Rhodes Scholars came out and were pissed that their match was ruined on Monday, and that their double date with the Bellas was also ruined. In case you forgot, this is a rematch from Raw. This, just like Monday, was a fine match and once again solidified the new team of Orton and Sheamus as they won again and continue to work well together. The Shield's music hit, but instead of coming to the ring, they appeared on the TRON to send a message, which was that they were challenging Orton and Sheamus to find a partner and face them at WrestleMania. They accepted. Good match, good promo, setting up a WrestleMania match; I like it. Add onto that the fact that the show started with a match instead of the usual bullshit promo segment, and I have no complaints.

Rating (1-10): 8.0



The show the goofy Halle Berry-Otunga-Kane video from Raw.


We see a Fandango promo.


Raw clip #1 airs: Brock accepts Triple H's challenge, if Triple H agrees to his stipulation without knowing what it is.


Sheamus and Orton talk backstage, when Big Show arrived. He said they were having problems with the Shield and need a partner, one that was merciless and vicious. Orton agreed, and Show said he was smart. But Orton then informed him that they selected Ryback. Show was not pleased with this development.


KAITLYN & LAYLA vs. TAMINA & AKSANA: Typical divas match here, it wasn't bad, but nothing special either. The finish, where Kaitlyn hit the spear, but Layla tagged in to steal the win plays into the theory I have had for some time that Layla will be turning heel to challenge for the title. Layla's over the top celebrating while Kaitlyn stood there was a nice touch as well. This was fine.

Rating (1-10): 6.0



The Funkadactyls met with the returning Bellas. The Funkadactyls said they influenced them, but the Bellas ran them down, calling them "hoochie mammas," so the Funkadactyls did this…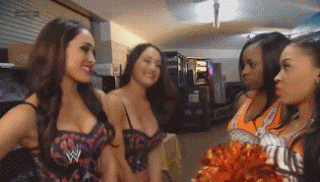 The Bellas, not amused, beat them down. Possible start to the rumored Brodus Clay, Sweet T, Cameron and Naomi vs. Cody Rhodes, Damien Sandow, Nikki and Brie Bella match at WrestleMania?


Raw clip #2 airs: looking at the attempted tribute to Paul Bearer, which was ruined by that dastardly CM Punk.


KANE vs. DOLPH ZIGGLER: I felt that these guys had a strong TV match, with Kane working really hard. As much as I dislike the Kane character at times, the guy (especially for his age) really busts his ass when working with guys like Bryan, Punk and Ziggler. Kane was controlling until Langston started to destroy Bryan. Kane made the save, but then got caught by Ziggler and Ziggler scored another big win this week. Langston then followed that up by laying out Kane with his finisher with no name. This was a good follow up to Monday's show, where Dolph beat Daniel Bryan, and Langston laid him out. On Monday I stated, "with them having nothing planned as of today for the tag team champions and nothing planned for Dolph; working towards a Team Hell No vs. Ziggler and Big E match may not be the worst thing in the world." It looks like with this angle, and with the recently posted rumored WM 29 card (SPOILERS LINK) it seems to be where they are headed. Plus Ziggler getting back on the winning track is a good thing to see.

Rating (1-10): 7.5



More of this bullshit…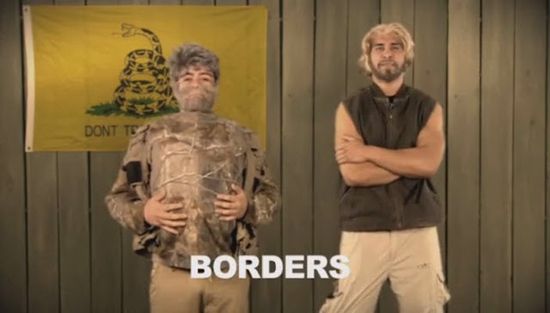 AMERICA…FUCK YEAH!


They tirrrkk errrr JERRRBBSS!!!!!!!!!!!!


Jericho and R Truth had a laugh at the piss poor video, which annoyed Swagger and Dirty Dutch. Swagger claimed Jericho came across the border like Del Rio, when Jericho told him to shut the hell up because he was born in the USA. Yup.


Another Fandango promo airs, he supposedly debuts next.


An update on JBL's climb on Mount Death was next. He got close to the summit, but they had to stop due to a storm. JBL is a fucking man's man, much respect.


FANDANGO vs. KHALI: Fandango didn't debut, because no one said his name right. They did comedy with Khali trying to say his name, it died a death.

Rating (1-10): 1.0


Raw clip #3 airs: the awesome Rock vs. Cena video gets another play.


Booker T made the Shield vs. Orton, Sheamus and Ryback official for WrestleMania. The Shield then attacked and beat the piss out of Orton and Sheamus in the interview area. Justice sucks if you're a WWE babyface.


After a commercial, Booker T and Teddy Long checked on Sheamus and Orton. Ryback, obviously annoyed, came in and wanted to know what happened. Booker told him to take care of his business with Mark Henry, and that they would tend to Sheamus and Orton.


MARK HENRY vs. RYBACK: We never got the match. They locked up and teased the power battle, but the Shield's music hit and they started to come to the ring. Mark Henry, being a smart man, bailed and allowed the Shield to rush the ring and attack Ryback. Ryback cleared the ring, but Henry then distracted him and the Shield put the boots to him and laid him out with the Shield Bomb. Henry then took the chance to return to the ring and hit not one, not two but three world's strongest slams on the Ryback. Why? Because, "THAT's WHAT HE DO," that's why. Henry then politely informed Ryback that he will not be running through him, and even welcomed him to the Hall of Pain. I liked it, it gets Ryback pissed and wanting Henry in a rematch, which takes place at WrestleMania, and then forces Orton and Sheamus to add Big Show to their team. They used a little misdirection to get there, but not in a bad way. The Shield continues to look dominant, Henry continues to look dominant; this worked well I thought.

Rating (1-10): 8.0


JACK SWAGGER vs. CHRIS JERICHO: Swagger vs. Jericho was a really strong Smackdown main event, and considering how the shows have been as of late, they really needed it. Swagger is working harder than ever during his renewed push, and Jericho has the right kind of ego, where he refused to suck in the ring, and it works for him. But more importantly than the match is the result. I have said before, and I will say again. The Jack Swagger character was so damaged that they had to do a lot of rehab on him. His return was fine, Zeb as an addition makes him a bit interesting (more than he was) and wins over guys like Orton and then the Chamber went a long way. But when you have the guy score a win over a talent the caliber of Chris Jericho, on free TV for all to see, that is going the extra mile for the guy, and is exactly what he needs if we're to accept him as a top tier heel. Superb effort and booking here.

Rating (1-10): 9.0




The Tirade


This week was a much better show for Smackdown, because it actually felt like shit was happening, instead of running through the motions. Swagger gets a huge win, we have motion on the undercard with the seeds planted for the tag title match and the six-man with the Shield. Also, things are in motion for the Divas title match, Ryback vs. Henry and a possible eight-person match. Smackdown felt like a show I had to watch this week, which is a really rare feeling these days. On top of that, it felt like an easy show to watch. Maybe a few too many Raw recaps, and of course the stupid comedy bullshit, but I liked the show overall.

Show Rating: 8.0

As a reminder, I will be going by the 411 scale…

0 - 0.9: Torture
1 - 1.9: Extremely Horrendous
2 - 2.9: Very Bad
3 - 3.9: Bad
4 - 4.9: Poor
5 - 5.9: Not So Good
6 - 6.9: Average
7 - 7.9: Good
8 - 8.9:Very Good
9 - 9.9: Amazing
10: Virtually Perfect




---
BONUS COVERAGE
Your heart is free. Have the courage to follow it…TO CSONKA'S TWITTER!

http://www.twitter.com/411wrestling
http://www.twitter.com/411moviestv
http://www.twitter.com/411music
http://www.twitter.com/411games
http://www.twitter.com/411mma


Larry Csonka is a Pisces and enjoys rolling at jiu jitsu class with Hotty McBrownbelt, cooking, long walks on the beach, Slingo and the occasional trip to Jack in the Box. He is married to a soulless ginger and has two beautiful daughters who are thankfully not soulless gingers; and is legally allowed to marry people in 35 states. He has been a wrestling fan since 1982 and has been writing for 411 since May 24th, 2004; contributing over 3,000 columns, TV reports and video reviews to the site.

Have you checked out the Csonka Podcasting Network? If you haven't, you should We run anywhere from 15-20 shows a month, discussing pro wrestling, the world of MMA, the NBA, general sports, popular TV series of the past, bad movies, battle rap, interviews, MMA & Wrestling conference calls and more! Around 10 different personalities take part in the various shows, which all have a different feel; so you'll likely find something you like. All of the broadcasts are free, so go ahead and give a show a try and share the link with your friends on the Twitter Machine and other social media outlets! Running since May of 2011, there are currently over 270 shows in the archive for you to listen to.
comments powered by