SPOTLIGHTS
411's WWE Main Event Report 3.20.13
Posted by Michael Benjamin on 03.20.2013

Wade Barrett wrestled R Truth, The Prime Time Players took on the Usos and more! Check out 411's full WWE Main Event report for all of the details!

My name's Michael Benjamin, the show's name is Main Event, and you're cordially invited to join us for this report. Because odds are, you didn't go out of your way to catch this one. Lets see if it looks better on TV than on paper! Together. Hold hands? No? Maybe next week.

SHOW... ON.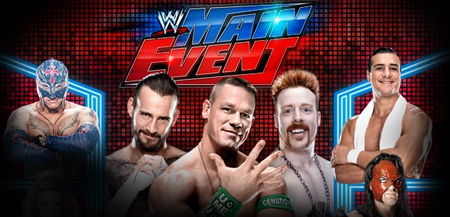 WWE Championship Roll Call:
WWE Champion: The Rock
World Champion: Alberto Del Rio
IC Champion: Wade Barrett
US Champion: Antonio Cesaro
Unified Diva's Champion: Kaitlyn
WWE World Tag Team Champions: Daniel Bryan and Kane



WWE MAIN EVENT 3.20.13



- Michael Cole and Miz welcome us to the show. Miz announces that he just hit a million followers on Twitter. He's only like the 7th or 8th active roster member to do that. Good for him



Non Title Match: Wade Barrett vs. R Truth


Here we go! We get some back and forth brawling to start, as Miz claims that he and Truth sold out the Garden. Cole mentions that The Rock and John Cena did, to which Miz says "Who was in the Main Event?" Barrett rolls to the outside and R-Truth follows. Barrett pulls Truths legs out from under him on the apron and takes control. Back in the ring and Barrett hits a crisp reverse neck breaker for two. He corners Truth and delivers stiff jabs to the gut before delivering a stiff elbow to the cranium for a two cout. He chokes Truth on the bottom rope with his shin. Truth is on the apron again and Barrett hits a huge Big Boot that sends him to the outside. Outside = commercial if you're new to this.



-Commercial Break-



Barrett has a side headlock applied to R-Truth as we return from break. Side Headlock = back from break if you're new to this. R-Truth fights back with a rana and some flashy offense before ending up in position to get hit with Barrett's finisher. That was reversed into a side Russian leg sweep and a near fall! Barrett yanked R-Truths arm out of his socket and hits the Bull Hammer for the win. Everything here was passable. It's nice to see Barrett picking up some wins on the way to Mania.

OFFICIAL RESULT: Wade Barrett @ 9:27 via pin
RATING: **

- Barrett cuts a post-match promo while slowly making his way towards the announce table. He pushes Miz' head and they end up in the ring. Miz stood in the middle of the ring, sans suit coat, as Barrett made his way backstage after the dust settled. Barrett/Miz? Jericho/Fandango? I hate this years undercard. Discard both matches and do Jericho vs. Cesaro. Boom goes the dynamite. I fixed the undercard.



-Commercial Break-



Raw Rebound Numero Uno: We get a recap of the Trips/Heyman/Brock segment. I was kind of hoping it was going to be Hell in a Cell to be honest with you. Everybody keeps saying that Brock would have no reason to choose that stipulation. Check the history books. I'll give you the chapter: Hell in a Cell. It writes itself.

- By the way, to anybody who writes the acronym HITC - STOP. It's not in THE fucking cell. It's in A cell. I've been wanting to shout that from my rooftop for years.

- Matt Striker is backstage with Sheamus, who says that he'll consider replacing Ryback with Big Show at Wrestlemania sarcastically. So they'll drag it out longer. If I was writing the shows, I'd probably have the entire card being promoted over a month ago, but I'm just an internet wrestling analyst. So are Sheamus and Orton BFFs now? Sheamus would be a great foil for Orton's heel turn. Randy and Sheamus in the morrrrrning!



-Commercial Break-





Natalya and Layla vs. Aksana and Alicia Fox


This show is just a polished version of Superstars at this point. I DID NOT SIGN UP FOR THIS. Alicia cuts a pretty decent heel promo before the match regarding Natalya and Khali. Natalya beats up on Alicia for a hot minute before tagging in Layla. I haven't cared about Layla since Laycool. Anybody agree? Aksana is in the ring with Layla now. Aksana uses annoyingly ineffective moves in an attempt to be sexy. She tags in Fox and Fox locks in a headlock on Layla. Layla fights out and gets the hot tag to Natalya. It was more of a mild tag but whatevs. Natalya locks i the sharp shooter but Aksana breaks it up. Natalya is all alone with Fox in the ring and locks in the Sharp Shooter! Tap out! It didn't suck?

OFFICIAL RESULT: Natalya and Layla @ 4:21 via submission
RATING: 3/4*



-Commercial Break-



Raw Rebound Numero Dos: Taker totes wants his urn back. I don't think that Punk cut that good of a promo here. He was more focused on not dropping the urn, though he ended up dropping it along with an S bomb, which seemed more like an accident than something scripted. If it was scripted, they wouldn't have shot away after he said shit. They ran with it and it was the right decision.



The Usos vs. The Prime Time Players


I don't care about the match. I want to know how Pancake's Gout flare up is doing. Young starts off with the chubby one to start things off. We get the typical back and forth action as we head to break.



-Commercial Break-



We're back as Jey Uso chops this shit out of Titus O'Neil. O'Neil reverse an Irish whip and sends him into the corner with a hip toss. Titus goes for a cover and Jey kicks out at two. Please note that Cole and Miz have not called an Uso's first name ONCE this entire time. Black John Cena is in now and he delivers some shoulder thrusts in the corner. Titus is back in and he delivers a nice powerslam Young for two. Cole REALLY needs to learn the Usos names. It's ridiculous and apparent as shit. Does he think we don't notice? Titus delivers a nice shoulder block to Jimmy but it's reversed into a shoulder block. I love how Cole calls each Uso "the Usos". DO YOUR JOB, COLE. YOU'RE MAKING MINE HARDER. He's calling each Uso Bro "Ooose". Jey hits a splash off the top rope for the win! In attempt to put over the Usos and PTPs in the match, Cole and Miz just completely buried them with their lack of knowledge. Inexcusable considering their jobs and whatnot. (EDIT: I take back what I said about the PTPs being buried by the announce team. I typed their team names in succession without thinking. It was just the Usos. I stand by that, Victor!)

OFFICIAL RESULT: The Usos @ 11:47 via pin
RATING: **

OVERALL: There was absolutely nothing special about this show. If you see this on your DVR, don't watch it. There's nothing redeeming about this episode of Main Event unless you really want to catch up on Raw without using your computer. Main Event is taking a nose dive and there's no excuse for it. Here's to hoping it picks back up after Mania. As always, thank you for reading. I hope to see you all on Friday for the Smackdown report. Looks like we're going to have a good show this Friday!



FOLLOW ALL OF THIS SHIT ON TWITTER
http://www.twitter.com/411wrestling
http://www.twitter.com/411moviestv
http://www.twitter.com/411music
http://www.twitter.com/411games
http://www.twitter.com/411mma
comments powered by